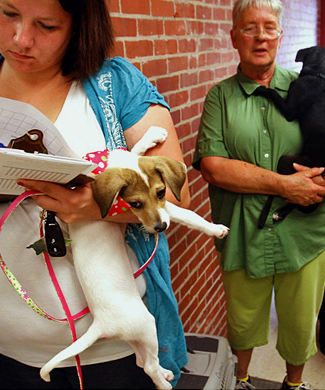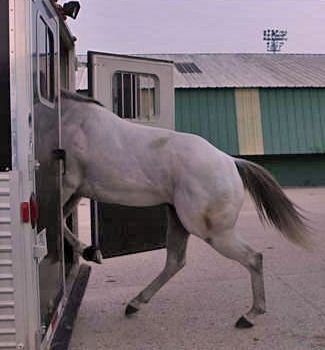 LOUISIANA, 8/27/12: A horse is loaded into a trailer at Fair Grounds Race Course & Slots in Mid-City New Orleans after the track issued mandatory evacuation of animals. AP / Louisiana preps for Isaac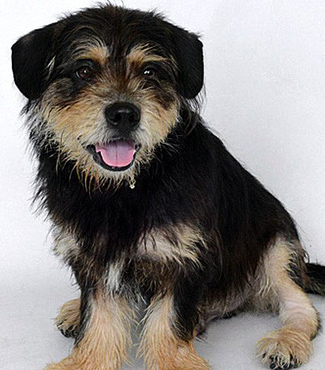 TAMPA, FLORIDA: Humane Society of Tampa Bay offered to microchip pets for free as Hurricane Isaac loomed. Bay News 9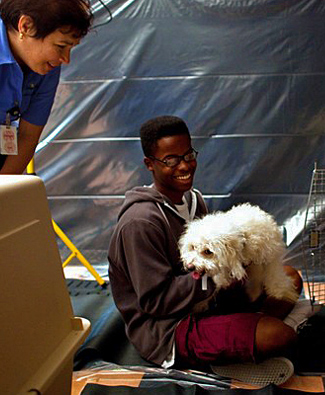 FLORIDA, 8/26/12: Collier County Domestic Animal Services customer service rep Tania Santos visits with Naples resident Matthew Cleare, 17, and his family's 5-year-old poodle mix, Bronx, at a pet-friendly hurricane shelter at North Collier Regional Park in North Naples. David Albers/Staff, Naples News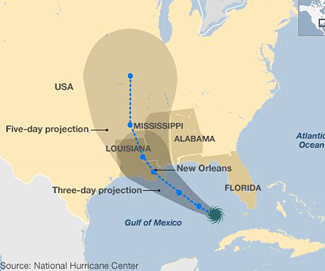 ISAAC TRACK from National Hurricane Center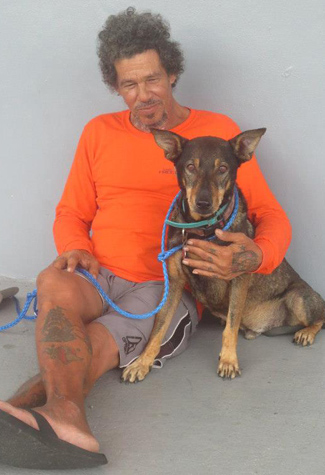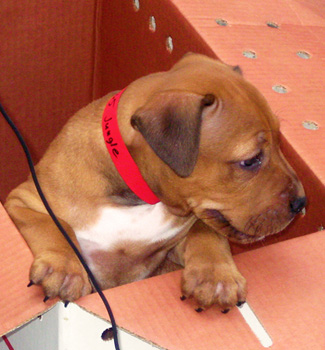 NEW ORLEANS, HURRICANE GUSTAV: A little girl's ID wrist band matches her puppy's ID collar at Union Station, where Kinship Circle worked with local-nat'l groups to evacuate people with their animals from New Orleans. (c) Kinship Circle, Gustav/Ike 2008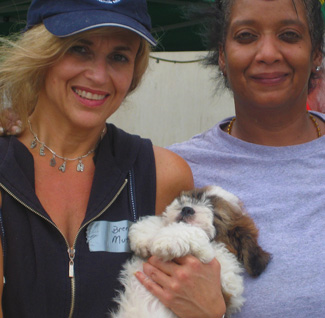 NEW ORLEANS, HURRICANE GUSTAV: This "Ewok" fluffball reminds Kinship Circle's Brenda Shoss so much of her Lhasa Apso rescues, that she bonds with the pup's person while registering them to evacuate. (c) Kinship Circle, Gustav/Ike 2008

Hurricane Isaac - Kinship Circle on standby, animal reports from ground



IN THIS DISASTER WATCH:

AUGUST, 2012
Kinship Circle On Alert For Hurricane Isaac With Updates From Our Responders In Area

Kinship Circle is on standby for Hurricane Isaac animal evacuations and disaster aid. We are monitoring the wide storm, with Disaster Animal Response Team members in key Gulf Coast areas to provide ongoing reports. As members of Alabama VOAD we receive daily briefings as well. Isaac is expected to make landfall over Louisiana shores on 8/29/12 — the 7-year anniversary of Hurricane Katrina.


AL EMERGENCY MNGT. PROGRAM MNGR., RED CROSS
ALABAMA: Isaac is now near hurricane strength, with core winds at 70mph and a clear circulation center. Air Force reconnaissance indicates formation of the eye and rapidly dropping pressure inside the storm. Isaac has veered more northwest. Forecasters cannot yet pinpoint where Isaac's center will hit, but areas from southeast Louisiana to Alabama's coastline are still of utmost concern.


BETH SCHMIDT, KINSHIP CIRCLE ZONE #5 DEPUTY CAPTAIN
NEW ORLEANS: "Isaac remains disorganized, with limited time to ramp-up beyond Cat 1 or 2 for Lousiana. Animal Rescue New Orleans (ARNO) will not evacuate animals. Similarly, other metro area shelters don't plan to leave. I just returned from Lousiana SPCA where staff intend to shelter-in-place. In coastal St. Bernard and Plaquemines parishes, shelters have disaster plans in place with assistance from Louisiana State Animal Response Team (LSART) and the State Veterinarian. As long as Isaac fails to stall over land, this looks to be a rain event for New Orleans area." Beth, along with Regional Capt. Cheri Deatsch in New Orleans, will continue assessments as Isaac unfolds. Both recently deployed for Thailand flood animal aid 2011-2012.


DARLA WOLAK, KINSHIP CIRCLE DISASTER RESPONSE TEAM
TALLAHASSEE, FLORIDA: "Red Cross Capital Area Chapter — serving counties of Franklin, Gadsden, Jefferson, Leon, Liberty, Madison, Taylor and Wakulla — has an evacuee shelter on standby. For Hurricane Debby in June 2012, this shelter was pet-friendly. Wakulla County flooded terribly during Debby, so Isaac may renew problems. A Red Cross shelter at Crawfordville Elementary (closer to coast) opened 8/27/12 to serve Wakulla or Franklin counties. Our Big Bend DART has not been told if this shelter accepts animals. Residents should contact Tallahasse-Capital Area Red Cross to see if animals are accepted at either site:"

850-878-6080, services@tallyredcross.org
www.tallyredcross.org
Red Cross Woodville Community Ctr Shelter (on standby)
8000 Old Woodville Road

Red Cross Crawfordville Elementary School Shelter
379 Arran Rd / Crawfordville, FL



For all emergency sheltering of animals, guardians should bring veterinarian records, food, medicine, crate, collared animal with ID tag, and any essential items for an animal's comfort and care.



ARNO UPDATE SENT BY DARLA WOLAK, KINSHIP CIRCLE
ANIMAL RESCUE NEW ORLEANS: ARNO presently cares for 62 dogs, 80 cats. They'll ride out Isaac in place, with all dogs moved inside the warehouse facility. About a dozen dogs are housed in homes to open space and to care for animals with medical needs.

ARNO has purchased generators to run fans and lights in absence of power. They currently have 100 gals of gas, some 200 gals of bottled water and 10 filled ice chests. With donations at an all time low, ARNO hopes supporters will help. During Isaac's expected hit, two vet techs will remain on-site. ARNO hopes local volunteers will not be detained by flooded streets. Some flooding may occur due to saturated ground and an anticipated 12 inches of rain.

Evacuation is mandatory for Lower Eastbank Plaquemines, St. Charles and St. John Baptist Parishes. Voluntary evac is called for Orleans and Jefferson Parishes. Most city shelters did not evacuate. Adoptable pets at LA-SPCA were sent to Dallas. Jefferson Parish Animal Shelter sent some to Baton Rouge. Both kept stray/hold or caregiven animals. Terrebonne Animal Control animals stayed put in Houma-Thibodaux area.

UPDATES: ARNO's shelter Facebook pg and main Facebook pg

AUGUST, 2012
Hurricane Isaac Animal Information

AUGUST, 2012
Isaac's Hurricane Path And Potenial
OVERALL:
Nat'l Hurricane Center shows Isaac just below Cat 1 force, with a storm surge threat to the northern Gulf Coast. As of 8/28/12, Isaac is situated 80 miles south-southeast from the Mississippi River mouth. Sustained winds are 70 mph and the storm moves northwest at 10 mph. Isaac's center could reach Louisiana coast the night of 8/28 or next morning. Florida Panhandle faces a 3-6 ft. storm surge and Florida's west coast, a 1-3 ft. surge. A hurricane warning effects eastern Louisiana to Alabama-Florida border. A tropical storm warning covers Alabama-Florida border to Aucilla River.
FLORIDA:
Florida EMA reports Isaac at 75 miles west-southwest of Key West with 65 mph Tropical Storm force winds over South Florida.
8/27/12: National Hurricane Center moves Isaac into Gulf of Mexico, at Category 1. Isaac is wide, with effects far from its center.
Isaac is predicted to move into the eastern Gulf by mid next week, with second landfall on the northern Gulf Coast.
Expected heavy rain, gusts, isolated tornadoes across most of FL, storm surge in coastal areas.
8/26/12: Gov. Rick Scott declares State of Emergency.
Hurricane warning: Florida Keys and parts of west coast. Hurricane watch: Southeastern part of the state.
Tropical Cyclone Kirk has 40% chance of forming in eastern Atlantic.
Pre-Florida, Issac kills 7 in Haiti and 2 more in Dominican Republic, leaving downed trees and power lines in Cuba. It hits the Keys two days after Hurricane Andrew's 20th anniversary.
LOUISIANA:
8/27/12: Gov. Bobby Jindal declares State of Emergency and urges people to leave coastal parishes in low-lying areas.
Mandatory evacuation orders for east bank of Plaquemines Parish.
New Orleans Mayor Mitch Landrieu says city will wait until Isaac ugraded to Category 3 hurricane forecast before activating mass evacuations and emergency shelters.
8/26/12: St. Charles Parish orders evacuation of all residents.
TS Isaac tracks westward with a hurricane watch for 15 parishes: Orleans, St. Bernard, Plaquemines, Jefferson, St. Charles, Lafourche, Terrebonne, Assumption, St. James, St. John, Ascension, Livingston, Tangipahoa, St. Tammany, Washington.
State of Emergency declared for: Jefferson Parish, Orleans Parish, Plaquemines Parish, St Charles Parish.
ALABAMA:
8/28/12: Alabama State Emergency Operations Center (SEOC) goes to level 1 activation at 6:30am.
Onset of tropical storms winds 39-73 mph continues along the coast, with hurricane force winds possible by 8/29.
8/27/12: Mandatory evacutions for Mobile and Baldwin County.
8/26/12: Gov. Robert Bentley declares a State of Emergency and orders evacuation before Issac's anticipated strike.
Alabama EMA Director Art Faulkner warns residents to "make preparations now for potential strong winds and heavy rains."
Alabama's Emergency Operations Plan is activated. Alabama National Guard troops are on standby.
Ready Alabama offers a disaster preparedness for pets checklist.
MISSISSIPPI:
8/27/12: Hancock County EMA, with Bay St. Louis, Waveland and Diamondhead, issues voluntary evacuation orders.
Two evacuee shelters open: Kiln Shelter at 18320 Hwy 43 and Dedeaux Shelter at 11328 Rd 350 off Standard Dedeaux Rd.
8/26/12: Gov. Phil Bryant declares State of Emergency as officials prep for Isaac winds at MS coast by 8/27 nightfall.
Isaac expected to drive a 6-12 foot storm tide into coastal estuaries.

AUGUST, 24 2012
Animal Toys & Firefighters: New Orleans Preps For Isaac With Animal Escape Drills

We know the drill! As Hurricane Gustav crept in on dark legs, Kinship Circle volunteers joined Louisiana State Animal Response Team partner organizations to staff 12 Parish Pickup Points designated for storm evacuees to leave with their animals. It was a spectacular beginning for the historic Louisiana Pet Evacuation Bill — a Katrina-era bill for which Kinship Circle director Brenda Shoss worked with Louisiana Senator Fontenot's office, crafting letter campaigns and press materials to urge enactment.

Now, in anticipation of TS Isaac, Asst. Fire Chief Tim McConnell zeros in on animals: "If their pets don't go, they're not going," he told WWL-TV news. New Orleans Fire Department has activated an animal-evac drill, with Isaac expected to strike Gulf areas this weekend and early next week. The department performs government-assisted evacuations — the same type residents Kinship Circle helped at Gustav sites in New Orleans. Companion animals and guardians were banded with matching information. Evacuees rode busses, with their animals aboard climate-control trucks, to a "Mega Shelter" in Shreveport, LA.

The WWL-TV report concludes: NOLA Fire Dept. wants to ensure pets and people are registered to go to the same spot, if there is an evacuation. RESIDENTS WITH PETS: Keep an animal disaster kit packed. Ready a transport crate for each animal, plus food and medicines. If you need evacuation aid from the city, call 311 to register.




♥ GIVE ONLINE

♥ GIVE BY MAIL
Kinship Circle
Animal Disaster Aid Fund
7380 Kingsbury Blvd.
Saint Louis, MO 63130 USA