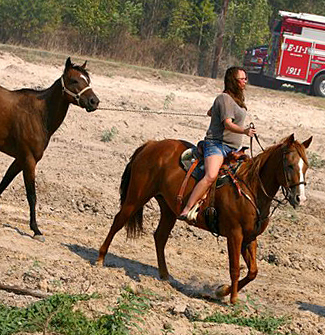 Residents evacuate their animals as a wild fire threatens the area near Sleepy Hollow Road and Post Oak Drive in Conroe, Texas. AP, Karl Anderson. Texas Wildfire Photo Gallery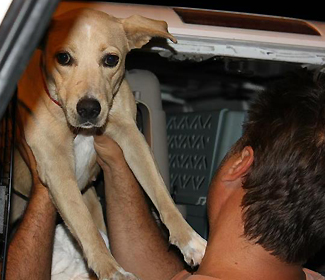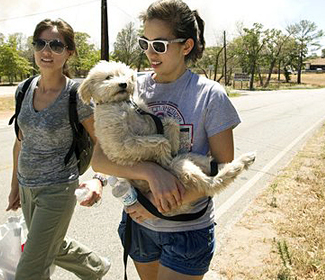 Paula Wilson, left, and her sister Monica Wilson walk along Tahitian Drive in Bastrop, TX after rescuing their father's dog, Homer. Their father was forced to evacuate as fires, fanned in part by howling winds from Tropical Storm Lee, approached. AP, Jay Janner. Texas Wildfire Photo Gallery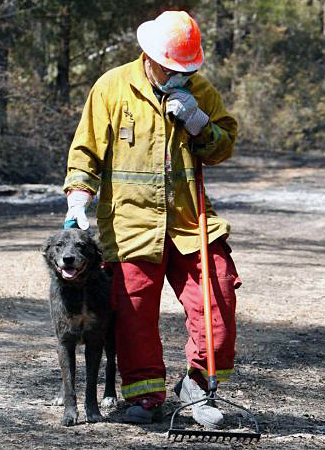 Firefighter Frank Buentello holds onto a dog he found while working a hot spot with a rake on the smoldering wildfire near Bastrop, Texas. AP, LM Otero. Texas Wildfire Photo Gallery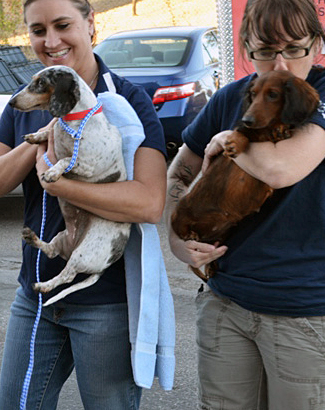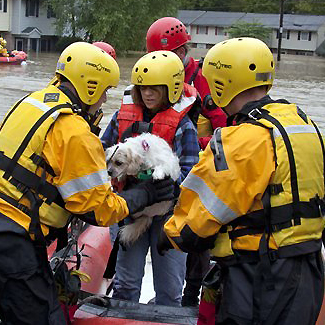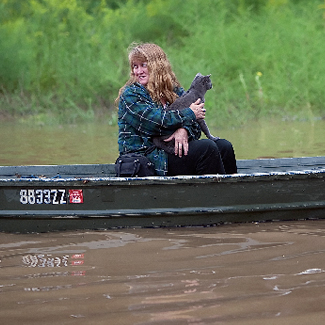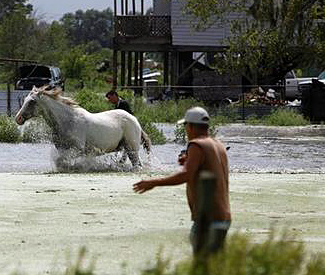 Residents of Dularge, LA help Erin Olivier catch her horse Summit, who is 32 and blind, as he races through floodwaters left behind by Tropical Storm Lee. AP. Julia Rendleman, Houma Courier. Gulf Coast Flood Threat Expands Inland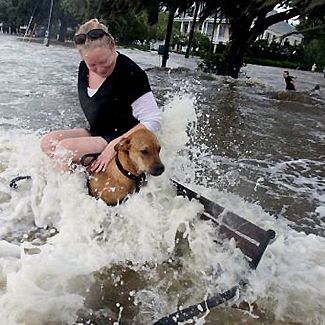 Holly Kennedy holds her dog as Tropical Storm Lee waves crash over the flood wall at the Mandeville, LA lakefront. AP. Times-Picayune, Ted Jackson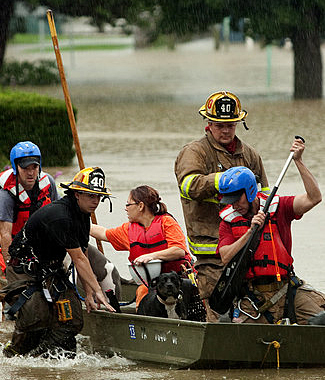 AP. Brisbane St., Harrisburg, PA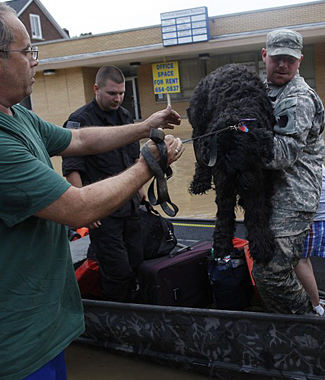 Flood, wind and fire sweep USA from Gulf to Northeast



IN THIS DISASTER WATCH:

SEPTEMBER, 2011
Texas Wildfires Leave Animals Homeless

Animals remain homeless in the shadows of a 34,000-acre wildfire in Bastrop County, TX. With the fire 50% controlled, 1,500 homes are gone. In addition to animals abandoned or temporarily surrendered, stray and shelter animals are in danger too. Kinship Circle continues to monitor animal impacts in fire-stricken areas. ANIMAL ORGANIZATIONS INVOLVED IN FIRE RESCUE, SHELTER, RELIEF-REUNION:
9/13/11 UPDATE FROM AUSTIN HUMANE SOCIETY:
Search and Rescue continues today in Bastrop. Injured animals found in evacuated areas are transported to AHS and animals without injuries are taken to Bastrop County Animal Control. To date, AHS has provided emergency pet shelter to 155 animals from the Bastrop area due to the wildfires. More than 55 of were injured. We have reunited over 50 with their guardians, half are back with their families and half are still at AHS while families get settled. Our hearts go out to the wildfire victims. We are working closely with Bastrop and Austin officials to assure that Bastrop pets are safe and receive the highest quality care. We are grateful to the SPCA of Texas and our generous vet partners for working together with us to save these previous lives. We need your help to fund the care of these animals while they await a reunion with their families.

SEPTEMEBER, 2011
Rising Waters Engulf Northeast USA
Traces of Tropical Storm Lee have drenched parts of New York, Pennsylvania, Connecticut, Massachusetts, North and South Carolina, Virginia, Maryland and Washington D.C. On the heels of our deployment under Atlantic County, New Jersey EMA for Hurricane Irene, Kinship Circle has offered animal relief assistance to emergency management agencies and animal shelters in flooded counties. Disaster Management Director Bonnie Morrison is prepared to activate our trained animal responders, if additional aid is requested for evacuated or stranded animals.
In Central Pennsylvania — where President Obama has issued emergency declaration for 19 counties — shelters open to evacuated animals include:
Columbia: Bloomsburg University
Cumberland: Lower Allen Township behind Municipal Services Building (Old Beetle Bop Restaurant)
Dauphin: John Harris HS, Market Street Harrisburg and Halifax Middle School Gym, 3940 Peters Mountain Road, Halifax
Lancaster: Columbia Armory, 221 Walnut Street Columbia
Luzerne: Six locations —
1. State Street Elementary School in Larksville
2. Luzerne County Community College in Nanticoke
3. Pittston Area High School in Pittston
4. Wyoming Area Secondary School in Wyoming
5. Misericordia University in Dallas
6. GAR High School in Wilkes-Barre
Lycoming: Ward Myer Elementary School, Muncy PA
Montgomery: Pottstown Senior High School
Perry: Penn Township -Penn Township Municipal Building
Snyder: Companion Animal Hospital located at 335 Pennsylvania 35, Selinsgrove
Susquehanna: Blue Ridge School District-High School
Wyoming: Tunkhannock HS, Tunkhannock
York: SPCA, York
PetsMart Charities has supplied dog-cat food, crates, bowls, collars to Luzerne County shelters, with help from Sarah Speed, Director of the Pennsylvania State Animal Rescue Team. Speed has facilitated aid between area animal groups and county animal response teams now running two temp shelters. Elsewhere, More than 100,000 residents from New York to Maryland were evacuated from the path of the rising Susquehanna River. Lee's deluge shut down major roadways, even as the bloated Susquehanna began to ease by Friday. Hardest hit areas followed the Susquehanna in Binghamton, NY, to towns on either side of Wilkes-Barre, PA (where 70,000 evacuated), and downstream into Maryland. People along the Housatonic River in Shelton, CT were also under mandatory evacuations. New Jersey, still swamped by Hurricane Irene, sustained less damage than anticipated with roughly 300 evacuated. Parts of Pennsylvania and New York are under presidential states of emergency and Virginia Governor Bob McDonnell has declared emergency status in his state. Lee is tied to 12 deaths: 4 in Pennsylvania; 3 in Virginia; 1 in Maryland; 4 along the Gulf Coast.

SEPTEMEBER, 2011
On Irene's Heels Comes Katia

Hurricane Katia brews over the Atlantic. Gulf oil platforms are evacuated and the National Hurricane Center has posted a public advisory. Once a tropical cyclone with sustained 75 mph winds, Katia has downgraded to a tropical storm that could regather hurricane momentum in its westward push. Kinship Circle is alerting disaster animal response volunteers in Zones 4 and 5 for a standby team.

SEPTEMEBER, 2011
Tropical Storm Lee

Meanwhile, Tropical Storm Lee could unload up to 50 centimeters of flood-causing rain on southern Louisiana, Mississippi and Alabama. The National Hurricane Service also indicates possible tornadoes over southern Louisiana to Florida's western panhandle. The Alabama-Florida border to Texas are under tropical storm warnings. Kinship Circle is monitoring Lee for animal impacts. Kinship Circle is prepared to mobilize, should our help be needed. We are NOT yet calling for standby volunteers — but will notify people registered in our disaster animal response network if we do.

REGISTER TO VOLUNTEER FOR ANIMAL AID IN DISASTERS. WE SEEK:
Independently trained volunteers with experience in disaster rescue, animal handling, sheltering, animal first aid, veterinary, photography and documentation, leadership skills.
Flexibililty to travel to disaster zones for 1-2 weeks.
Team players who follow FEMA Incident Command System and Kinship Circle protocol.
Self-sustainability in rugged post-disaster settings.
Already on Kinship Circle's Disaster Animal Response Team? Tell us about your new certs, training and experience so we can update your profile and contact you for future deployments. CONTACT info@kinshipcircle.org


♥ GIVE ONLINE

♥ GIVE BY MAIL
Kinship Circle
Animal Disaster Aid Fund
7380 Kingsbury Blvd.
Saint Louis, MO 63130 USA

WANTED: CAPTAINS & DEPUTY CAPTAINS!
Kinship Circle seeks Capatins and Deputy Captains as primary point people for disasters in their geographic range. Mother Nature doesn't care if we're busy. She has her own agenda, lately packed with storms, fierce winds, fire and floods. As a zone captain, we contact you first to discuss stranded animals and ways to help. If available, you head-up a team on the ground.
DISASTER RESPONSE GEOGRAPHIC ZONES
Zone 1 — ME, NH, VT, MA, RI, CT
Zone 2 — NY, PA, NJ, DE, MD
Zone 3 — OH, WV, VA, DC, KY, IN
Zone 4 — TN, NC, SC, GA, FL
Zone 5 — AL, MS, LA, TX, OK
Zone 6 — IA, IL, MO, AR, KS, NE
Zone 7 — ST. LOUIS, MO/METRO-EAST IL
Zone 8 — MI, WI, MN, ND, SD
Zone 9 — MT, WY, UT, CO, AZ, NM
Zone 10 — CA, NV, ID, WA, OR, AK, HI
Zone 11 — INTERNATIONAL - CANADA
OTHER COUNTRIES — If you are a qualified animal disaster responder in another country, we'd like to speak to you about serving as Captain or Deputy Captain there.
CONTACT Kinship Circle Executive Director Brenda Shoss
BOTTOM PHOTO ON LEFT: U.S. National Guard troops rescue David Rowlands and his dog Cupcake from Susquehanna River floodwaters in West Pittston, Penn. Catastrophic flooding in eastern USA forced evacuation of more than 130,000 in 3 states. REUTERS, Eric Thayer. Pennsylvania Flooding Captured in Photos