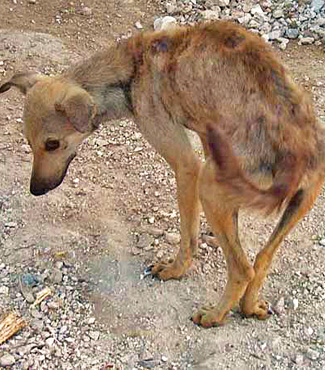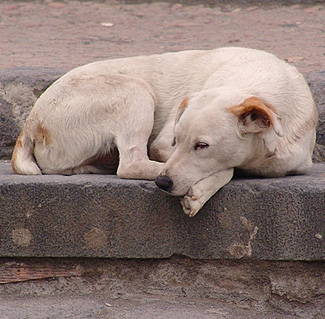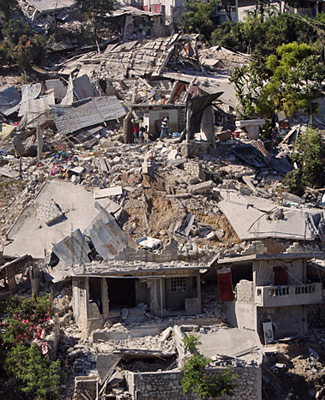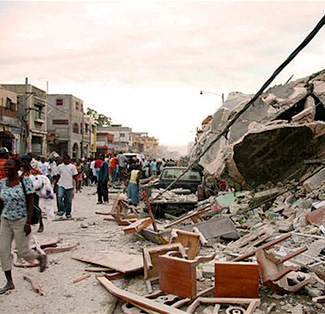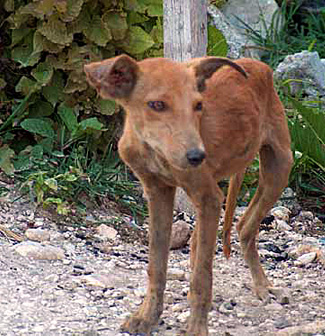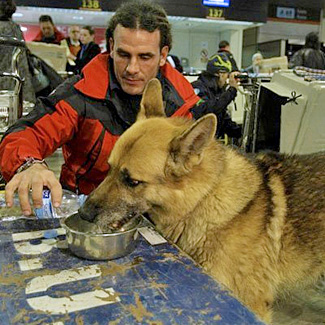 Mass earthquake hits Haiti, animal responders on alert



IN THIS DISASTER WATCH:

JANUARY, 2010
Haiti's Worst Earthquake In Over 200 Years Strikes The Heart Of A Poor Nation
On 1/12/10 everything changes for the impoverished Caribbean nation of Haiti. A 7.0 earthquake shatters densely populated Port-au-Prince, leaving tens of thousands dead. Some 5 million farmed and native wild animals are harmed. A large stray population that struggled to survive pre-quake now faces starvation, wounds, disease… Animal responders cannot gain clearance until humanitarian efforts are fully underway.
Fortunately, first responders from China, Spain, France, USA, etc. are mobilizing teams to aid the financially strapped Haitian government. Food, sanitary water, shelter and medical care are critical for human survivors. Kinship Circle is monitoring animal impacts and in communication with regional rescue in the Dominican Republic (there are no rescue organizations based in Haiti).
UPDATE: KINSHIP CIRCLE JOINS HAITI ANIMAL AID COALITION
Kinship Circle joins forces with top animal protection organizations worldwide to form Animal Relief Coalition Of Haiti (ARCH), a unified response led by World Society For Protection Of Animals (WSPA) and International Fund For Animal Welfare (IFAW).
INITIAL NEWS FROM HAITI
1/12/10: A 7.0 magnitude earthquake strikes Haiti, killing tens of thousands of people.
The Caribbean nation appeals for international help.
U.S. Geological Survery records the earthquake as the most powerful to hit Haiti in over 200 years.
Quake epicenter is 15km southwest of Port-au-Prince. [USGS]
About 4 million people reside in Port-au-Prince and nearby areas.
Reuters footage shows scenes of chaos, with people sobbing and dazed amid rubble and fallen buildings.
Forceful 5.9 aftershocks rattle Port-au-Prince throughout the night and for several more days.
Haiti lacks resources to respond, such as equipment to move debris and adequate emergency personnel.
Witnesses say hillside homes and shanties broke into pieces and tumbled down like an avalanche as the earth shook.
Communications down, except satellite phone. Roads blocked.

JANUARY, 2010
Kinship Circle Directory
GLOBAL ANIMAL AID IN HAITI
KINSHIP CIRCLE DISASTER ANIMAL RESPONSE TEAM
GIVE ONLINE: www.kinshipcircle.org/donation
GIVE BY MAIL:
Kinship Circle / 7380 Kingsbury Blvd.
Saint Louis, MO 63130 / USA
phone: 314-795-2646, email: info@kinshipcircle.org
website: www.kinshipcircle.org

Kinship Circle Joins Coalition For Haiti Animal Aid. We Need Your Help! Kinship Circle has united with top animal protection organizations worldwide to form Animal Relief Coalition Of Haiti (ARCH), a collective response led by World Society For Protection Of Animals (WSPA) and International Fund For Animal Welfare (IFAW). There cannot be dedicated animal rescue in Haiti until the human crisis is stabilized. However, Kinship Circle has joined ARCH to fund "feet on the ground," and relieve stricken animals as soon as possible. We've assembled an expert team — including a veterinarian, firefighter, ACO, and more experienced first responders — on alert to deploy.
INTERNATIONAL FUND FOR ANIMAL WELFARE (IFAW)
IFAW International Headquarters
290 Summer Street / Yarmouth Port, MA 02675 USA
508-744-2000, 800-932-4329, info@ifaw.org
website: www.ifaw.org
IFAW's Emergency Relief team is on high alert to help in Haiti after a devastating earthquake struck near the capital of Port-au-Prince. As always with mass disasters, humanitarian rescue efforts will dominate the first week or so. IFAW is ready to assist the animal victims in any way that we can.
WORLD SOCIETY FOR PROTECTION OF ANIMALS
WSPA USA, Lincoln Plaza
89 South Street, Suite 201 / Boston, MA 02111 USA
800-883-9772, website: www.wspa-usa.org
WSPA has been in talks with the United Nations (in distress themselves since their Port-au-Prince office collapsed, with 15 staff members dead and 20 missing( and local Red Cross Chapters to gain understanding of animal impacts. Jorge Alcidez Gonzalez, our Disaster Liaison Officer from Panama and Head of the Civil Defence K9 Unit, is now with a team of veterinary staff to assess animal needs…and treat injured animals.
HUMANE SOCIETY INTERNATIONAL (HSI)
2100 L Street, NW / Washington, DC 20037 USA
202-452-1100, website: www.hsus.org/hsi
Humane Society International and Humane Society of the United States are working with other animal welfare and humanitarian organizations to determine how best to assist animals and people affected in Haiti. We have offered our support in providing care to animals and will post updates as they become available.

REGISTER TO VOLUNTEER FOR ANIMAL AID IN DISASTERS. WE SEEK:
Independently trained volunteers with experience in disaster rescue, animal handling, sheltering, animal first aid, veterinary, photography and documentation, leadership skills.
Flexibililty to travel to disaster zones for 1-2 weeks.
Team players who follow FEMA Incident Command System and Kinship Circle protocol.
Self-sustainability in rugged post-disaster settings.
Already on Kinship Circle's Disaster Animal Response Team? Tell us about your new certs, training and experience so we can update your profile and contact you for future deployments. CONTACT info@kinshipcircle.org


♥ GIVE ONLINE

♥ GIVE BY MAIL
Kinship Circle
Animal Disaster Aid Fund
7380 Kingsbury Blvd.
Saint Louis, MO 63130 USA



BOTTOM PHOTO ON LEFT: A Spanish firefighter gives his rescue dog water. "In pictures: Haitian earthquake," news.bbc.co.uk/2/hi/in_pictures/8455774.stm