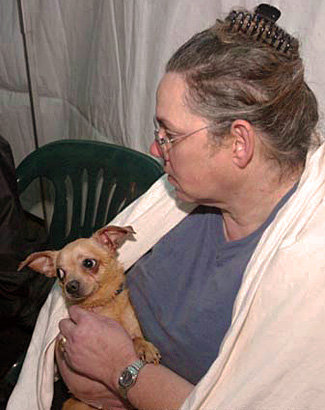 TEXAS FLOODS: After days of rain, swollen rivers in Northern Texas to exceed capacity and cause flash floods. Rains are forecasted to continue and could lead to more localized evacuations. Photo by Mary Vinson, Hood County News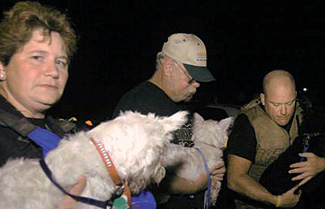 Texas Floods: Sixteen counties in Texas, including Wilson, Williamson, Burnet, Hood and Llano, have been soaked by rain for days. Access to flooded towns is not possible in some areas. Photo by Mary Vinson, Hood County News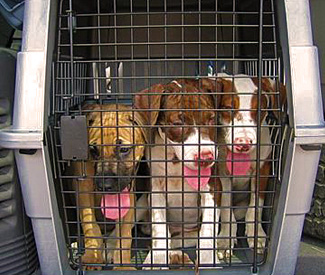 KANSAS FLOODS: Homes are underwater in Coffeyville, Kansas, plus a large oil spill coated everything with slimy, smelly goo. Animal rescue groups are searching door to door and street by street for stranded animals at risk from floodwaters and toxic oil. Photo by J. Tomaszewski, network.bestfriends.com
Kansas Floods: Animals rescued from the oily water are decontaminated and reunited with their families. Photo from Pet Rescue Launched In Flooded Coffeyville, www.kotv.com/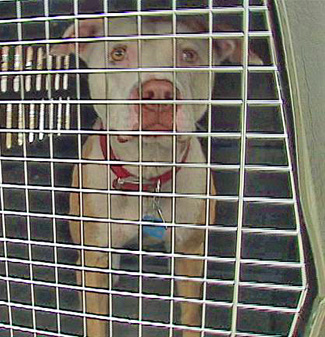 Kansas Floods: This dog was rescued from a flooded home in Coffeyville, Kansas. Photo from Pet Rescue Launched In Flooded Coffeyville, www.kotv.com/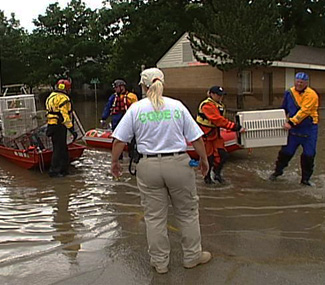 Kansas Floods: Code 3 Pet Rescue goes door to door to rescue left-behind animals in Coffeyville, Kansas. Photo from Pet Rescue Launched In Flooded Coffeyville, www.kotv.com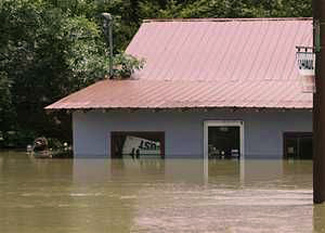 OILY FLOODS IN OKLAHOMA, KANSAS, TEXAS: Floodwater surrounds an oil refinery. Hundreds flee northeastern Oklahoma as floodwaters and an oil slick push down the Verdigris River. A Kansas refinery leaked an estimated 42,000 gallons of thick crude oil. Thousands are affected in Kansas, Oklahoma and Texas. www.cnn.com PHOTO BELOW: California Wildfires: Firefighters work to save homes near South Lake Tahoe. Dr. David Monroe of Sierra Veterinary Hospital said the facility is boarding a large number of animals who lost their homes due to the fire. Tahoe Daily Tribune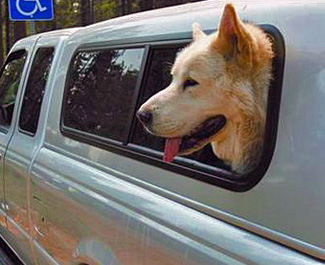 CALIFORNIA WILDFIRES: A dog waits in a truck bed at the South Lake Tahoe Recreation Center. Photo by Trevor Clark, Tahoe Daily Tribune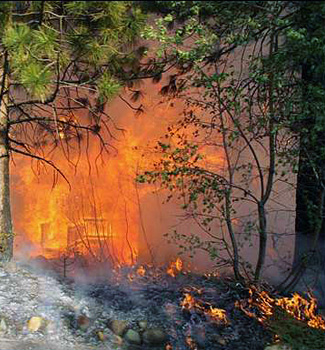 Floods, fires across TX, KS, OK, CA



IN THIS DISASTER WATCH:

JULY 4, 2007
Texas Flood: It's Raining Cats & Dogs
SOURCE: Red Cross; Kat5 Animal Rescue kat5animalrescue@yahoo.com
7/4/07, From Red Cross — Sixteen counties in Texas, including Wilson, Williamson, Burnet, Hood and Llano, have been soaked by rain for days, and the rain is expected to continue. Access to flooded towns is not possible in some areas, power is out in others. Those who remain at home are urged to continue watching news and listening to radio, mindful that the call to evacuate could still come.
7/3/07, From kat5animalrescue@yahoo.com — Rain has not let up in Texas, yet authorities say animal aid is contained, with no more search and rescue needed. Red Cross and National Guard are in Texas to help residents. KAT 5 Animal Rescue has spoken with agencies in hardest hit Texas areas about animals. On 6/30/07, officials from Marble Falls, Forth Worth, Weatherford, Granbury and Austin said that for now, everything is under control.
TEXANS WHO NEED AID FOR FLOOD AFFECTED ANIMALS
Contact Kat 5 Animal Rescue: 972-898-3300
kat5animalrescue@yahoo.com


Pet Spa Dog Trainer 911
2010 Acton Hwy / Granbury, TX 76049
817-326-6243
Will board dogs in need of temp lodging, free of charge while guardians recover from the flood.


Hood County Senior Center
East Moore Street in Granbury
817-573-5533
Flood evacuee center that accepts companion animals, according to Hood County News Online.
WAYS TO ASSIST WITH TEXAS ANIMAL FLOOD RELIEF
ADOPT-FOSTER FOR NOAH'S ARK SPCA/HUMANE SOCIETY
Contact: 940-665-9800
http://noahs-ark-care.org/
VOLUNTEER FOR SUPPLIES TRANSPORT
From Dallas area to Haltom City
Contact Kat 5 Rescue: 972-898-3300
DONATE CRITICAL ANIMAL SUPPLIES
Contact Kat 5 For Details: 972-898-3300
kat5animalrescue@yahoo.com
- puppy food, any brand, 20 bags dry
- dog food, 15 bags dry
- cat litter, 15 bags
- small plastic cat litter pans, fit in kennel, 20
- cat food, 10 bags dry
- kitten food, 10 bags dry, 20 cans wet
- pee pads like used in rest homes, not disposable
- nylon slip leashes, 15
- dog collars, 20
- 1-quart stainless steel cat bowls with ring clip, 20
- 3-quart stainless steel bowls, 20
- small sized cat beds, 25
- rawhid dog chews
- dog dewormer liquid D/120, 20 bottles
- cat dewormer Praziquatal, 10 bottles
- 12 oz case of Addams flea spray, for cats & dogs

7/4/07, From presszoom.com/story_134367.html — After days of rain, swollen rivers in Northern Texas exceeded capacity and caused many flash floods. Neighborhoods have high waters that could initiate more evacuations. The rains are not forecasted to stop soon. Humane Society of the United States urges animal caregivers to gather supplies and prepare to take their animals with them…



EMERGENCY SUPPLY KIT FOR ANIMALS
3-day or more food supply in airtight, waterproof container + drinking water
Bowls for food and water
Current photos and physical description of each animal
Medications, vaccination records and animal first aid kit
Comfort items such as toys and blankets
Small garbage bags
DOGS: collar with ID tag, leash, harness and sturdy carrier large enough to use as sleeping area
CATS: collar with ID tag, litter/pan and a sturdy carrier large enough for transport and temporary living area

JULY 4, 2007
Kansas Flood: Animal Disaster Rescue Launched Amid Oily Floodwaters
SOURCE: Kansas KOTV; Kat5 Animal Rescue kat5animalrescue@yahoo.com
Up to 20 inches of rain fell on southeast Kansas. The National Guard was called in for rescue in some areas. Other areas are nearly unreachable by road. Adding to the flood hazard is an oil pipe rupture near Coffeyville. Environmental Protection Agency is responding to that situation.
7/4/07, From kat5animalrescue@yahoo.com — KAT 5 Animal Rescue & KARE, in a joint effort, are headed to Kansas to rescue animals endangered by recent flooding and oil spill.
WAYS TO SUPPORT KANSAS FLOOD ANIMAL AID
VOLUNTEER
Contact Kat 5 Rescue: 972-898-3300, kat5animalrescue@yahoo.com
HSMAT training preferable due to chemical spill.
Animal rescuers, caregivers, vets, vet techs
FOSTERS AND SHELTERS NEEDED
To temporarily house animal flood victims
DONATE FUNDS
For supplies, gas, transports. Kat 5 is a nonprofit.
CHECKS (no supplies here): KAT 5 Rescue
2807 Allen St. #790 / Dallas, TX 75204
PAYPAL: kat5animalrescue@yahoo.com
DONATE NEEDED ANIMAL SUPPLIES
Contact Kat 5 For Details: 972-898-3300
kat5animalrescue@yahoo.com
- respirator masks
- scuba tanks with air
- John boat
- gas cards
- kennels
- leashes
- cat litter
- tents/buildings
- dog, cat, bird and rabbit food
7/3/07, PET RESCUE LAUNCHED IN FLOODED COFFEYVILLE, KANSAS KOTV — More than 200 homes are underwater in Coffeyville, Kansas, plus a large oil spill coated everything with slimy, smelly goo. As waters recede, many are still unable to get back into homes to check damage. People aren't the only ones coping with floods and oil. Carl and Nona Pendleton are most worried about their cats, Kitten and Cuddles, left behind during a quick evacuation… Code 3 Pet Rescue goes door to door to rescue animals. Coffeyville's flooding is complicated by 42,000 gallons of oil that spilled into Verdigris River. "Toxins in the water are extremely dangerous to animals," said Kay Mayfield, Code 3 Pet Rescue. "When they don't have water, they drink flood water or eat something contaminated in flood water"

Toxic water can cause chemical burns and severe intestinal problems if animals drink it. Rescued animals are decontaminated, treated by vets, and reunited with families. Volunteers haven't found Kitten and Cuddles, but they'll keep looking…

JULY 4, 2007
Oklahoma: Residents Flee As Oily Floodwaters Close In

SOURCE: Red Cross; CNN; Associated Press

Heavy rainfall began the floods in Lawton and have expanded to Tulsa, Bartlesville and other parts of northern Oklahoma. While evacuations continue, state and local authorities along with non-governmental organizations coordinate efforts to respond… State officials warn people to avoid oily water swirling through town. Dogs rescued from flooded homes are covered with oil.

7/3/07, Oklahoma, AP — Hundreds of residents fled northeastern Oklahoma homes with all they could carry as floodwaters pushed downstream. The Verdigris River river flowed, with thick crude oil from a 42,000-gallon spill at a Kansas refinery oil, toward a reservoir that supplies water to several cities. Torrential downpours led to flash floods and vehicle rescues in East Texas. In northeast Oklahoma, the Neosho River overtopped, forcing at least 300 Miami residents to evacuate. Another 200-300 homes may have to be evacuated before the water recedes…

At least 50 people were evacuated by boat from a rural western Missouri as floodwaters streaming in from neighboring Kansas submerged roads. Evacuees included one family outside town with 10 dogs, all of whom were brought out by boat…

JULY, 2007
California: Help For Animals Displaced By Angora Fire
SOURCE: Tahoe Daily Tribune; Kat5 Animal Rescue kat5animalrescue@yahoo.com
El Dorado County Animal Control Triage For Companion Animals Affected By Angora Fire — The shelter has room for 16 dogs, plus cages and crates for plenty of cats. Animal Control officers will rescue animals if people provide address, description of pet, tag ID and any other pertinent information to help locate animals.
EL DORADO COUNTY ANIMAL CONTROL
1120 Shakori Drive / Off State Rte 89 in Meyers
Contact: 530-577-1766
People who find/rescue pets may take them to the shelter.


Some motels allow pets and others have loosened restrictions:
- Value Inn & Cloud 9 Weddings, Lake Tahoe Blvd
- Holiday Inn Express
- Inn at Heavenly
- Motel 6
- Inn By The Lake
LAKE TAHOE HUMANE SOCIETY AND SPCA
1221 Emerald Bay Road, behind Snowshoe Thompson Ski Rental between D and E streets at the "Y"
Contact: 530-542-2857
Emergency animal supplies available. Donations accepted.


SUPPLIES NEEDED:
- cat litter and pans
- flat oval crate pads
- towels
- name-brand dry cat and dog food
FOSTER FAMILIES NEEDED:
Especially for kittens.
Contact: 530-542-2857