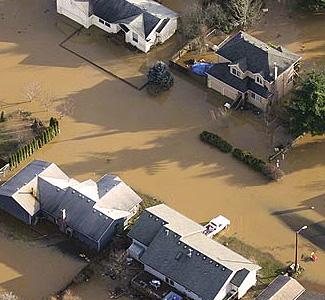 Washington and Oregon: Severe flooding killed at least 7 people and left flooded homes, fallen trees, washed-out raods. At least 300 people were rescued by military helicopter. AP Photo, www.cnn.com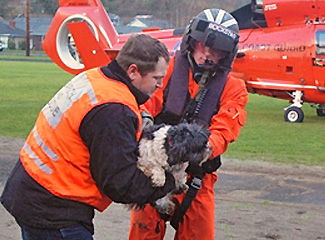 U.S. Coast Guard reports it rescued 106 people and 6 animals in two days from flooding in the Pacific Northwest. Photo, http://cgvi.uscg.mil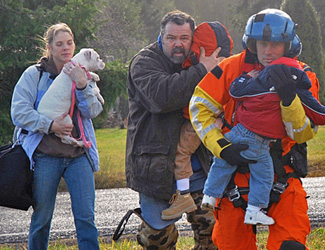 Seattle: Petty Officer 2nd Class Travis Vanzandt carries a young child followed by family members and their dog during the Northwest flood. Photo, http://cgvi.uscg.mil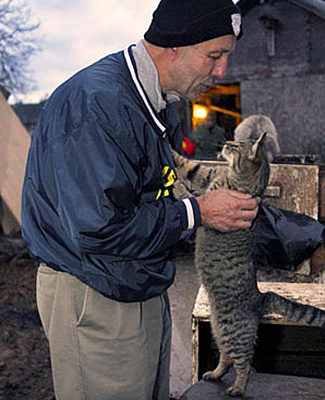 Mason & Lewis Counties, Washington State: Animals are in need of extra TLC. Pasado's Safe Haven pasadosafehaven.org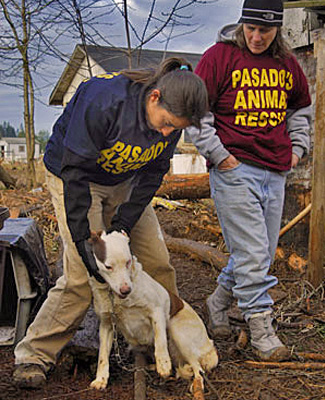 Annie had no dry shelter or food. Pasado's rescuers give her a new dry dog house filled with cozy blankets and a large supply of food. Pasado's Safe Haven. PHOTO BELOW: More gentle hands for animal flood survivors, from a Pasado's rescuer. Pasado's Safe Haven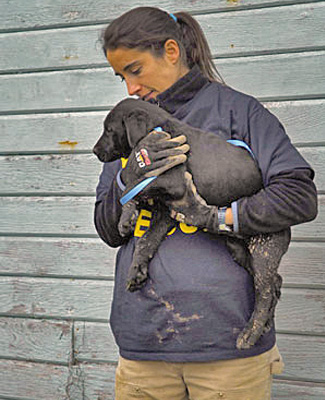 Help animals in aftermath of Pacific Northwest USA floods



IN THIS DISASTER WATCH:

OREGON & WASHINGTON STATE, 12/5/07
Floods Plague Pacific Northwest
SOURCE: cnn.com

FLOOD OVERVIEW — Severe flooding in Washington and Oregon killed at least 7 people and left behind flooded homes, fallen trees and washed-out roads. The storm continued pushing east, dumping snow across the Midwest… Damage could be in the billions of dollars, Gov. Chris Gregoire said… At least 300 people had been rescued by helicopters from the Navy, Coast Guard, National Guard and other agencies, and flights continued for the state's largest aerial search-and-rescue operation in a decade.

MASON & LEWIS COUNTIES, WASHINGTON STATE, 12/7/07
Pasado Rescue Deploys To 3-County Area
SOURCE: Pasado's Safe Haven
EXCERPTS FROM FLOOD RESCUE — "A group of Pasado's rescuers deployed to Lewis County this week to lend a helping hand. Most rescuers had successfully helped Pasado's Safe Haven rescue over 1200 animals in the aftermath of Hurricane Katrina. What they saw in Lewis County looked familiar — the complete destruction and devastation that water and mud create…"
HOW TO HELP ANIMALS IN PACIFIC NW FLOODS
CALL IN A DONATION TO MONROE FARM & FEED STORE:
360-794-4663 — This store offers Pasado a discount so we can stock up on rescue supplies. Donate a gift certificate for livestock hay, feed and straw.


DONATE A COSTCO OR PETSMART GIFT CARD
Mail to: Pasado's Save Haven / PO Box 171 / Sultan, WA 98294


DONATE SECURELY ONLINE, CLICK HERE


SUPPLY DROP-OFFS WELCOME!
Barrier Motors has generously offered their dealership to collect dog/cat food, new beds, and bowls. Please drop off at: Barrier Motors / 1533 120th Avenue NE / Bellevue, WA 98005

PASADO RESCUE DEPLOYED TO 3-COUNTY AREA, PACIFIC NORTHWEST FLOOD 12/7/07— Rescue calls came in in a flurry today, partly because people are able to get back to their homes, or at least able to try. That's when they find animals left behind in floodwaters. Some are dead.

WASHINGTON STATE
Emergency Boarding For Small/Large Animals

HUMANE SOCIETY FOR SEATTLE/KING COUNTY
FREE EMERGENCY BOARDING FOR COMPANION ANIMALS
Drop off animals or contact their office for more information.
13212 SE Eastgate Way / Bellevue, WA 98005-4408
425-641-0080, humane@seattlehumane.org
DONATE: www.seattlehumane.org/donors.shtml

KING COUNTY ANIMAL CARE AND CONTROL
EMERGENCY SHELTER — BARNYARD ANIMALS
Drop off animals or contact their office for more information.
21615-64th Avenue S / Kent, WA 98032
206-296-7387, pets@kingcounty.gov
www.kingcounty.gov/animals

PORTLAND, OREGON
Oregon Humane Society Takes Dogs In, Sends Food
SOURCE: www.examiner.com

12/6/07, AP — Oregon Humane Society has taken more than a dozen dogs from a Chehalis, WA animal shelter to make room for pets injured by storms there. Rising waters submerged much of Chehalis under several feet of water. The Chehalis facility is on dry ground and remains open to receive animals and reunite them with their owners. But it is expecting an influx of animals.

Oregon Humane Society expects to treat animals and find them homes. The organization has delivered thousands of pounds of pet food to flood-ravaged Tillamook and Vernonia on Oregon's coast.

DONATE OR CONTACT OHS ABOUT ADOPTIONS
Oregon Humane Society
PO Box 11364 / 1067 NE Columbia Blvd. / Portland, OR 97211-0364
503-285-7722, www.oregonhumane.org

VERNONIA, OREGON
CAT Helps Victims In Flood Ravaged Vernonia
SOURCE: www.catadoptionteam.org/cat/adoption/team/390

12/6/07 — Responding to the American Red Cross, Washington County Animal Services in Hillsboro and Cat Adoption Team in Sherwood rallied to provide dog and cat food as well as crates and other supplies for pet owners of Vernonia. Flood waters of the Nehalem River are retreating and residents of this small community are just beginning to assess damage.

Vernonia was cut off from the rest of the state earlier in the week as torrential rains and winds not only caused flooding but landslides blocking access to Columbia County town.

CAT provided over three pallets of dog/cat food, medium-sized crates and thousands of pet food bowls for Red Cross to distribute to pet owners affected by this disaster. Washington County Animal Services gathered and transported supplies to the staging area for the Oregon Trail Chapter of the Red Cross. They estimate over 4000 pounds of pet food was sent.

DONATE TO CAT ADOPTION TEAM (CAT)
Cat Adoption Team
14175 SW Galbreath Drive / Sherwood, OR 97140
503-925-8903, contactus@catadoptionteam.org
DONATE: payments.auctionpay.com/ver3/?id=W038712

REGISTER TO VOLUNTEER FOR ANIMAL AID IN DISASTERS. WE SEEK:
Independently trained volunteers with experience in disaster rescue, animal handling, sheltering, animal first aid, veterinary, photography and documentation, leadership skills.
Flexibililty to travel to disaster zones for 1-2 weeks.
Team players who follow FEMA Incident Command System and Kinship Circle protocol.
Self-sustainability in rugged post-disaster settings.
Already on Kinship Circle's Disaster Animal Response Team? Tell us about your new certs, training and experience so we can update your profile and contact you for future deployments. CONTACT info@kinshipcircle.org