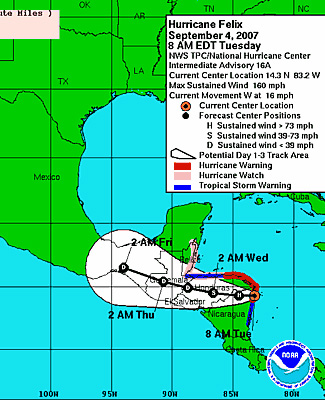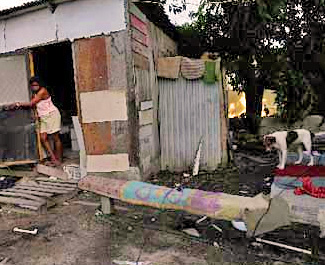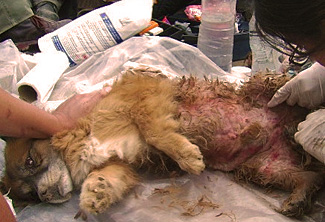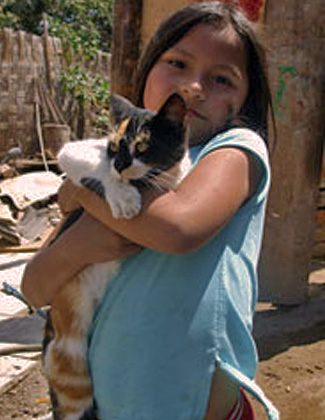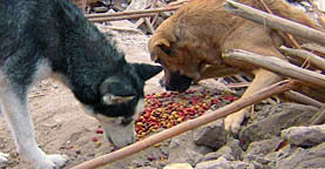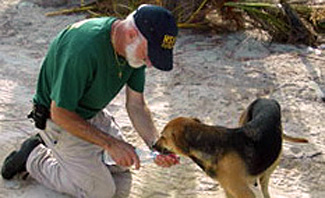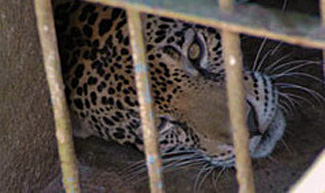 Felix Gains Force • Henriette Brews • Peru Quake • Dean Aftermath



IN THIS DISASTER WATCH:

SEPTEMBER 4, 2007
Hurricane Felix Gains Ground Force As Henriette Heads To Baja California Sur
9/4/07, HURRICANE FELIX, From capron@pets911.org — From tropical storm to category 5 hurricane in 46 hours, Felix breaks all records. At 2:00am this morning, winds were 165 mph. They've since weakened to a Cat 4, but this storm should be watched. Some tracks show Felix veering East, headed for Florida, and one track shows it hitting Texas and/or Louisiana… Getting your family and pets fully prepared is the answer for less emotional stress. It also greatly reduces or eliminates chance of injury during or after the storm… If Felix veers East at any time, we'll send an update. Animal Rescue Groups check Pets911: www.pets911.org/emergency/groups.html
SOURCE: Capt. Ron Fach, capron@pets911.org
Humane Law Enforcement-Florida / Pet Owners Alliance Inc.
Disaster Response Teams and Computerized Lost/Found Records
www.pets911.org, 1-800-U.S.Stray
9/4/07, HURRICANE FELIX, From CNN Report — Hurricane Felix, a Category 5 storm, makes landfall in Nicaragua. A fearsome storm slams into Central America, winds at 160mph. Thousands of tourists and residents move to higher grounds along the Honduran coastline… Felix is a fairly compact storm, now getting the surge with tornado-like winds. With rainfall across the region, expect mudslides and flash floods in this very mountainous area. Felix continues westward, with most damaging winds to north of the center of hurricane. At 100+ mph winds, the storm does not have moisture source of ocean, so Felix will weaken.
9/4/07, HURRICANE HENRIETTE — Henriette strengthens to a hurricane, with 85 mph winds and Category 1 force. The government of Mexico has extended its hurricane warning to Southern Baja Peninsula, from Loreto southward on the east coast…and from Bahia Magdalena southward on the west coast, including Cabo San Lucas. Henriette gained Cat 1 status as it aimed at Cabo San Lucas, preparing to cut a swath across Baja California Sur.
SOURCE: www.nhc.noaa.gov
www.bajainsider.com/weather/hurricanes
www.palmbeachpost.com

AUGUST-SEPTEMBER, 2007
Peru Earthquake: Disaster Aid For Deserted Animals
An 8.0 magnitude earthquake slams the central coast of Peru 8/15/07, killing more than 500 people and flattening buildings, roads and 34,000 homes. Peruvian rescue groups report animals dying from starvation. Most, abandoned when caregivers fled or died, are wounded and helpless on the streets.
ANIMAL EARTHQUAKE RELIEF GROUPS
PERUVIAN ASSOCIATION FOR ANIMAL PROTECTION
Contact: (51-1) 435-9283
email: asppa@hotmail.com
Lida Cardenas, founding ASPPA member, speaks limited English: lida.cardenas@bcrp.gob.pe
website: www.asppa-peru.org/
From Angela Sanchez, asppavoluntario@hotmail.com — The Peruvian Ministry of Health has requested our assistance with animals dying from starvation down south in Lima. Most of them have been abandoned, are injured and lying helpless on streets. They are not helped since they're not consider priority.
SUPPLY & DONATION NEEDS FOR ASPPA
dry cat/dog food
canned cat/dog food
water
any type of farmed animal food
cash to rent 4x4 vehicles and buy vet med supplies
DONATIONS CAN BE MADE TO:
Pet Store "Patas y Colas"
La Encalada 837 Avenue / Surco, Lima
CASH / LOCAL BANK WIRE:
Banco de Credito
Cuenta Corriente ASSPA 193-1592586-0-25
Account number: ASSPA 193-1592586-0-25
BANK WIRE FROM ABROAD:
Codigo de Cuenta Interbancario
00219300159258602514
GRUPO CARIDAD
Contact: grupocaridad@gmail.com
Fernando Moreno (no English): 011-93689489
Miraflores: Av. La Paz 676 Oficina 4
(Lu-vie) Previa Llamada 4476820
La Molina: Calle Forestales 436 La Molina (Lu-Dom)
website: www.grupocaridad.com/

8/30/07, From Humane Society International — Lima-based Grupo Caridad helps care for animals affected by an 8.0 earthquake. Fernando Moreno, founder, sends HSI field updates: "The magnitude of the catastrophe is much worse than seen on TV. Downtown Pisco no longer exists — it is reduced to rubble. Many frightened and traumatized animals roam streets. Others wait in the debris, perhaps expecting their people to return." Grupo Caridad veterinarians have treated 200+ animals in Pisco and distributed 1,500+ pounds of food.

UNIDOS POR ANIMALES
Contact: info@unidosporlosanimales.org, unidosporlosanimales@hotmail.com
website: www.unidosporlosanimales.org/

CANADIAN ANIMAL ASSISTANCE TEAM (CAAT)
Veterinary Professionals Dedicated to Care of Animals Worldwide
CAAT / c/o 1635 West 4th Avenue
Vancouver, BC / Canada V6J 1L8
email: info@caat-canada.org
website: www.caat-canada.org

8/22/07, CANADIAN VOLUNTEERS GO TO PERU TO HELP ANIMAL SURVIVORS OF QUAKE, Elaine O'Connor, CanWest News Service — Canadian volunteers will help survivors in Peru, where an 8.0 earthquake devastated the South American country's central coast. But the group won't tend to wounded citizens. These medical specialists will aid overlooked survivors: animals. More than 500 people were killed and 1,000 injured when the quake leveled buildings, highways and 34,000 homes on 8/15/07. Canadian Animal Assistance Team is sending 31 veterinarians and technicians to treat wounded animal companions. "We're not involved in rescue. We're there for animal triage, we put them back together," CAAT member Dr. Bill Ignacio of Granville Island Veterinary Hospital said. CAAT hopes to reunite people with their pets. Animals without families will be cared for in shelters or foster homes.

AUGUST 30, 2007
Hurricane Dean: In Mexico To Help Animal Victims Of Destructive Storm
Mexican communities in Hurricane Dean's destructive path suffer wind damage and storm surges over 20 feet. Companion and wild animals urgently need veterinary treatment.
8/30/07, From Humane Society International — HSUS and HSI provide relief for animals in Mexico, following Hurricane Dean. While Cancun was spared from the storm's fury on 8/21/07, many coastal towns and villages in southern Yucatan Peninsula sustained severe damage from the Category 5 storm… HSI's Dr. Barry Kellogg, HSUS acting director of disaster services, visited hurricane-torn Jardin Zoologico Payo Obispo, a sanctuary with 430 animals: "Our hearts broke very quickly. What had been a beautiful refuge for birds, jaguars, pumas, monkeys and more species was totally devastated." All trees were destroyed and enclosures damaged. Fallen trees blocked access, forcing animals to remain in lock-down.
HSUS, International Fund for Animal Welfare and World Society for Protection of Animals are providing grants to rebuild Jardin Zoologico Payo Obispo facilities and increase capacity of its veterinary clinic to handle emergencies.
BOTTOM LEFT PHOTO: This jaguar came to Parque Zoologico Payo Obispo after serving as a photo op for tourists. He had been released into the forest (without survival skills) when too big to control. Since Dean hit, all sanctuary trees are destroyed and enclosures damaged. Fallen trees block access, forcing animals to stay in lock-down. Jeff Eyre HSUS