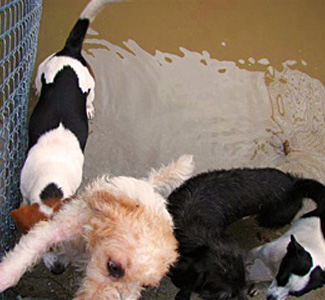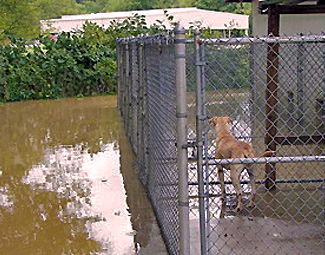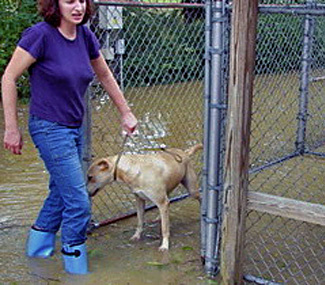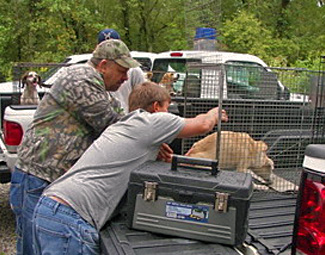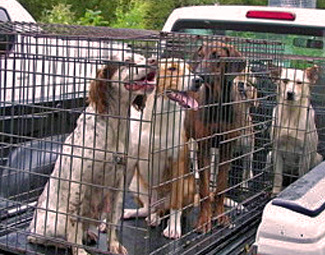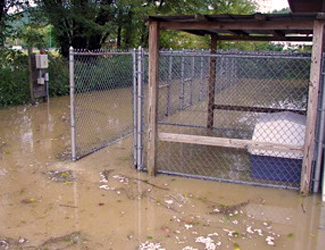 Animals caught in California fires & Morehead, KY pound flood



IN THIS DISASTER WATCH:

SEPTEMBER 27, 2006
Officials Won't Let Woman Evacuate From California Fires With Her Animals
SOURCE: Jane Garrison janegarrison@comcast.net
9/27/06, REPLY TO: Jane Garrison janegarrison@comcast.net — Can someone help? I got a frantic call from a woman's daughter in Lockwood Valley, CA (Ventura/Los Angeles area). There are horrible fires underway and the woman left her house yesterday morning to take one of her cats to the vet (who subsequently had to be put down). When she returned home the fire department blocked her from entry and won't let her retrieve 4 cats and 3 dogs trapped inside. One dog is insulin dependent. She must evacuate them. Officials refuse to let her in, even though her house is not in immediate danger. If she cannot rescue her animals, they will die from starvation/dehydration or eventual smoke inahalation and flames.
IF YOU HAVE ANY CONTACTS IN THAT AREA, OR IDEAS, REPLY IMMEDIATELY: Jane Garrison, JaneGarrison@comcast.net

SEPTEMBER 24, 2006
Funds Needed To Move Dogs From Flooded KY Pound
SOURCE: Liz Marshall lizardmarsh@gmail.com

9/24/06, REPLY TO: Julia Sharp juliatat@yahoo.com — "We need funds for gas and van transport of dogs to Chicago rescue. It's been rough. The dogs move back (to the soggy pound) in the morning, but in response to some rescue offers we hope to get as many out as possible. To do this, we must raise rund to rent a cago van. We are fortunate to decent dog warden in Morehead. Many Kentucky wardens would have left animals to drown. Our warden, Jimmy Hale, was at the pound early this morning to bleach and scrub it down…"

DONATIONS VIA PAYPAL:
Julia Sharp can receive donations via PayPal at her email address juliatat@yahoo.com

OR MAIL DONATIONS TO:
Rowan County Dog Pound
C/O Julia Sharp
164 East Main Street
Morehead, KY 40351

TO ADOPT/RESCUE DOGS FROM FLOODED POUND, CALL:
Sue C. 606-356-1939
Jan D. 606-462-0375
Julia S. 606-207-2795 or 606-784-1997

VIEW ANIMALS HERE:
www.petfinder.com/shelters/KY224.html

Rowan County K-9 Shelter
305 Bullfork Road
Morehead, KY 40351
Mon-Thur 3pm-6pm, Fri Closed
Sat 10am-3pm, Sun 12pm-3pm
The Rowan County Pound is in Morehead, KY — rural Kentucky 50 miles from the Ohio River and southeast Ohio.

SEPTEMBER 24, 2006
Update: Rowan County Pound Flood In Morehead, KY
SOURCE: http://dogpoundky.com/phpBB2/viewtopic.php?t=90

9/24/06, REPLY TO: Jan D., 606-462-0375 — "By the time we left, it was poured out the front door, with at least a foot high inside the pound. We stacked file cabinets, refrigerator, etc. on top of the desk. We were concerned about getting out of there before the road was closed. Dogs were safely evacuated to the Rowan Vet Clinic, an old forestry building on Hwy. 519, and my barn/house. Jimmy Hale (dog warden) noted that flooding will finish off the foundation and cracks in walls, as the pound was in bad shape to begin with. I'll keep you posted on what will happen in the next couple days. Thanks, Jan."

SEPTEMBER 23, 2006
Original Crisis: Kentucky Pound Is Swamped
SOURCE: Liz Marshall lizardmarsh@gmail.com
Julia Sharp juliatat@yahoo.com

9/23/06, REPLY TO: Liz Marshall lizardmarsh@gmail.com — "This is an emergency. Please help animals from Rowan County Pound in Morehead, KY. The pound is underwater and the animals had to be
moved. Please go adopt or rescue these animals or forward this email to people who can. Contact Julia Sharp, whom many know and have utmost respect for her tireless rescue efforts."

Julia Sharp can receive donations via PayPal at her email address juliatat@yahoo.com

OR MAIL DONATIONS TO:
Rowan County Dog Pound, C/O Julia Sharp
164 East Main Street / Morehead, KY 40351

9/23/06, REPLY TO: Julia Sharp, juliatat@yahoo.com — "We're up to our knees in water and rising. Dogs are held in old building on Hwy. 519, some at vets, some at Jan's. We must find places for dogs today. The pound will remain unsafe for any animals until serious decontamination and bleaching can be done. Bacteria, mice and feces float in filthy floodwaters. Dogs cannot stay at the temp building too long. Unless adopted or fostered, euthanasia will occur…"

TO ADOPT/RESCUE PUPS, TOOTHLESS CHI, TERRIER MIXES, LABS, CHOW MIXES… CALL:
Sue C. 606-356-1939
Jan D. 606-462-0375
Julia S. 606-207-2795 or 606-784-1997

"Through the power of email, all dogs can be re4scued and adopted. This pound has only 10 runs. There are enough people out there to save these animals. Please forward this message until all are safe."


BOTTOM LEFT PHOTO: "Bacteria, mice and feces float in filthy floodwaters." Photo from Julia Sharp, animal rescuer and Kinship Circle member