We Will Remember
Memorial For Lives Lost
1/30/08 ~ Rescuers from Animal Rescue New Orleans, Pasado's Safe Haven and Katrina Animal Rescue Team met at P.G.T. Beauregard Middle School to remember 33 dogs and cats murdered there. The school's front yard filled with flowers from around the U.S. and Canada. Kelle Davis, from Houston, said: "This is the first time I've been back to this school since the day I saw the carnage. I didn't think it would effect me so profoundly." Out-of-towners arrived for what should have been Minton's trial on 1/29, only to find charges had been dropped. Englande's trial was scheduled for 2/14/08. Felony charges carried jail time up to 10 years.
Charlotte Bass Lilly, ARNO
Message From David Leeson, Dallas Morning News
"Unbelievable. Lack of evidence? I wondered what had happened to this case. It was supposed to go to trial in November but I never got a call from the state. I assumed it was postponed. But I had also heard about the change in the DA and rumors that it could affect the case. And, so it did. I'm sorry. I wish I could've done more. If I'd only followed up that day by returning to that neighborhood to shoot more, it might have helped. If only my footage of the black dog trotting alongside our vehicle as we were leaving had turned out. I thought the tape was rolling but it was not. It was this dog who caused me to stop so we could feed him. I would have missed the shootings entirely if not for my desire to feed this beautiful dog."
"On my tape (not included in the edited version) I say,
I was going to feed that dog,
and then you hear my colleague say,
And they shot him.
I've always wished that tape had been rolling because it would have clearly shown that this was a very friendly animal simply looking for some help. Thanks for keeping me informed, David Leeson"
Pasado's Safe Haven
Katrina Left Survivors
Animals struggled to outlast winds, flooding, and abandonment in southeast Louisiana. Long after humans were rescued, thousands of animals roamed the streets in search of food and family, while thousands of others, secured in homes and other buildings, faced dehydration and starvation as their food sources were depleted. While every animal rescued was worth every effort, every cost, thousands of animals died as time ran out…
As rescuers opened feeding stations for those they were unable to immediately rescue, there were others, the sick gun-toting "officers of the law," who, during a time of complete chaos, joyfully took matters into their own hands, using pets as target practice…
Their lame excuses: They claim they had to shoot street dogs for their own safety. Dogs greeted these deputies, ecstatic to see a human, tails wagging: "Maybe my family, maybe these humans brought food." Officers claim it was more humane to kill the dogs than let them starve. Animal rescuers were everywhere, while thousands of pounds of pet food poured into the area… These "mercy" killings were not instant death…as video footage depicts the slow death of one dog, struggling to stand after shot, while deputies watch. We'll never know all the atrocities afflicted upon animals.
But then the most horrific animal torture of all, St. Bernard school shootings… The suffering these helpless animals endured is unimaginable. In addition, these brutal acts are relative to the insanity demonstrated by serial killers. With video footage, photos and witnesses (including camera crews and military,)along with the intense brutality of the crime, how could this case be thrown out? What good are animal protection laws with corrupt politics?
Pam Leavy, Baton Rouge, LA
We Will Take Action
Action Alert ~ Pressure LA Attorney General
Justice In St. Bernard Parish Shootings (No longer online)
Demand justice from Attorney General James "Buddy" Caldwell, whose office dropped charges against Minton and Englande.


Video Alert ~ Justice For Pets Murdered In St. Bernard Parish
View and forward this YouTube video to everyone in your address book. Source: Susan Bongiorno, St. Bernard Parish Animal Shelter


Tribute ~ St. Bernard Pet Massacre, A Memorial
From Pam Levy: Don't let them die in vain. Watch and forward this video. On 1/30/08, a memorial was held at one of the St. Bernard schools were 33 cats and dogs were brutally tortured and killed.


Action ~ Web Petition
Public Demands Investigation Into St. Bernard Parish Dog Murders


Action ~ Post Reward
From ARNO: If you live, work, trap or feed in St. Bernard Parish [or New Orleans area] post the $25,000 Reward Flyer from Pasado's website. There were people on the street, including National Guard, who witnessed these abominable crimes against animals.


Clarified Information ~ 2 Shootings, 1 Agency
St. Bernard Parish Street And School Shootings: Gives history and clarifies the two separate cases: 1) Dogs gunned down in the street and 2) Animals killed execution-style inside an SBP middle school.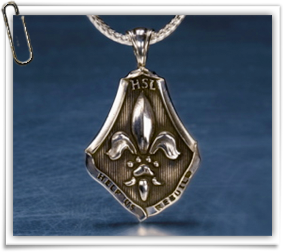 Humane Society Of Louisiana
Fleur De Lis Paws For A Moment Pendant
Jeff Dorson
~ This exquisite piece, created by celebrated Indianapolis designer Marc Aronstam of Aronstam Designers & Fine Jewelers, is for sale! 30% of each pendant sold is donated to Humane Society of Louisiana. Proceeds help fund recovery for our NOLA shelter, destroyed in Katrina. Sterling silver design captures Big Easy spirit. Fleur de lis symbol on a tapestry background in a stylized shield. Inscribed ribbon:
Help Us Rebuild
. A paw print references animal victims of Katrina. Cost: $85. Contact Aronstam Jewelers to order: 877-808-1188 or 317-817-9000,
msa@aronstam.com