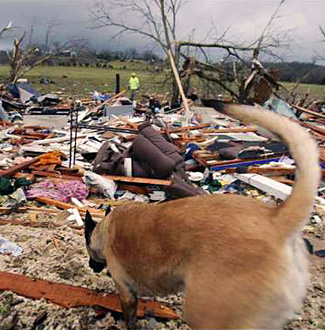 TENNESSEE TORNADO: Destructive tornadoes tear through Tennessee, Arkansas, Alabama, Mississippi and Kentucky — leaving a trail of homeless people and animals in their wake. A dog sniffs debris from a tornado in Castalian Springs, Tennessee. Photo from Community Foundation Of Middle Tennessee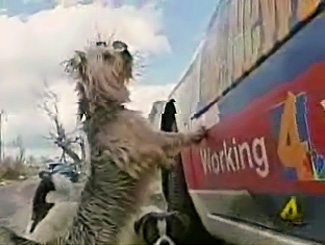 Tennessee Tornado: A video frame excerpted from local news coverage shows animals wandering tornado torn streets. Tennessee was hardest hit among five states affected by the storm, claiming 31 human fatalities. Video frame from Animals Roam Neighborhood After Storms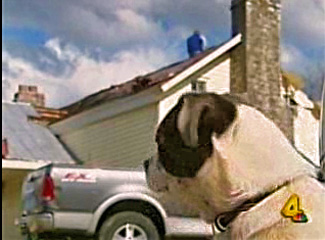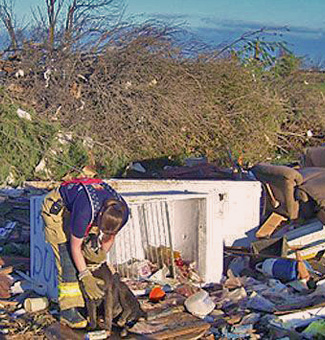 Tennessee Tornado: This photo, as seen on Best Friends Network, shows a local volunteer comforting a dog left to fend for himself in the storm's rubble.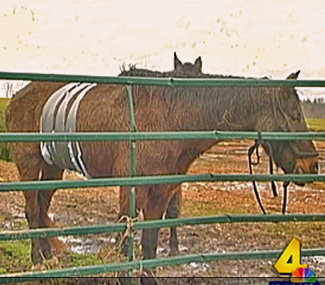 A wounded horse in Fairview, TN - Williamson County. Video frame from local CBS affiliate www.wsmv.com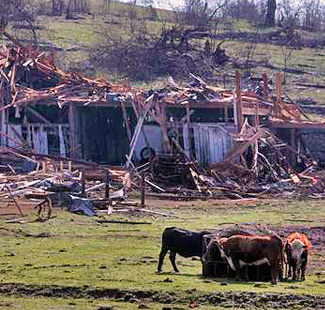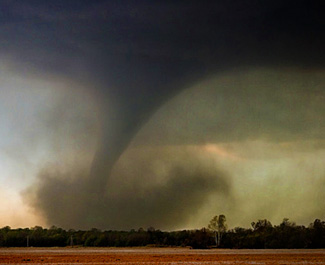 Tornado tragedy for Tennessee animals



IN THIS DISASTER WATCH:

FEBRUARY, 2008
Tornado Update: Tennessee Bears Brunt Of Deadly Storms Across Southeast States
2/6/08, DEVASTATING TORNADOES SWEEP THROUGH SOUTH
Destructive tornadoes tear through Tennessee, Arkansas, Alabama, Mississippi and Kentucky — leaving 50+ dead and a trail of homeless people and animals in their wake. Tennessee bears the brunt of the storm, with 31 human fatalities. Area volunteers are on the clock 24/7 for animal search-rescue, but now seek outside support.
HARDEST HIT COUNTIES & TOWNS
TENNESSEE: Jackson, Memphis, Macon County, Sumner County, Hardin County, Fayette County…
ARKANSAS: Atkins, Conway County, Clinton and Gassville…
ALABAMA: Walker County, Lawrence County, more counties NW of Birmingham…
MISSISSIPPI: Oxford, Jackson, Desoto County, Southaven…
KENTUCKY: Greenville (western Kentucky)…

FEBRUARY, 2008
Resources & Needs For Animal Victims
NASHVILLE HUMANE ASSOCIATION (NHA)
Nashville Humane Association has set up its mobile animal care unit outside Lafayette National Guard Armory. Teams continue to rescue companion and farmed animals from storm-ravaged Macon County, TN and take them to shelters in Lafayette and Lebanon.
DONATE SUPPLIES & MONEY TO NHA DISASTER EFFORT
SUPPLIES TO: Nashville Humane Association
213 Oceola Avenue / Nashville, TN 37209
DONATE BY PHONE: 615-352-1010
DONATE ONLINE: www.NashvilleHumane.org
TENNESSEE EMERGENCY RESPONSE FUND
Click "Make A Gift." Designate your gift to ANIMAL RELIEF. Money goes to tornado affected counties, in particular Macon County. Extra money used for future animal-related disasters.
DONATE SUPPLIES & MONEY TO TEMA ANIMAL RELIEF
IN-KIND DONATIONS (pet food, hay, etc.):
Contact TEMA Donations Management: 615-741-3471
DONATE BY PHONE: 615-321-3939 or 1-888-540-5200
DONATE BY MAIL: Community Foundation of Middle Tennessee
PO Box 440225 / Nashville, TN 37244
HUMANE ASSOCIATION OF WILSON COUNTY (HAWC)
Wilson County Humane Association assists with housing displaced pets and needs donations for their disaster aid program.
DONATE SUPPLIES & MONEY TO HAWC DISASTER EFFORT
SUPPLIES AND MAILED DONATIONS TO:
Humane Association of Wilson County
PO Box 247 / Lebanon, TN 37088-0247
Shelter located on Jim Draper Blvd.
DONATE BY PHONE: 615-444-1144
DONATE ONLINE: www.HAWConline.com
MACON COUNTY EMERGENCY OFFICIALS
CONTACT: Macon County Emergency Management
615-666-9364
SUPPLY NEEDS:
- hay, feed
- any supplies for farmed animals
WILSON COUNTY EMERGENCY MANAGEMENT
In addition to Wilson County Disaster Animal Response Team (DART) members, WEMA seeks volunteers to assist with animal feeding, walking, and basic disaster care. No previous experience required. WEMA provides training.
VOLUNTEER & DONATE TO WEMA ANIMAL DISASTER EFFORT
TO VOLUNTEER, CONTACT: wemadart@gmail.com
615-444-8799, ext. 123, www.wemadart.com
WEMA, 110 Oak Street / Lebanon, TN 37087
SUPPLY NEEDS:
- collars and leashes
- pet crates and cages
- dog and cat food
- axes, pry bars for Macon County animal search-rescue
BROWN DOG FOUNDATION
Tuesday night was difficult for Tennessee residents. Many lost homes and must rely on public shelters. Companion animal family members are displaced or injured and require care that evacuees have no means to provide. Brown Dog Foundation is sponsoring an Emergency Donation Drive to raise funds for: life-saving vet care, life-sustaining medications, and emergency shelter fees. From: Carol Smock, Brown Dog Foundation carol@browndogfoundation.org
DONATE TO BROWN DOG FOUNDATION EMERGENCY DRIVE
DONATE BY MAIL: Brown Dog Foundation
Animal Disaster Relief, Tennessee
3715 Brighton Road / Nashville, TN 37025
DONATE ONLINE: www.browndogfoundation.org
"ON THE FIFTH DAY" ANIMAL SANCTUARY
On The Fifth Day (Animal Sanctuary), a 501c3 no-kill home for abused and homeless animals, seeks public help for animal tornado victims. On 2/9/08, we traveled to Macon County to aid lost and stray animals. With Sumner County Humane Society, Fifth Day volunteers look for collars and ID tags that lead to each animal's guardian. "These animals have been dazed and confused for several days and basic necessities are essential now just to sustain life. Then, we can find homes, fosters, and hopefully reunite pets with guardians," said Founder Jen Flatt Hilsher, jenghilsher@onthefifthday.org.
DONATE SUPPLIES & MONEY TO 5TH DAY DISASTER EFFORT
SUPPLY DROP-OFF SITE: Petco in The Avenue
Exit 76 off I-24 / 2615 Medical Center Parkway
DONATE BY MAIL: On The Fifth Day
P.O. Box 10987 / Murfreesboro, TN 37129-5137
Jen Hilsher, Director: 615-233-5398
jenghilsher@onthefifthday.org
DONATE ONLINE: www.onthefifthday.org
SUPPLY NEEDS:
- dog and cat food
- bottled water
- any other companion animal supplies
CASSITILLY LOST EVERYTHING. CAN YOU HELP HER?
CASSITILLY'S STORY — Cassitilly was injured when a tornado ripped through Castillian Springs in Sumner County. Freelance photographer Connie McKenzie heard the cat's cries. Her rear leg was trapped under a fallen tree. With help from Chris Achord of The Cat Shoppe in Berry Hill, Cassitilly was taken to Elm Hill Vet Clinic with a broken rear foot. Cassitilly's guardian suffered a broken back as well. Currently hospitalized, the guardian made a tough decision to give up Cassitilly, as she is no longer able to care for her.
The Cat Shoppe agreed to foster Cassitilly and find her a new loving home. Before that can happen, Cassitilly requires extensive orthopedic surgery estimated at $1,600. SOURCE: www.elmhillvet.com
DONATE TO CASSITILLY'S SURGERY FUND
DONATE BY MAIL: c/o Elm Hill Vet Clinic
2733 Old Elm Hill Pike / Nashville, TN 37214
Write "Cassitilly's Fund" in the check memo.
DONATE BY PHONE: 615-885-0813


IF INTERESTED IN ADOPTING CASSITILLY, CONTACT:
Chris, The Cat Shoppe: 615-297-7877
2824 Bransford Ave / Nashville, TN 37204
catshoppedogstore.com