---
Photos at page top, from Kinship Circle animal aid in NOLA, show ongoing need for spay/neuter. Cats, especially, were everywhere. They darted down streets and burrowed under empty homes in Upper/Lower 9th Ward, Plaquemines and St. Bernard. Spots along our food/water route were sparsely repopulated. Of those back, many live in FEMA trailers.
---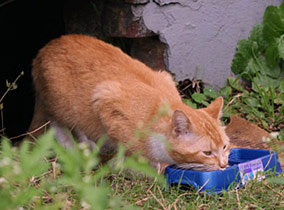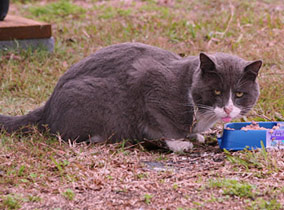 Voucher Shutdown Reactions
Mary Morris
~ The voucher program ends at the end of this month. We ask all partners to stop vouchers now. Vets are booked up already. Call if you have questions, 782-5557
info@puppybegood
~ I'm sad to see it end.
Kathy Sweeney
~ We are screwed!
Jeanette Althans
~ The problem is
the gap
: ASPCA says "we are in negotiations with Louisiana partners to operate two clinics, but because we started over with new partners they'll be delayed 8 months to a year." Imagine the number of kittens and puppies born between programs. A year long delay could easily become 2+ years. Hopefully LA-SPCA can devise options before vouchers end. It's very sad that the big groups with huge fundraising capacity won't go a little further. New Orleans residents still struggle to rebuild homes and lives. Outsiders cannot see Katrina's long shadow after a day, a week or even a month here. You have to live it. And the animals continue to suffer.
Lynn Chiche, Spaymart
~ The city is overrun with roaming cats and dogs whose only hope of sterilization is extension of the voucher system. Please write a letter to ASPCA, stating in your own words why the present program must continue. Otherwise, rescuers will have to pay the going rate (normally $50 to $75 at low cost facilities), or even worse, abandon the issue altogether at the expense of animals.
Send Comments To:
Aimee St. Arnaud, ASPCA:
aimees@aspca.org
P.O. Box 820 / Perryburg, OH 43552
Question? Contact
mary@la-spca.org
Natural End Of New Orleans Vouchers?
7/3/07,
ASPCA
Spay/Neuter Initiatives, Aimee St.Arnaud, 419-874-9584 ~ Thanks for contacting ASPCA about the New Orleans voucher program, just one piece of a $3.3 million dollar spay/neuter program for Mississippi and Louisiana funded by ASPCA, PetSmart Charities, IFAW, HSUS and UAN.
The voucher program never intended to fund beyond one year because voucher programs are not self-sustaining. Along with the Big Fix Rig, it was meant as an interim solution until the high-volume spay/neuter clinic was completed. It was also designed to help local veterinarians get re-established after the storm. The clinic was scheduled to open February 2007 and the vouchers were to end in April. Two Humane Alliance high-volume clinic models that can do a combined 17,000 surgeries a year are self-sustainable through client fees and can have a much greater impact over a large geographical range. ASPCA and its partners are not ending the voucher program unexpectedly. In fact, we agreed to extend it beyond its original April end date so LA-SPCA could continue to offer services. LA-SPCA has estimated that the current funding will expire in August. To date 7,257 surgeries have already been performed. PetSmart Charities, IFAW, HSUS, and UAN.
The first year goal for both Mississippi and Louisiana was 20,000 surgeries. We surpassed that goal by completing 21,000 surgeries. However, our local partner Spay-Louisiana has withdrawn from the project, leaving a void with the clinic, voucher and Rig. Luckily LA-SPCA stepped in to administer the voucher program. We're in negotiations with Louisiana partners to operate two clinics for the Greater NOLA area, but due to starting over with new partners, clinics will be delayed by 8 months to one year.
ASPCA and partners are not shutting down the voucher program. It is naturally ending as intended. Still, we had stated that if local groups feel there is ongoing need, that they can work together to continue fundraising. In Mississippi, local partners are sustaining their program through area fundraising. They expect to do 4,000 surgeries next year. We encourage you to continue the voucher program if you feel it is useful…
---
More Voucher Shutdown Reactions
Maria Alvarez, Stewardship For Strays
~ This region is far from back to normal, but I assure you that in the tragedy aspect it is back by way of the ignorance and greed that has always plagued it. There are folks back with free-roaming unaltered pets and backyard breeding for small profits. There's a "lady" in the East with the second litter of 10 Pitbull pups…
I mean, really, come Aug-Sept vouchers will "terminate+exhaust?" if ASPCA, who continues to work closely with the LA-SPCA, doesn't know that animals in the streets are still in need of desperate help, GOD HELP THEM. American Prevention of Cruelty to Animals? What could be more cruel than those aware of the situation and able to reinstate vouchers? There should be no need for letters from us as individuals. LA-SPCA knows the present plight of homeless free-roaming animals on the streets of NOLA, so it should just take one letter.
We, as animal advocates, beg, plead and write letters to judges, officials and the media requesting fairness for animals, but I don't see why we need the same approach to a national animal welfare organization that is fully aware of the need. We had a perfect window to get the population under control during post-storm months, but the Southern mentality, coupled with red tape, shunned outside help such as massive TNR. Here is an excerpt from a LA-SPCA immediate release newsletter in Nov. 05:
Here's an excerpt from a LA-SPCA news release in Nov 2005: "To take advantage of New Orleans' unique opportunity to get a grasp on its stray population, LA-SPCA will contract with a high-volume, experienced humane trapper provided by Humane Society of the U.S. to manage a comprehensive 4-6 week program. Both national and local groups are willing to provide staff and volunteer trappers that will be trained and dispatched from Animal Control." So what left LA-SPCA so powerless they could not take advantage of this unique opportunity? When those who know better don't do better, it is one of the greatest disappointments.