▼ CLICK A PHOTO TO
SEE FULL IMAGE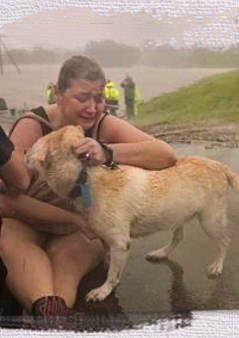 FOR RAMONA, JOSH, ROBERT & THEIR ANIMALS.
They lost all but their lives.

Ramona Billot almost single-handedly saved Plaquemines Parish animals after Katrina. Please send a tax-deductible donation to Kinship Circle, marked for Ramona and family's Isaac recovery.

DONATE ONLINE
Type RAMONA/ISAAC AID

OR DONATE BY CHECK:
Kinship Circle
Ramona & Isaac Aid
7380 Kingsbury Blvd.
Saint Louis, MO 63130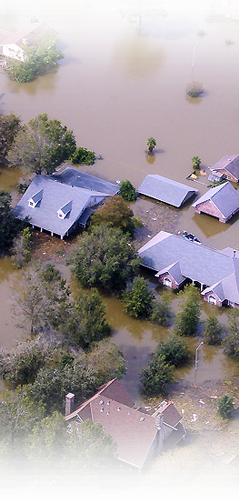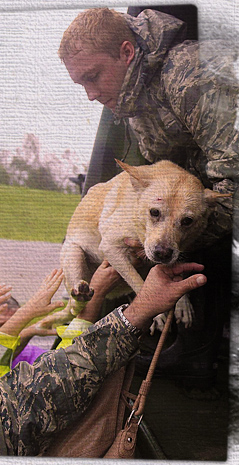 Rescued people and [Ramona's dog Lucky] are loaded into a Louisiana National Guard truck, after Hurricane Isaac flooded homes with 10 feet of water in Braithwaite, LA 8/29/12.
AP/Gerald Herbert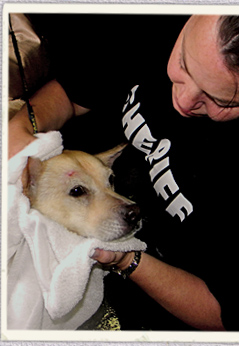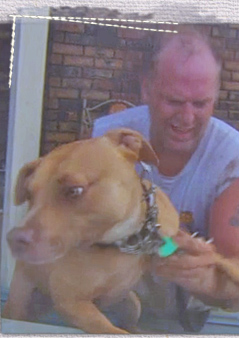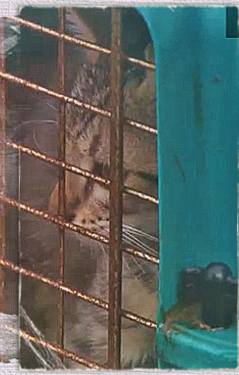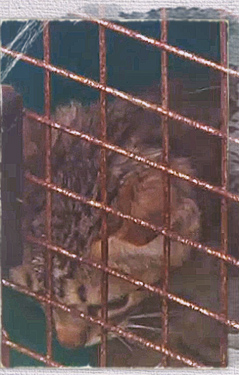 CNN video
shows Robert Sanders as he loads some 30 animals on to a boat outside his flooded home in Braithwaite, LA. Robert stayed with their animals after wife Ramona Billot and her son Josh were rescued by boat. When video was shot, Ramona didn't yet know if her husband or animals made it out alive.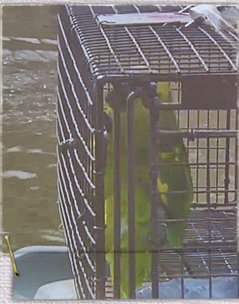 Though hard to see in this hazy video shot, above is the family's macaw, ferried through floodwaters with dogs and cats. Water rose 8-9 feet inside Ramona and Robert's home.
Animals Rescued By Boat
Ramona Billot stands outside Animal Rescue New Orleans (ARNO), where she helped Kinship Circle's Katrina-era food/water team load 15 cats for out-of-state transport. The ittle-bittle kidden in Ramona's hands is Baby Noah, whom Kinship Circle director Brenda Shoss adopted from Plaquemines Parish. Photo © Kinship Circle, Hurricane Katrina 2005-2008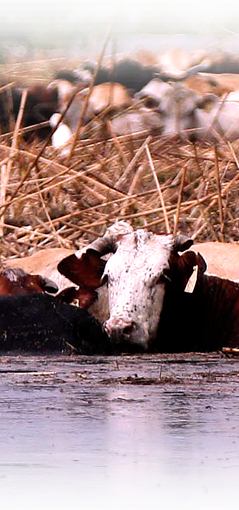 Cows stranded in Plaquemines Parish, Gerald Herbert/AP
DISCLAIMER: Restrictions due to local government's relationship with Louisiana State Animal Response Team (LSART) and its national partner organizations limit which animal groups may enter Isaac flood zones.

Kinship Circle Disaster Animal Response Team — in recent years deployed to many USA and global disaster zones — has remained on standby to assist in an official capacity. We do not deploy unless an agreement (MOU) is arranged with an authorized agency. Several Kinship Circle officers and volunteers are Louisiana residents who have provided food-water, rescue, or information in compliance with local law and emergency protocol. These field notes reflect their findings.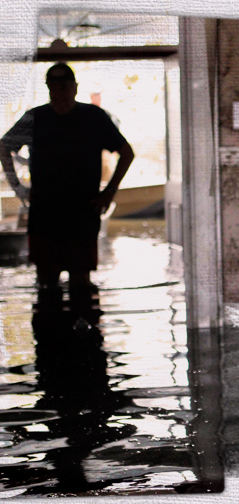 A man walks through his flooded home as water recedes from Hurricane Isaac in Braithwaite, Lousiana. AP/Gerald Herbert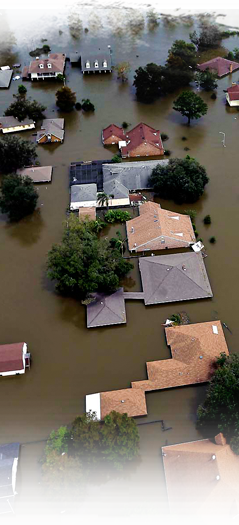 Floodwaters reach the roofs of homes in Braithwaite, Louisiana. David J. Phillip/Associated Press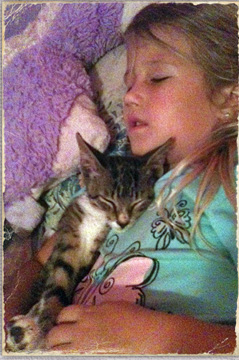 St. Bernard Parish residents, still living in a Katrina-era FEMA trailer, lost everything again to a 10-foot Isaac storm surge. This photo shows one of their kittens who survived. Beth Schmidt, Kinship Circle/St. Bernard Parish after Isaac 2012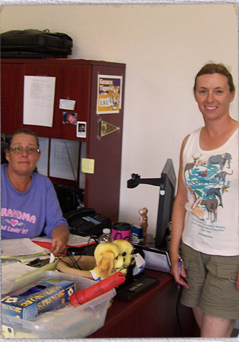 Kim Johnson hopes to gain access for disaster rescuers to retrieve animals known stranded on levees and in Braithwaite homes. Kim Johnson, Kinship Circle, Plaquemines Parish 2012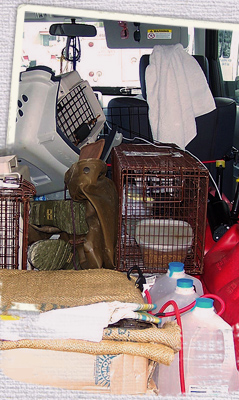 Kim delivered dog/cat food to Plaquemines Parish Animal Control. She dropped off wire crates, cat carriers and Pedialyte at nearby Plaquemines Animal Welfare Society. Kim Johnson, Kinship Circle, Plaquemines Parish post-Isaac 2012
We Didn't Think The Water Would Come
SO MANY ANIMALS
Four dogs, 14 cats, 12 foster kittens and one macaw. That is who shared a rented two-story in Braithwaite with my son Josh, husband Robert and me.

This home only got 8 inches of water in Katrina. So we stayed for Isaac, with 1 car, a generator, gas and food. I thought I did everything right.

By Sunday (8/26/12), I became distraught when they forecast Isaac headed our way. I had a sad, sick feeling, but tried to prepare as best I could. Where could I evacuate to with so many animals?

We were four houses away from the river levee and five to six miles from a second levee. I did not think the water would reach us. It seemed too far away.

We lost power about 7:00 pm on Wednesday (8/29/12), but closely followed weather reports on the radio. We worried about tornadoes and flooding from rainfall.

At 2:00 am, Robert begged me to get rest. [Plaquemines Parish President] Billy Nungesser spoke about the river levee topping further down.

I was not particularly nervous about the back levee. I laid down to rest in my bedroom on the first floor.

Houses submerged after a Hurricane Isaac levee breach in Braithwaite. Sean-Gardner/Reuters


AT 3:00 AM, THE PHONE RANG. I KNEW.
It was Plaquemines alert system. The levee breached. Leave immediately. I screamed for my son Josh and began to grab items on shelves, cabinets, tables. I heard that someone had 9 ft. of water in their home. I frantically hauled animals, food, snacks, litter boxes… upstairs. I managed to get photo albums into our attic.

I ordered Josh to pack clothes. Then I threw personal belongings into a bag for myself. As we raced between floors, my cats freaked out. It was horrible. Then we waited.

We booted up a generator, followed TV updates. Josh stood watch at our front door. Neighbors stayed too, on their second floor with 7 dogs. I ran there to see them before the water came. A police officer came by and told us to leave. I explained why I couldn't, but added, "I want you to know we are here."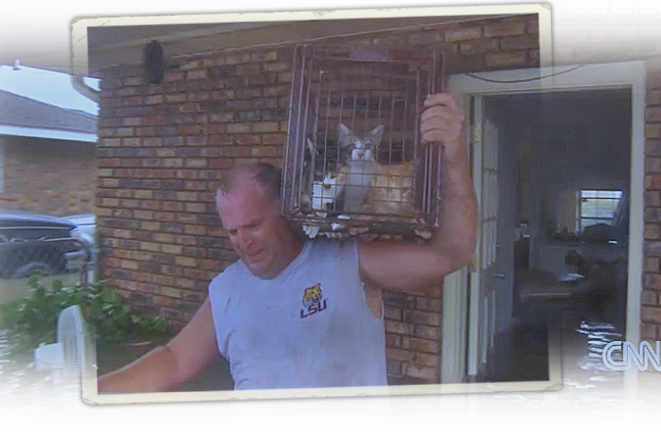 The Unbearable Heaviness Of Waiting
I was brought to St. Bernard jail for temporary shelter. I had nobody to get me. My own phone was dead. I sat for hours, weak and crying, with reporters in our face. I had no food for Lucky. I finally reached my ex-husband, sister and a work friend. An officer drove us to this friend's house in St. Bernard. I felt some relief after showering, but was inconsolable about my animals and Robert alone at our flooded house.

From the early-morning boat rescue until late afternoon a day later, I heard nothing from my husband. We relocated to my sister's Gretna home, but I knew we had to get to the Plaquemines Parish EOC in Belle Chasse, to help Robert and the animals. (NOTE: Kinship Circle member Kim Johnson also traced Robert's whereabouts and learned of his heroic exodus with animals in tow, via contact with Plaquemines EOC [Emergency Operating Center] — but we were still unable to communicate with Ramona.)

On Thursday (8/30/12) I found an animal control officer willing to deliver crates to Robert, if he could gain access into heavily patrolled flood zones. I was told "saving human lives comes first" and that no one had enough crates for 14 cats and 12 foster kittens. A kind National Guardsman assured me, "Robert will survive on your second floor. Your animals will survive. It will be hard for them, but Robert is resourceful."

Still, I looked for any way to help my husband and animals. I gave a Harahan police officer our address and details about each animal. I could not eat, sleep or stop my tears. I sent Josh to decompress at his Dad's house and then to stay with a friend. My first breakthrough came via Facebook, where a nephew's girlfriend posted she'd seen Robert on Inside Edition. My sister who lives in Independence called me:

"Robert is on Inside Edition. He got all the animals out!"

I couldn't find them, but at least they were safe.

Top photo, CNN: Braithwaite, LA levee devastation. Bottom left: Inside Edition's Paul Boyd helps Robert Sanders load animals on a boat as CNN tapes the rescue. Rescuing Pets Stranded By Hurricane Isaac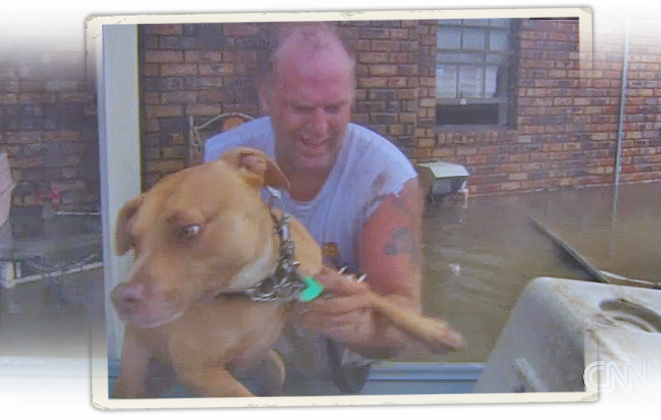 | | |
| --- | --- |
| | Small left photo: Sherry Henson tries to pull a cow stuck in a water-filled debris field in Plaquemines 8/30/12. Small right: Ranchers attempt to rescue cows with airboats. David Grunfeld/Times-Picayune. |
Top photo: Louisiana Nat'l Guardsmen Capt. Jared Robinson and Sgt. 1st Class Steve Choat rescue residents from LaPlace, LA on the East Bank, Arthur D. Lauck/The Advocate. Left photo: A dead tomcat is among those drowned or missing from a feral colony Beth traped, vetted and relocated, Beth Schmidt, Kinship Circle/St. Bernard Parish after Isaac 2012

NOW THEY ARE JUST GONE
► OVERVIEW, 9/2-6/12: Last Sunday I tried to get down to Reggio in lower St Bernard Parish. This small community lies a few miles outside the recently upgraded levee system. Since Katrina, Kristy, a trapping partner, and I have worked with a woman named Rhonda to TNR her feral colony, adopt out new kittens, and relocate her colony when she moved from Chalmette to Reggio. After losing everything in Katrina, Rhonda had purchased her FEMA trailer. Earlier this year she moved it to her ex-husband's Reggio property. Then Isaac totally wiped her out, with at least 10 feet of storm surge.

We could not get past a St. Bernard Parish Sheriff's Deputy checkpoint without proof of residency in Reggio. Even Rhonda, who last visited her flooded trailer with relatives in a truck bearing Tennessee plates, barely got in. Lower St. Bernard is bayou. Residents have no river levee or high ground. They pretty much evacuate for any storm. Rhonda left with her companion cats and ex-husband's dog, but it's impossible to evacuate a colony of feral cats.

So far, Rhonda has found one formerly feral kitten, along with the body of a big tomcat pulled from floodwaters. The other 10 cats are missing, most likely drowned in rapid-rise water. Rhonda leaves food and water for any who might be alive and hiding. The loss of these cats hits me hard, as I devoted much effort to trap, vet and relocate them.
And now they are just gone.