BACK TO TOP - FIELD NOTES LIST

Rain Drives Rivers Over Iowa & 5 Midwest States
| | |
| --- | --- |
| | ► Rally To Rescue Magazine, Volume 4/Issue 3, Excerpts: For weeks heavy rainstorms saturated Iowa and five other Midwestern states, causing rivers to rise and burst through protective levees… Iowa was the worst hit state… Barb Bryant received an urgent late-night phone call from Iowa's state veterinarian |
asking if she'd run a temporary shelter for pets displaced by flooding. Bryant, co-founder of Animal Protection League, reported for duty at Lee County Fairgrounds in Donnellson. "Since this was the first time any of us had done this type rescue, we were fortunate to receive assistance from
Kinship Circle
, who helped set up our operation. These volunteers had done this many times. Most had worked at Katrina."
Two trailers with leashes, crates and food were delivered to the fairgrounds. For over two weeks volunteers did their best, spending 12-hour days caring for about 100 cats and dogs… Bryant recalls one man who called the fairgrounds searching for his beagle. The only beagle on-site had no ID tags. "'Go to the kennel and call out, Bud Light,' the man said. 'If he bays at you, he's mine.' So the volunteer yelled 'Bud Light.' The beagle immediately answered. He was so happy someone knew his name."
In early July the fairgrounds needed the facility back for the Lee County Fair, so Bryant had to find a new place for the remaining animals. That's when her husband Mel Bryant, who's battling his fifth bout with cancer, suggested bringing them to their 72-acre farm in Keokuk, Iowa… After two weeks the remaining 16 pets not claimed or adopted to new homes were transferred to Kirkwood Community College — then shipped to out-of-state shelters for eventual placement…
► The Hawk Eye Newspaper, Precious Pets Reunited With Worried People, Excerpts:
Rescuers from Best Friends Animal Society and
Kinship Circle Disaster Animal Response Team have picked up dozens of cats and one dog from flooded homes
, barns and tree tops in the Oakville area… The groups, boating back and forth, were asked to come in by officials at the Iowa Department of Agriculture to recover stranded pets… Best Friends' Laurel Anderson said within the four-day Oakville operation, they have "picked up roughly 30-something," animals — 29 cats and one dog. That estimate could be higher as Kinship Circle president Brenda Shoss placed the total at approximately 50, "with a lot more cats than dogs…"
BACK TO TOP - FIELD NOTES LIST

From Water's Edge: Kinship Circle Team Notes
FROM CATS TO DOGS TO PIGS ►
Iowa's Veterinary Response Coordinator, Mark Shearer, asks Kinship Circle to staff staging areas at Johnson County Fairgrounds in Iowa City and Lee County Fairgrounds in Donnellson, Iowa — deluged counties beyond Cedar Rapids where HSUS and EARS are based. On daily conference calls with Iowa Emergency Operations Center (EOC), it becomes clear that a well-equipped team is needed for water rescue. We contact
Best Friends Rapid Response Team
leader Rich Crook and then ask Iowa officials to "formally invite" Best Friends via MOU (memorandum of understanding, a USA requirement). Iowa EOC requests certified water rescuers for "search and rescue operations in Louisa, Des Moines, Lee, Johnson or Linn counties…" Within days, rescue and emergency sheltering are underway.
LEE COUNTY FAIRGROUNDS STAGING AREA IN DONNELLSON, IA ►
Cats and dogs at Lee County are in good or very poor condition. One cat is covered in some type oily goop that mattes her entire coat from the shoulders down. Despite her fear, the ravenous cat gulps an entire can of wet food once safe in a cage.
TOP PHOTO: The dogs are Buddy and Stranger. Both are surrendered by a man whose rural property was flooded. Both have terrible fleas, and mange. Stranger's mange is so bad, he lost most hair on the back half of his body. Both are terrified and won't leave their pen for walks. Even when coaxed out, Stranger won't budge and simply stares from the ground with pleading eyes. But caring, patient volunteers soon put both dogs at ease. Buddy became downright playful.

BOTTOM PHOTO: Many animals, like this beagle, are dehydrated and malnourished but happy to be back in a pack. Photo (C) Kinship Circle, Iowa / David Halperin
BACK TO TOP - FIELD NOTES LIST

Animals Struggle As Thousands Evacuate
JUN-JUL 2008 ►
On daily conference call with Iowa state/county officals and animal NGOs, we learn that over 10,000 acres of land are underwater. Thousands of residents try to put their lives back together. Some Oakville residents go to Lee County Fairgrounds to report where animals, especially cats, were left during evacuations. Navigation by boat is treacherous. Rescue attempts move slowly. Most cats are frightened and hide by day. In accordance, rescue teams make preparations to do night search rescues.
6/19-20 2008 ► OAKVILLE AREA (LOUISA COUNTY) FLOODS:
A boat crew assesses the scope of trapped animals. Some 50 animals are rescued from floods and five reunited with families. Residents in boats also retrieve animals. Oakville animals are brought to Mediapolis Veterinary Clinic and Des Moines County Animal Shelter, in Burlington, Iowa area. Boat rescuers expect to leave Oakville 6/20, to set-up at Lee County Fairgrounds staging area for assessment of animal situation in southeast Iowa.
KINSHIP CIRCLE'S PSA ALERTS EVACUEES ABOUT LOST ANIMALS:
Kinship Circle sends a PSA to Iowa TV, radio and print media, on behalf of Iowa Department of Agriculture, alerting residents to rescue operations in Oakville and where to check for their companions. The announcement includes an Iowa hotline for residents to request rescue of animals trapped in flooded homes… Calls continue to come in about animals stranded in flooded neighborhoods.
6/20 2008 ► SOUTHEAST IOWA — FORT MONTROSE, ARGYLE, KEOKUK, BURLINGTON… FLOODS:
Burlington is among the last areas to flood, creating a situation too dangerous for search-rescue until now. Boat teams leave Oakville for set-up at a surge shelter. We do not know the full scope of need. Kinship Circle sends some volunteers to Lee County Fairgrounds staging area here.
| | |
| --- | --- |
| | Barb Davis, with Best Friends in Iowa, describes the plight of cats: "Every time we pass trees we look for cats in branches. So far almost every rescue has been a tired, wet, lonely, hungry cat. We floated into one barn eye-level with top beams and three cats sitting on them! With maneuvered them off the beams and slid them into waiting crates. Ethan cozied one big blue grey male who glared at him and then melted in his arms. We're calling him Big Blue for now. The cat, not Ethan. Once rescued from his spot high in a tree, the orange cat in photos became a love fluffball in Rich Crook's arms." Photos: Molly Wald for Best Friends |
| | |
| --- | --- |
| | Kinship Circle's Robert Rude and Cheri Deatsch wade in Oakville floodwaters to feed left-behind animals as part of a food/water program with Best Friends. Photo: Molly Wald |
| | |
| --- | --- |
| | Best Friends' Barb Davis advises Kinship Circle's Bob Rude where to leave food-water. Photo: Molly Wald for Best Friends |
BACK TO TOP - FIELD NOTES LIST

The Great Pig Rescue Wrangle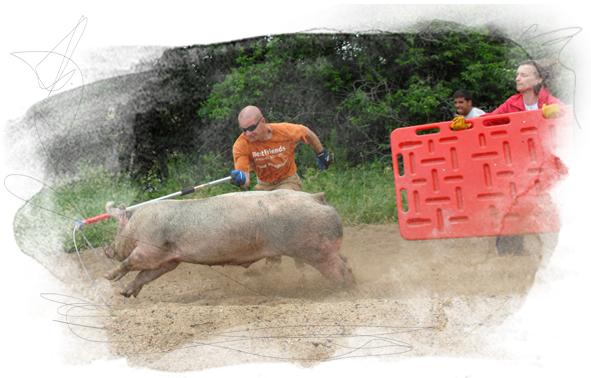 JUN-JUL 2008 ► RED ROVER, RED ROVER…SEND PIGGY RIGHT OVER:
Kinship Circle's Cheri Deatsch, Bob Rude and David Halperin assisted Dan and Chuck from Farm Sanctuary and Best Friends' Ethan Gurney in the capture of traumatized pigs. In photo, Cheri holds a red "pig board" to deflect pigs from escape. They run surprisingly fast and, as animals genetically engineered for "meat," they are huge. Best Friends's Ethan Gurney catchpoles this pig who later napped peacefully in a hay-lined rescue area.
CHERI:
"The foreground shows Ethan trying to catchpole the pig, and me to the right behind the 'pig board.' In the background is Dan from Farm Sanctuary. It really captures the essence of the chase. It also shows how big that pig was. He didn't seem that big at the time!"
Photo: Molly Wald for Best Friends, Iowa Flood 2008
PIGS ARE EVERYWHERE:
They're adrift from flooded hog farms, some still encased in crates. While 40,000 pigs are pre-evacuated, an estimated 4,000+ die. Some scramble atop levees and are shot dead by officials concerned they'll ruin sandbags. Many more drown. Early in this operation, Kinship Circle calls Farm Sanctuary, the nation's leading farm animal protection organization, to ask if their Emergency Rescue Team can come to Iowa. KC volunteers assist Farm Sanctuary in initial rescues. Eventually, a coalition of Farm Sanctuary, International Fund for Animal Welfare (IFAW), American Humane Association (AHA), and Animal Rescue League of Boston recover pigs from levee systems.
6/24/08, BOB RUDE:
"We arrive in Oakville around 7:00 am, check out the area, and spot a few pigs. Farm Sanctuary is there and tells us they spent the night trying to catch pigs. They managed to get three by herding them to their trailer, but had no luck after that. In the meantime Dan (Farm Sanctuary) and I hear a couple pigs in the underbrush. We devise a plan to catch the 2 pigs. We manage to catch 1 on that attempt…"
6/24/08, CHERI DEATSCH:
"First, we (Dan and Chuck from Farm Sanctuary with Bob Rude, David Halperin, and I from Kinship Circle) begin herding both pigs, lying together in the forested ravine. We use red boards to propel them into a makeshift corral. But the pigs run full speed at corral fencing held up by just five of us. It reminds me of the childhood game Red Rover:
Red rover, red rover, send piggy right over!
The pigs are so frantic, one manages to escape. We loop a catchpole around the other's neck. Bob, Chuck and Dan hold the pig on the ground while Dave and I run for the largest dog carrier we can find…"
| | |
| --- | --- |
| | Cheri Deatsch and Bob Rude of Kinship Circle join Rich and Ethan (Best Friends) and Dan and Chuck (Farm Sanctuary) to get a rescued pig into a carrier. David Halperin (Kinship Circle, not pictured) ran to get rope to secure the carrier. Photo: Molly Wald for Best Friends, Iowa Flood 2008 |
PIG PALS WON'T LEAVE EACH OTHER'S SIDE: "It's the most unexpected display of love I've ever seen.
The pig who escaped refuses to leave his friend. He lingers nearby as we load his pal into the carrier…then trots behind us down the length of the levee. When we turn our attention to his capture, he runs. But, he comes back. About an hour or two later, we find him standing outside the trailer where his friend is!"
"I can't believe his loyalty and attachment. It makes me determined to rescue him, not only to prevent him from a horrible fate, but to reunite him with this other pig to whom he is so obviously attached."
Pigs are exhausted after their ordeal — without food, water, and shelter for days. Once in the trailer, they immediately lay atop each other like they need comfort, despite ample room to spread out.


Factory-farmed pigs like these flood survivors are intensively crate and pen-confined in dark sheds with thousands of other pigs. They've never seen sunlight. The flood tossed them into a sea of light and water. Many drowned. All who made it are so sunburned, they appear to have fire burns. Photo (C) Kinship Circle, Iowa 2008 / Cheri Deatsch
6/25/08, CHERI DEATSCH:
"The next day we travel to the Wappello holding area to feed them. They're still so weary they won't even rise when I enter the pen. Again, they're lying on top of each other blissfully asleep. They seem so relieved and happy with full bellies, out of the sun. All of them have sunburn so bad their ears are cracked and bleeding. Farm Sanctuary people put aloe vera gel on their sunburn."
"Once I feed them, they actually become playful. Momma pig
(top left photo, Molly Wald for Best Friends)
, who weighs at least 300 lbs, tips over the water. I can't figure out what she is doing and get nervous because she's a bit rambunctious. I soon learn it is because she's making mud in the pen to lie in. So smart!" David Halperin, a Kinship Circle volunteers, says: "When Cheri's cell phone rings, it plays a classical melody. Momma pig's ears and head shoot right up. It's clear she's never heard music and really enjoys it."
| | |
| --- | --- |
| | In photos on left, Kinship Circle responder Cheri Deatsch feeds and plays with rescued flood pigs. Photo (C) Kinship Circle, Iowa Flood 2008 / Cheri Deatsch |
BACK TO TOP - FIELD NOTES LIST

As Factory Farms Flood, Thousands Of Pigs Are Adrift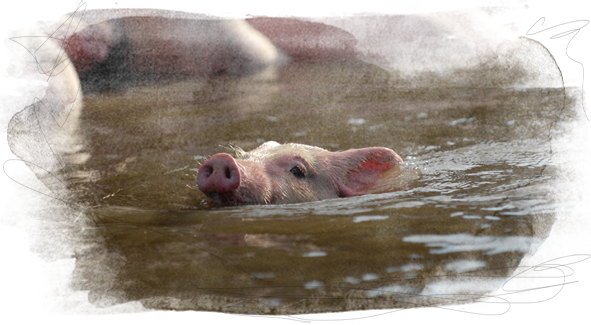 JUN-JUL 2008 ► CAST INTO A SEA OF LIGHT AND WATER:
Pigs are adrift from flooded hog farms, some still encased in crates. While 40,000 were pre-evacuated, an estimated 4,000 pigs died. Some who'd scrambled atop levees were shot dead by officials concerned they'd ruin sandbags. Many drowned.
Kinship Circle asked
Farm Sanctuary's
Emergency Rescue Team to come to Iowa.
Kinship volunteers Cheri Deatsch, Bob Rude, David Halperin and Craig Hill
assisted Farm Sanctuary in early pig rescues. Eventually
Operation Pig
grew so large, a coalition of Farm Sanctuary, International Fund for Animal Welfare (IFAW), American Humane Association (AHA), and Animal Rescue League of Boston recovered pigs from levee systems and treated them for severe sunburn, dehydration, and trauma.
6/18/08, LOUISA COUNTY PIGS:
A hog factory with thousands of pigs goes underwater. The owner evacuated most, but 500 pigs are released into water. Some drown quickly. Others manage to hoist their bodies atop levees where officials gun them down to avoid hoof damage to sandbags. Many remain trapped in a water-engulfed area. Kinship Circle contacts Farm Sanctuary, a rescue/advocacy group that helped farmed animals after Katrina, for emergency aid. Within 24 hours, FS is en route from Watkins Glen, NY.
6/19/08, LOOSE PIG SIGHTINGS:
Pigs are spotted in churchyards, inside homes, on rooftops. One report says 70 pigs have convened in a single area. An estimated 100 or more still wander. Most pigs were contained in one water engulfed area. In today's conference call with Iowa Ag Department, we learn that local barge crews herded these pigs from the water and will return them to livestock operations.
On a positive note, a boat rescuer searching for companion animals encounters a pig struggling in fast currents. The animal clings to a floating object. As he splashes around the corner of a building, the rescuer is able to steer him toward an adjacent home with a dry porch. Though impossible to board the giant pig on to a small boat, the rescuer leaves him on dry ground with plenty of food.
6/24/08, WEARY PIGS SAVED:
Farm Sanctuary catches three scared pigs. The next morning Kinship volunteers help lure a spooked pig from the bushes. They manage to ease him out, but a formerly crate-confined pig is not happy about re-enclosure. After much thrashing and pig indigestion, rescuers guide her into Farm Sanctuary's straw-lined trailer. One pig is so relieved to finally feel safe, she burrows beneath the straw to nap. A fifth pig leads rescuers on a panicked woodlands chase before guided to safety.
6/24/08, AERIAL SURVEILLANCE:
Aerial views of flooded regions show live pigs stranded on 16 levee systems. Also spotted on levees: deer, pheasants, coyotes, fox… Pigs show signs of severe sunburn.
6/25/08, CLEARING RED TAPE TO GET PIGS ON LEVEES:
Data and mapping for pig locations is sent to Farm Sanctuary and IFAW, also working in Iowa with FS. A heirarchy of county and state agencies must provide clearance in order for rescuers to get on levees.
6/26/08, HOPE FOR A LUCKY FEW:
The tragedy repeats itself as more farms go under. Pigs are non-swimmers, swept into flood currents over a wide swath of southeast Iowa. Some 40,000 pigs were evacuated. An estimated 4,000 are dead. Carcasses wash ashore. Agribusiness calls pigs "commodities" and their collective death constitutes "financial damage." Yet with
so many
loose pigs, officials worry they'll form feral packs. On today's EOC call we learn: Stranded pigs, when found, may now be transported to a temp holding area. Once in Farm Sanctuary's custody, they may receive medical aid and…relocation to sanctuary!
Photos of pigs in water: Molly Wald for Best Friends
BACK TO TOP - FIELD NOTES LIST

First Ever Sunlight Burns Skin Of Stall-Confined Pigs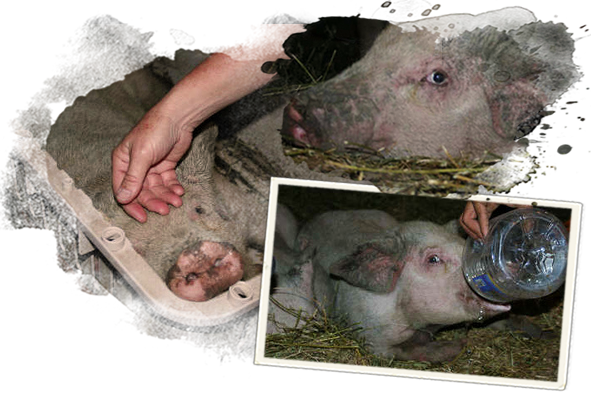 IOWA FLOOD PIGS 2008 ► FROM DARKNESS TO SCORCHING LIGHT:
Factory-farmed pigs live birth-to-death in dark sheds.
Hog factories
warehouse 600-pound sows in 2-ft wide stalls with cement floors and metal slats. A USDA Agriculture Census finds 50% of pigs live in industrial barns with 5,000 or more pigs under artificial illumination but no sunlight. Sun exposure left Iowa flood pigs dehydrated, with badly burned ears, snouts, tails and limbs. Photos below from
Farm Sanctuary's
medical staging area convey the severity of wounds, as if the pigs had been been torched with flames.
Photos in this section: Farm Sanctuary