FEB 2013 ► NANOOK SURVIVED GIANT SANDY WAVES
with Christy Souders and her two kids, on the second floor of their Sayerville, New Jersey home. That's how Kinship Circle came to know the wee Chi-Dachshund. Floods left Nanook too shaken to eat or drink at the trailer where we cared for Hurricane Sandy animals. But slowly, over the months Christy shuttled her brood to hotels, Nanook began to return to his old sleep, burrowing under covers to sleep with Christy.
Christy told Kinship Circle…
"We will never forget your kindness. Life is not life without my baby. Thank for caring for Nanook. Thank you for being there."
We believe Christy defined animal disaster rescue: BEING THERE. In Feb 2013, Christy shared photos that show Nanook in full reboot: Goofy poses. Lap time and love. She says Nanook is letting us know he's healthy and happy, though his family
still
lives in a hotel since Sandy left them homeless. But Christy happily reports that "Nanook has a little sister now, Princess. We saved her from a Red Cross worker who bought her at a pet store and wasn't allowed by her parents to bring her home. She was going to dump her at a shelter."
BACK TO TOP - FIELD NOTES LIST

Kinship Circle At Statewide Animal Emergency Workshop
Kinship Circle Disaster Management Director Bonnie Morrison feels the love from Lt. Tom Bykowski and Lisa Smoyak's dogs, while in New Jersey for a statewide Animal Emergency Working Group conference for government agencies, CART Teams, vets…
Photos (c) Kinship Circle, Hurricane Sandy 2012-13
FEB 2013 ► Among the first to respond, Kinship Circle did search-rescue and sheltering for Atlantic and Middlesex Counties, NJ.
In January, the state veterinarian invited us to a statewide Animal Emergency Working Group (AEWG) for government, CART, vets…to coordinate an animal emergency response plan. We are thrilled to help ensure animal safety in future disasters! Kinship Circle Disaster Management Director Bonnie Morrison quickly agreed to attend the February AEWG workshop.
Evacuees had lost homes. Frightened animals, some sick, clung to their people during visits. Though Bonnie and Evelyn worked in a cramped trailer, they logged lots of waggy tails and purrs.
At the AEWG event, Bonnie reconnected with Atlantic County Emergency Management Deputy Director Ed Conover, whom she first met when Kinship Circle helped animals evacuated for Hurricane Irene. Mr. Conover expressed gratitude for Kinship Circle's assistance in Hurricanes Sandy and Irene and need for an ongoing agreement with us to send response teams in future disasters.
Bonnie described NJ state vet Shari Silverman as "a tiny lady with a huge plan." While Ms. Silverman commended NJ CART groups for their heroic efforts, she worried that state animal response to Sandy failed on some levels — namely a lack of communication from Red Cross Shelters with those who coordinated animal-friendly areas (CART teams, volunteers, Kinship Circle, others). Some Red Cross directors were unaware of mandatory daily calls to EOCs (Emergency Operating Centers).
| | |
| --- | --- |
| | At the event's working lunch, Rodric Bowman, Principal Planner, Office Homeland Security and Preparedness, demonstrated a new system underway for New Jersey to track animals via hand-held scanner that plugs information into a database. |
Bonnie especially appreciated a session on compassion fatigue, operational stress management and self care from Raymond Hanbury, State Clinical Director of NJ Crisis Intervention Response Network. We are thrilled to be a part of New Jersey's commitment to rescue challenges. With animals underserved in so many regions, we commend New Jersey efforts to provide haven for the most innocent victims.
BACK TO TOP - FIELD NOTES LIST

Kinship Circle Loves New Jersey!
| | |
| --- | --- |
| | Emergency officials are way ahead of the national curve for animal disaster preparedness and plans. We salute their dedication to "pet-friendly" evacuee shelters and concern for the safety of frightened animals. Lt. Tom Bykowski, Lisa Smoyak, Deputy Director Ed Conover, Mary Langford DVM, Ashley Bolen, Courtney Holmes…and many more! |
"I can't thank you enough. Your help and expertise made this easier to deal with. I was barely keeping my head above water before you guys came along. Things went much smoother after you got us organized and I was actually able to sleep at night instead of worrying about the animals in the trailer… When things slow down a bit I plan on sending an official thank-you to all of you from the County. I wish there was some other way to express how grateful I am for the level of care and support. I look forward to seeing you again in the future. Hopefully under better circumstances!"

Thanks again,
Thomas Bykowski
Middlesex County Office of Emergency Management
Sayreville, New Jersey
BACK TO TOP - FIELD NOTES LIST

Amazing Stories Of Courage And Love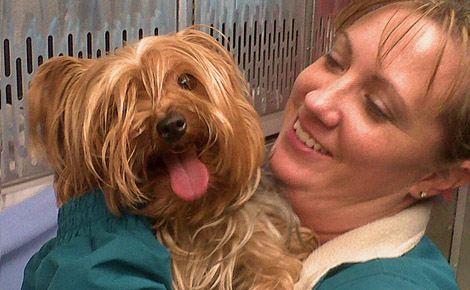 NOV 13-20 2012 ► KINSHIP CIRCLE AMONG THE FIRST TO RESPOND FOR SANDY ANIMALS:
As Sandy loomed off northeast shores, we staffed animal-friendly shelters in New Jersey. Once Sandy struck with record surges and floods,
Atlantic County Office of Emergency Preparedness asked us to stay for search-rescue
. Next, we co-managed care for animals housed in a trailer as part of a Red Cross Shelter at Rutgers University in Piscataway, NJ.
Middlesex County Emergency Management requested Kinship Circle's aid
for animals of homeless evacuees. Responders worked in cramped quarters — like vet tech Lisa Smoyak with Lexie, in photo above — but logged lots of waggy tails, purrs! Volunteers monitored illness that spreads rapidly in stressed animals. At least three cats required hospitalization for respiratory infection. The university, however, wouldn't allow animals indoors… Below are amazing stories of courage and love.
Angel's Miracle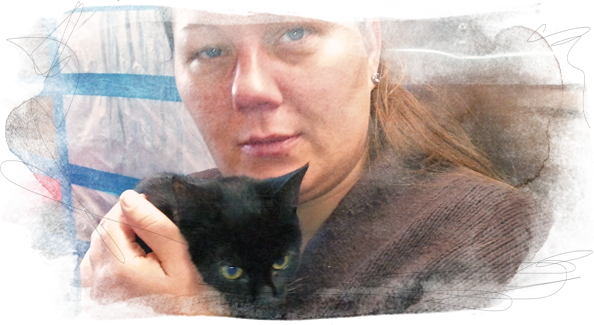 Two weeks. It can't be possible. A miracle? The tiny black kitten is found in a neighbor's Sea Bright apartment, just 10 homes from the boardwalk. Angel is alive, despite weeks alone in Sandy's ruins. For Ruth, who recently lost her fiancee, the reunion is beyond words. She holds the kitten against her heart and cries into his fur. This evening, Ruth sleeps through the night for the first time since the storm…
Monica, Rosco, Magic, Heather And Sisco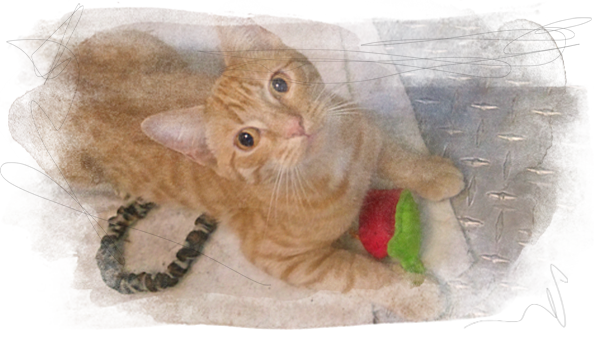 One hour to evacuate!
Monica hears her neighbor, yet can't believe the small window given to flee her home with cats Rosco (photo above), Magic, Heather and Sisco. She's just back from a grocery run when the water comes. Icy waves rise 4 to 5 feet inside homes. Monica quickly bundles each terrified kitty in a blanket. One by one she carries them to her car, where they live for days till animal-friendly shelter is found… Monica, a Colorado native, had recently relocated to South River, NJ. When Sandy destroyed her 100-year old home, Monica sought refuge with animal-friendly shelters (most evacuee shelters still do not accept animals).
| | |
| --- | --- |
| | "Today is my best day here because I had such a great time with my cats," Monica (in photo) told us. Kinship Circle's Bonnie and Evelyn organized the trailer to best suit animals. Cats were freaked out to find themselves inches away from unknown dogs. When Monica visited her felines, Bonnie and Evelyn covered dog cages with a blanket. This emboldened the cats to cuddle and play with Monica. |
Christy And Nanook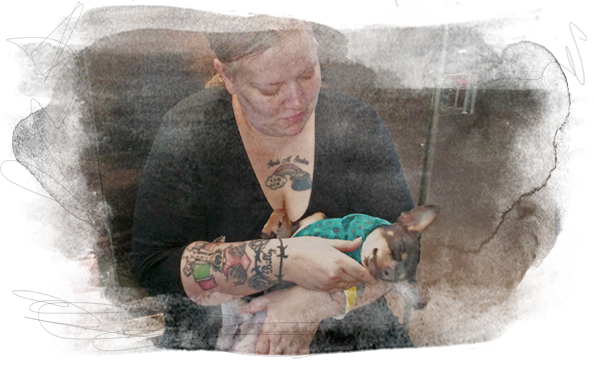 The first time Christy saved Nanook, the inbred "chi-weenie" was to be killed by a backyard breeder. At 7-weeks, Nanook had a deformed breast bone and bleak fate. Christy threatened to alert authorities unless the breeder gave her the teacup Chihuahua-Dachshund. The second time Christy saved Nanook, they were trapped by huge waves on the second floor of their Sayerville, New Jersey home…
Christy, her two kids, and Nanook were stranded for three days after Sandy engulfed their community. When Christy saw her neighbor's two cats afloat in sewage water, she swam over to save them too. They made it to Sayerville Senior Center for short-term shelter. Christy was then sent to Sayer Brook Animal Hospital to board Nanook at no cost while the family stayed at Piscataway Red Cross Shelter.
When Christy saw the trailer where Kinship Circle cares for evacuee animals, she rushed back to get Nanook. The boarding facility gave Christy her dog, along with a $400 bill. Fortunately, county authorities waived her bill. Christy, who suffers from brain cancer that has advanced to her spine, is relieved her family is together now. At first Nanook was too traumatized to eat or drink and shed excessively from stress. Since cared for by Kinship Circle and local volunteers, Nanook has bounced back!
In top photo, Kinship Circle's Bonnie Morrison with Christy's daughters during a visit with their beloved "Nooky," who goes ga-ga for his girls.

In bottom photo, Steve and Nanook take time outside the trailer to engage in a deep mind meld between man and dog.

Photos (c) Kinship Circle, Hurricane Sandy 2012-13
Rob And Blaze


He can't tell his story without tears. It begins with water, an unyielding gush into his first floor apartment in South River, NJ. Blaze, a 1-year old bull mastiff brindle puppy, is Rob's only family here. The two escape to Rob's car and spend the night in a parking lot. At dawn, they return to a flooded home with no power or heat. "We're okay," he tells friends.

But when he phones his dad in New York, no answer. With nowhere to live, Rob and Blaze are shuttled from shelter to shelter…

Wood Bridge Shelter agrees to take Rob and Blaze right away. That site closes in a few days, so they move to Hope Lawn Church. When that site breaks down too they relocate to Piscataway Red Cross Shelter, where Kinship Circle is based. Rob helps out at the animal trailer so he can stay with Blaze as much as possible. Cleanup and repair on his water-logged apartment will last another month.

Rob lost his job just before Sandy struck. With no paycheck, he lost his van too. He feels utterly devastated right now, so Bonnie advises him about FEMA/Red Cross client services. He begins to see he can get assistance in order to live, but also cherishes what he does have:

"Blaze is all I have now. I love him so much and am so happy he is here with me."
Blaze towers above other animals in the trailer. With nothing but love in his heart, he can knock an adult over! Kinship Circle's Bonnie Morrison (in photo) and Evelyn Black taught the big guy to wait before exiting his cage. They also practice leash-walks, so Blaze's zeal doesn't pull people around.


Bonnie and Evelyn adore Blaze and make sure he has stretch-out time inside the small trailer, plus lots of outdoor exercise between Rob's visits. Bonnie even read her book aloud to Blaze, who stared back intently before planting giant kisses on Bonnie's face.

Photos (c) Kinship Circle, Hurricane Sandy 2012-13
Steve And Red, Inc.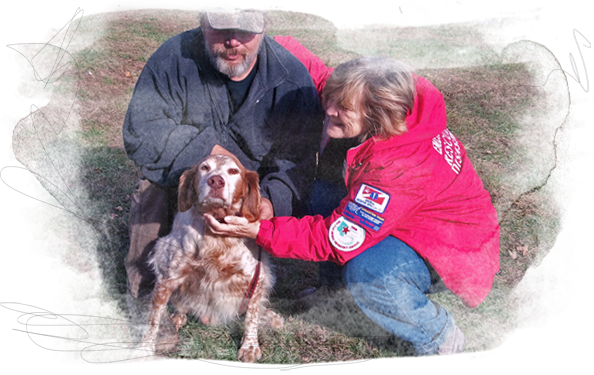 Hurricane Irene spared them, so Steve stays with Red inside in their East Brunswick home near a tidal river. But hope fades when warnings worsen. Finally he evacuates, just before his home goes underwater… Steve and Red, a Brittany Spaniel rescue, 14, seek refuge at a church and are then transferred to the Red Cross site where Kinship Circle aids animals. Red, who had accompanied Steve to his job site daily, flaunts a bit of hometown celebrity even at the disaster shelter. The dog joins Steve for repairs on their home, trips to evacuee Ruth's home to salvage possessions, or transports of sick animals to a vet clinic. Steve, involved in rescue for years, does security-guard night shifts at the CART trailer.
| | |
| --- | --- |
| | Magic, a cat who escaped with her person and feline siblings, keeps Kinship Circle's Bonnie Morrison company as she compiles her daily situation report for Kinship director Brenda Shoss. |
BACK TO TOP - FIELD NOTES LIST

When Animals Lose Their "Everyday Familiar"

A couple shows up with four basset hounds after huddled in their car for two days.

An Atlantic City woman flees her basement apartment with pit bull rescues Chopper and Princess at her side.

A pregnant woman escapes a flooded home with her cat held overhead. The scared, wet kitty recoils in her litter box. But she, and others, are now safe…


Kinship Circle Field Response Manager Cheri Deatsch led search-rescue activities in Atlantic and Ocean Counties, NJ. Photo (c) Kinship Circle, Hurricane Sandy 2012-13
NOV 2012 ► AS SANDY LOOMED, KINSHIP CIRCLE HEADED TO NEW JERSEY
to staff animal-friendly Red Cross Shelters in Atlantic County. After Sandy struck with record storm surges, winds and floods,
Atlantic County Office of Emergency Preparedness
asked us to conduct search-rescue in coastal areas.
Middlesex County
now requests aid for animals housed in a trailer on the grounds of a university that serves as an evacuee shelter. Residents here lost their homes. We're deploying volunteers with veterinary skills to monitor symptoms of illness than can spread quickly among stressed animals in cramped quarters. Also on board: Gentle hands and kind voices for animals whose
everyday familiar
is gone.
Kinship Circle is on standby with the
New Jersey Office of the State Veterinarian
, to serve more evolving needs. Animal disaster effects unfold in stages. Search-rescue is critical for stranded animals. Further out from the initial crisis, emergency sheltering is key to survival. When people lose means to care for animals, long term shelter and foster/adoption are part of the post-disaster response.
BACK TO TOP - FIELD NOTES LIST

"Will You Have Our Cat Back By Tonight?"
| | |
| --- | --- |
| | Photo: Kinship's Tracy Barton comforts a kitty wet from floods. |
NOV 2012 ► Our team arrives at Tom's River High School North Shelter to get evacuee keys and addresses.
Asked to recover animals, residents tell us where to look inside their Seaside homes. One couple says to check atop washers and dryers for their cat.
"Will you have her back for us by tonight?"
Cheri Deatsch discusses plans with the shelter's co-manager Andy. Tim maps and downloads all addresses on two phones, in case we lose cell service or GPS on the island. The team next proceeds to Tom's River High School
East
Shelter to clarify another evacuee's rescue request. At this second site, staff and residents overwhelm us with scribbled pleas taped to keys. We gather data and enter it into our mapping route.
Our team, situated in three vehicles with crates, gear, supplies…arrives at the bridge connecting Ocean County mainland to barrier islands slammed in Hurricane Sandy. When uniformed officers stop us, Cheri explains Kinship Circle is here per county request and provides the name given us, Col. Rizzo. Officers radio Col. Rizzo and Cheri calls him as well. We are advised to wait until he gets to the bridge.
Col. Rizzo listens politely as Cheri explains why Kinship Circle Disaster Animal Response Team is here with resident keys and addresses. She informs him of our MOU with Atlantic County Office of Emergency Preparedness and the suggestion to
offer aid in Ocean County, followed by a referral to the North Shelter
. Col. Rizzo is professional and nice, but replies, "You are not getting on the island." We are told that everything necessary to help these animals is underway, including breaking down doors. Cheri reminds him we've been given house keys and shows written requests that correspond with each key.
When it becomes evident that bridge access is denied, Cheri turns over keys and addresses from Tom's River High School North. However, keys/requests from the East Shelter risk getting lost or overlooked. Cheri determines the responsible action is to return East Shelter requests/keys, with an explanation as to why we cannot recover animals for them. Col. Rizzo agrees with her decision and departs with North Shelter information alone. Kinship Circle's team promptly returns keys to the East Shelter.
We contact Andy to explain, but assure him that all North keys/addresses were personally delivered to Col. Rizzo. We later follow-up with ASPCA to confirm that rescue requests (from both North and East Shelters in Ocean County) were acted upon. We have no answer yet, but believe that ASPCA — now working with NJSPCA, HSUS, North Shore Animal League — has ample resources to reach these animals with the keys, descriptions and addresses we gave them.
"We greatly appreciate your team trying to help us. [Of the rescue requests] that we handed off to you, and ultimately Col. Rizzo, we reunited 15 pets with their owners today. Hopefully we will see more tomorrow. Please know that we were honored to have your crew visit us. If there is ever anything we can do to return the favor please don't hesitate to contact me."
Ocean County's North Shelter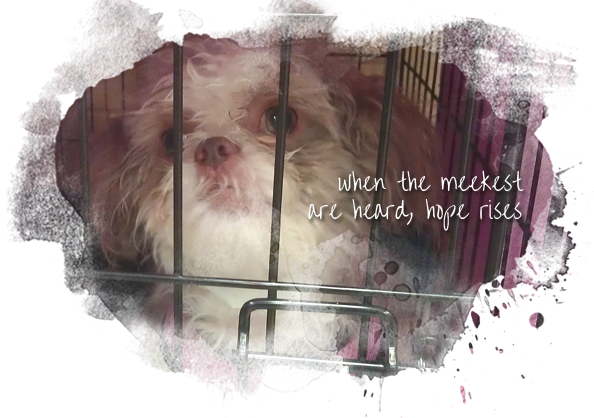 A bedraggled Shih Tzu mix fled floodwaters with her person. The mini-warrior in her pink harness is now safe at an animal friendly Red Cross Shelter where Kinship Circle cares for animals under Atlantic County Office of Emergency Preparedness.
Requests To Rescue Animals Left Behind
Red Cross Shelters in Atlantic County decide to close down and consolidate in Atlantic City. Despite Sandy's impact on Jersey shores, this area dodged the worst. Kinship Circle volunteers assist in break down. We've worked under agreement with Atlantic County Office of Emergency Preparedness since 10/28/12. Local coordinators Mary Langford, DVM and Ed Conover are truly devoted to animal victims!
Kinship Circle's team leader, Cheri Deatsch, meets with Atlantic County's Deputy Director to discuss further needs. With search-rescue winding down here, a call is made to nearby Ocean County emergency management agency to offer our services.
Cheri and Tim head to Ocean County to follow-up. Residents from Seaside Heights, Seaside Park, Berkeley Township, South Seaside Park, Lavallette, Ortley Beach and Mantoloking suffered battered homes and infrastructure. At Ocean County EMA, a Dept. of Health rep tells us that ASPCA works here. It is suggested that we check with an evacuee shelter at Tom's River High School North. Once there, we are asked to retrieve stranded animals.
We tour the shelter and learn that one of its managers, Andy, has a database to track animal rescue requests. The system is excellent, with house keys attached to information cards for rescue purposes. Later that night the rescue list is emailed to us in spreadsheet format. Tim maps out an efficient route for the next day. Our goal is to bring out animals alive for reunion with their caregivers.
BACK TO TOP - FIELD NOTES LIST

Hurricane Sandy Swallows Jersey Shores
Kinship Circle's Tracy Barton, Teresa Nocek and Anita Wollison care for animals — since director Brenda Shoss got the request from Dr. Mary Langford, Atlantic County's coordinator for Red Cross animal-friendly shelters.

In photo, an Atlantic City resident gets a wet one from one of his dogs. (c) Kinship Circle, Hurricane Sandy 2012-13
OCT 30-31 2012, ATLANTIC COUNTY, NEW JERSEY ►
Sandy cut power, communication and transit infrastructure in densely populated areas. The mother of storms spit back mucky sand and water with treacherous force. Sandy arrived on 10/29/12, a Cat 1 hurricane at sea tied to a nor'easter over land. The monster storm left record surges (as high as 20 feet at Sandy Hook), 89 mph winds, and blizzards.
New Jersey got slammed. Particularly its coastline. Even as water recedes, communities are impaired for days, weeks or longer. Atlantic County Office Of Emergency Preparedness requested Kinship Circle's assistance for animal care at Red Cross Co-Shelters and search-rescue in stricken areas. This is the same regional FEMA we worked with during
Hurricane Irene
.
Yesterday human rescuers saved some 450 people in South Jersey, many with companion animals. With water 6-10 feet high in four northern towns where a levee collapsed, rescuers beat down doors and forced residents to leave. Since then, flood levels continue to drop — leaving a soggy mess of water, sand, and fallen power lines. Animals left behind need food, water, rescue. Access to stricken areas is still blocked in some cases, but Kinship Circle is entering via police escort.
BACK TO TOP - FIELD NOTES LIST

People And Animals, Together
OCT 30-31, 2012 ► A sign posted at Atlantic County Red Cross Co-Shelters lets evacuees know they can bring their animals with them.

(c) Kinship Circle, Hurricane Sandy 2012-13
A husband and wife, in their car for two days with their 4 basset hounds, come to the shelter today. The hounds join dogs and cats already here. A missing animals list is maintained. With access still blocked in stricken areas, we brainstorm a rescue plan.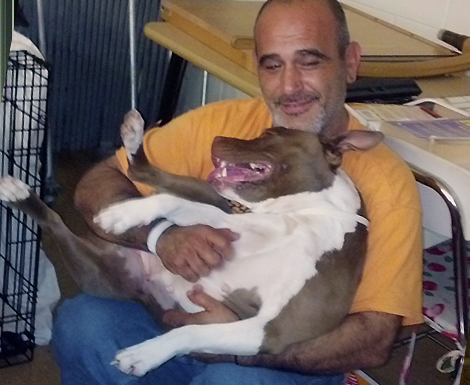 BACK TO TOP - FIELD NOTES LIST

Wet, Scared, Confused…But Safe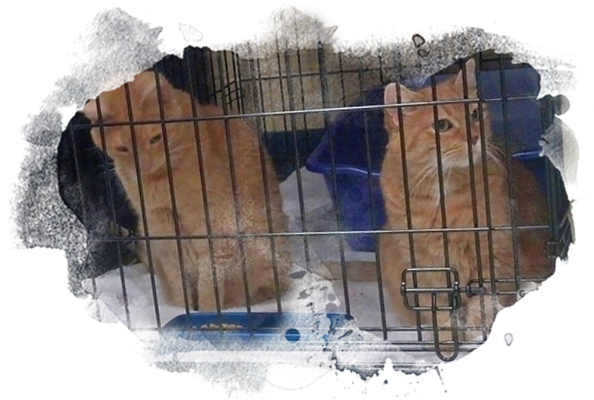 Cats await Sandy landfall at an Atlantic County, NJ Red Cross Shelter, where Kinship Circle cares for animals. (c) Kinship Circle, Hurricane Sandy 2012-13
OCT 29, 2012 ►
As Hurricane Sandy targets New Jersey shores, Kinship Circle is there working under Atlantic County Emergency Management to staff Red Cross shelters that accept animals. Dogs, cats, bunnies…huddle with volunteers while Sandy strikes. Everyone fears even worse flooding before tide cycles conclude. So far, the storm surge is higher than originally forecast. Kinship Circle has activated search-rescue volunteers. By tonight, all roads into Atlantic City may be under water.
Meanwhile, a soaked kitty held aloft by her person now curls up in a litter box. Two dogs admitted today are very stressed. They only calm down when their people visit from the human part of the shelter. A Shih Tzu named Gizmo comes by fire truck with his evacuated family. Kinship Circle's Tracy Barton consoles a sweet elderly yellow lab who is confused and sad. The dog burrows his face deep into her lap.