Katrina Lost-Dog Custody Case Appealed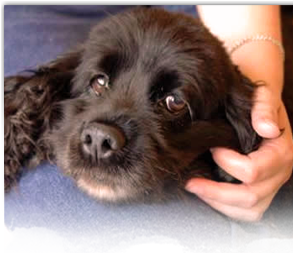 This 10-year-old cocker spaniel was in the middle of a custody case between a New Orleans resident and an Austin resident. Jazz was lost by her family in the chaos of Hurricane Katrina, and brought to an Austin shelter. She was adopted by Tiffany Madura and renamed Hope. Shalanda Augillard claimed Jazz was her dog and that rescue workers stole Jazz, who was left behind during Hurricane Katrina.
Woman Who Lost Dog In Katrina Appeals Texas Ruling
~ Lawyers representing Shalanda Augillard, the New Orleans-area woman who lost her fight to have her dog returned to her in a Hays County court earlier this summer, have announced they are appealing the District Court's ruling. This is the first case that has gone to trial in which an owner of a dog lost in Katrina was denied the return of her pet.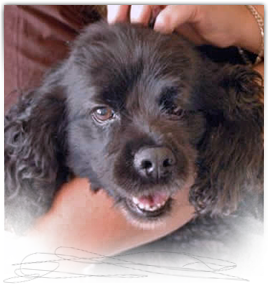 Augillard said, "I put my faith in the justice system, and it failed me. I know without a doubt that the dog in Texas is Jazz. I love my dog, and all I want is to bring Jazz home."
According to attorney Susan Philips, who represented Augillard in the case, the outcome was incomprehensible, given overwhelming evidence that Jazz is indeed Augillard's dog.
"A noted DNA expert, Dr. Joy Halverson, testified that, 'with scientific certainty, I can unequivocally say the DNA samples came from the same dog,'" Philips said. "At the outset of the case, we were confident that the court would return Jazz to Augillard. We thought that the quickest way to get Jazz home was to file suit in Texas, in Hays County, which is where the dog was being held. Because the judge limited the trial to four hours, we didn't have the opportunity to present our case. We were stunned by the judge's decision."
She added, "Since Jazz is now ten years old, it is imperative that we continue to pursue this case at all levels and hopefully reunite her with Augillard before it's too late."
Manhattan Animal Rescuer Awarded For Her Katrina Work
Manhattan, NY & New Orleans, LA ~ Courtney is also a Kinship Circle Disaster Animal Response Team member who's traveled worldwide to aid animals in the aftermath of disasters!
For More Information:
Jeff Dorson
, 901-268-4432
Courtney Chandel, 347-515-8225
Courtney feeds a dog who lived outside an Iwate Prefecture no-pets evacuation center in frigid winds. People left homeless by Japan's quake/tsunami were forced to keep their animals outside in cars, tied to posts, in crates. Kinship Circle and JEARS took many of these animals into temporary shelter. (c) Kinship Circle, Japan Earthquake
Nice Work Courtney!
At a New York City presentation held in anticipation of the second anniversary of Hurricane Katrina, Manhattan Borough President Scott M. Stringer presented
Courtney Chandel
with two awards for her 2005 animal aid work. First, Mr. Stringer presented Ms. Chandel with the
Golden Heart
award given on behalf of the Humane Society of Louisiana, a New Orleans-based organization that recognizes volunteers nationwide who came to their city and state's aid in the aftermath of Katrina.
Ms. Chandel and more volunteers from around the U.S. teamed with MuttShack Foundation, an animal rescue group that operated one of the largest animal recovery outposts in NOLA. Volunteers made dangerous forays into the city to find animals. One search-rescue mission led Ms. Chandel and her rescue partner into Gentilly, an unsafe neighborhood hard hit by the levee breach. Post-storm shootings commonly occured here.
They stayed overnight in the attic of a resident's nearly-destroyed home (where temperatures exceeded 100 degrees) in order to find and save a traumatized cat.
Ms. Chandel eventually caught the cat, Violet, and returned her to her owner, who had previously evacuated to New York City, and where the former resident has decided to live permanently. Overall, Ms. Chandel gave aid and relief to dozens of stricken animals and showed great courage and determination in her efforts to help animals in distress.
"We would like to honor thousands upon thousands of volunteers who risked their safety and spent personal funds to assist in our recovery from the nation's worst natural disaster. Since it is impossible to give awards to each deserving individual, we can only pick a few to represent the many. We believe that Courtney's actions symbolize what thousands of others did — they helped us during our greatest time of need and they did it without expecting anything in return," says Jeff Dorson, Executive Director of the Humane Society of Louisiana, a charitable animal protection agency that operated the Safe House for Abused Animals in Algiers, a suburb of New Orleans, fifteen minutes from the Superdome.
The group's shelter was destroyed by Katrina's heavy rains and hurricane force winds, but the organization hopes to return to the city and reestablish many of its humane programs and services in the near future. Twenty-four hours before Katrina landed, the group evacuated to a barren four-acre plot of land in Tylertown, Mississippi, where they created an emergency evacuation center, which is still in operation.
When informed about her nomination and award from the Humane Society, Ms. Chandel said that after experiencing the tremendous outpouring of support from all over the world and from other states after September 11, "Helping out Louisiana was a real privilege. To help animals is to help people, because people care about the welfare of animals."
Mr. Stringer also presented Ms. Chandel with a mounted key to the City of New Orleans. "We wanted to let Courtney and other animal rescuers know that our state will be forever indebted to them and that the door to our city shall remain open to them," says Dorson, explaining the significance of the second award. Mr. Stringer, not to be outdone by the officials from the Humane Society, also declared August 14, as "Courtney Chandel Day throughout the Borough of Manhattan." This is the first time, in modern times, that an animal rescuer has been honored with this type of city-wide proclamation.
The Humane Society of Louisiana has also created a Katrina Pet Memorial Committee, which is comprised of 20 individuals from around the country who are raising funds to create a commemorative statue to honor the lives of pets lost during Katrina. Ms. Chandel also serves on this committee. The committee has commissioned a life-size statue to be sculpted by Mr. Richard Chashoudian, a resident of Baton Rouge. The statue, known as the Katrina Pet Memorial Statue, will be a cat and dog cast in bronze and will symbolize the tens of thousands of animals who lost their lives during Katrina.
The statue will be formally presented to the New Orleans City Council on or around the 3rd anniversary of Katrina (August 29, 2008). A
rally and reception for all animal responders who participated in the 2005 Katrina recovery
will be held in conjunction with the unveiling of the statue.
▼ Watch Kinship Circle Disaster Animal Response Team rescue animals from floods, earthquakes, radiation…around the world