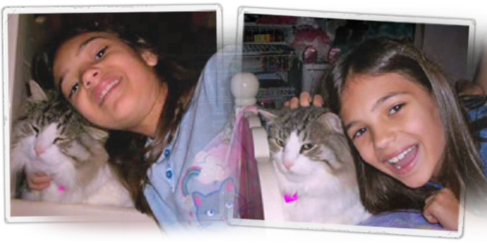 Tigger And Taylor, Together After Two Years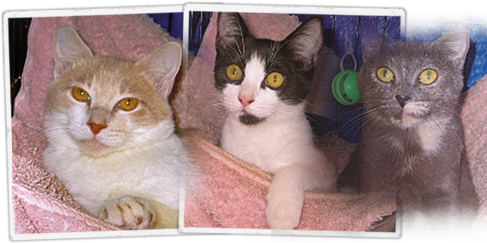 Forgotten Since Katrina
Many cats still live on the streets of Lakeview, with very young kittens in devastated areas. Our urgent need at this time: Locate homes or fosters for friendly cats/kittens on Lakeview's streets and find people to socialize not so friendly cats/kittens.
Two friendly adult cats are finally off Lakeview streets. Twinkie had an abscess on her head and went to ARNO for treatment. Healed, she waits at ARNO for a home. Old Red's [guardian] was located but she couldn't bring him into her current living situation. Just this week, Old Red was taken off the street and adopted by a former Lakeview resident who now lives outside Baton Rouge. Three adorable juvenile kittens were trapped under the slab of a house on Bellaire and taken to ARNO. They have been socialized and are now in foster waiting for their forever home.
Foster And Forever Homes For Katrina Cats
Fosters Needed While We Search For Guardians: Foster friendly adult cats.
Foster/Adopt Traumatized Cats: Many adult survivors were former family cats. With patience, love and a stable environment, they can be re-socialized.
Foster/Adopt Various Age Kittens: From 2 to 8 months, need gentle attention.
Contact: Jeanette Althans, 504-430-6477 / Kathy Sweeney, 504-343-3683
Kathy Sweeney and Jeanette Althans created Lakeview Cats Roaming to feed, trap, and reunite animals roaming since Katrina. Remote Reunion Campaign, ARNO, Kinship Circle and others provide assistance.
Give What You Can, For Animals
New Orleans, LA ~ Independent Food-Water Volunteers
Maria Alvarez
, Stewardship For Strays ~ Katrina's left-behind, and their 4th and 5th generation offspring, wander parts of New Orleans. Volunteer feeder Maria Alvarez cares for animals at her home, out-of-pocket. Adoptions are rare. "The best way anyone can help is to send PetSmart or Walmart gift cards. Shipment of food is also welcome. There hasn't been food at ARNO for the street animals for months. Every bag of food is purchased with our own money."
Monetary Donations
Send check to registered Louisiana nonprofit:
Support Alliance For Stray Animals
4033 Arizona Avenue / Kenner, LA 70065
Memo: food-water, Maria Alvarez
Gift Cards
Mail PetSmart or Walmart Gift Cards
Stewardship For Strays
2905 Taft Park / Metairie, LA 70002
Cat/Dog Food
Contact Maria Alvarez to find out where food is needed:
tipster@bellsouth.net
Volunteers Needed
Contact Ruby: 504-256-0055. Help distribute food-water and assist with TNR.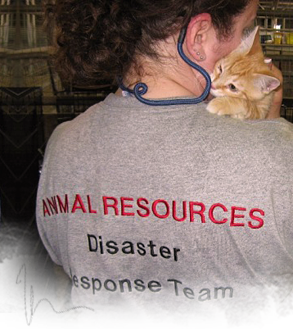 Terri Crisp's New Group, After Noah's Wish
Animal Resources
Disaster Management Solutions
P.O. Box 17191
Encino, CA 91416
530-622-7015
Info@AnimalResources.org
Report Disaster: 530-391-6332
Mission: To help animals during natural disasters and large scale human-caused emergencies.
---
An American Opera
Awarded Documentary
An operatic vision of the pets, vets, guardians, and adopters as seen through the eyes of those who acted in the aftermath of Hurricane Katrina.
Kinship Circle ~ Brenda Shoss was honored to join
An American Opera
director Tom McPhee on a discussion panel after the film's screening at the 16th St. Louis Int'l Film Festival. The film received the Gold Camera Award at U.S. Int'l Film-Video Festival, Gold Remi Award at WorldFest Houston, and Jury Award for Best Feature Documentary at Sacramento Film-Music Festival.
About Film ~ In Hurricane Katrina's aftermath, America suffered the worst domesticated animal crisis in history. Tens of thousands of pets were left to perish.
An American Opera
is an unflinching look at New Orleans residents forced to evacuate without their beloved animals.