Aug 9 2007
We Hear Your Cries
Don't Forget The Victims Of Hurricane Katrina
Aug 2007, Sign Petition
Robyn E.
Care2 Action Alerts
~ A petition asks 2008 presidential candidates to prioritize rebuilding in the Gulf Coast. In the comments box on petition, highlight the hundreds of thousands of animals left behind. Remind candidates that we the people want funding and enforcement for the Pets Evacuation and Transportation Standards Act (PETS Act). Two years after Katrina/Rita devastation, the Gulf Coast still hurts. Tens of thousands remain in temp housing. Schools are closed. Businesses struggle. Continued neglect leaves people poor and more at risk. While politicians suffer from "Katrina Amnesia," current presidential candidates can renew Gulf Coast aid.
AR2007 Los Angeles
Kinship Circle Presentation
Conducting Disaster Rescue
About 104,000 animals were stranded in Greater New Orleans area alone.
Only about 15,000 were officially saved by over 400 different rescue organizations.
Just 3,000 were known to be reunited with families (though reunions still occur, so figure seems dated).
Nearly 90,000 companion animals, from New Orleans, remain unaccounted for.
Stats don't include animals from rest of Louisiana or Mississippi, Alabama.
National Law: Pet Evacuation & Transportation Standards Act
10/10/06
Funds at risk if animals are not in disaster plans
, Kimberly Geiger, Chronicle Washington Bureau ~ States are required to help evacuate pets in a natural disaster such as a hurricane or earthquake or risk losing federal money under a bill signed by President Bush. The federal law requires all states to present the Federal Emergency Management Agency with pet evacuation plans before receiving federal funds for emergency preparedness. The law authorizes FEMA to provide additional money for pet-friendly shelters and animal guardian assistance.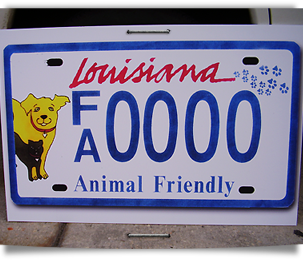 Specialty License Plate: Pet Overpopulation
7/31/07 Animal-Friendly License Plate Raises Funds For Pet Sterilization,
Jeff Dorson
901-268-4432 ~ Humane Society of Louisiana announces creation of a new state-wide funding mechanism that targets Louisiana's chronic pet overpopulation. Several years ago, the group successfully drafted and lobbied for LA. R.S. 47:463.60 (D), which created the 10-member Pet Overpopulation Advisory Council, including State Senator Willie Mount and State Representative Nina Hutter. The law also created an animal-friendly license plate, to be sold by the Bureau of Motor Vehicles, according to Ms. Deanna Albert of Louisiana Department of Public Safety and Corrections.
Ms. Albert can be reached at: 225-922-2158. Ms. Albert also serves on the Pet Overpopulation Advisory Council, along with representatives from Humane Society of Louisiana, Louisiana State Veterinarian Office, Southern Animal Foundation, St. Tammany Humane Society, and Louisiana Veterinary Medical Association.
A $25.00 surcharge is added to each animal friendly license plate sold. Funds are deposited into the Pet Overpopulation Fund. Monies are then be distributed to vet clinics and humane societies, through grants used to subsidize low-cost sterilization procedures. Low-income pet guardians on state or federal aid qualify for this program, once funds are available.
"This is an exciting program with enormous potential to address a widespread problem in our state," says Jeff Dorson, who lobbied for passage of this bill. "We believe these plates will be one of the best selling speciality plates ever produced, given the size of the problem and passion of those individuals and humane organizations trying to curb pet overpopulation," adds Dorson.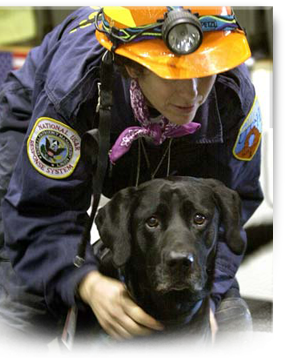 9/11 And Katrina Canine Hero Jake Has Died
7/26/07,
Read full Fox News Story
~ A black Labrador who became a canine hero after burrowing through white-hot, smoking debris in search of survivors at the World Trade Center died from cancer.
Guardian Mary Flood had Jake put to sleep after a last stroll and dip in the creek near their home in Oakley, Utah. He was in too much pain at the end, shaking with a 105-degree fever as he lay on the lawn.
No one can say whether the dog would have gotten sick if he hadn't been exposed to the smoky air at Ground Zero, but cancer in dogs Jake's age, 12, is common. Some with rescue dogs at the World Trade Center site claim their animals have died because of their work at Ground Zero. But scientists have found no sign of major illness in the animals. The results of an autopsy on Jake's cancer-riddled body will be part of a University of Pennsylvania medical study of 9/11 search-and-rescue dogs.
Flood adopted Jake as a 10-month-old puppy, abandoned on a street with a broken leg and a dislocated hip. "Against all odds he became a world-class rescue dog," said Flood of Utah Task Force 1, a federal search-rescue team at ground zero.
Flood trained Jake to become one of fewer than 200 U.S. government-certified rescue dogs – on call to tackle disasters such as building collapses, earthquakes, hurricanes and avalanches.
After Hurricane Katrina, Flood and Jake drove from Utah to Mississippi, to search in the rubble for survivors. Jake's ashes will be scattered in the Utah rivers and hills near home where he swam and roamed.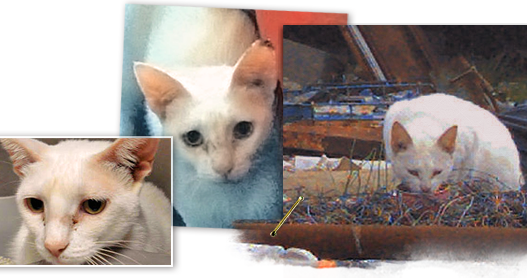 Sassy's Miracle
7/30/07, Sassy Will Never Go Hungry Or Cold Again ~ Sassy, a Katrina survivor twice over, goes out on a transport today to South Carolina, to a new home! Thanks so much to everyone who responded and offered assistance. It is a great feeling to know Sassy will never have to scavenge for food and shelter again and that she will be warm and dry for the rest of her life!
Ramona Billot
, PCAT (Plaquemines Cat Action Team)
7/5/07, Original Alert ~ Sassy survived Hurricane Katrina and lived inside a crushed store in Empire, Louisiana in Plaquemines Parish. About a month ago, the building she inhabited for almost two years was demolished. Sassy lost her home for the second time in the last two years! She needs a safe place where she'll never have to worry about howling winds, 30 feet of water, starvation, dog packs or bulldozers.
Video: Not Too Far From Here
Katrina Animal Rescue Videos By
Pam Leavy
~ Please watch
Not Too Far From Here
and forward it on behalf of Katrina's forgotten victims, human and animal. The neglected Gulf Coast is our nation's disgrace. Twenty-two months post-Katrina, less than half the people have returned. Some left permanently. Animals have no choice. They are shadows in the debris, surviving on food stations or anything they can find. I thought my journey to save these animals would last a couple months, then 6 months, or perhaps till the year anniversary… But 22 months later, I see no end. TNR groups have helped, but thousands remain homeless. While some areas thrive with residents and commerce, parts of NOLA and parishes such as St. Bernard and Plaquemines are miles and miles of devastation. Dogs and cats live in this wasteland. To hear their cries, to see them cautiously watch as we fill food pans, and to know they wait at f/w stations — is heartbreaking.
Never Walk Alone, Sep-Oct 2005
Somebody's Praying, Dec 2005
Still Forgotten, Jul-Sep 2006
I Want To Live, Oct-Nov 2005
Troubled Waters, Oct-Dec 2006
As residents trickle back, crime comes with them: dogfighting, cockfighting (illegal within city limits), animal abuse… plus drug-related violence, child neglect, etc. We report all of it. We try to educate residents about animal care and give them supplies when possible. Volunteers and donations are still critical. Contact:
Animal Rescue New Orleans
or
Animal Rights for Life
.
My latest video,
Not Too Far From Here
, describes bleak areas of New Orleans and the animals who live there. Most animals depicted are not emciated. We supply healthy food that lasts roughly three days. They must learn to scavenge for food, which they do over the remaining four days. Still, by the time we return they're starving again. You can see it in their eyes as the hover around feeding stations. Please help us ensure this never happens again. We have a
Pet Evacuation Law
in place. But we need volunteers to make it work. Please register with LSART. Hurricane season is here now. LSART Registration Form, Contact:
Pam Leavy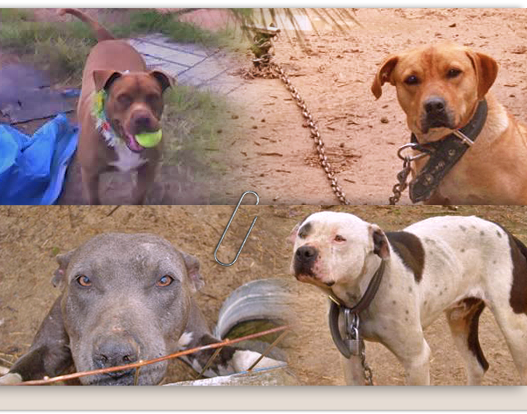 Lyle, In Film Dark Water Rising, Needs Help
Top left photo is Lyle, shown with other dogs at a Kentucky compound where Lyle was re-rescued. The property owners have been charged with animal cruelty. Photos: Chuck Meyer, campkatrina.net/BioPages/Rerescues.htm
7/20/07,
Susan Meyer
~ Larry Roberts,
KAT 5 Animal Rescue
president, rescued Lyle in New Orleans after Hurricane Katrina. Lyle's rescue is featured in Mike Shiley's film
Dark Water Rising
. Lyle has been through the wringer since rescued nearly two years ago. Lyle went from Winn Dixie to Humane Society of Louisiana in Tylertown, MS. Lyle then faced a dismal situation in Kentucky where he lived on a chain. Lyle was re-rescued from horrible conditions and brought back to HSLA where he resides now.
Lyle needs more attention, stability and personalized care. A great scenario would be rehabilitation followed by placement in a real home. "Lyle, unfortunately, was one of the dogs that was taken by a woman to Kentucky in October of 2005 claiming to be a rescuer. When he was recovered from her property in February of 2006 he was bloated, had a skin infection and his fur was awful looking. Lyle was kept on a toe chain. Several vets have said that his behavioral and physical changes are consistent with anabolic steroids", said Shelli Brooks, HSLA volunteer.
"He's in a good state of health now, heartworm negative and neutered; he just needs a place to go. Like most of the dogs at HSLA Tylertown, Lyle lives in an outdoor kennel. Sometimes he doesn't go into his dog house when it's raining and will just sit up against the fence during a storm and stare at the house where the people are," said Shelli Brooks HSLA volunteer.
Still, Lyle retains a puppy's sense of joy. "Lyle has been crowned our King of Comedy, first place for most comical dogs to watch at the shelter. Lyle adores chilling out in his kiddie pool on hot days! Lyle also loves to chew tennis balls. But his most favorite toy in the whole universe is his teaser ball. Lyle talks to (yes, talks!) his teaser ball, pushes it, and throws it in the air. He runs around the play area with his teaser ball and, sometimes, even takes it into his kiddie pool."
Despite his comical, fun-loving behavior, Lyle does have one flaw: He doesn't like to share whatever he chews on. People should not pull toys, balls or rawhides out of his mouth. With positive training and trust, Lyle can eventually learn to share his things. He's a good boy with lots of personality and would do better in a place where there are less dogs than HSLA has on their site now and where he will get the rehabilitation that he needs to get the life that he deserves", said Shelli Brooks HSLA volunteer.
To Ask About Lyle, Contact KAT 5 Animal Rescue
972-898-3300,
kat5animalrescue@yahoo.com