---
Evacuation For Horses And Cows, Need Fosters
Hopeful Haven Equine Rescue Organization
Debra A. Barlow, 318-286-3116
HHERO President & Animal Cruelty Investigator
12193 Providence Rd / Shreveport, LA 71129
8/18/07 ~ From my home base, I can set up the same program as before [during Katrina/Rita evacuations] for large animal caregivers to evacuate with their animals to a prearranged foster site where you can care for your own animals on the property until after the danger at your home site has passed and you can return.
Need Volunteer Foster Homes!
For hurricane evacuee families and their grazing animals (horses, cows). If you can foster, email Debra Barlow (hopefulhaven@yahoo.com) information below, so you are listed as a foster.
Name, Address, Phone Number
How many animals you can board.
How many families can seek refuge with you.
How much land you have.
If you're willing to let animals graze on your land until danger has passed.
If you have room for evacuee trailers/campers on your property.
If you have a spare bedroom for evacuees.
Large Animal Caregivers Only
If you have no animals and are not known to me personally from the last hitch I did on this, you will have to go to a shelter. Those needing to evacuate, give me this weekend to get fosters lined up in case of the emergency evacuation, and I will connect you with your fostering family so you can make the arrangements with them. During Katrina and Rita, we did a great job with our resources and the wonderful elves who worked from home. Lauren, Margo, Connie, Linda, and others: Please stand ready to help with supplies. We were able to fund 52 ranches for 6 months. Foster homes, email me immediately to help our friends in need! I will try to match you with what best fits your situation. Let's make this no large animals left behind.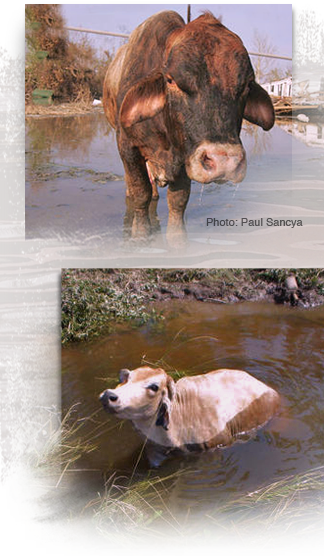 Toll On Horses, Cows
During Hurricanes Katrina and Rita, swift floodwaters (especially in southeast Louisiana) swept over farms and ranches, stranding cows atop levees and crowded on to small dry spots. Some cows were even found in trees. When water receded, saltwater soaked pastures left grazing animals without food. Damaged hay piled up across fields. Animals needed fresh hay and grain to stay alive. Some were rescued.
PETS 911
,
Capt. Ron
, 1-800-U.S.Stray
Humane Law Enforcement-Florida
[In terms of actual numbers] the best I got from the Association and some farmers:
Approx. 5000 cows died in one day.
Approx. 1000 horses died [in one day].
4000-6000 cows died from poison fields, starvation, and flood issues.
Over 2000 more horses [up to the end of the year] died for the same reasons.
Hurricane Dean Update
8/17/07 Dean Strengthens To 125 MPH Winds, The Hurricane Center ~
It's now a Category 3, with one death reported. Dean slammed into the Islands of Martinique and St. Lucia with winds over 100mph. We expect serious damage. Dean is to travel Westward into the Gulf of Mexico. Our concern for Florida, plus Louisiana and Mississippi, is Dean's direction after that. In 2005, Hurricane Wilma also entered the Gulf and swerved right into Florida. Wilma's strength, gathered in the Gulf, was the highest ever recorded for a hurricane.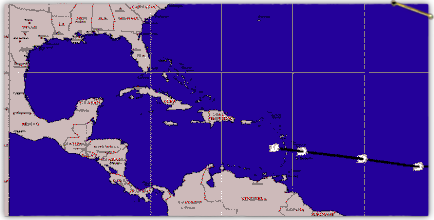 South Florida (Miami-Dade) ~
There are two pet-friendly shelters in Miami-Dade for people in evacuation zones or unsafe structures (such as mobile homes). Families must stay with their pets in the shelters. People are urged to pre-register their pets. with several hundred already pre-registered. Applications, information and requirements are available at:
www.miamidade.gov
Broward County (Ft. Lauderdale) ~
There is only one pet-friendly shelter in Broward County, administered by the Broward Humane Society. Pre-registration is required and space is limited.
Palm Beach County ~
Palm Beach County also has a Pet-friendly shelter with about the same requirements as the others.
For Rescue Groups ~
The Alliance now has 3 trailers of dog food, donated by Pedigree, warehoused in Broward County. There is no charge for registered nonprofits but there is a warehouse and handling fee of approx $100 per pallet. All of the food we had in Biloxi MS is gone but we expect more.
Source
~ Capt. Ron, Humane Law Enforcement-Florida
Disaster Response Teams and Computerized Lost/Found Records
www.pets911.org
, 1-800-U.S.Stray
Hurricane Dean Prep For Companion Animals
8/16/07
Muttshack Animal Rescue
,
Amanda St. John
~ Join MuttShack's team for disaster evacuation. Volunteers, donations and supplies are needed. We lobbied, and with the help of Senator "Clo" Fontenot, won the right to evacuate pets. But the hardest part is now up to us: To respond when a hurricane threatens the State of Louisiana, and evacuate animals alongside their guardians. There is still a lot of work to be done. MuttShack needs pre-storm funding for supplies and equipment to be ready. We need sponsors, but most of all, we need trained qualified and brave volunteers to participate in the evacuation of pets from every Parish in the State of Louisiana to make sure each dog, cat, bird, small animal and critter gets out safely with their family. They need flights, training and supplies.
8/16/07 Bloomberg ~ Dean, the Atlantic season's first hurricane, formed east of the Caribbean's Lesser Antilles, while in the Gulf of Mexico, Tropical Storm Erin approached Texas. Dean was 485 miles east of Barbados at 5 a.m. Miami time, and heading west at 24 mph, the U.S. National Hurricane Center said. The system's sustained winds strengthened to 75 mph, taking it past the 74 mph threshold for a hurricane. Hurricane season runs from June 1 to Nov. 30.
---
MINE, The Movie
"SXSW and SF Doc Fest Audience Award winner
MINE
tells the poignant and powerful story of animals left behind during Katrina, and of the struggles of hurricane victims to reunite with their beloved pets. A meditation on the essential bond between humans and animals, MINE is an equally compelling story about human nature and the power of compassion.
MINE was honored as the 2010 Independent Lens Audience Award winner. The New York Times hails MINE as 'smart and affecting.'"