Congress Okays National Law To Evacuate Animals In Disasters
7/4/06: Dear Senator: Remember Katrina
9/28/06: Never Again: Pass PETS Act Now
9/21/06,
nola.com
FEMA Gets Authority To Finance Shelters
, By Bill Walsh ~ Congress ordered national disaster planners to ensure pets don't get left behind in catastrophes. In response to Katrina reports of victims who refused to leave without dogs, cats and birds, Congress passed legislation that mandates state/local officials to draft evacuation plans for animals.
The legislation also gives FEMA authority to finance shelter renovations for animals on a temporary basis. "Our legislation ensures that families and people with disabilities are never forced to choose between rescue or abandonment of their pets and service animals," said Rep. Tom Lantos, D-CA.
In a July letter, Homeland Security Secretary Michael Chertoff reminded Gov. Kathleen Blanco that evacuations are "fundamentally a state and local responsibility." Now evacuations must consider animal safety too. Most post-Katrina shelters refused pets. Disaster officials forced evacuees [at gunpoint, under threat of arrest, physical assault, handcuffs, etc.] to leave animals behind. Tens of thousands of animals died.
Three weeks after the storm, Lantos and Rep. Christopher Shays, R-Conn, filed the
Pets Evacuation and Transportation Standards Act (PETS Act)
. The House bill passed in May. In August, the Senate added a provision to let FEMA finance shelters for people with pets and service animals. Congress unanimously approved the
PETS Act
, which becomes law with President Bush's signature.
Animal advocates say the bill saves human lives too. "Surveys show that 50-60% of people won't evacuate without their pets," said Michael Markarian, executive vice president of Humane Society of the United States.
Louisiana state legislators approved their own
Pet Evacuation Law
this year that requires state/local emergency planners to coordinate "the humane evacuation" of service and companion animals. The LA law also calls for emergency animal shelters adjacent to shelters for human evacuees and establishes a tracking system to reunite animals with [guardians].
This law made its debut, with some kinks, for Hurricane Gustav. Kinship Circle was in Louisiana to help with government-assist animal evacuations for Gustav. Volunteers recorded, boarded and comforted animals headed to a Mega Shelter in Shreveport, LA.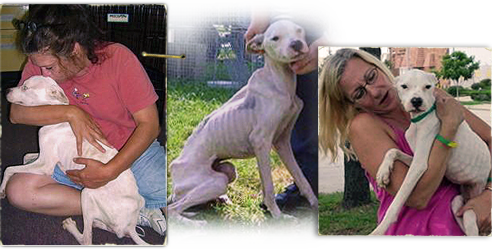 The Story Of Chance
We were shocked when we saw Chance.
Still, his tail wagged and wagged…
9/24/06, Chance Is Home With ARNO ~ When Melinda and I saw Chance, we were shocked and saddened. As we silently bathed him, our fingers felt the bony prominences. But while dried, Chance tugged our towel into a spontaneous tug-of-war game. His irrepressible spirit won't let you stay sad. He is just plain happy and his tail wags, wags, wags.
The veterinarian says Chance has a long road to recovery, but that he can make it. Chance is heartworm positive, with anemia and hookworms. After he heals at ARNO, Chance will go into foster care. He is such a love!
I will keep you posted, Robin Beaulieu, ARNO
Background:
Chance (once called "No Chance") was found behind a business establishment in LaPlace, LA. The owner called Animal Control to pick up the dog. Animal Control intended to feed him for five days, hoping someone would rescue him before he came up for euthanasia. They couldn't adopt him out due to restrictions on pit bulls and pit mixes.
Chance's history is unknown, but his condition clearly represents a dog neglected, possibly locked up for a long time. No one knows how long it had been since his last meal when found. His entire skeleton was visibly outlined beneath thin, papery skin. This was not an overnight situation.
Donations are desperately needed for long-term medical expenses.
Robin Beaulieu, ARNO shelter manager: 504-913-2328
Charlotte Bass-Lily, ARNO director: 504-522-0222
Donate via PayPal at ARNO site:
animalrescueneworleans.org
Donate by mail:
Animal Rescue New Orleans
Chance Donation Fund
1219 Coliseum Street
New Orleans, LA 70130
Want to see Chance in person?
Come and volunteer at our shelter, or volunteer for food/water duty. All are welcome, seven days a week. Email or call us to volunteer:
arnovolunteer@yahoo.com
, 504-571-1900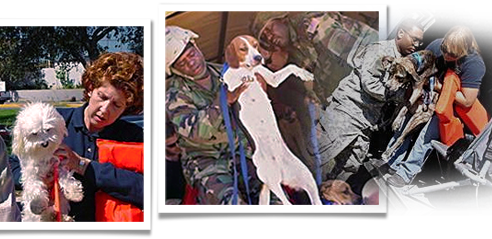 Woof! Meow! Operation Lilypad
Louisiana-SPCA
~ Cooperating federal, state and local agencies safely exercised human and animal rescue procedures in a simulated New Orleans-centric flooding event 9/20/06. Staging took place outside the former Walgreens in the now closed Robert E. Lee Shopping Center. It was a wonderful learning experience for all involved.
9/21/06
nola.com
Disaster Practice Takes To The Water
, By Trymaine Lee ~ In a show of post-Katrina teamwork among local, state and federal rescue workers, more than 15 agencies came together for a massive search and rescue simulation on the shores of Lake Pontchartrain. The exercise, dubbed Operation Lily Pad, included more than 200 people in roles as victims and rescuers for a disaster scenario modeled after Hurricane Katrina. During real water rescues, first responders use lily pads (patches of dry ground) as staging areas until they can transport flood victims to secondary shelters.
Agencies involved in Operation Lily Pad: New Orleans police, fire officials and emergency medical services; LA Department of Wildlife-Fisheries; Federal Emergency Management Agency Gulf Coast Recovery Team; LA Office of Homeland Security and Emergency Preparedness; Louisiana National Guard; LA Department of Agriculture and Forestry; Society for the Prevention of Cruelty to Animals; State Police; and Coast Guard.
Terry Ebbert, director of homeland security in New Orleans, said the exercise will help iron out communication problems among agencies by creating a common command and control center. A day after Katrina, 80% of New Orleans flooded. Sheer magnitude of the event hampered early rescue efforts. Local planning and communication failures among state and federal authorities also slowed rescue.
As bright orange Coast Guard helicopters hovered above the Point in Lakeview and flat-bottom boats cut across Lake Pontchartrain's choppy waters, Lori Haeuser and Louie, a 2-1/2-year-old white Maltese, stepped from a rescue boat onto a narrow dock. Most days Haeuser, 46, is Louisiana SPCA's community outreach coordinator, but on Wednesday morning she played the part of a Lakeview flood victim who refused rescue unless her beloved pet could go with her.
Haeuser and other officials said devotion to [companion animals] posed one of the biggest obstacles during Katrina evacuations under a people-only policy. But authorities learned that refusing pets can mean leaving their [guardians] to die. "Before, people just didn't know that so many victims would be stuck out there with their animals," Haeuser said. "Now rescue agencies realize these animals are valued family members."
Kinship Circle Notes ~ Duh. How coldhearted do you have to be to deny rescue to a terrified pup or kitty clutched in a victim's arms? In fact, most human victims assume disaster rescuers will take children, the elderly, etc. Those with animal family members — who had names, personalities, quirks, needs — may have feared most for their fur-kids. During Katrina evacuations the worst that could happen, happened. Animals were left to die (or be killed, as in St. Bernard Parish). Hurricane Katrina marked the single most tragic event for companion/domestic animals in modern history.
---
Big Fix Rig News
Spay/Louisiana, 504-FIX-PETS
P.O. Box 11149 / Jefferson, LA 70181
9/25/06 ~ Spay/Louisiana's Big Fix Rig has captured quite a bit of attention since it rolled into St. Bernard Parish in July. Since then, over 750 Louisiana cats and kittens have been fixed on the Rig. If each of these cats had remained intact and produced just one litter of four kittens each, we'd have 3,000 more kittens in just one breeding cycle.
Not your grandma's mobile clinic! Big Fix Rig is ideally located near a significant feral cat population, staffed with veterinarians and techs skilled at addressing the unique needs of feral cats. It provides experienced trappers who conduct a safe, humane high-volume trap-neuter-release project. Sustained surgical volume, a minimum 30-35 cats each day, is a key to cost-effective use of the Rig.
Hosts needed for April, May, June 2007!
After a tour of Mississippi, the Rig returns to Louisiana in March 2007, with a month-long stop in Lafayette already planned. We expect the Rig to remain in Louisiana through June 2007. The Rig serves hurricane-impacted communities in south Louisiana, with a goal to stay in one area a minimum three weeks, at 35 surgeries per day, five days per week. Animal advocates and veterinary professionals in host communities make this happen.
If you believe your community can provide required resources and sites, contact Spay/Louisiana to schedule a meeting for animal advocates, ACOs and veterinarians. We suggest you let Spay/Louisiana inform your veterinary community about the Big Fix Rig. Also underway for Louisiana: Plans for spay/neuter clinics modeled after the
Humane Alliance
in Asheville, NC.