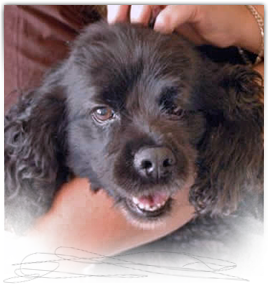 Rice recalls rescuers snipping ID tags off animal collars before driving them away. "Some rescue groups were not interested in seeing animals returned to [guardians]," he says. Madura, who volunteered at Lamar-Dixon for several days, remembers women fighting over small dogs, like matrons at a Loehmann's fire sale.
"I think many people got caught in the trap of falling in love with a pet," says Trog. But a number of rescuers also concluded they were saving pets not just from a natural disaster, but from irresponsible [guardians] who had callously abandoned their pets and provided only a minimum of care before that.
Pacelle says out-of-state rescuers were shocked, for example, by the high incidence of heartworm and the number of unneutered pets. "I've never seen so many testicles in my life," he admits.
Don Feare, an attorney who represents a Dallas-area rescue group and several Katrina adopters pursued by New Orleans [animal guardians], says the medical condition of rescued dogs and cats suggests many were treated poorly well before any hurricane or flooding. "People are trying to shove that off as cultural differences," he says. "Well, don't tell me that unless you're prepared to say New Orleans is a Third-World country."
Those familiar with animal law say neglect is tricky to define, though. "One man's appropriate medical care is another's ridiculous expense. It's a very personalized area," says John Bradley, who, as Williamson County's district attorney, says he struggles with animal neglect cases.
And Trog is fiercely protective of her constituents. "What are the standards for good treatment of a pet?" she asks. "If I don't let my dog up on the bed, does that make me a bad [guardian]? We were a poor parish, but we loved our animals."
"I'm the type who stops on the freeway to get an animal off the road," Madura says. She joined Katrina rescue efforts after she saw a group solicit crates for displaced animals. "I kept hearing desperate calls for personal items," she recalls. She collected towels, shampoo and other supplies, rented a van and headed to New Orleans. "I don't think I slept for three days."
After her return, Madura kept in touch with PawMatch, an Austin pet adoption group. On his second New Orleans trip, founder Andy Odom met a frantic volunteer at a Jefferson Parish feed store with unofficial rescue operations underway. "It was pandemonium there," he recalls. "This guy with a cocker spaniel told me the dog's family died in the storm and the dog was really sick. He said if he gave the dog to an official facility, she would be ethanized."
"I didn't think twice," he adds. The dog, renamed
Hope Floats
, was bloated to pregnancy size. Her hair was patchy and she bled from several openings. Odom found a foster in Wimberley and wrote about Hope's saga on PawMatch's website. He says it never occurred to him to post her whereabouts on a national website. "I'd been told the [guardians] were dead. Besides, the dog had obviously not been cared for."
PawMatch's story about Hope noted the dog's serious medical problems. After thinking it over, Madura, who lives with her boyfriend, offered to take her. "I'm looking for a last-chance animal," she remembers saying. When Madura picked her up, Hope still wore diapers and had little hair. "Some hair seemed matted, but it turned out to be her skin sloughing off," she recalls. A local veterinarian pronounced Hope's medical conditions — a serious skin ailment, bladder stones and a urinary infection — longstanding. Today, after an operation, doses of antibiotics and skin medications, and over $1,000 in vet bills, Hope is mostly healthy.
"When I first got her, I wanted to find the [guardians]," says Madura, who is white. "I was so sad for people at Lamar-Dixon looking for their animals. It was tragic." But over time she grew convinced she was protecting Hope. "This dog was dying," she says. "You don't return an abused, neglected child."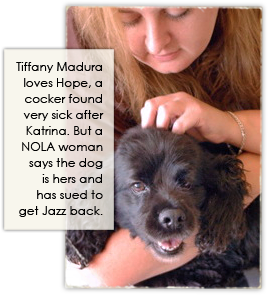 Shalanda Augillard, who is African-American, last saw her then 8-year old Jazz on Aug 29, when she left the dog at her mother's New Orleans home on her way to the Federal Express facility where she works as a ramp agent. (Via her attorneys, Augillard declined comment.) Her mother was evacuated several days later.
Court filings say she tried to board a rescue boat with Jazz but was ordered to leave the dog. She reluctantly left Jazz in an upstairs room with food and water to last "several weeks." National Guardsmen later rescued Jazz, "a beloved family pet since a puppy," court filings say.
Augillard, whose home was not significantly damaged, says she began searching for Jazz as soon as she could, visiting Lamar-Dixon and posting about her on official websites. On Dec. 27, a Katrina Cocker Find volunteer spotted Hope on PawMatch's website and alerted Augillard.
Over the next four months, she, Madura and PawMatch argued over whether Hope was in fact Jazz. An exchange of veterinarian records didn't prove anything conclusively. Convinced Augillard wasn't the [guardian], Madura refused a meeting, and in early May, Augillard filed her lawsuit.
Since then, the dispute has turned increasingly nasty. A temporary restraining order removed Hope from Madura's custody to a neutral kennel. Three weeks later, a Hays County judge found insufficient evidence that Hope was the dog Augillard was searching for and ordered the spaniel back to Madura, where she remains.
A meeting in mid-July at a vet's office turned confrontational when Augillard and a lawyer showed up with a video camera and pursued Madura around the office. A recent DNA test concluded that dog hair Augillard says came from an old sweater matched that of Hope/Jazz. But Madura and her Austin lawyer, Michael Murray, contend the hair from the sweater was a plant, secretly brushed off Hope by Augillard during a recent visit, so the results should be tossed.
If Hope really is Jazz, the dog legally belongs to Augillard. Animals are considered property, and Louisiana law gives residents three years to claim their lost possessions. But even "If (Augillard) is her [guardian], Hope shouldn't have to go back," Madura says. "And as much as I love her, they can place her in someone else's care."
Augillard's reports on Jazz's health prior to Katrina have varied. According to one court filing, "The dog was in excellent physical condition" pre-storm. Augillard later said Jazz had a thyroid condition and kidney problems, but that both were being treated.
Litt, who follows such cases on her website, says the dog's health shouldn't be an issue. "Finders-keepers is not in the spirit of what this has been is all about," she says. A hearing to consider the DNA test results is scheduled.