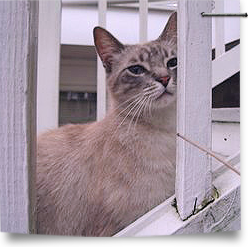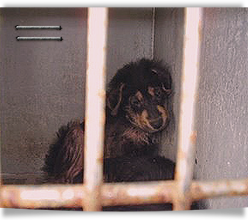 Forgotten Animals
Katrina Creatures & Critters
, Lise McComiskey ~ Dearest KiKi, I will miss you dearly and forever regret my inability to find your family. I hope that if the family who loved you before Katrina ever sees this, they find comfort in knowing you were completely loved. That you had a second a family with us, before Katrina stole your first home.
Rest in peace, sweet KiKi
.
3/19/06, Lise McComiskey ~ Please find it in your heart to help the animals of New Orleans. Puppies are continually born in devestated, uninhabited parts of the city. They eek out survival without so much as human garbage to rummage. Many endure endless suffering from disease, mange and everyday life amid toxic debris. Visit
Animal Rescue New Orleans
website to learn how you can give these animals another chance.
ARNO, along with St. Francis Animal Sanctuary, Humane Society of Louisiana and LA-SPCA, are in this fight together. Because animals left behind give birth to even more animals. Because their misery on desolate streets must end.
Top photo is KiKi, ?? To 5/9/06
Small Bites
News named Small Bites as reminder to donate small-bite food (or cat food) for animals.
NOLA Mayor's Evacuation Plan
5/2/06, WWL AM/FM ~ While news about Mayor Ray Nagin's Hurricane Evacuation Plan with a provision for companion animals is heartening, we don't consider this a done deal, especially during elections. Louisiana SB-607
(Pet Evacuation Act)
and federal bills S-2548 and HR-3858
(Pets Evacuation and Transportation Standards Act)
are pending. Both bills enable animal disaster evacuations. Part 1, Hurricane Plan: "Our 2006 Emergency Preparedness Plan includes an evacuation plan for pets. We'll do everything in our power to make sure you can evacuate your pets safely and they can go with you. The only caveat is that you must have a cage for your pets to be transported in. So long as you have something to put them in, they can go with you."
Don't Abandon Animals In Disasters
Sign HSUS Petition ~ Support the Pets Evacuation and Transportation Standards Act (PETS Act, HR-3858) that includes pets in federal evacuation plans, and urge officials to save currently stranded pets. Some Katrina victims refused to leave because they couldn't take their animals with them, resulting in even more casualties. And while over 7,000 animals were saved in Mississippi and Louisiana, hundreds more may still need rescue. Pressure is needed to save these animals, and protect pets in future disasters.
---
Cats In Grave Danger
Plaquemines Animal Welfare Society
paws2003@bellsouth.net
, 504-392-1601
9596 Highway 23 South / Belle Chasse, LA 70037
CAAWS ~
An elderly woman in Jefferson Parish, LA had fed a large colony of feral and domestic cats. Most are friendly house cats, now starved and giving birth. Animal control will destroy all animals rescue can't take. Plaquemines Animal Welfare Society (P.A.W.S) has taken 10 kittens and three moms. They can't house any more. PAWS needs rescue groups to take kittens and older cats too, so they are not euthanized. Most local rescues are drowning in kittens already. So I appeal to out-state organizations: Any group that can take kittens/cats, transport or donate cash, contact Vivian at PAWS: 504-392-1601
---
Katrina Beagle Shot
Humane Society Of The United States
Jennifer Brown, 630-357-7015
Central States Regional Office
800 W. 5th Ave, Ste 110 / Naperville, IL 60563
5/9/06, Man to stand trial for shooting deaths of two dogs, one a Hurricane Katrina survivor ~ An Ohio man who confessed to killing two beagles in Circleville is charged with animal cruelty, a first-degree misdemeanor on a first offense. One dog, Beauregard, was a Hurricane Katrina survivor. Dean Vickers, Ohio state program coordinator for Humane Society of the U.S., will testify at the trial. "This tragedy is but one of thousands of animal cruelty cases each year in which animals are tortured, burned, shot, hung, stabbed and even skinned alive at the hands of violent individuals," Vickers said. "The cruel irony of this case is that Beauregard had survived the horrors of Katrina, only to have his life stripped away by this senseless act."
Forty-two states and the District of Columbia have felony-level penalties for certain acts of animal cruelty. In Ohio, perpetrators face a first-degree misdemeanor on a first offense of animal cruelty to a companion animal and a felony of the fifth-degree for any subsequent act (maximum fine of $2,500 and up to one year in jail).
"Every state should have felony animal cruelty penalties," said Vickers. "Citizens need to be proactive with their elected officials." Ties between animal cruelty and human violence are well documented. A recent Northeastern University study found animal abusers are five times more likely to commit violent crimes against humans.
HSUS has a dedicated campaign to raise public awareness, assist law enforcers and prosecutors, and provide resources to social work professionals, educators, legislators. HSUS offers rewards in animal cruelty cases nationwide. Dean Vickers, HSUS, will be available for interviews after the trial June 5 at Circleville Municipal Court. Media Contact: Martin Montorfano, 301-258-3152
---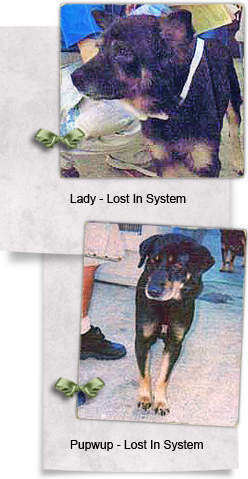 Lost In System
Lady
Breed: Black/Tan German Shep
Gender: Female / Age: 11 Years
Markings: Tan on eyebrows, face, legs, neck, paws. Small knot on right side.
Lost ID: PF60643 (also 53804)
Found ID: PF30539
Pupwup
Breed: Black/Tan Shepherd-Rottie
Gender: Male / Age: 10 Years
Markings: Mostly black, tan on eyebrows, face, legs, paws. White chest patch on. Full tail and bald spots on front elbows.
Lost ID: PF60645 (also 53808)
Found ID: PF30437
Description/Contact:
I'm a volunteer with Best Friends, helping [guardians] find closure or reunite with animals. I'm searching for a mom and son dogs, from the same home. They were rescued and last seen at Lamar-Dixon in Gonzales, LA. We don't know where they went after that! Lady and Pupwup's human mom misses them badly. Anyone With Info, Contact: Meryl, 203-531-4504
---
Workshop/Retreat for Katrina Animal Rescuers
When: Sunday, June 4, 2006
Where: Potomac, MD
Registration: kinshipretreat.org
Dr. Pia Salk
~ The grief and rage still felt, reintegration, ways to cope, ways to garner support, what to do now, how to get help, how to remain effective and so forth.
The purpose is multi-fold:
A safe forum to express feelings
A sense of closure
Re-establish ties to each another and those who support us
Re-energize for the work that is ahead and so important to all of us
Create a memorial for the animals
Spouses and partners are welcome. Some focus will be given to how they can offer support and how rescuers can integrate that support.
This is not therapy. While some exercises are therapeutic, they are not meant to replace actual therapy or the services of a mental health professional.
Pia Salk is a clinical psychologist who co-founded Animal Rescue New Orleans with Jane Garrison and David Meyer.
---
In State Or Out, ARNO Needs You Now
Animal Rescue New Orleans
, 504-571-1900
271 Plauche Street / New Orleans, LA 70123
Volunteer
email:
arnovolunteer@yahoo.com
form:
ARNO Volunteer Form
Feed: Food/water stations, field data.
Animal Care: Walk, feed, clean…
Foster: Animals awaiting adoption.
Data: Field data, phone, recruit…
Trap: Stray, injured, newborn, pregnant animals
ARNO's volunteer food/water network replenishes animal feeding station in Orleans, St. Bernard and Plaquemines Parishes. Feeders sustain animals stranded since Katrina (or born to Katrina parents) and document their movement to facilitate trapping, rescue, TNR, reunions. With 4,000+ feeding stations in devastated areas, ARNO urgently needs volunteer feeders. We supply food, water, pans, maps and addresses. If you have a car and a camera, you're set to volunteer once a month, week, or more.
Foster/Adopt From ARNO
View Animals:
Petfinder
/
Adopt-A-Pet
email:
adoptfromarno@yahoo.com
form:
Application/Information
Donate To ARNO
Give By Mail: 1219 Coliseum Street / New Olreans, LA 70130
Gift Cards: petsmart.com or petco.com
Supplies Drop-Off: ARNO Warehouse / 271 Plauche St, NOLA 70123
Help Hammond Animals Get To No-Kill Shelters
Tangipahoa Parish Animal Control
15487 Club Deluxe Rd / Hammond, LA 70403
985-543-0215,
tpac@tangipahoa.org
after hours: 985-429-1877,
Betz Pittman
View Animals:
Tangipahoa Animal Shelter
Melinda Plasse
, 518-527-2772 ~ When my associates and I visited this shelter on 5/1/06, there were about 70 new puppy arrivals that day. Each day they get similar numbers at their doorstep. We must transport these animals to no-kill locations elsewhere in the country. Tangipahoa's population has risen 40% from an influx of former 9th Ward and New Orleans East residents. Their pets now run free, or were surrendered due to no-pets landlords. I estimate the shelter's annual intake has doubled to 5,000 animals.
Hammond Shelter Needs:
Portable kennels for outdoor set-up.
Money for meds. Shell gas cards for transports.
People to adopt and foster.
VISA/Mastercard donations to Lucy Pribbenow's account at Hutchinson Animal Clinic to sponsor health care that enables animals to leave the state.
Petco and Petsmart gift cards for shipping crates.
Email
Melinda Plasse
. In email state:
From your chosen animal's shelter ID photo: number, time/date, caption, description.
Criterion that would prompt you to not take animal.
Imperative, or we can't reply to foster/adopt request:
full name / street address, state, zip code
phone numbers / email address
State: I agree to surrender this animal back to Melinda Plasse if I can no longer keep the animal.
Contact Melinda at Hutchinson Animal Clinic in Tangipahoa Parish: 985-748-9160 to donate $40 for heartworm test, rabies vac, health certificate required to cross state lines.
Post-Katrina Conflicts And Rescue Go On
April 2006
Animal People
, Editor
Merritt Clifton
, Baton Rouge ~ A Louisiana source involved in undercover law enforcement against illegal animal fighting alerted ANIMAL PEOPLE late on February 21, 2006 that state attorney general Charles Foti had begun investigating Humane Society of the U.S. fundraising and expenditures in connection with Hurricane Katrina.
Named the lead agency for animal relief by the Federal Emergency Management Administration, HSUS raised more than $30 million for Katrina aid, and deployed some 200 disaster workers in Sep and Oct 2005. HSUS confirmed the report within 24 hours, but Foti's office said nothing until spokesperson Kris Wartelle acknowledged the "basic beginning of an inquiry" to Robert Travis Scott of the New Orleans Times-Picayune on 3/16. "She said Foti has made no accusations of wrongdoing, and declined more details," Scott wrote.
"There's no question that cockfighters, hunters, and others in Louisiana are constantly looking to damage our credibility," HSUS president Wayne Pacelle told ANIMAL PEOPLE on February 22. "Since they cannot compete with our message that cockfighting is cruel, they attack the messenger."
"HSUS welcomes the opportunity to document our Katrina-related expenditures," added vice president of communications Nick Braden. "We have spent or committed upward of $20 million, and are certain to spend millions more in Mississippi and Louisiana in the foreseeable future."
"We have been careful not to liquidate all of the assets in a matter of months," Braden said, "because this situation requires a long-term commitment to help the animals and to rebuild the animal care capacity in the Gulf region. We will continue to update our list of expenditures and commitments related to Katrina relief at our web site," Braden promised.
The HSUS web site as of February 22, 2006 listed "$8 million committed to direct Katrina expenses, $1 million for ongoing field projects in Louisiana and Mississippi, $5 million committed to a Katrina reconstruction fund, $2 million provided or committed to agencies that have helped rescue, shelter, or reunite Katrina animals, $1.5 million committed to reunion efforts, $1 million committed to spay and neuter programs, $500,000 spent on disasters that have hit since Katrina, and $1.5 million committed to grow HSUS staff." Itemized lists of activities under each heading did not include a breakdown of costs.
The posted sums for many projects differed from those given to Scott of the Times-Picayune. Scott's breakdown included "$5.5 million on direct operations, $7 million in reconstruction grants, $1.3 million in reimbursement grants to humane societies and rescue groups, $500,000 in partnership with Louisiana State University and the Dixon Correctional Institute toward an assessment for a permanent facility for animal care and sheltering, and $4.5 million to help get the Louisiana SPCA back on its feet."
Many smaller organizations were bitterly critical of HSUS for closing rescue centers at Gonzales, Louisiana, and Hattiesburg, Mississippi, in mid-October, after Louisiana state veterinarian Martha Littlefield quit accrediting out-of-state vets and asked outside relief groups to stand down.
Animal Rescue New Orleans
, formed after the HSUS withdrawal, took in 2,000 animals during the last three months of 2005, then "trapped 300 dogs, over 200 puppies, and 610 cats," while maintaining 2,800 feeding stations, said cofounder Jane Garrison. "On February 1, we held a meeting in New Orleans to find
residents to lead ARNO
," Garrison emailed. "Nearly 200 people showed up. On February 15, ARNO shifted to new resident leadership," planning "to continue a food/water program for animals on the streets, rescuing dogs and cats, and neutering feral cats."
Companion Animal Network founder Garo Alexanian of New York City in mid-March 2006 made his third trip to Louisiana since Katrina, hauling nine tons of hay donated by Gif Foster of Foggy Bottom Farms in Geneseo, New York. "We delivered the hay to Gulfport, Mississippi, where there is little hay for farm animals, and also to Fireside Rescue in Carriere, Mississippi. They have two dozen rescued donkeys and horses, not to mention a dozen Katrina dogs," Alexanian told ANIMAL PEOPLE.
"Upon arriving in New Orleans, we were surprised to find that the packs of dogs we saw on previous visits had moved on from their previous hiding areas, as those areas now had lights, generators, mobile homes, work crews, etc. The animals had migrated into areas where there is more shrubbery and less activity. The week we had was not enough time to re-find the packs and trap them," Alexanian said.
"So we thought about taking animals from Louisiana SPCA's new shelter in Algiers [to adopt out back in New York], as we had heard rumors that they were euthanizing animals like crazy. They informed us that so far they had little need to euthanize," Alexanian continued.
"Louisiana SPCA put us in contact with St. Bernard Parish and Plaquamines Parish. Word got around to Jefferson, St. Johns, and St. Charles. Working with Southern Animal Foundation, Humane Society of Louisiana, and ARNO, we vetted all the animals and loaded them up. We had fitted the truck with over 40 cages borrowed from New York City Animal Control, the North Shore Animal League, and the Carolina Humane Society. We installed a 110-volt alternating inverter so we could run six box fans in the truck. We brought back a total of 43 animals, 34 dogs and nine cats," Alexanian recounted.
"Having realized that the need for the Gulf Coast in 2006 is transport, transport, and transports," Alexanian added, "we have approached some of the same partnering groups about how to continue these transports once a month at least through the summer. The North Shore Animal League has stepped up to the plate again, and it looks like monthly transports will become a reality starting in April."
*Kinship Circle does not use the language of slavery to depict nonhuman animals. Owner, owned, it… are replaced with guardian, him/her, caregiven… or other language that doesn't define animals as things and property. Any failure to modify text is unintended.