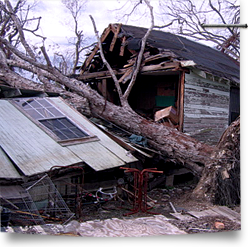 Gulf Animal Bills
Louisiana Pet Evacuation Bill
4/28/06, Public Support Pushes Along Bill, But More Help Needed, By Claire Davis ~
Thanks to unprecedented grassroots support, Louisiana's Pet Evacuation Bill sped through the Senate Judiciary Committee. But legislators face funding challenges, with a Senate Finance Committee hearing scheduled.
"This is one time in my life I've seen a grassroots campaign really work," says Cathy Wells, who researched and drafted the bill for the Senate Committee on Environmental Quality. "If it had not been for the bombardment of letters, emails, faxes and phone calls, we would not be where we are today."
Ask LA To Pass Pet Evacuation Bill
Jerry Luke LeBlanc, Admin Commissioner
P.O. Box 94004 / Baton Rouge, LA 70804
225-342-7000 or 800-354-9548
fax: 225-342-5653,
doacommissioner@la.gov
Governor Kathleen Blanco
Attn: Constituent Services
P.O. Box 94004
Baton Rouge, LA 70804-9004
866-366-1121, 225-342-0991, 225-342-7015
fax: 225-342-7099,
contact@la.gov
Louisiana: Cockfight Ban Fails
4/28/06, Pet-Abuse.com ~
A bid to ban cockfighting failed in the LA House after a debate that focused more on legislative process than the actual issue. Rep. Cedric Richmond, D-New Orleans, tried to add the ban to a bill that expands state protected birds to cover swans, geese, ducks, ostriches and peacocks. The amendment failed, with 41 votes in favor, 49 against. Louisiana is one of the last states to allow cockfighting, which pits birds with razor-like devices, in bloody combat. Backers call it an entertaining sport. Richmond and other critics contend it should be illegal. "Let's finally do away with this barbaric way we treat animals in Louisiana," he said.
Mississippi: Cats Protected
4/28/06, Pet-Abuse.com ~
Cats are now legally protected in the state of Mississippi. Gov. Haley Barbour signed a Senate bill into law, outlining punishments for any person who maliciously kills, maims or wounds a cat. The law includes the same penalties for injuring a dog, but dogs were covered in previous laws. It's the dog "or cat," underlined throughout the bill, that Natchez resident Annette Byrne and Sen. Bob Dearing have awaited. Three years ago Byrne learned about a Natchez man who allegedly threw his neighbor's cat into boiling oil. The man was arrested and ultimately released without punishment by a judge who cited no state law against harming cats. Byrne contacted Dearing, D-Natchez, and asked him what could be done.
Louisiana: Internet Hunting Ban
Internet or remote controlled hunting subjects animals to undue suffering by removing the shooter from the scene of the kill, where he or she could ensure a swift and humane death, and has the potential for subverting state laws and regulations that govern a hunter's age, training, and licensing requirements. Urge LA House Natural Resources Committee members to support HB49, HB52, and HB1059.
---
Small Bites
News named Small Bites as a reminder to donate small-bite food (or cat food).
Pit Bull Rescue Resources
Source: Shannon Moore
FEMA Independent Study
FEMA Certs Required By DARTs
FEMA Independent Study (ISP):
IS 100
IS 200
NIMS 700
NIMS 800
See Kinship Circle Disaster Animal Response Training Resources
*Kinship Circle does not use the language of slavery to depict nonhuman animals. Owner, owned, it… are replaced with guardian, him/her, caregiven… or other words that don't define animals as things and property. Failure to modify text is unintended.