For Anyone, Anywhere
Reply To:
Meredith McLanahan
ARNO Volunteer Outreach
504-571-1900,
arno.info@yahoo.com
1. Call local shelters and rescue groups about ARNO. Ask them:
Are you a no-kill facility?


Do you have space for Katrina animals
(recognizing that publicity for Katrina animals may boost all your adoptions)?


Do you have a minimum/maximum number of animals you can accept?


Do you have guidelines on health, age, breed of animals in your care?


Who should ARNO phone/email if able to arrange transport to your area?
Email info to ARNO:
arno.info@yahoo.com
Subject Line: Shelter Space Available
2. Get Free Cat Food Coupons
And any other online coupon sites.
Send Coupons To: ARNO Admin
1219 Coliseum Street
New Orleans, LA 70130
3. Spread An ARNO Chain Letter
Ask friends and family to donate just $5 (or more, if they can spare it) to ARNO.
By Mail: Animal Rescue New Orleans
1219 Coliseum Street
New Orleans, LA 70130
Or PayPal, via
ARNO website
4. Call For Volunteers, Donations
Post signs at local vet clinics, pet food stores, grocers, community centers, etc. Use photos/info from
ARNO website
to create a compelling flyer.
5. Urge ARNO Foster/Adoption
Post signs or classified ads urging people to adopt or foster Katrina animals from
ARNO On Petfinder
/
Adopt-A-Pet
.
6. Foster An Animal Yourself
ARNO Foster Coordinator
Jennifer Rohrbach, 703-626-2683
whippetdogs@yahoo.com
7. Adopt A Katrina Animal
ARNO Adoption Coordinator
Brenda DuBourg, 504-571-1900
adoptfromarno@yahoo.com
8. Give Walmart/Petco Cards
Any denomination gift card you can afford is appreciated! Send cards to:
Animal Rescue New Orleans
1219 Coliseum Street
New Orleans, LA 70130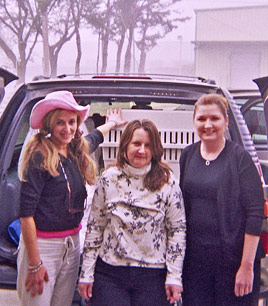 9. Sponsor Key Treatments
Please consider sponsoring spay-neuter and vaccinations, about $100 per rescued animal.
10. Sponsor Animal Meals
Sponsor enough grub to feed 20 rescued cats or 10 rescued dogs, about $200.
11. Sponsor Heartworm Care
Be a dog's lifeline, at about $350.
12. Buy/Sponsor Cages
Buy or sponsor ARNO's purchase of a wire cage or kennel for animals, $50 to $150.
13. Order Pans For Food/Water
Order aluminum lasagna pans
for use at feeding stations ($0.31 each + shipping).
Have pans sent to ARNO shelter:
271 Plauche Street / Jefferson, LA, 70123
14. Do Mini-Transports
Move animals from a central drop-off location in your area (after they've arrived from NOLA) to their new forever home or rescue group nearby. Round trips are a few hours. You save ARNO from individual transports all over the country.
15. Promote ARNO Fundraisers
Urge schools, churches, community teams, gym members, co-workers, and friends to raise money for ARNO. Organize bake sales, car washes, walk-a-thons, raffles, store jars, etc.
16. Join ARNO Yahoo Group
Sign-up for
ARNO's yahoo group here
.
17. Donate To ARNO Yourself
Mail a check or use PayPal at
ARNO site
.
18. Do Hands-On Animal Care
ARNO always needs help! We welcome out-state volunteers for animal care at our shelter or distribution of food/water for animals stuck on the streets, many since Katrina.
19. Spread The Word
Ask friends, family, co-workers… to coordinate any or all of the above.