If I Leave, They Leave – Not So Simple For Some Evacuees
► 7/14/06 Looking For Lost Pets Of Katrina ~ comm-181844454@craigslist.org:
For all the rescues that took our pets out of our yards, out of our houses, and off our streets, we thank you. But can you please tell us where our pets are now? Our pets are our children, and we miss them very much, and we would like them to be able to come back too the families who love them. Please tell us where our pets are?
► 7/14/06 Re: Looking For Lost Pets Of Katrina ~ comm-181985766@craigslist.org:
If your pets are your "children", then why did you leave them in your yard, in your homes with a category 5 hurricane headed straight for us? Would you leave your real children, who couldn't take care of themselves, to that same fate? Let the rescued pets, the ones lucky enough to survive being left behind, live their lives in their new homes. If you want to be a responsible [animal guardian] now, then go adopt from your local shelter and save a life. That would be a great way to honor your pet that possibly died in the aftermath of Katrina. Save a life from LA-SPCA, Jefferson Parish SPCA, Terrebonne Parish SPCA, etc.
► 7/15/06 Evacuating Without Your Pets ~ comm-182085189@craigslist.org:
Most people didn't want to evacuate because they didn't want to leave their pets. However, in the weeks following Katrina National Guard forced people to leave their homes and pets, sometimes at gunpoint.
PBS has done a documentary
about this. When the media states residents were "forced" to leave their pets behind, they mean literally.
As for people who evacuated without their pets prior to Aug 29: when you have lived in New Orleans all your life you get more than a little jaded about hurricanes and evacuations. Of the 28 years I lived there, I endured at least 20 "serious" hurricane warnings and only two actually hit us. So evacuations don't seem worth it. My mom is 73 and never evacuated because she wouldn't leave her dogs. We were in the Uptown area for Betsy and Camille. However, with Katrina there was a mandatory evacuation and people were told not to bring their pets. I can say from my own experience that everyone thought they'd be back home in a day or two, with maybe some wind damage but probably nothing more than a yard to clean up. Every one of the people who left their pet felt absolutely sure they were leaving them in a safe place with plenty of food and water for a few days. There was no reason to think it could ever be more than a few days. Had the levees not broken, they would have been right. And there was no way to foresee that the levees would break.
Would we leave our "real" children? Well, no. But we also wouldn't leave our real children to go to work, shopping or out to a movie. A reasonable and sane approach to being responsible for one's pets is to ensure their safety and well-being. The [animal guardians] forced to evacuate tried to do that. One good thing that came out of this:
House Passes (National) Pet Evacuation Bill
and
(Louisiana) Pet Evacuation Bill SB 607 Extremely Important
.
Peace, Tanya C.
► 7/15/06 Re: Evacuating Without Your Pets ~ comm-182485185@craigslist.org:
Everyone is aware some were forced to leave without pets. I cannot imagine what that was like, but I can assure you that was the exception, not the rule. Many people did not evacuate, based on storm history over the last several years. It wasn't until things got really bad during Katrina that people wanted to leave, and at that point it was too late. I'm not saying authorities handled the rescue effort well. However, their priority was human life.
I've lived here for 14 years and have evacuated numerous times. I evacuated for Katrina with 6 cats and 4 dogs, by myself. I also know that in those 14 years, the "big one" has been preached about over and over. There was no reason to think you wouldn't be back in a couple of days? Ever hear of the New Orleans "fish bowl" theory? So many people thought it was going to be the same old thing. This will be a lesson learned.
It's about accepting responsiblity for your pets. If it's serious enough for you to evacuate the city, then what makes one think it would be safe enough for your pets to stay behind without you? Using the excuse of "it's what we've done for years, and we thought we'd be back in a couple of days" is getting really old. Again, if you thought you'd be back, and it wasn't that serious, why did you even leave in the first place?
It's about having a plan for yourself and your pets, and not expecting someone else to take care of it. If you have a pet, you need to have a plan. Once again, hurricane season is nothing new to this area. No one can predict exactly what a storm will do, or how the area will hold up after a storm. It's better to be safe than sorry. Unfortunately, a lot of people willingly left their animals to deal with the sorry part.
Instead of criticizing how thousands of animal rescuers handled a massive effort (unlike anything ever seen in the U.S.), a little more gratitude would be nice. Many gave up weeks and months of their own lives to save the lives of suffering animals left behind. A responsible [animal guardian] would ensure safety and well-being of pets with an evacuation plan that includes them.
► 7/16/06 ~ comm-182578911@craigslist.org:
I stayed in New Orleans until 9/9/05 because of my animals. When I finally left, I was promised they'd stay with me. All were contained. Six blocks from my house, I was forced to give my animals to the SPCA. The only reasons I evacuated: 1) One cat vomited every few hours and 2) I was dehydrated with chest pains. Although promised I'd go to Gonzales with my pets, I was sent to Illinois where I wanted to die for two weeks. A web friend retrieved my dogs from Lamar Dixon, but my cats were already in San Francisco. I'm grateful for animal rescuers who came to New Orleans to help our babies. But everyone's situation differed. We were not allowed to take animals in most cases. That's why many died, they wouldn't leave their babies behind.
Small Bites
News named Small Bites as a reminder to donate small-bite food (or cat food) for Gulf Coast animals.
Found: Beagle Mix, Kenner
7/9/06 Reply To: Teresa Baker ~
I rescued a beagle mutt from Home Depot on Veterans Hwy in Kenner on 7/8/06. I'm looking for his [guardian] first. If no one responds, he'll need a home. This dog appears 2 to 4-years old, an un-neutered male beagle mix with short legs, half-cropped tail, beagle ears, no collar, very gentle, calm and sweet. He gets along with other animals instantly and is house-broken. I am notifying LSPCA, JSPCA, Times-Pica Found Ad and Petfinders. Please forward and contact me if you know anyone who may want this sweet animal. I'll have him neutered by end of July and will foster until placed.
Arnoundsville: Care For Cats, Pups
7/8/06
Monica
~ A lady I met while reuniting cats called with a problem: Her neighbor in Arnoudville died and left several cats abandoned. She is doing her best to feed them but she's in dire Katrina recovery herself, with strays cared for in her home (one with cancer). She is new to Arnoundville and doesn't know area people or resources. Can someone pick up these abandoned cats or at least feed them so they stay alive until more can be arranged?
7/16/06 ~ Marilyn witnessed a car hit her neighbor's mama dog (Lab) and six puppies. Mama is missing and presumed dead. One puppy has a broken leg. This neighbor cares for them, but can't afford a vet.
To Help, Reply To: Marilyn Hull, 337-754-8272
127 St. Landray / Arnoundsville, LA 70512
no email, cannot make outgoing long distance calls
French Quarter Cats Out Of Time
7/12/06 Reply To: Marion T. Lydon ~
Who can give some French Quarter cats a home? I care for a dozen cats whom an elderly man left behind when evacuated for Katrina. The house was sold, with construction underway, and owners want cats gone now. Animal agencies are overwhelmed here. These cats have lived outside for at least a year, hungry most of the time, and fear construction. They're adorable, but they must stay in groups of two minimum. Time is scarce. I must trap this weekend.
Save St. Martinville Animals
St. Martin Humane Society
1004 Industrial Park Road / St. Martinville, LA 70582
337-394-1220,
stmartinhumane@hotmail.com
View Animals:
petfinder.com/shelters/LA168.html
We are all-volunteer, without government funding. Animals in our care depend solely on donations.
7/14/06 Reply To: Marie Bossard, 337-394-1220 ~
St. Martin Animal Control in South Louisiana is euthanizing many lovable, adoptable cats and dogs. Major overcrowding! They are killing at least 30 cats weekly, I don't know numbers for dogs but it is out of control. The staff is very eager to help, they just don't have space.
Laketown Cats In Dire Straits
7/14/06
Reply To: Barbara Barbaracatlike@bellsouth.net
~ Can someone watch over the Laketown cats? I am moving to Hattiesburg, MS in the near future. Cat numbers have dwindled since we got many out after the hurricanes, but people dump new cats. Morever, Kenner AC will ultimately trap and kill them, as the community wants a cat-free lakefront. Kenner officials fail to realize that cats help control bugs, snakes, etc. These outdoor cats are abused, with no protection from city workers or guards. If I sound bitter, I am: It's been a losing battle to ensure safeguards for these poor felines. Pre-Katrina caregivers are mostly gone. Contact me if you can help Laketown cats. Our main goal is to relocate them before their time runs out. Please forward my message to anyone who might step forward on their behalf.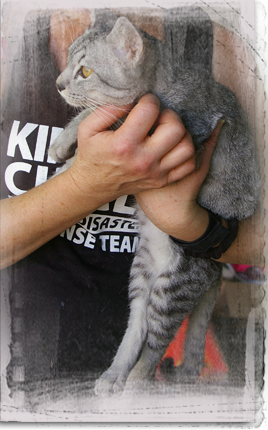 Heated Replies To LA-SPCA Post
After Kinship Circle ran the CraigsList post, "Question The LA-SPCA", we received feedback from hostile to explanatory. Below is original post and replies.
Original Post, comm-179533354@craigslist.org ~
What exactly is LA-SPCA doing with nearly $10 million received after Katrina? They're not running a clinic or mobile spay/neuter unit and they're not doing TNR on feral cats. They ARE trapping feral cats around town (even those already altered). They claim to release them, but one can only hope. Call them. Ask them how they help the city, other than euthanize picked-up animals. Hold them accountable for accepting donated Katrina money. Let's make them do something productive for animals in our community. LA-SPCA: 504-368-5191.
Reply From: Laura Maloney, LA-SPCA Executive Director ~
It's frustrating when people jump to conclusions, but it's an easy answer. Before Katrina destroyed our facility, we housed 400 animals daily and received nearly 1,000 per month. As we plan a new site, we operate from a warehouse with no drainage… We're a $3 million a year operation, with most donors displaced. Shelters have fixed costs: $16,700 monthly lease, $23,000 bi-monthly for puppy pads. To function after Katrina, we had to buy new cages, kennels, equipment, fencing, computers, supplies. Kennels alone were $400,000, installation $80,000!
We have a shelter veterinary clinic and do medical aid on-site. We treat incoming animals for illness and hold animals as long as they're healthy… We have three dog exercise yards and separate cat rooms. We also spend time with traumatized dogs in our rehab tent. A staff trainer works with individual dogs to evaluate compatibility with other dogs/cats, exercise needs, etc., so that adopters are matched with the right animal.
Staff members do education programs, cleaning…recruit volunteers and counsel adopters. We are the only humane society
plus
animal control in New Orleans. $5 million of funds raised are for the new shelter. We still have some$10 million to raise for the new site's animal control facility, adoption/edu center, low-cost vet clinic and exercise yards. New shelters average $200 to $225 per square foot…
Regarding s/n programs, we just partnered with Ally Cat Allies on Feline Frenzy, a free spay/neuter drive for outdoor cats in the greater New Orleans area. Over 1,100 cats were sterilized. Our mobile s/n center was used for surgeries. Later this month, we'll host the Big Fix Rig, a 55' mobile spay/neuter center, in partnership with Spay/Louisiana.Our shelter vet will also s/n feral cats cared for by colony caretakers. We'll soon launch a s/n voucher program with sterilization for dogs $20, for cats $10… It takes tremendous financial support to operate LA-SPCA. Shelter experts nationwide consider us a leading humane organization due to our "best practice" standards and programs. LA-SPCA truly does incredible work despite critics and naysayers, which gets very old. Hope that helps answer the question!
Laura Maloney, LA-SPCA
7/10/06 Response: Brian F. LeBourgeois ~
I forwarded the question posed above to Laura Maloney because I thought it was worthy of a response to the animal welfare community. I too was interested in LA-SPCA plans for donated funds. I had read that Americans gave some $20 million to HSUS, $6.5 million to Noah's Wish, and $3.5 million to PetSmart (
Katrina images spark record pet charity giving
). I think all donors want to know their gifts aren't wasted. I'd also like to see large animal charities disclose donation usage, because nonprofits ought to publicize the good outcomes that donors support. Moreover, this would draw attention to where more funding is needed.
For the record I believe we're lucky to have Laura Maloney at LA-SPCA instead of some politician's friend, as happens all too often in this state. She cares about doing the right thing. We may not always agree with her decisions, but she has a thankless job. As for animals euthanized, there are too many senselessly destroyed. Every parish statewide has a shameless record. However, solutions begin with [animal guardians] and aggressive spay/neuter. Among other things, Laura is a strong advocate to end animal abuse in the form of dog [and rooster] fighting. Remember cases about the Boudreaux Clan [dogfighting dynasty in LA] and
Darren P. Williams
? Arrests would not have occurred without LA-SPCA's involvement. I also want to stress that prosectuion in these cases would not have progressed without intervention of Kinship Circle members. This is Louisiana after all, a state where two chickens fighting to the death qualifies as "sport."
7/10/06 Response: Chris Daigle ~
Please refrain from forwarding unsubstantiated claims against LA-SPCA. I am a SPCA volunteer and have helped ARNO with my time and money. It is very distressing that your organization forwards and promotes false information about the SPCA. You may not like all they do, especially their euthanasia policies, but that is no reason to bash them unfairly. I have seen this animosity towards SPCA from animal organizations here after the storm. You should stop this type activity or set up a shelter in NOLA that accepts all animals, as SPCA does. There is not one no-kill organization in this area that accepts all animals. We should work together not snip at each other.
7/10/06 Response: Kinship Circle ~
We report news, action, rescue and needs. We publish without bias toward any animal advocacy group. Please express your concerns about "Question The LASPCA" to the author at NOLA Craig's List.
Kinship Circle
---
It's Reclaim, Rescue Or Gas For Dogs
Vermilion Parish Animal Control
11303 Pioneer Road
Kaplan, LA 70548
337-643-3160,
vermilionanimal@yahoo.com
View Animals:
On Petfinder
~
Facebook Page
7/11/06 Reply To: Rocky Gates ~
Check Rocky's picture trail for animals in need at Vermilion Parish Rabies Control in Kaplan, LA. There is no adoption program there. It is reclaim, rescue or gas chamber.
---
Good News For Mississippi Animals
Mississippi Animal Rescue League
5221 Greenway Drive Ext.
Jackson, MS 39204
601-969-1631
Aileen Maldonado, Programs Manager
aileenem@netdoor.com
7/12/06 Aileen Maldonado ~
Work has begun on the new shelter, after delays due to deficient funds. Thanks to a $250,000 ASPCA grant and $75,000 HSUS grant, plus $125,000 from David and Allison Nutt, we were able to proceed. Next week: water lines, then the slab, and we're on our way! Want to show how much you care about animals? When it's time for your car tag renewal, purchase the
I Care for Animals
tag. Money raised from this program supports spay/neuter across Mississippi.
---
Big Fix Trucks S/N To South LA
At each South Louisiana site, spay/neuter for:
Cats in hurricane households
Cats in low-income households
Adoptable cats in shelters, fosters
Feral and free-roaming cats
Some sites, adoptable puppies
The Big Fix Rig will begin Louisiana services in July and remain for several months, with a few trips back to Mississippi, where Rig services are directed by Spay and Neuter (SPAN) MS.
spaylouisiana.org