Small Bites
News named Small Bites as a reminder to donate small-bite food (or cat food) for Gulf animals.
Help Katrina-Hurt ARF In Mobile, AL
ARF Mobile, Alabama
Julia Fischer,
ggnu@bellsouth.net
cell: 251-455-9377, 251-645-8605
Donna Dickson,
dkdickson@thomasbealle.com
cell: 251-510-0227
View Animals:
animalrescuemobile.org
~
Petfinder
ARF Needs Food, Transports, Adoptions:
Dog Food/Cat Food
Puppy Food/Kitten Food
Cat Litter: Non-dusty brands
Transports to no-kill facilities or homes
Adopters so we can rescue more animals from hurricane-stressed LA and MS
Most animals come to ARF debilitated and malnourished, They need high-quality food such as Science Diet, Pro Plan, Holistic/Vegan, etc. Tell us size/weight of donations (for storage) and have references for transports. Many didn't realize Katrina's wrath in the lower third of Alabama. Mobile became a drop site for supplies, volunteers and displaced animals. ARF gave refuge to animals from MS, LA and TX in an ARF/Kinship Circle relief effort. ARF still cares for more than 200-300 animals.
Plaquemines Feral Cat TNR Program
Plaquemines Parish ~ Plaquemines residents, are you feeding or caring for feral cats? Are you willing to join the solution to overpopulation? We are looking for people who care and can help implement a TNR (trap, neuter, return) program in Plaquemines Parish. Resources are provided. Please be part of the solution, not the problem.
Reply To:
Ramona Billot
Urgent: St. John Shelter
St. John Parish Animal Shelter
488 W. 2nd Street
LaPlace, LA 70068
985-651-7387,
lfasm@rtconline.com
8/5/06 ~ St. John Shelter euthanized four dogs today because of lack of space. This is a very small shelter with a wonderful staff. The dogs and cats keep coming in. Please help this struggling shelter to reduce loss of life. Fosters, adopters and legitimate rescues are urgently needed. The St. John shelter is located just 30 minutes from the New Orleans area. Please go by today and save a life.
Katrina Memorial T-Shirts
cafepress.com/ferals/1079770
~ Never forget what happened to Gulf Coast animals in Hurricane Katrina. The cats featured on these products were some of them. All profits go towards the feeding and care of the survivors in New Orleans. Thank you!
Video: I'm With You
8/5/06, Karen O'Toole ~ Most have seen this brilliant video by Nancy Clifford. I wanted to use the Avril Lavigne's lyrics in my book. I contacted her management company, who said she is very particular and decides usage herself. She watched this video and her aide called to grant permission! Avril cried when she heard her words tied to Katrina animals.
Rise Up: The Animal's Anthem
Welfare for Animals Global, Marijo Gillis ~ We invite you to celebrate animals with a new anthem,
Rise Up – Make This Moment Last
. Enjoy the music and lyrics written by England's award winning music composers, Maria Daines and Paul Killington.
NOLA Animals Need Homes!
LeAnne G ~ Thousands of companion animals still roam New Orleans, stranded since Katrina. They need safe haven with fosters, permanent homes or no-kill shelters. See their faces at:
NOLA Pets Roaming
. All are are spay/neutered with shots current. Please make a tax~deductible donation to
Animal Rescue New Orleans
and/or
Southern Animal Foundation
.
Thank you! LeAnne
Be Prepared To Help Animals In Crisis
United Animal Nations ~ UAN
LifeLine Grants
help Good Samaritans meet the high cost of emergency veterinary care for animals they rescue from life-threatening situations. Are you ready to help an animal who is lost or injured? You can make sure you are a lifeline for animals by assembling a Good Samaritan kit and keeping it in your car. Include:
Leash and collar
Strong-smelling food or treats
Small carrier or cardboard box
Collapsible water bowl
Bottle of water
Animal first-aid kit
Addresses and phone numbers for local animal shelters and emergency veterinary clinics
Check out Kinship Circle's
Disaster Preparedness For Animals
page, with an
animal disaster kit
checklist.
Latest From Mutt Blog
MuttShack Animal Rescue
Donate By Mail: 15981 Yarnell Street #188 / Sylmar, CA 91342
Amanda St. John,
amanda@muttshack.org
Or by Paypal: Katrina@muttshack.org
8/2/06,
MuttShack Blog
~ MuttShack Animal Rescue, under command of the Louisiana State Veterinary Office, is ready if tropical storm Chris develops into a Gulf hurricane. MuttShack will deploy resources and certified animal first responders to evacuation zones where transports will move residents and their pets to Louisiana's first side-by-side pets/people shelters. On conference calls with the State Veterinarian's office, parishes are briefing disaster relief coordinators on the status of preparation and needs.
MuttShack Animal Rescue is a volunteer driven organization that rescued and provided critical care to over 3,000 animals after Hurricane Katrina. We set-up an emergency animal triage center at Lake Castle School in East New Orleans. Muttshack now needs support for flights to the Gulf Coast. Donated air miles or volunteer sponsorships are deeply appreciated. During Katrina, volunteers came from across the U.S. and globe…Alaska, Canada and even New Zealand. MuttShack's Search-Rescue Teams, Medical/Surgical Teams, Shelter Teams and Command Teams worked arduous hours in perilous conditions.
---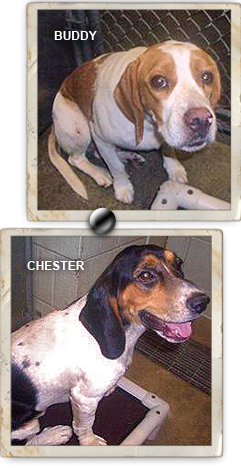 Debbie ~ I don't know how anyone can dump an animal at a gassing facility, but after this long is unforgivable. Don't let these sweet boys end at Roicy.
Roicy Duhon Animal Control
613 W. Pont des Mouton
Lafayette, LA
337-291-5645, fax: 337-291-7051,
roicyvolunteers@gmail.com
To Foster/Adopt Contact:
Debbie,
rescuerealtor@cox.net
Jennifer,
whippetdogs@yahoo.com
Save Buddy And Chester From Death By Gassing
BUDDY: Basset Labrador Mix

Gender: Male (neutered)
Age: About 7 Years
Size: Medium
ID: Kennel 7
Description:
Buddy is [guardian]-surrendered and he cries for his people. Dogs dumped on death row do not understand what they have done wrong. Buddy is terrified and grieving terribly. I adore this boy. He is calm, loving and laid back, altered and housebroken. However, Buddy is the type who gets overlooked. He is middle-aged, a little portly, and "just a dog." Just-dogs are angels in disguise. Please save his life.
CHESTER: Basset Beagle Mix

Gender: Male (neutered)
Age: About 12 Years
Size: Medium
ID: Kennel 7
Description:
This poor dog is 12-years old. His breed can live several more years. To dump him on death row is pure cruelty. The shelter is crowded with adoptions way down. Rescues are saturated. Chances of a senior dog pickup are zero. Chester will spend his last days in fear, looking for his family. Please be Chester's miracle. I'm begging someone to save this old boy and his kennel mate, Buddy.
See Roicy Animals:
acadiana.petfinder.com
petfinder.com/shelters/LA40.html
Roicy Duhon Animal Control is a rabies control (vs. adoption) facility in Lafayette Parish. They kill by gas twice weekly. All animals are on death row.
Out-State Adopters & Rescues
Come in person or send a local friend, relative, rescue group. Roicy won't adopt over phone or transport.


Rescues must show proof of 501c3 status, spay/neuter and adopt policies. Fax forms: 337-291-7051