Aid For Dogs In China, Where Culls Are Common
8/9/06, AP news.yahoo.com ~ By Alexa Olesen:
Humane Society of the United States will give China $100,000 to vaccinate dogs against rabies if it immediately stops mass slaughter. The financial aid was offered to help set up a rabies control program in Jining, a city in the coastal province of Shandong, where officials last week killed thousands of dogs after 16 people died of rabies over an 8-month period.
Officials in Mouding, a Yunnan southern province county, fatally clubbed over 50,000 dogs after rabies killed three residents. The official newspaper Legal Daily ran an editorial calling the killings an "extraordinarily crude, cold-blooded and lazy way for the government to deal with epidemic disease." The main Xinhua News Agency said in a separate editorial that the slaughter was "the only way out of a bad situation."
U.S. Humane Society said the money was conditional on China agreeing to stop the mass killing of dogs and accepting the group's help in establishing a nationwide rabies vaccination program. The government says 70% of rural households have dogs, but just 3% are vaccinated against the disease.
Beijing Morning Post reported that Qingdao, a major port city in Shandong province, was carrying out a campaign to vaccinate 40,000 dogs. The newspaper said [guardians] who did not comply would be fined.
Chinese Health Ministry reported 2,375 rabies deaths last year nationwide. Rabies infections in China have soared as newly prosperous families buy dogs as pets. The rabies virus attacks the nervous system and usually kills humans within a week of of symptoms.
---
Book Honors Animal Rescuers, Unsung Heroes Of Katrina
RESCUED: Saving Animals from Disaster
By Linda and Allen Anderson
rescuedsaving@aol.com
, 952-925-3309
New World Library, September 2006
360 pages, resources, index, color photos
ISBN: 1577315448, $16.95
www.rescuedsavinganimals.net
For copies of the book to give to volunteers, sell as a fundraiser, or list as a recommended book on your website, call Ami Parkerson at 1-800-972-6657, ext. 20. She can explain options for deep discounts for multiple books.
RESCUED: Saving Animals from Disaster ~ Linda Anderson:
Hi Brenda, Our book will be in bookstores by end of August. After you posted our call for volunteers to interview on Kinship Circle, we got hundreds of emails. Many of those people, and reference to Kinship Circle, are in this book.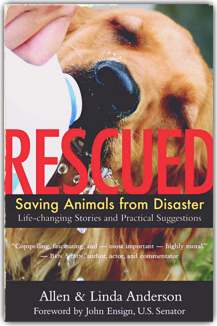 Praise For Rescued: Saving Animals From Disaster
Operating beneath the radar in most American cities, animal rescue came to the fore after Hurricane Katrina. An estimated 5,000 volunteers went to the Gulf coast to save 600,000 stranded animals. In an unprecedented effort animal organizations came together for the largest disaster rescue in history. In their new book
RESCUED: Saving Animals from Disaster
, with a foreword by US Senator John Ensign, Allen and Linda Anderson, Minneapolis-based authors of the popular Angel Animals series, show that animal rescue is vital in disaster preparedness for a nation where two out of three households have pets.
The Andersons and their publisher are donating a portion of the proceeds from RESCUED to animal advocate organizations. They believe their comprehensive book honoring animal rescuers and volunteers is a meaningful addition to animal shelters or organizations' gift shops, online stores, and websites and for use as a fundraiser. Animal rescuers can read about experiences of others and give the book to friends, families, and coworkers to help them understand why saving lives of animals is such important work.
For RESCUED, the Andersons interviewed hundreds of volunteers, Gulf Coast residents, animal organization leaders, and animal-advocate celebrities. Allen Anderson says, "Animal rescuers don't get keys to the city for their tireless work. They get licks, kisses, grateful eyes, and wagging tails. The animals keep volunteers going through conditions that you couldn't pay people to endure. When they reunite a pet with a family member again or find a good new home for a homeless animal, the rescuers say this is reward enough. Volunteers and animal organizations are amazing in their compassion and dedication. They show human beings at their very best. We honor them with our book and give information to pet [guardians] and volunteers that will save lives and lessen stressful conditions in future disasters."
Rescued: Saving Animals from Disaster tells about:
How Oprah Winfrey, Matthew McConaughey, and a medical doctor and his wife saved almost sixty stranded animals in a New Orleans' hospital and the bizarre turn of events following the doctors' heroism.


The heartwarming story of generous truck drivers who traveled thousands of miles to reunite Kitty-Kat with his distraught family after they had to evacuate without him.


An entire family excluded from a shelter because of their pets and rescued by a compassionate priest and a nationwide dog breed rescue group.


Why thousands of volunteers left the safety and comfort of their homes to live secret lives – climbing under houses and over fences, braving floods and hurricanes, breathing toxic fumes, caring for suffering animals, searching the Internet to reunite pets with families.


The airline flight attendants, crews and pet airlifts that saved the lives of thousands of animals after T. Boone and Madeleine Pickens took the initiative.


What animal rescuers want you to know about preparing for disaster, how disaster can strike any family at any time, and the five most important things everyone who has a pet should do to prepare for safely and quickly evacuating from their homes.


Post Traumatic Stress Disorder and animal rescuers and how to lessen it.


Information on how to make a career out of rescuing animals.
"Compelling, fascinating, and most important, highly moral."
Ben Stein, author, actor, commentator
"American Humane applauds the Andersons' tireless efforts to pay homage to the hundreds of individuals from scores of animal welfare groups who gave so much to rescue the animal victims of Hurricane Katrina."
Marie Belew Wheatley, President/CEO, American Humane Association
"RESCUED is a wonderful tribute to all individuals, organizations, and government entities that save and protect animals every single day. It should be a required read for anyone considering entering the world of animal welfare or animal rescue."
Susana Della Maddalena, PetSmart Charities Executive Director
RIP: Roger, Another Katrina Animal Rescuer Gone
Pasado's Safe Haven ~
At Pasado's, we were in the throes of organizing the Disaster Summit. Those in post-Katrina New Orleans, whom we connected souls with, would attend. We were at a volunteer meeting at someone's home. Casual conversation filled time until the meeting began. And then the phone rang.
Kim, a Katrina PasadoRescuer who answered the phone, let out a wail: Roger, a gentle soul with an enormous spirit, who rescued beside us in New Orleans, chose to take his life. The meeting stopped. The world stopped. Sobs began and the question: Why must someone so good, have to die?
Several days have passed since we heard the news. We still don't have answers. As men try to rig airliners with explosives, to bring down thousands of people in fiery death, a quiet man, who tried to save life, is gone. It just makes no sense to any of us.
Those who knew him were sure that the Summit, and plans for the future rescue of animals, are how he'd like to be honored. So we carried on and announced that the Summit was in Roger's memory. That night, a memorial was held for Roger in his hometown of Winthrop, Washington. An upscale "cow-town" nestled in the idyllic Methow Valley, Winthrop is a dry and dusty village on the Eastside of the Cascade Mountains. It's the opposite of Seattle to the West, known for snow-covered winters and rolling dry hills. Winthrop is where friends and family gathered for Roger.
The Perseid, among the sky's largest meteor showers, just happened to fall on this night. Did the universe intend to organize a spectacular event in the night sky for Roger? We'd like to think so.
We welcome memories of Roger to share with Pasado's. Perhaps you knew him as a child, a neighbor. Or in the sweat and sorrow of New Orleans after Katrina. Please send us your memories, and we will add them to our memorial to him:
susan@pasadosafehaven.org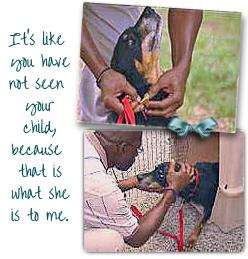 Patches And Walter United
8/11/06, 11 News Staff Reports ~
After nearly a year, two Hurricane Katrina survivors are back together. Walter Williams was forced to leave his dogs Patches and Lobo behind when he fled New Orleans before Katrina landfall.
After relocating to Houston and getting his own life in order, Williams was finally able to track down his dog Patches through a website. "I want both but I'm glad at least I can get one back. At least one," said Williams.
He and Patches were reunited at Memorial Park. Williams gave the dog a hug and good belly rub. "It's like you haven't seen your child because that is what she is to me."
When Williams unleashed Patches, she took off running with a look of joy. But she quickly returned to Williams side, reluctant to leave him. Best Friends Animal Rescue and Spindletop Refuge made the reunion possible. Patches had stayed for the last few months at Spindletop, a Houston-based rescue group specializing in American pit bulls and American Staffordshire terriers. Walter has big plans for Patches once he gets her home: The couch and the bed. "I want to make her real happy and comfortable. I want to help her forget all about Katrina." Williams says he plans to spend a lot of time with his pet to make up for lost time. He hasn't given up hope of also finding Lobo one day.
---
Livingston Pet Evacuations
8/17/06, WBRZ News 2 Louisiana ~ Brett Troxler:
Plans are underway to build a pet evacuation center in Livingston Parish to alleviate evacuees' chaos over missing pets in future hurricanes. In the weeks after Hurricane Katrina, volunteers from all over the country poured into Lamar Dixon Expo Center in Gonzles to aid thousands of dogs, cats, exotic birds and horses. Maurice Durbin of the parish Animal Shelter Committee supports a Livingston pet evacuation center, next to the parish's new animal shelter. "I think people will be more willing to leave their homes if they know they have a place for their animals," Durbin said. Denham Springs Animal Shelter, already overcrowded with animals, would also benefit, said shelter Director Paula Neames. "As it is, we don't have room for more animals. So I really don't know what we'd do in a hurricane." The center will be funded by the state, with donations from humane societies and SPCAs.
---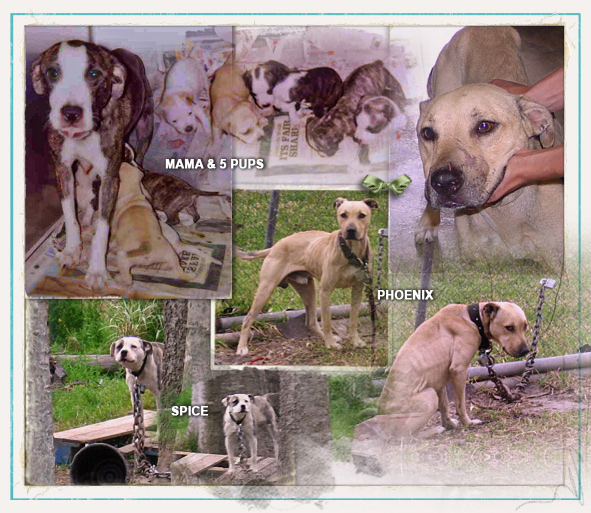 Update: Unchaining The Avondale Pits
8/2006, Mary Thompson ~
We finally have a criminal court date: 9/27/06, Saturday at 9:00 a.m. Court will be held at 2nd Parish Court, Division B. If you can attend, please do. Case name will be against Davis.
Of Avondale, LA pit bulls found in wretched shape, Mr. Woo (brindle dog) was killed before we could get him out. The abuser said he was "too aggressive to handle." Light a candle for this poor dog. Phoenix is recovering beautifully from heartworm at Southern Animal Foundation (SAF). Spice is okay, but still at Jefferson Parish Shelter. Mama dog (Mrs. Phoenix) and her pups are healing from parasites, also at JPAS.
Begging For Help!
Help fly to dogs to Villalobos in CA ($600-800)
Donate to Phoenix's vet costs ($400-500)
Network to find place for Mama and pups.
All donations may be sent to Mary Thompson through Pay Pal:
thaleia@triad.rr.com
Once the court decides and the dogs are released I will coordinate air transport. Please donate to help these animals reach a place free of chains and full of love.
Phoenix ~
Phoenix has gained weight and is heartworm free. He is wary about food, but otherwise nothing but great reports from SAF. Tia's refuge will be heaven on earth given his prior life. My NOLA friend Christine met the dogs. Below are her notes.
Spice ~
A white male about 1-2 years old. Spice is sweet and loving toward humans. Shelter caregivers have observed no aggression. Spice is not yet neutered, due to the pending court decision.
Mama ~
Mama, a brindle/white female about 1-2 years old, is very affectionate to humans and all dogs. Terrific temperament, no aggression. She loves her puppies. Mama is currently unspayed, due to pending court case. Never fought, Mama was "used" to breed.
Mama's Pups ~
The babies were treated for parasites, likely the result of a neglected pregnant mom. All are playful, affectionate and lovable.
Pup 1: Dark brown/white male
Pup 2: Brown/white male
Pup 3: Brindle/white female
Pup 4: Tan/white female
Pup 5: White/tan female
Get Avondale Pits Tee!
View/Buy:
Tees, tanks and more
.
Front:
Phoenix chained.
Fighting For Their Lives, Unchaining Avondale Pits
Back:
Brenda Shoss, Kinship Circle, donated her poem
With My Eyes
. Benefits medical, transport.
Story Behind The Avondale Pits
Two rescuers in New Orleans happened upon two dogs in Avondale, LA in late Feb while working with Villalobos staff on a reunion. The dogs were trapped on short, heavy, padlocked chains without food, water or shelter. Phoenix, a golden pit, was severely emaciated and his skin rubbed raw. Spice, a white/gray/black dog, had so little range he could not reach the shabby doghouse beside him. After months of trying,
three
dogs (the third, Mama, later gave birth to five pups) were removed from this Avondale address on 5/18/06. The [guardian] signed a release for two and a euthanasia request for the other. On 5/20, he requested animals back. Elena at
JPAS
got this case on a docket with Judge Messina. Animals were placed on hold until after the hearing. No animal has been euthanized… The case was drawn out through September, at which time criminal proceedings unfolded. In the end, sick Phoenix recovered at
Southern Animal Foundation
, along with Mama and her pups.
Villalobos Rescue Center
took in dogs in California. All were eventually re-homed.
After You Cry, Tell Someone Why They Must Spay/Neuter
Eindy TPSPS eindyramsey@yahoo.com ~
This was posted on Craig's List for Raleigh, N.C. Much of the killing could stop with spay/neuter. Sometimes humans are so backward and stupid!
Eindy, GA
Yes, I Gas Dogs And Cats For A Living
I'm an Animal Control officer in a very small town in central North Carolina. I'm in my mid-30s, and have worked for the town in different positions since high school. Working for the county provides good pay and benefits for a person like me without a higher education. I'm the person you all write about how horrible I am.
I'm the one that gasses dogs and cats and makes them suffer.
I'm the one that pulls their dead corpses out smelling of carbon monoxide and throws them into green plastic bags. But I'm also the one that hates my job and hates what I have to do.
First off, all you people out there that judge me, don't. God is judging me, and I know I'm going to hell. Yes, I'm going to hell. I wont lie. It's despicable, cold, cruel and I feel like a serial killer. I'm not all to blame, if the law would mandate spay and neuter, lots of these dogs and cats wouldn't be here for me to gas. I'm the devil, I know it, but I want you to see that there is another side to me, the Devil Gas Chamber Man.
The shelter usually gasses on Friday morning.
Fridays are the day that most people look forward to, this is the day that I hate, and wish that time stood still on Thursday night. Thursday night, late, after nobody's around, my friend and I go through a fast food line, and buy $50 worth of cheeseburgers, fries and chicken. I'm not allowed to feed the dogs on Thursday, for I'm told that they'll make a mess in the gas chamber, and why waste the food. So Thursday night, with the lights still closed, I go into the saddest room that anyone can ever imagine, and let all the doomed dogs out their cages.
I have never been bit, and in all my years doing this, the dogs have never fought over food. My buddy and I open each wrapper of cheeseburger and chicken sandwich, and feed them to the skinny, starving dogs. They swallow the food so fast, that I don't believe they even taste it. Their tails wag. Some don't even go for the food, they roll on their backs for a belly scratch instead. They run, jump and kiss me and my buddy. They go back to their food, and come back to us.
All their eyes are on us with trust and hope. Their tails wag so fast, I have come out with black and blue thighs.
They devour food, then it's time for them to devour some love and peace. My buddy and I sit on the dirty, pee-stained floor and let the dogs jump on us. They lick us, put their butts in the air to play, and they play with each other. Some lick each other, but most are glued on me and my buddy.
I look into the eyes of each dog. I give each dog a name. They will not die without a name.
I give each dog 5 minutes of unconditional love and touch. I talk to them, and tell them that I'm so sorry that tomorrow they will die a gruesome, long, torturous death at the hands of me in the gas chamber.
Some tilt their heads to try to understand. I tell them they'll be in a better place, and beg them not to hate me. I tell them I know I'm going to hell, but they'll be playing with all the dogs and cats in heaven. After about 30 minutes, I take each dog individually, into their feces-filled concrete jail cell, and pet them and scratch them under their chins. Some give me their paw and I just want to die. I just want to die. I close the jail cell on each dog and ask them to forgive me. As my buddy and I walk out, we watch every dog smile at us. They will sleep with a full belly and false sense of security.
Then my buddy and I go to the cat room.
We put the very friendly kittens and pregnant cats in our box. The shelter doesn't keep tabs on the cats, like they do the dogs. As I hand pick which cats are going to make it out, I feel like I'm playing God. We take the cats into my truck and put them on blankets in the back. Usually, as soon as we start to drive away, purring cats sit on our necks or rub against us.
My buddy and I take our one-way two hour trip to a wealthy county that uses injection to kill animals. We go to exclusive neighborhoods and let one or two cats out at a time. They don't want to run, they want to stay with us. We shoo them away, which makes me feel sad. I tell them that these rich people will adopt them, and if worse comes to worse and they do get put down, they will die by painless needle while cradled by a loving veterinarian. After the last cat is free, we drive back to our town.
It's about 5 in the morning now, about two hours until I have to gas my best friends.
I go home, take a shower, take my 4 anti-anxiety pills and drive to work. I don't eat, I can't eat. It's now time to put these animals in the gas chamber. I put my ear plugs in, and when I go to the collect the dogs, they are so excited to see me that they jump up to kiss me and think they are going to play.
I put them in the rolling cage and take them to the gas chamber. They know. They just know. They can smell the death. They can smell the fear.
They start whimpering the second I put them in the box. The boss tells me to squeeze in as many as I can to save on gas. He watches. He knows I hate him, he knows I hate my job. I do as I'm told. He watches until all the dogs and cats (thrown in together) are fighting and screaming. Sounds are very muffled to me because of my ear plugs. He walks out, I turn the gas on and walk out.
I walk out as fast as I can. I walk into the bathroom. I take a pin and draw blood from my hand. Why? The pain and blood takes my brain off of what I just did.
In 40 minutes I have to go back and unload the dead animals. I pray that none survived, which happens when I overstuff the chamber. I pull them out with thick gloves. The smell of carbon monoxide makes me sick. So does the vomit and blood, and all the bowel movements. I pull them out, put them in plastic bags.
They are in heaven now, I tell myself. I then clean up the mess, the mess that
you people
create by not spaying or neutering your animals. The mess that
you people
create by not demanding that a vet come in and do this humanely. You are the taxpayers, demand that this practice stop!
So, don't call me the monster, the devil, the gasser. Call the politicians, shelter directors, and county people the devil. Heck, call the governor, tell him to make it stop. As usual, I'll take sleeping pills tonight to drown out the screams I heard in the past, before I discovered ear plugs. I will jump and twitch in my sleep, and I believe I'm starting to hallucinate.
This is my life. Don't judge me. Believe me, I judge myself enough.