Testimonies: Forced To Leave Animals
Contact:
Cathy Wells
Louisiana State Senate
Committee on Environmental Quality
P.O. Box 94183
Baton Rouge, LA 70804
225-342-1126, fax: 225-377-2366
Senator Fontenot (District 13, Louisiana) needs statements from Katrina evacuees stopped from evacuating with pets. To testify before a legislative committee, fill out a card with your contact information. The committee chairman calls on you to testify. Tell the committee specifically what happened to you and and how this bill would have made your family's life better. Your willingness to speak out is key to influencing legislators to support the Pet Evacuation Bill.
---
Don't Give Up Search
Jane Garrison ~
We just heard about a cat ARNO had searched for since Sep 2005. Angel's carrier broke while evacuated by boat with four other cats. Angel ran and was never seen again. We sent trappers and feeders to look for Angel numerous times, but no luck. Angel's mom ran flyers and ads. A man saw the flyers and phoned to say he'd fed this cat for the past two months! Angel's mom is in Oregon so she sent a friend to identify Angel. Sure enough it was her. She now goes home to Oregon almost seven months post-Katrina!
Do not give up your search for animals. Post photos everywhere in your neighborhood and leave food/water at your home. Cats typically do not stray too far but may go several blocks to find food so hang flyers in a 10-block radius. This is only one of many reunions we've seen. Don't give up your search to find them!
Warm Wishes, Jane Garrison
---
St. Martin: Puppies And More Need Out
St. Martin Humane Society
1004 Industrial Park Road
St. Martinville, LA 70582
Sara Glasgow, St. Martin Parish ACO
337-316-0160, 337-394-1220
Marie Bossard,
stmartinhumane@hotmail.com
337-277-9538, 337-879-6600
View Animals:
petfinder.com/shelters/LA168.html
3/30/06, Marie Bossard ~
Sara Glasgow, Animal Control Officer for St. Martin Parish, rescued a dog with 11 three-day old puppies. The mother dog tussled with a man who apparently either tried to take her puppies or the rabbit she'd caught. Witnesses were about to shoot the dog when Sara arrived. The dog had 15 puppies but four were dead. Sara is certain this very sweet dog was provoked. Mom is a Lab mix and her puppies (black, white or black/white) are just gorgeous. Some fundraising is underway to support their care.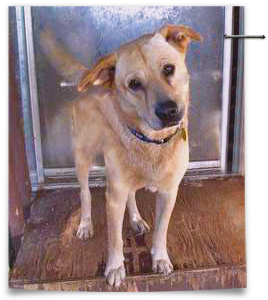 Heartworm Treatment Kills Katrina Dog
3/27/06, Terry Thistlethwaite, Chekia Dog Rescue ~
I lost one of my Katrina rescue dogs to a heart embolism. My vet said that even if with him, she could not have saved him. I held him as his life slipped quickly from his body. It was shocking, horrific, and totally unnecessary. Noah was a two-year old Lab mix "in great health" except for a positive heartworm check.
Heartworm did not kill Noah. Heartworm
treatment
did. He died four months post-treatment and autopsy showed no heartworms in his body. Three of the Katrina rescue dogs I received had heartworm. Noah was the only one who went to a foster home, a decision I'll always regret. The foster followed her vet's advice to chemically inject Noah rather than use the alternative, homeopathic supportive treatments I'd instructed.
After chemical injections, Noah was thin with a dry coat and huge tear stains that made him appear as if he'd cried for weeks. I restored his weight and coat, but the drugs had irreversibly damaged his heart. He lived just four months beyond HW treatment. My other two heartworm positive dogs have done well on homeopathic paratox and diatomaceous earth. Princess, an elderly Poodle with pneumonia, lung damage and mammary tumors, amazes my vet with steady improvement. Emily, an American Eskimo, has thrived as well.
BabyFace, another American Eskimo, was rescued from a flooded NOLA home with a young Husky mix (fostered elsewhere). We'd hoped to reunite the two bonded dogs for adoption. But last I heard, the Husky was vomiting blood due to chemical HW treatment. Her survival is unlikely. Chemical heartworm treatment kills dogs. It is not the sole option.
In Memory Of Noah, and on behalf of those his death may serve to save.
---
Volunteers To Load Hay For Transport
Contact Ann Jordon:
704-287-7512,
Annj@CGraphics.com
Need:
Kindhearted, strong people to load hay for transport. Will take seven tractor trailers to move hay bales.
When:
8:00 a.m., 4/8 and 4/15/06
Where:
I-40 Exit 174. Site is 1 mile off Interstate, in Mocksville, NC 27028.
Ann Jordon ~
3,400 bales of hay in Mocksville, NC await transport to Gulf Coast storm areas. Need a few vans and many flat beds to haul rolls of hay. Contact Ann Jordon if you can help. This hay goes to Gulfport, MS and distribution centers on Louisiana's coast.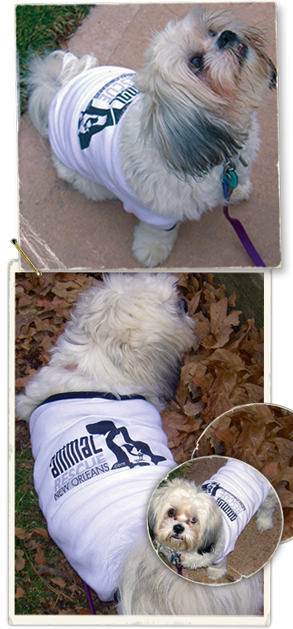 Small Bites
News named Small Bites as a reminder to donate small-bite food (or cat food) for animals on the streets since Hurricanes Katrina and Rita.
New ARNO Stuff!
Mandy models her cool ARNO tee, ordered a size bigger to accommodate ample fluff. Mandy is a puppy mill survivor, rescued with two missing hip bones from trauma in her mill cage. She's a furkid of Kinship Circle's Brenda Shoss. Human or canine, wear your support for Katrina animal aid. Proceeds benefit Animal Rescue New Orleans.
Get ARNO Tees, Caps, Mugs, Bags, And More
Laws For Pet Disaster Aid
Mimi Smith, lawyer for some Katrina reunification cases ~
American Bar Association has initiated a project to draft model laws on pet disaster relief, including memoranda of understanding on animal removal, and transfer of animals and [medicines] across state lines.
---
Katrina Resources