▼ CLICK A PHOTO TO
SEE FULL IMAGE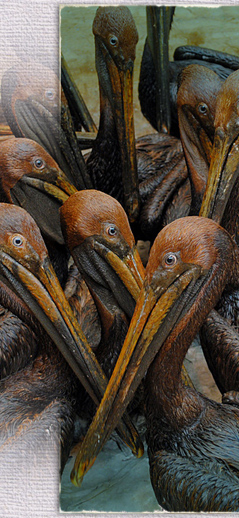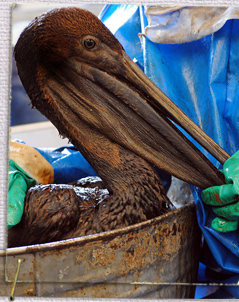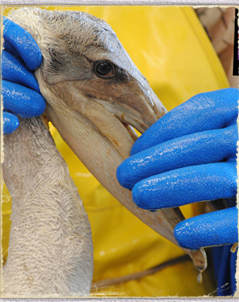 The team spends time at Fort Jackson Bird Rehabilitation Center where International Bird Rescue and Research (IBRRC)cleans oiled birds. Photos © World Animal Awareness Society and Kinship Circle/Gulf Oil Disaster 2010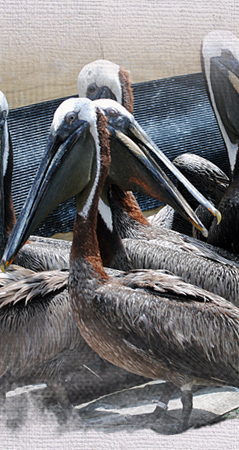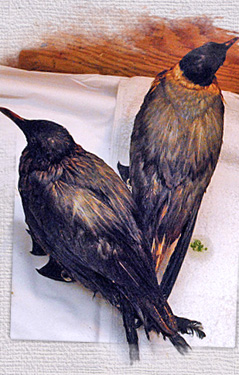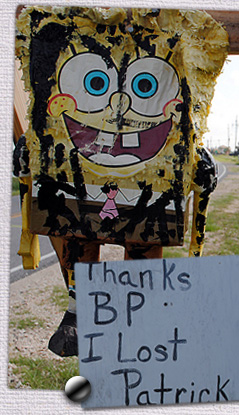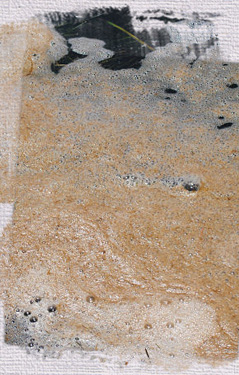 Perdido Key, Florida. Photos © WA2S-Kinship Circle/Gulf Oil Disaster 2010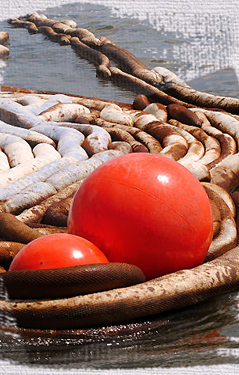 Grand Isle, Louisiana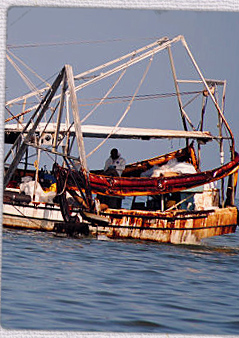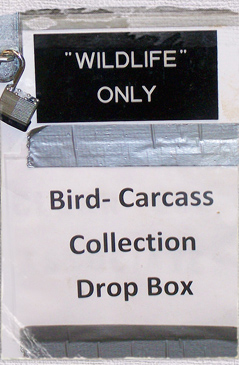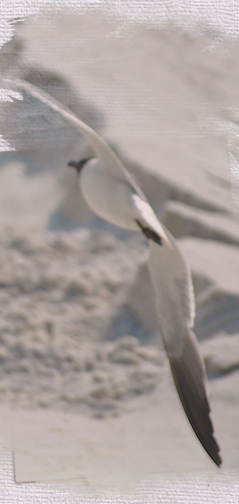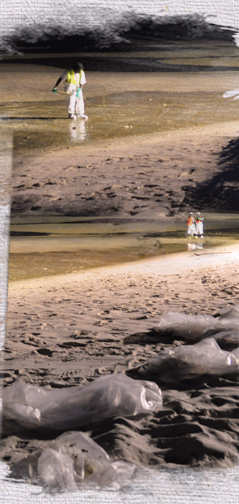 Pass Christian, Mississippi.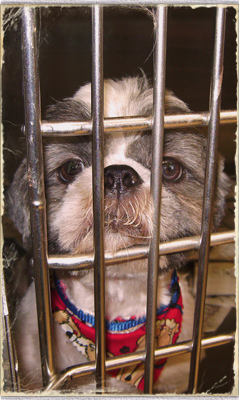 Even companion animals are victims in the oil disaster. Loss of livelihood has upped surrenders and overcrowded shelters (like the mortgage crisis did). Photos © WA2S-Kinship Circle/Gulf Oil Disaster 2010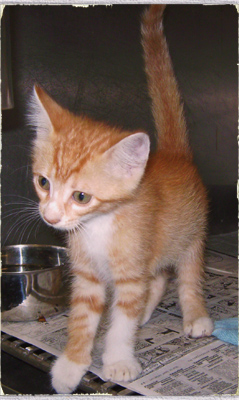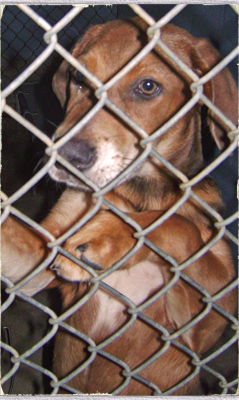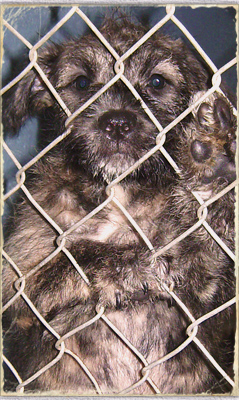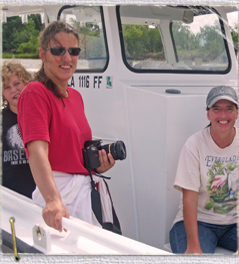 Chauvin, Louisiana - Terrebonne Bay: Team charters full-day boat to search nesting grounds for oiled animals.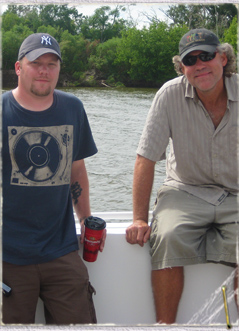 Craig Hill and Grady Ballard are part of a boat team with Kinship Circle Director Brenda Shoss, wildlife photographer Darlene Eschete, Rachel Laskowski, Sarah Rose, Colleen Kessler and husband Gary, Craig Hill, Mary Kelly, Cadi Schiffer.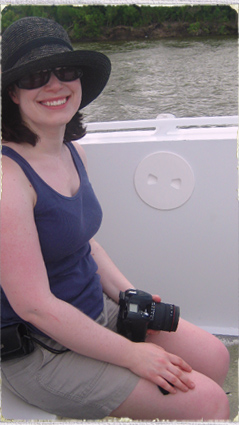 Terrebonne Bay is a vast network of waterways, islands, and bird species harmed in the BP oil crisis. Photo: Kinship Circle's Cadi Schiffer.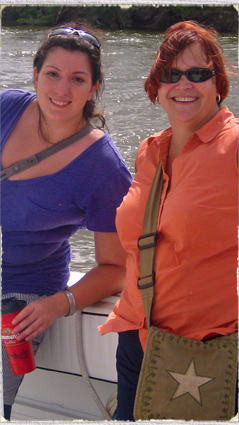 Kinship Circle volunteers Sarah Rose and Mary Kelly.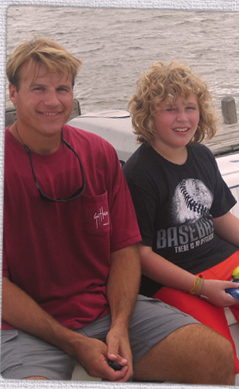 Brenda and Grady's son, Elijah (above, with the boat captain) is also on board to help spot and report distressed animals.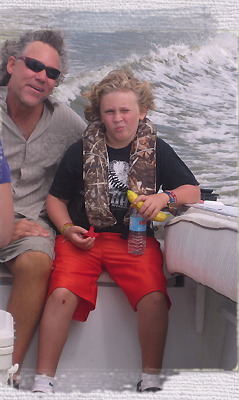 Grady and Elijah head out from the Terrebonne Bay dock toward open Gulf waters.
The area is desolate, except for wild animals and this sole BP boom boat.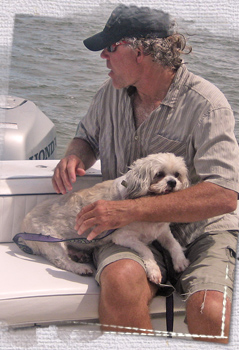 Lhasa Apso (Mandy) on board!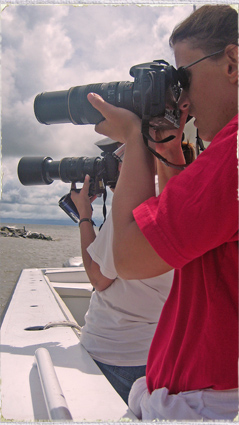 As we circle Raccoon Island, local wildlife photographer Darlene Eschete and volunteer Rachel Laskowski zoom in on hundreds of pelicans, white gulls and other birds.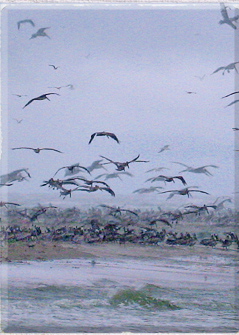 Raccoon Island is one of Louisiana's most heavily populated nesting areas.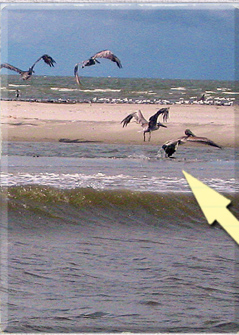 Birds flap and preen in shallow waters. One pelican flaps vigorously, but can't rise. Feathers are clumped, a telltale sign: The bird is oiled.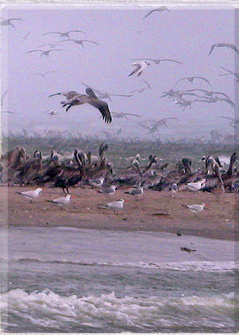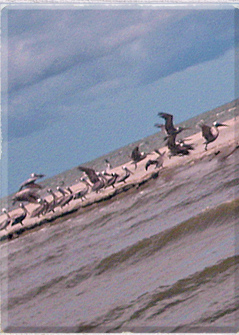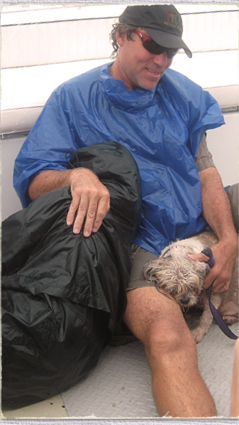 A huge storm moves in, tossing our boat over choppy surf. We huddle under rain gear (and each other) to ride it out.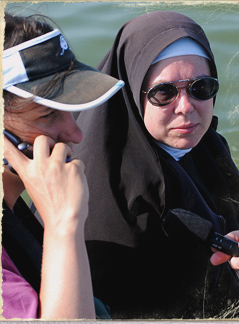 Kinship Circle volunteers Sister Michael Marie and Rachel Laskowski comb nesting grounds and open waters to find distressed animals. When spotted, an oiled animal's GPS coordinates are reported to area Unified Command Centers.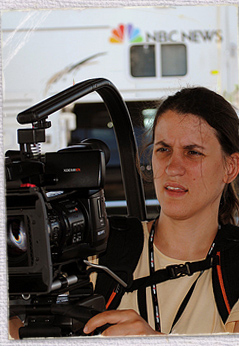 All Eyes On The Gulf Expedition maps oil impacts on habitats and survival. The vision of filmmaker Tom McPhee, disaster-trained Kinship Circle volunteers undergo film training (like Rachel Laskowski in photo) for this unique collaboration.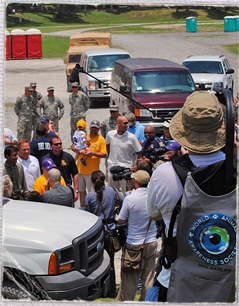 World Animal Awareness Society founder Tom McPhee turns his lens on press conference with Louisiana Governor Bobby Jindal. © WA2S-Kinship/BP Oil Disaster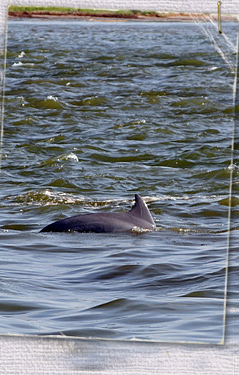 Buras, Louisiana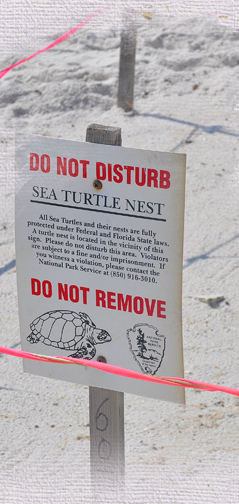 Excavation and relocation of endangered Kemp's Ridley Sea Turtle eggs. © WA2S-Kinship Circle/BP Oil Disaster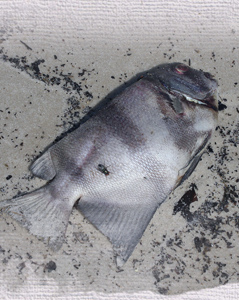 Long Beach, Mississippi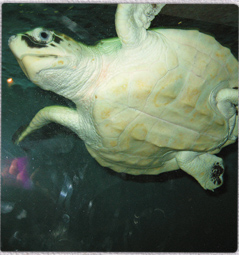 Nearly 200 oiled sea turtles have undergone rehab at Audubon Aquarium in New Orleans. Among survivors, 45 went to a Florida holding facility and 23 were released. Audubon's Meghan Calhoun told Kinship Circle's Brenda Shoss that she hopes future releases occur in Louisiana. © WA2S-Kinship Circle/BP Oil Disaster 2010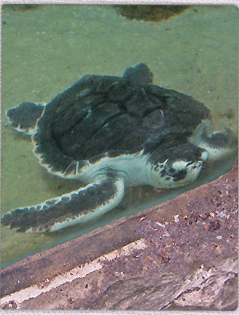 Soon after the Deepwater Horizon crisis, turtles arrived thickly oiled. Brown goop coated their mouths, throats, organs. Boat teams cleaned them at sea before bringing them in.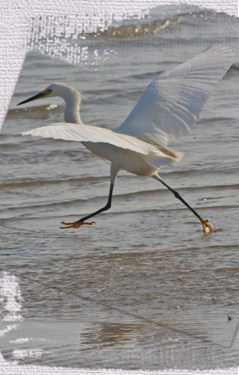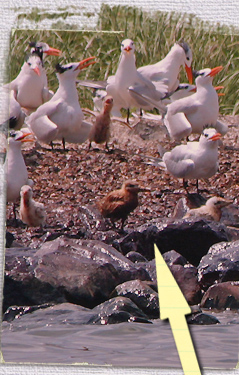 Team #1 finds many oiled baby birds on the shores of Queen Bess Island, Lousiana. © WA2S-Kinship Circle/BP Oil Disaster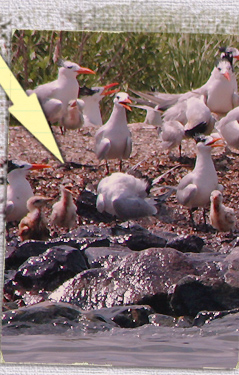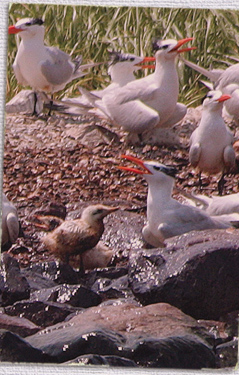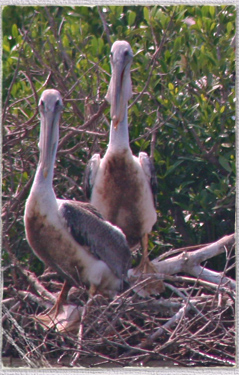 Oiled pelicans are also spotted and their location reported to a command center. © WA2S-Kinship Circle/BP Oil Disaster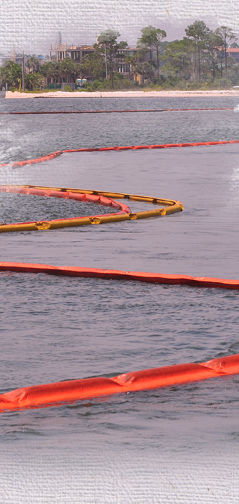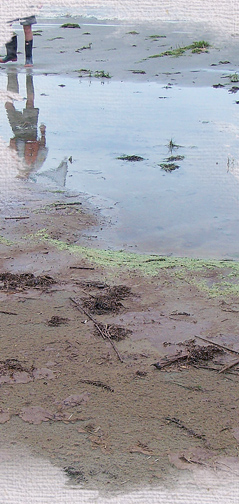 Venice, Louisiana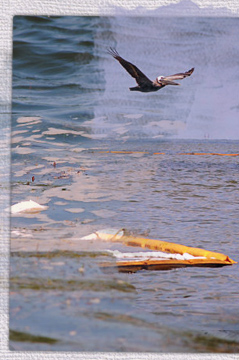 Canadian Birds At High Risk

► 10/21/10, GULF OF MEXICO — NEWFOUNDLAND & LABRADOR, CANADA:

Canadian northern gannets of Newfoundland and Labrador are in trouble due to BP's mammoth oil surge into the Gulf of Mexico. Newer research shows 35 percent of eastern Canadian gannets flock to the Gulf each year. "It's difficult to say how many from Eastern Canada have died in the oil spill," says bird biologist Bill Montevecchi of Memorial University of Newfoundland…

READ MORE






POP! BANG! BOOM! ► 10/15/10, BAY JIMMY, LOUISIANA:

Responders in Venice, LA use noise cannons set to go off every 2-3 minutes. The loud noises scare away birds from oil-impacted areas.

SEE VIDEO
THOUSANDS OF DEAD FISH
► 9/18/10, PLAQUEMINES, LA:
For the third time this Sep,
Plaquemines officials report a mass fish kill
. Coastal Zone Director PJ Hahn photographs fish so dense, they form a canopy over water. Previous kills were reported in Bay Chaland 9/10 and Bay Joe Wise 9/16. Most fish are menhaden, also called pogie. Fish span at least 1/4 sq. mile with visible oil between them. Hahn wants the area tested for oil impacts.
DEATH IN A BAG
► 9/15/10, TRINITY ISLAND, ISLES DERNIERES, LA:
Today, while volunteering with National Audubon Society, boats return with two dead terns from Trinity Island. The birds are placed in a sack, tagged and recorded. Then the transporter drives them to the rehab center in Hammond, LA. I am forced to
photograph their "death in a bag"
with my cell phone because photos are not allowed in secured areas.
From DARLENE M. ESCHETE, a Louisiana wildlife photographer documenting oil impacts on native animals. She has joined Kinship Circle-World Animal Awareness Society expeditions.
USFWS LIVE-DEAD STATS
► 9/14/10, LOUISIANA, ALABAMA, MISSISSIPPI, FLORIDA, TEXAS:
For the first time
U.S. Fish and Wildlife Services publicizes details on live-dead collected birds
, including entire species and mapped locales. Until now, postings lumped birds by state as oiled, dead or alive. USFWS website lists some 4,676 birds (3,634 dead and 1,042 alive) in oil-harmed areas, while the latest Deepwater Horizon Response Consolidated Fish & Wildlife Report lists 8,009 birds.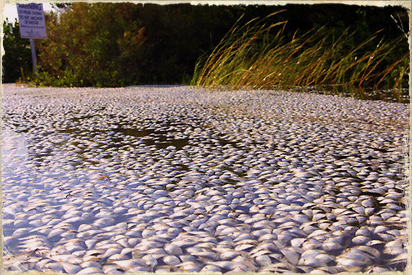 VICTOR SPENCER, GULF SPECIMAN LAB PART 1 OF 5
Volunteers Craig Hill and Rachel McKay Laskowski meet with Victor Spencer, Gulf Speciman Marine Lab, in Panacea, FL.
GREGG HALL INTERVIEW FOR ALL EYES ON THE GULF
Environmental Activist Gregg Hall describes his experiences with tar balls and wildlife in Pensacola, FL.
► SITES-ACTIVITIES, 9/2/10:

Scott Rikard, Natural Resources Program Manager for Auburn University Marine Extension & Research Center, shows us an oyster reef where they "grow" oysters from larvae to adulthood. They're concerned about oil damage to next-generation Alabama oysters, now in larval stages. Larvae consume phytoplankton and algae. Oil/dispersant repercussions won't emerge until larvae move into their next growth cycle.

We are again turned away from a BP station on Dauphin Island, with no information from security guards. We proceed to Dauphin Island Beach to check out oil rumors, but are averted by BP security there too. We capture these BP interactions on video. Next, we photograph tar balls on a public beach. Kinship Circle's June Towler accidentally steps on a gooey ball, allowing us to film the residue in her footprints. We encounter five dead crabs here, along with several live ones in the surf. Dead crabs float in a dirty pool of isolated water that a local says emerged over the last few days. Minnow-like fish swim in these separate pools. We see many gulls, two herons and small sandpiper type birds. Ocean waters are a grimy brown. A light oil odor is present. Millions of black pellets pepper the sand where waves roll in and recede. Locals tell us they've never seen the pellets before.

ANOTHER OIL RIG BLOWS At 9:18am, the Mariner Vermillion 380 gas production oil platform explodes in shallow waters south of Terrebonne Bay, LA.

Thirteen crewmembers outfitted in protective "Gumby Suits" escape the blast by jumping into the water. The press reports no causalities and says the non-operating platform is not tied to "oil spill issues." Houston-based Mariner Energy, Inc. concurs: "In an initial flyover, no hydrocarbon spill was reported." U.S. Coast Guard agrees that there is no evidence of a leak. However, USCG Petty Officer Bill Coklough mentions oil sheen, about 100 yards long by 10 yards wide.

ALABAMA MANATEES TRACKED

Our next interview is with Dr. Ruth Carmichael of

Dauphin Island Sea Lab

. As part of Alabama's Manatee Project, Dr. Carmichael leads the effort to track manatees and assess oil and dispersant impacts on them. Manatees are shoreline marine mammals who encounter contaminated beaches. While no oiled manatees have been found yet, the gentle giants travel long distances. No one really knows what repercussions oil will have on their food sources, reproduction, etc. To report Alabama manatee sightings: 1-866-493-5803,

manatee@disl.org FRUSTRATED ANIMAL EXPERTS SUBMITTED BY:

Rachel Laskowski, Craig Hill

LOCATION:

REGION #1 — Grand Isle, Louisiana

► SITES-ACTIVITIES, 9/1/10:

We meet Leann Sarco, Interpretive Ranger for Grand Isle Louisiana State Park, to discuss her Hermit Crab Survival Project. Sarco focuses on hermit crabs suffering in huge oil slicks along the park's beach. She has rescued over 7,000 crabs. As we observe her process, we notice oozing oil on the back beach that BP never cleaned. If a shovel digs down a foot or two, a layer of pure oil is exposed. In some spots, one shovel-full reveals oil. Low tide shows oiled sand bars. We are told that surrounding islands share this condition.
► SITES-ACTIVITIES, 8/31/10: Audubon Aquarium currently displays 3 rehabbed sea turtles on its ground floor. Upstairs, 1 of 2 turtles has died. Most are endangered Kemp's Ridley sea turtles, along with a Hanksbill turtle. Kinship Circle's Brenda Shoss asks staff about the turtles, but they refer her to Meghan Calhoun in Public Relations. Some 190 oiled sea turtles have come through here. Of those 190, 3 have died. Among the remaining 187 turtles, 45 are transferred to a holding facility in Florida and 23 are released. Just this morning, an unspecified number of turtles are released off Marco Island. Ms. Calhoun says Audubon hopes future releases will occur in Louisiana rather than neighboring states.

Before the Deepwater Horizon rig was plugged, turtles arrived thickly coated in marshmallow-textured oil. Brown goop coated them inside and out, lining their mouths, throats and organs. Boat teams cleaned them at sea before bringing them in. No severely oiled turtles have come in since 8/8/10, Calhoun says, while stressing the crisis is far from over. With 150 turtles still under Audubon care, she's about dispersant effects on animals and people.

Photos © WA2S-Kinship Circle/BP Gulf Oil Disaster
► SITES-ACTIVITIES, 8/27/10: Kinship Circle's Rachel Laskowski arranges a charter boat out of Chauvin, LA into Terrebonne Bay. On board are Kinship Circle Director Brenda Shoss and her husband Grady, local wildlife photographer Darlene Eschete, and Kinship Circle members Sarah Rose, Colleen Kessler and husband Gary, Craig Hill, Mary Kelly, and Cadi Schiffer. Brenda and Grady's son, Elijah (and their dog Mandy!) also join our crew to help spot distressed animals across a vast span filled with nesting grounds.


A DOLPHIN'S SILHOUETTE
Dark skies and rain send BP oil-boom boats back to shore, but we continue to Raccoon Island — one of Louisiana's most heavily populated nesting areas. As we near the linear island's east side, we spot the silhouette of a dolphin amid many pelicans. Her fins are vertical and still, but we coast in as close as possible to verify death.

At 3:57pm, Brenda Shoss notifies Incident Command headquarters of this deceased dolphin's GPS coordinates, and is directed to NOAA's line for marine mammals. NOAA later phones to confirm the sighting and that the dolphin will be picked up for necropsy. All dead animals undergo analysis to determine the role of oil in their death.


A PELICAN CAN'T RISE
We circle the island, also called Coon Point. Hundreds of pelicans align with choreographic precision. Small white gulls stand with their beaks pointed the same direction. Some birds flap wings and preen in shallow waters. We notice one pelican who flaps more vigorously then others. He can't seem to rise from the water. Upon closer inspection, it's clear his wings are separated in clumps, a telltale sign of oil accumulation.

Brenda again calls Unified Command. She is directed to a U.S. Fish and Wildlife voicemail, where she leaves GPS coordinates and a description of landmarks near the distressed bird. USFW never confirms the report.

Resident photographer Darlene Eschete guides our boat captain toward more small islands that earlier this summer were blanketed with nesting eggs. She wants to revisit the isle where she photographed many dead Laughing Gulls. But a storm moves in, tossing our boat over choppy surf. We are pelted with side-swept rain and flung across slick surfaces. We huddle under ponchos (and each other) to ride it out.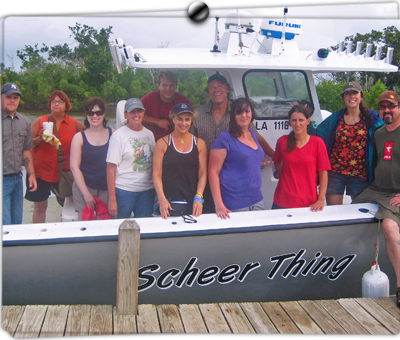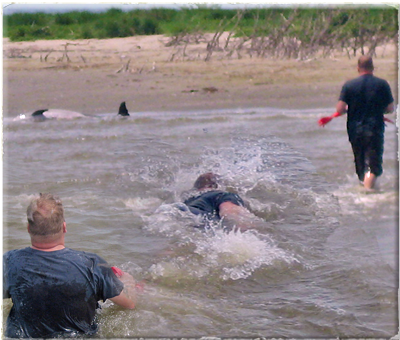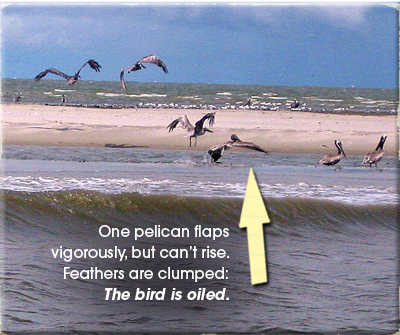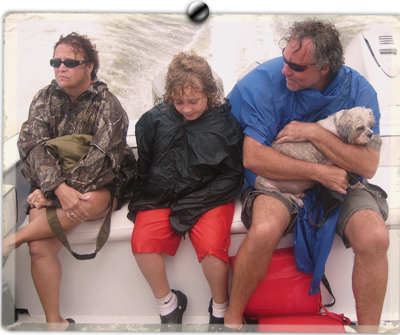 Finding Animals

► SITES-ACTIVITIES, 8/20/10:

We join an USFWS boat trip to heavily oil areas off Grand Isle. Our first stop is Mangrove Island, a large rookery for pelicans and other sea birds. Earlier, Kinship Circle volunteers Esther Regelson and Darla Wolak spotted an oiled Roseate Spoonbill here, clinging to a boom to keep from drowning. Rescued that day, this spoonbill was recently released.

Oil booms still encircle Mangrove Island. Our boats are not permitted inside. From about 50 yards offshore, we see hundreds of pelicans fly and perch atop booms.





Though nesting season is nearly over, we spy a few unfledged birds. Oil residue stains mangrove roots. While there, a BP-affiliated Great Britain crew interviews USFW biologist Rick Hansonand and LA Fish-Wildlife biologist Keith Cascio. We inquire about the number of oiled pelicans found. Cascio says, "I don't like to talk about dead animals, but we've found 3,000 dead laughing gulls."

Our next stop is Bay Jimmy, a grassy marshland where oil booms crush grasses. Rick Hanson says there is no way to remove booms without more damage. An experimental method, in conjunction with BP, begins in days. Once booms are gone, contaminated soil must be removed. No one knows what will replace depleted soil. Our final destination is Queen Bess Island. Like Mangrove, booms encircle this huge pelican rookery. Shores are oily.
WHERE DID ALL THAT OIL GO?
SUBMITTED BY: Fred Groeger and Jane Allen
LOCATION: Ocean City, Mississippi

► SITES-ACTIVITIES, 8/16/10: We head west to Davis Bayou Gulf Islands National Seashore. A ranger there blames oil for sparse tourism. But they've seen no oil for weeks. We proceed to Institute for Marine Mammal Studies for a tour with Delphine Vanderpool, M.D. After the spill, IMMS mostly saw dead turtles. Since July some 35-40 hooked turtles have been admitted, compared to an annual 1-2 turtles pre-spill.

Green turtles, a hooked hawksbill, and a loggerhead are in rehab here. The oiled turtles are from Alabama. The young hawksbill is very sick, yet today he consumes some food. The loggerhead, 2-3 years old, was found clinging to a buoy. They are concerned about changes in his blood work. Two weeks earlier, a 200+ pound loggerhead (50 to 70 years old) came from the Mississippi Sound area with shark mutilations on three flippers. IMMS hopes to raise funds to build her a pool. Necropsy data from a dead dolphin recorded by Team #2 is inconclusive, but government-lab tissue samples are not yet analyzed.
► SITES-ACTIVITIES, 8/6/10: We tour Institute For Marine Mammal Studies in Gulfport, MS. Guide Meagan Broadway says they've received no live dolphins, but have accepted 15 dead ones. A rising number of turtles come in alive or dead from oil. Many are injured or killed in fishing lines. Dr. Delphine Vanderpool believes contamination propels turtles inland, often in the path of fishing operations. NOAA recently delivered a large Loggerhead Turtle with her fins nearly gone. She was rescued about 16 miles from Dolphin Island and no one knows how her fins disintegrated.


THE DOLPHIN LADY
SUBMITTED BY: Dennis Pickersgill, Jua-Lezza Ayala, Kinship Circle Team #5
LOCATION: REGION #2 — Gulfport, MS

► SITES-ACTIVITIES, 8/5/10: We meet with Lori Deangelis, a.k.a. "The Dolphin Lady," in Orange Beach, AL for a cruise in Back Bay Waters. Lori is concerned about long-term effects of oil on calves and pregnant moms. She's already seen glandular areas harmed. We advise her to record each abnormality seen.

We next visit Theodore Wildlife Rehab Center in Theodore, AL, a facility equipped to handle numerous birds and other species. We view the cleaning process for several birds. An enormous amount of training is required to handle oiled animals. We gain a clearer picture of what these animals endure before detoxified and released. Presently, some 30 to 40 birds recover at the Center.

FLEDGLINGS ASK FOR HELP?
SUBMITTED BY: Dennis Pickersgill, Jua-Lezza Ayala
LOCATION: REGION #1 — Barrier Islands

► SITES-ACTIVITIES, 8/4/10: From Grand Isle, LA we embed on a charter boat with Tom McKenzie of Louisiana Fish-Wildlife, to view bird-habitat barrier islands. We pass a mass clean-up effort with floating hotels for workers. A 36-inch pipe sucks up oil. Still, boat hulls are stained brown from oil. No birds inhabit oily Hospital Island. Other islands are covered with birds. Do birds know Hospital Island is polluted?

According to Jared, with Louisiana Fish-Wildlife, fledglings sometimes approach boats as if asking for help. He's rescued 72 birds while stationed here. Our guides tell us that cleanup has improved, even though much more is needed. Animals also risk harm when rescuers inadvertently disturb habitats or overly acclimate younger animals to humans.


OIL CLIMBS FOOD CHAIN
SUBMITTED BY: Dennis Pickersgill, Jua-Lezza Ayala
LOCATION: REGION #1 — Grand Isle, LA

► SITES-ACTIVITIES, 8/3/10: We revisit Grand Isle, LA to interview and help reset traps for Shae Craine, the Tulane grad student studying crab/shrimp larvae. Oil inside larvae resembles orange blobs and shows up in juvenile crabs too. Her new study has not yet assessed long-term damage. Larvae live at the bottom of the food chain. Concern deepens about oil ascending the chain. If shrimp and crab survive with ingested oil, effects will climb to marine mammals and humans.





► SITES-ACTIVITIES, 7/10/10: We find a lot of tar balls and crude oil along Pass Christian and Gulf Port, MS shorelines. Jon sees two oiled pelicans. He quickly calls Unified Command to relay GPS coordinates. Our report is later confirmed. The oiled pelicans have been collected and transported to the IBRCC bird cleaning operation. Kinship Circle and World Animal Awareness Society are thanked for efforts to spot and report oiled animals. We head to Daphne, AL where a strong oil odor soaks the air.


CLINGING TO LIFE
While investigating Black Mangrove Island, LA, Kinship Circle's Esther Regelson and Darla Wolak spot a juvenile Roseate Spoonbill. The severely oiled bird fights to stay atop an oil boom. The sighting is called in, but our boat captain cannot bear to watch this bird nearly drown. So the bird is caught, brought to emergency triage, and then transferred to IBRRC Fort Jackson Rehabilitation Center. During one of our regular visits to IBRRC, we learn that this bird will live!

Kinship Cirle's Esther Regelson films the capture of an oiled spoonbill.

From Esther's log: We were checking Black Mangrove Island while embedded with USFW. A badly oiled bird struggled to stay on an oily boom, unable to fly. Very difficult to watch. If this juvenile bird fell off the boom, the bird would drown. We called in a report, but one boat captain just couldn't watch any more. He directed his boat over to the bird and grabbed the bird. The bird was taken to Grand Isle marina for emergency triage, then transferred to IBRRC.

Currently, only U.S. Fish And Wildlife and BP-authorized state/federal wildlife personnel are permitted to rescue oiled animals. We comb waterways and islands off oil-affected shores. As spotters we have helped save lives by reporting oiled animals. The video above depicts the rescue of a severely oiled bird.
► SITES-ACTIVITIES, 6/25/10: In Terrebonne Parish we embed with a Coast Guard boat to inspect barrier islands. Wildlife is scarce, due to hurricane damage of habitat in past years. Our captain says over 25 islands have vanished. We record oiled marsh grasses, boats vacuuming and containment booms around all islands. Our team later convenes at Houma Jet Center to join about 13 press members for a Coast Guard flight over the spill site. During take-off, we see small islands engulfed in oil. Further out, oil sheen reflects off water. Then thicker reddish-brown streams are evident. Oil streams swell at the line where water turns deep blue. Boat traffic increases as we near the site awash in dark crude oil. Two or three boats work a skimming system to collect oil globs on surface waters. Two fires burn from pipes at ships/stations.

Personal reflection from volunteer Darla Wolak: Skimmers appear to collect oil by teaspoons, from a vast bathtub of oil. I am struck by the immensity of a job that can never be completed. To see this infinite mess adrift at sea, devouring everything in its path as it creeps toward land and animals, is terrifying.


LOCALS TIRE OF BUREAUCRACY
SUBMITTED BY: Byron Wilkes, Esther Regelson, Rachel Laskowski, Team #2
LOCATION: REGION #1 — New Orleans, Louisiana and Plaquemines Parish, Louisiana

► SITES-ACTIVITIES, 6/21/10: We head to IBRRC in Fort Jackson to film bird cleaning sessions. Nearly 700 birds have passed through, among them: Brown Pelicans, Laughing Gulls, larger seagulls, a variety of terns, and a rare Red Egret. IBRRC director Jay Holcomb says thousands more birds are likely oiled, wirh numbers expected to rise if hurricane season worsens. Six wash stations are equipped with hoses, soap/rinsing agents, towels, etc. Basins and cloths are drenched in oil. HAZMAT clothing, gloves and other materials are disposed after continual 20-minute shifts. Later we speak to PJ Hahn, Director of Coastal Zone Management in Plaquemines. The Parish is upset about pervasive coastal damage. PJ himself inspects every weekend. He says fish swim in oil. Crabs make oily trails. Many birds are oiled too. He worries about protocols under Unified Command that reject trained rescuers and block access to affected areas. The bureaucracy frustrates everyone, he says.


TEAM FOLLOWS OIL LEAD
SUBMITTED BY: Byron Wilkes and Esther Regelson, Kinship Circle Team #2
LOCATION: Terrebonne Parish, Louisiana

► SITES-ACTIVITIES, 6/20-25/10: Volunteers head to Houma in Terrebonne Parish, LA to verify reports of oil penetration in outer small islands and grasslands. Several fishermen inform us that affected areas are about 20 miles off the tip of Cocodrie — a major marina on the Terrebonne coastline.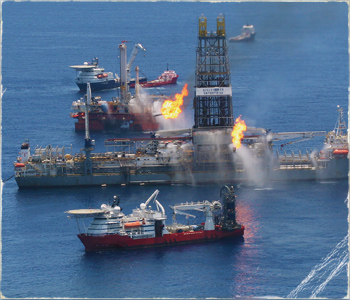 DEEPWATER HORIZON BASE, LOUISIANA: Team members participate in an overflight of ground zero with the U.S. Coast Guard. The Deepwater rig, oil burnoffs and ships are seen from an open-ended plane.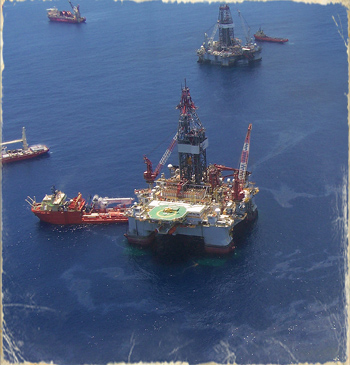 Kinship Circle's Nora Marino described the view as a war zone, with fires, ships and helicopters swarming the scene of the Deepwater Horizon oil explosion. Photos © WA2S-Kinship Circle/BP Oil Disaster 2010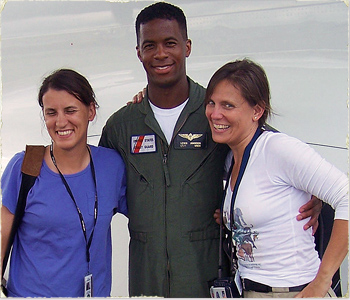 Kinship Circle's Rachel Laskowski and Darla Wolak are on the overflight that initiates from Houma, Louisiana.
The oil feels like a giant monster suffocating the Gulf Coast.
Fishing boats skim oil to slow its relentless seep. Vessels are coated in a gooey red-brown film that eats through paint and corrodes hulls. The boats, like creatures around them, seem doomed. They wearily haul filthy oil booms …

Gulls who normally circle over fishing boats are gone. The area is silent and without movement. A handful of birds, driven by hunger, hover over one oily shrimp boat in anticipation of a bite. Finally, they fly away with empty stomachs. Brown Pelicans occasionally plummet into dark waters to search for food. They are oblivious to the deadly sheen. In some places oil is invisible when mixed with water, though a fine layer coats any creature who dives into it. For pelicans, each dive paints the body in a new toxic layer. Eventually they are flightless.
► SITES-ACTIVITIES, 6/19/10: Kinship Circle's Rachel Laskowski and AEOTGE's Jon Shurtz, with Tom and son Kevin McPhee, drive to Fort Morgan, AL to explore Mobile Bay beach. Two dead birds are sited. Tom speaks to a father-son team with a camera mounted on a sky balloon. They are eager to have their baseline data uploaded to our live map. Tom also speaks to Steve Kolin of EcoRigs.org about use of their underwater footage. When time to leave, we find our vehicle entrenched in sand. Tom asks for help from private contractor with a large beach-crawling rig. He is able to drag our car to level ground. We then travel to Destin, FL to interview Christopher Smith, a local who wants BP to purchase his brand of boom. Unfortunately, sea turtles won't approach this type boom, so it is illegal to position it in front of beachside condos and homes. Mr. Smith informs us that tomorrow BP will meet residents in Orange Beach, AL.

SUBMITTED BY:Byron Wilkes, Team #2
LOCATION: Fort Morgan, AL/Destin, FL

Byron Wilkes drives to Venice, LA to follow up on the turtle rescue operation with Captain Kevin Aderhold, who is under contract with BP to retrieve sea turtles near oil-burning waters. Capt. Aderhold is trying to get our teams aboard boats that for Louisiana Fisheries & Wildlife scientists near the rescue site. Capt. Aderhold advises us to speak to Captain James Hessemer at the dock, to find out what he's seen.
► SITES-ACTIVITIES, 6/16/10: We attend a Town Hall meeting with Mayor and council members of Lafitte, Louisiana. In addition to team members, others who join our boat excursion from Lafitte include: Mayor Timothy Kerner, Jefferson Parish Councilman Chris Roberts, Councilman at Large Tom Capella, Jefferson Parish Council Chief Of Staff Sonny Burman, Washington Post Pulitzer Prize photojournalist Carol Guzy, local Fox 8 news and two more news teams, Lt. Commander Michael Heiser (Coast Guard Liaison for Parrish EOC), and photographer Michael Melsheimer.

From Lafitte we travel to Barataria Bayou, past Queen Bess Island. Team members record a FOX News interview with Mayor Kerner and photograph birds in flight over the island. In Grand Isle Marina we interview Shae Crane, Mayor Kerner's niece, an evolutionary biology student studying oil effects on crabs.

We dock at an island in Bay Jimmy where shorelines are smeared black. Marsh grasses are dead. The island is oddly silent, marked by an absence of birds. An odor assaults you, as if inhaling gas-pump fumes. Oil is vacuumed from a barge with septic tanks.

On the trip back we pass a cleanup crew on a barge loaded with dumpsters, a shade tent for workers, and a lifting crane. At least two-dozen airboats swarm the barge. Clean boom is spread and oil-soaked boom piled on the barge. Some workers wear Tyvek suits.
INVESTIGATIONS BY WATER, AIR, LAND
FROM: Sister Michael Marie, Cheri Deatsch
LOCATION: REGION #1 — Grand Isle, Louisiana

► SITES-ACTIVITIES, 6/15/10: Sand Dollar Marina is desolate, other than sanitation workers. A Jefferson Parish CERT (Community Emergency Response Team) trailer and Emergency Management Unified Command vehicle are visible. We document a Grand Isle resident's property along the north shore that is filled with nearly 100 two-foot high white crosses. Each cross bears the name of different creature or activity now jeopardized by the mass spill.

FROM: Rachel Laskowski, Jonathan Shurtz
LOCATION: REGION #2 – Perdido Key, Florida

► SITES-ACTIVITIES, 6/15/10: On the water at Holiday Harbor, in Perdido Key, FL, we photograph Osprey nests near a marsh area southwest of Rabbit Island. We later spot dolphins near Kees Bayou toward the end of Inerarity Point. A Blue Heron stands alongside a boom near the marsh at Inerarity Point. There, AEOTGE team members make contact with the Oceanic Preservation Society expedition.
Division of Team #1 into smaller breakout teams is discussed in a conference call between Kinship Circle president Brenda Shoss, WA2S.org founder-filmmaker Tom McPhee, and Kinship's Incident Commander Bonnie Morrison. Volunteer spotters will canvas oil affected areas across five states, to report distressed animals.


REGION #1: New Orleans, Jefferson Parish (Grand Isle) Plaquemines Parish (Venice, LA)

REGION #2: Coastline between Biloxi, Mississippi and Pensacola, Florida, Alabama

REGION #3: Southern tip of Florida coastline down to Florida Keys, Miami Beach, etc.