AIR FRANCE PROTEST, WASHINGTON DC, AUGUST 2012
Against a backdrop of activist chants, Kinship Circle founder Brenda Shoss, with her rescued beagle Liberty, distributed literature. Photo (c) Kinship Circle, Washington DC 2012 / Meg York
Extraordinary activists and Kinship Circle members Meg and Jocelyn York (from Vermont) sent live tweets and photos for Kinship Circle social media, even as they held signs, passed out literature and chanted. Photo (c) Kinship Circle, Washington DC 2012 / Meg York

AUGUST 2012
Vivisection is a lie. How many animals have to die?
Vivisection is a trick. They make money, we get sick.

WASINGTON DC - In August Kinship Circle members joined activists from around the country to protest Patton Boggs, the main U.S. lobbyist for Air France. The demonstration occurred outside the firm's high-rise office on a busy urban street.

Activists urged Patton Boggs to cut ties with their client Air France, or at the very least meet with them to gain information about the cruelty behind export-for-research. But company executives and lobbyists declined. Patton Boggs is no stranger to unscrupulous clients: Wal-Mart, Big Oil companies, Huntingdon Life Sciences...


YOU CAN PROTEST TOO!
Ask Air France to join most major airlines that reject primate cargo for research. Urge Patton Boggs to distance itself from Air France until the flight company stops primate transfers. Remind Air France that they won't get your business until an official ban is implemented.
Photo (c) Kinship Circle, Washington DC 2012 / Meg York
Air France is a last hold-out — along with China Eastern Airlines, United Airlines, Philippine Airlines, Vietnam Airlines — that still makes money from animal agony. Though the French carrier canceled a 60-monkey shipment to Shin Nippon Biomedical Laboratories in the U.S. earlier this year, it has yet to establish a policy that bans all primate transports.
Air France is part of a downward trend. Delta, American, United Airlines, US Airways, British Airways, Lufthansa, Air China, Cathay Pacific, El Al Airlines...and nearly all big flight companies reject primate transfer to labs. Still, some 23,000 primates entered the U.S. in 2010, according to a U.S. Fish and Wildlife Service tally.
Nonhuman primates are valued models for experimentation, though primate studies fail to produce clinical symptoms or data relevant to human disease processes. China, Mauritius, Cambodia, Vietnam, Indonesia, Colombia and other nations annually sell tens of thousands of primates to experimenters.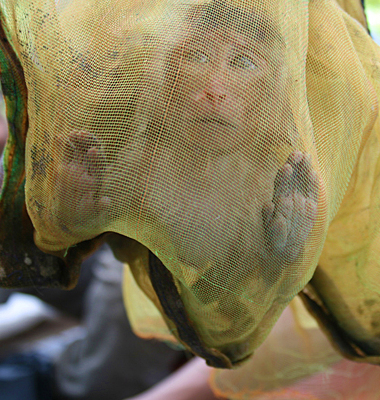 BUAV Torn From The Wild campaign: Monkeys in Cambodia destined for factory farms that supply the global research trade.
They are stolen from trees. Stuffed into mesh sacks and tossed into boats. Some are bred inside barren concrete farms. Once free in the wild, they become "products" shipped to research laboratories around the globe.
Their journey is horrific. Distressed animals are packed in crates and trucked for miles. Most wind up in a plane's dark, airless cargo hold beneath unwary travelers.
They enter a world bound by metal bars, pain and fear. Primates are induced with human disease and injury. Experimenters poison, overdose and mutilate monkeys. Electrodes are lodged in exposed brain matter. Seizures are stimulated. Limbs removed... Still, we are no closer to cures for infectious disease, AIDS, neurological disease (Alzheimer's, Parkinson's), and other ailments studied in primates.
BOTTOM PHOTO: Kinship Circle director Brenda Shoss' son Elijah and husband Grady protested too. Elijah first hit the streets for animals in a stroller pushed by mom. Grady has attended anti-veal and vivisection demos, along with Nat'l AR Conferences for over a decade. He deployed with Kinship Circle Disaster Animal Response for Hurricanes Katrina and Gustav, BP gulf oil disaster and Thailand floods. Kinship Circle member Tim Gorski, second from left, a filmmaker in DC for a surprise AR2012 screening of How I Became An Elephant, also protested.