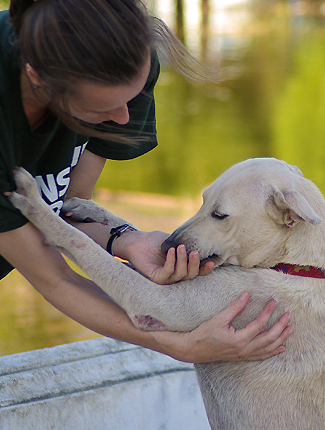 INDONESIA EARTHQUAKE & TSUNAMI THREATS: Kinship Circle contacted Thailand colleagues (from our Nov to Jan 2012 deplohyment for animal flood victims) after an 8.6 earthquake crashed off Indonesia's Aceh province with tsunami warnings in Thailand and other Indian Ocean nations. In photo above, Field Response Manger Cheri Deatsch examines a dog at a flooded temple north of Bangkok while deployed with Kinship Circle for Thailand flood aid earlier this year. Photo (c) Kinship Circle, Thailand Flood 2011-2012 / Cara Blome
A woman and her dog leave home after the government announced a tsunami warning in Indonesian Colombo 4/11/12. The first quake near Banda Aceh city, plus aftershocks and a second 8.2 quake, stirred tsunami alerts as far as Thailand. Dinuka Liyanawatte / Reuters

Indonesia quakes trigger panic and tsunami threats as far away as Thailand



IN THIS DISASTER WATCH:

APRIL, 2012
Panic Across Indian Ocean Region
Kinship Circle has contacted colleagues in Thailand after this week's 8.6 earthquake struck Indonesia's Aceh province, with forceful aftershocks and a second 8.2 undersea quake that stirred tsunami alerts as far as Thailand. From Nov 2011 to Jan 2012, we worked in Thailand to save animals in epic floods and want to ensure our animal and human friends are okay.
Tsunami evacuations or warnings were declared in India, Indonesia, Kenya, Malaysia, Reunion Island, Sri Lanka, Thailand and Burma. Fortunately for animals and people, only small tsunamis washed ashore in Indonesia and Thailand with no immediate accounts of devastation or death. Kinship Circle will continue to watch afereffects of this disaster and its ramifications for animals.
INDONESIA:
An 8.6 earthquake strikes off coast of Indonesian island of Sumatra on 4/11/12, launching tsunami watches.
Quake hits 434 kilometers (270 miles) southwest of Banda Aceh, capital of Indonesia's Aceh province.
U.S. Geological Survery measures the quake at magnitude 8.6 with a depth of 23 kilometers (14 miles).
A second 8.2-magnitude quake occurs off Sumatra's west coast roughly 2 hours later, followed by aftershock tremors (magnitudes 5.1 to 5.4) along northern Sumatra's west coast.
As of 4/15/12, five deaths are associated with the two quakes, according to Indonesia's Disaster Mitigation Agency.
Pacific Tsunami Warning Ctr issues watch for all Indian Ocean. Alerts later cancelled, no reports of significant damage.
THAILAND:
National Disaster Warning Center broadcasts an evacuation order for residents and tourists on the Andaman coast.
Thai National Disaster Prevention Centre orders people in six coastal provinces to move to higher ground.
Thailand's state-run news announces: "The tremor was felt in Bangkok where office staff at high-rise buildings said workplaces were shaken. Several southern provinces also felt the tremors."
INDIA:
A red high-level tsunami warning goes out for Andaman and Nicobar Islands, with lower grade alerts for more eastern coastal states. Warnings are later downgraded.
SRI LANKA:
Issues an island-wide tsunami warning.
SOURCES: CNN / Tsunami watch lifted after two big earthquakes
www.abc.net.au / Massive Indonesia quake triggers tsunami alert
www.panorama.am / 5 die after earthquake near Indonesia




Kinship Circle Disaster Animal Response Team needs your compassion and skills!

REGISTER TO VOLUNTEER FOR ANIMAL AID IN DISASTERS. WE SEEK:
Independently trained volunteers with experience in disaster rescue, animal handling, sheltering, animal first aid, veterinary, photography and documentation, leadership skills.
Flexibililty to travel to disaster zones for 1-2 weeks.
Team players who follow FEMA Incident Command System and Kinship Circle protocol.
Self-sustainability in rugged post-disaster settings.



♥ GIVE ONLINE

♥ GIVE BY MAIL
Kinship Circle
Animal Disaster Aid Fund
7380 Kingsbury Blvd.
Saint Louis, MO 63130 USA