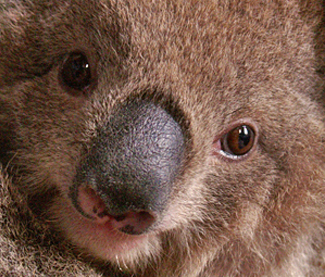 VICTORIA, AUSTRALIA BUSHFIRES: "It feels like the whole of Victoria is up in flames," one native says as 31 fires burn through dry brush. The death toll is more than 1 million for domestic and wild animals. Those rescued require months of burn rehab. Photo from Help For Wildlife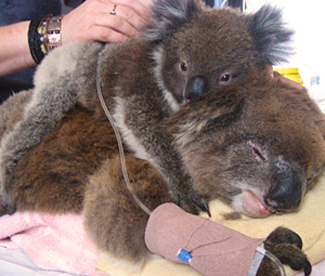 At least two wildlife shelters are already gone to the flames. Rescuers prep for the largest disaster operation in regional history. Photo from Help For Wildlife
Local groups are mostly on standby until authorities deem fire grounds safe to enter. Still, many animals who wandered out on their own are already in emergency care. Kangaroos and wallabies indigenous to the area need months-long healing with multiple dressings and medications. Photo from Help For Wildlife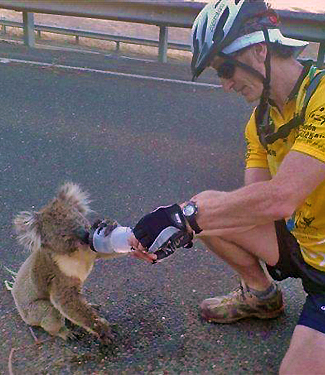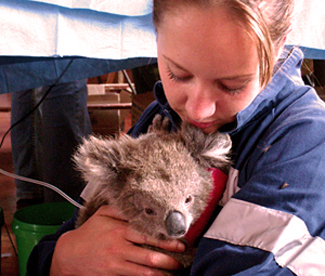 Help for Wildlife response team — based in the area where Kinglake-Healesville fires burn — are on standby to enter fire grounds when safe to rescue injured wildlife. Already, animals in emergency care are accumulating, with countless more expected. Photo from Help For Wildlife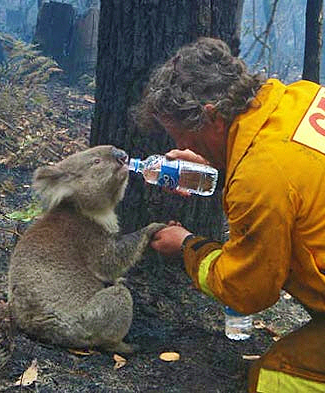 Image from volunteer firefighter David Tree's life-saving encounter with Sam, a koala found burned and dehydrated who held Tree's hand as she guzzled bottle after bottle of water. Sam recovered at Southern Ash Wildlife Shelter, bonding with fellow burned koala Bob…only to tragically die from ovarian cysts a month later.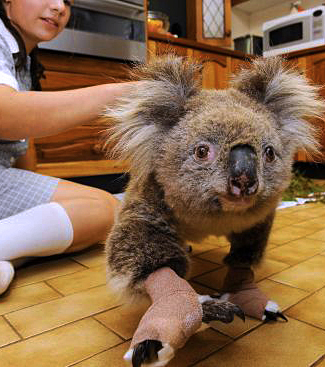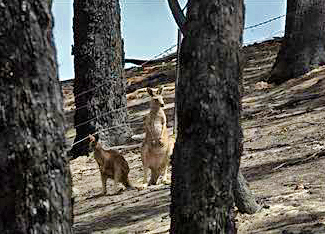 Kangaroos are seen amid charred landscape in the aftermath of a bushfire that continues to blaze across Victoria, at Chum Creek in Healesville, Australia. Photo by Luis Ascui / Getty Images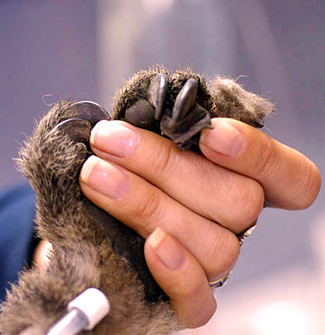 Tania Duratovic leads an IFAW (International Fund for Animal Welfare) team in Whittlesea. Field notes from Kinglake West and Kinglake Central describe tree stumps and rubble where towns once stood. One resident told IFAW, while handing over a charred ring-tailed possum, "We have lost our house, our neighbors and our pets but found this little guy alive. I just want him to live." Photo by IFAW, M. Fillinger, 2/11/09 www.ifaw.org/us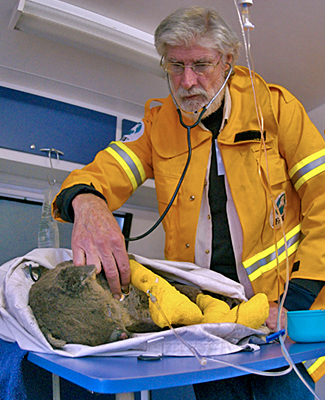 Victoria burning — Animals in deadly Australia bushfires



IN THIS DISASTER WATCH:

FEBRUARY, 2009
Rescuers Prep For Largest Animal Disaster Operation In Regional History
"It feels like the whole of Victoria is up in flames," one native says about Australia's worst-ever wildfires in the Kinglake-Healesville area of Victoria.
SOME HEAL, OTHERS ARE TOO WOUNDED TO SAVE
31 fires burn in Kinglake-Healesville area, Victoria.
Human fatalities are predicted to climb over 300.
The death toll is more than 1 million for domestic and wild animals.
At least two wildlife shelters are gone to the flames.
Burn victims include dogs, cats, horses, ducks, chickens, wallabies, possums, kangaroos, koalas, birds, goats, lizards, deer.
Injured animals require months of burn rehabilitation, with multiple dressings, medications and daily therapy.
Rescuers administer antibiotics, pain relievers, intubated fluids…but some are so gravely wounded they are euthanized.

FEBRUARY, 2009
Kinship Circle Directory: Animal Disaster Response In Victoria, Australia Bushfires
LOCAL & REGIONAL DISASTER ANIMAL RESPONSE
HELP FOR WILDLIFE
GIVE ONLINE: helpforwildlife.com
GIVE BY MAIL:
Help For Wildlife / PO Box 181
Coldstream, VIC 3770 / Australia
phone: 0417 380 687

Help for Wildlife response team — based in the area where Kinglake-Healesville fires burn — are among first groups on standby to enter fire grounds when safe to rescue injured wildlife. Already, animals in emergency care are accumulating, with countless more expected.
HELP FOR WILDLIFE SUPPLY NEEDS
ANIMAL BURN VICTIMS CAN TAKES MONTHS TO RECOVER
- silverzine cream
- non-stick dressings
- saline disinfectant / clorhexidine
- feed, hay for starving wildlife
- soft bandages / vet wrap
- syringes
- pain relief / antibiotics
- donations for fuel (to carry out extensive search-rescue)
WILDLIFE VICTORIA
FOR INJURED ANIMALS ONLY: 13 000 94535, 24 hours
GIVE ONLINE: wildlifevictoria.org.au
GIVE BY MAIL:
Jon Rowdon, President, Wildlife Victoria
Reply Paid 84688 / MELBOURNE VIC 3000
GIVE BY DIRECT DEPOSIT:
Account: Wildlife Rescue And Rehabilitation
Bank: Commonwealth Bank
BSB: 063 806, Account: #1007 7387

Fires have devastated our wildlife, including loss of at least two wildlife shelters. Unfortunately we cannot take volunteers safely into fire grounds at this time unless they're already trained. To help, please donate toward bandages, treatment, medicines, food for injured animals, plus gear/training to help volunteers best respond.
NIGEL'S ANIMAL RESCUE
GIVE ONLINE: animalrescue.com.au/fire_crisis.php
GIVE BY MAIL:
Nigel's Animal Rescue / PO Box 1096 / Hartwell 3124
phone: 0427 533 083

Nigel's Animal Rescue has provided round the clock emergency assistance to animals affected by the bushfires. We desperately need your help! We currently operate as the central hub for donations and supplies for all animal rescues in the area.
CRITICAL ANIMAL SUPPLY NEEDS
FOR LOCAL/REGIONAL RESCUE OPERATIONS:
- hay, straw
- bedding
- medical supplies
- 0.9% sodium chloride 1 litre bags
- transport for injured animals
- 5cm coplus & soffban
- giving sets / extension sets
- Silvazine / Baytril injectable
- Alfaxan CD / Solosite
- heat pads, packs
- food, cat-dog-chaf
- cages transportable collapsible / temporary pens
- 4g and 22g catheters (prefer introcan)
- Idexx urea and creat slides
- gloves, swabs
- Melolin 10cm x 10cm
- Tramal injectable / Temgesic injectable
- IV drip pumps J
- 1ml, 3ml, 5, 10ml, 20 syringes
WILDLIFE RESCUE & INFORMATION INC
FOR INJURED AND DISPLACED COMPANION ANIMALS
RSPCA
GIVE ONLINE: www.rspcavic.org
GIVE BY MAIL:
Bushfire Appeal, RSPCA
Victoria 3 Burwood Hwy / Burwood East VIC 3151
phone: 03 9224 2222
GIVE BY DIRECT DEPOSIT:
RSPCA Bushfire Appeal
BSB: 083 153, Account: #868326451
Email your contact info to: accounts@rspcavic.org.au
EMERGENCY AID FOR COMPANION ANIMALS
HOW RSPCA IS HELPING BUSHFIRE VICTIMS
- Emergency Advice Line: 03 9224 2222
- Free vet care, RSPCA Burwood and Pearcedale Clinics
- Call 03 9224 2251 or 0405 015 794 for financial aid to cover
expenses from other veterinarians.
- Other inquiries: 03 9224 2222
- RSPCA has delivered pet food to relief centres.
- To deliver animal food, bedding, leads, bowls — take donated
supplies to your local RSPCA.
- Lost & Found: To reunite lost animals with families.
GLOBAL DISASTER ANIMAL RESPONSE
INTERNATIONAL FUND FOR ANIMAL WELFARE (IFAW)
IFAW International Headquarters
290 Summer Street / Yarmouth Port, MA 02675 USA
508-744-2000, 800-932-4329, info@ifaw.org
website: www.ifaw.org

FEBRUARY, 2009
Sam And Bob: A Love Story That Brings Hope. Sadly, Sam Has Since Died.



A bond between two burned koalas rescued from Australia's deadliest wildfires brings heart-warming relief. Volunteer firefighter David Tree photographed and filmed the rescue of a bewildered female, Sam, found cowering in a burned-out forest at Mirboo North, 90 miles southeast of Melbourne. Images of Tree, 44, gently speaking to Sam as her burned claw grasped his water bottle for a drink, became a YouTube sensation on the Internet.

Tree, a firefighter for 26 years, said it was extremely rare to get so close to a koala He asked his colleague Brayden Groen to film him. "It was amazing, she turned around, sat on her bum and sort of looked at me like, 'put me out of my misery,'" Tree told reporters. "I sat with her and tipped my water bottle up. She reached for the bottle then put her right claw into my left hand. She just left it there…and kept reaching for the bottle, almost like a baby."


| | |
| --- | --- |
| | Rescued koala Bob puts his paw around fellow fire survivor Sam at Southern Ash Wildlife Shelter in Rawson, Australia. Photo by Colleen Wood / Southern Ash Wildlife Shelter. FULL NEWS STORY: msnbc.msn.com |

Once at Southern Ash Wildlife Shelter in Rawson, Sam, between 2-4 years old, befriended koala Bob, about 4, saved in Boolarra, 110 miles from Melbourne. Shelter Director Colleen Wood said Sam suffered second degree burns to her paws, with a 7-8 month recovery ahead. Bob endured burns on 3 paws, but should return to the bush in about 4 months. They keep wrapping their arms around each other in hugs, Wood says. "They've become great friends and it is quite beautiful to see after all this."

Koalas are especially vulnerable to wildfires because they move slowly on the ground. Often mistakenly called koala bears because they resemble a child's teddy bear, the marsupials are actually rather grumpy with a loud growl and sharp claws. They rarely leave treetops and don't like walking…

Tree has visited Sam since her rescue and was delighted to see her bond with Bob. "They've really taken a shine to each other as both are burned and share the burned smell," he said. "My heart goes out to the people in these fires. This gives people a bit of hope."

UPDATE: Tragically, after surviving bushfires and burn rehab, Sam succumbed to ovarian cysts about a month later — highlighting the need for government funding to meet the medical needs of koalas and other Australian wild animals. SEE SAM'S FINAL JOURNEY & HOW TO HELP SAVE KOALAS

REGISTER TO VOLUNTEER FOR ANIMAL AID IN DISASTERS. WE SEEK:
Independently trained volunteers with experience in disaster rescue, animal handling, sheltering, animal first aid, veterinary, photography and documentation, leadership skills.
Flexibililty to travel to disaster zones for 1-2 weeks.
Team players who follow FEMA Incident Command System and Kinship Circle protocol.
Self-sustainability in rugged post-disaster settings.
Already on Kinship Circle's Disaster Animal Response Team? Tell us about your new certs, training and experience so we can update your profile and contact you for future deployments. CONTACT info@kinshipcircle.org

♥ GIVE ONLINE

♥ GIVE BY MAIL
Kinship Circle
Animal Disaster Aid Fund
7380 Kingsbury Blvd.
Saint Louis, MO 63130 USA

BOTTOM PHOTO ON LEFT: IFAW vet Dr. Howard Ralph administers first aid before releasing this possum to Help for Wildlife volunteers. Dr. Ralph, a renowned vet, burns specialist and human doctor, helps local vets treat animals in Whittlesea. Photo by IFAW, M. Fillinger, www.ifaw.org/us