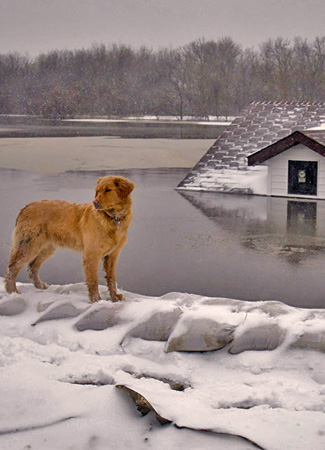 NORTH DAKOTA FLOODS: Elsie, one of two Stensgard family dogs, stands on the earthen and sandbag dike around the Stensgard home, not pictured, which overlooks a flooded outbuilding. Evacuations continue as icy floodwaters climb to a record crest of 43 feet. Fargo, North Dakota's Red River is expected to crest at about 52 feet. AP Photo / Carolyn Kaster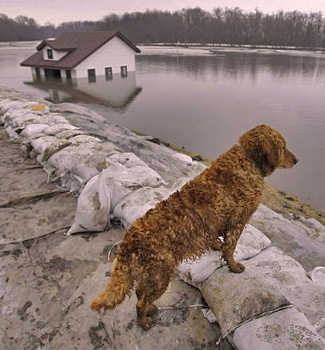 NORTH DAKOTA FLOODS: One of Doug Stensgard's dogs, Annie, looks out over what used to be a 5-acre yard and an outbuilding, now flooded by the rising Red River in Fargo. Stensgard built an earthen and sandbag dike around his home to hold back floodwaters. More rivers, creeks and streams are rising statewide. Kinship Circle has communicated with emergency agencies and local animal organizations. Our volunteers are on alert if additional aid is requested. AP Photo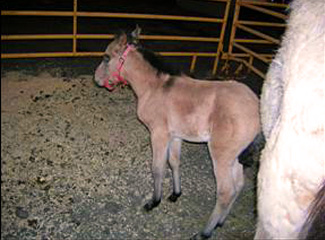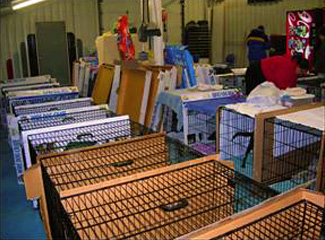 Kennels are lined up to house small animals. A mix of freezing temperatures, plus Fargo's worst flood in 100 years, places thousands of animals in danger from both exposure and drowning. Photo from www.redrivervalleyfair.com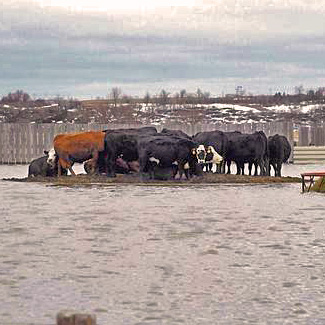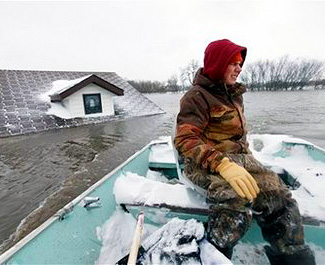 Fargo Neighborhood Evacuated as Waters Rise. Photo from Associated Press at The Star Tribune, Richard Tsong-Taatarii.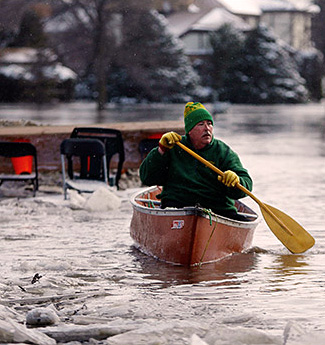 North Dakota — icy waters endanger thousands of animals



IN THIS DISASTER WATCH:

MARCH, 2009
North Dakota Floods: Incident Summary
A mix of frigid temps, plus Fargo's worst flood in 100 years, puts thousands of animals in danger from exposure and drowning. Evacuations continue as icy floodwaters climb to a record crest of 43 feet. Fargo, North Dakota's Red River is expected to crest at some 52 feet in Grand Forks, as more rivers, creeks and streams rise statewide. Kinship Circle has communicated with emergency agencies and local animal groups. Our volunteers are on alert if additional aid is requested.
NORTH DAKOTA DEPARTMENT OF EMERGENCY SERVICES
3/27/09: Record floods on the Red River at Fargo have grown increasingly dangerous. The river is expected to behave in ways previously unseen. The crest forecast at Fargo could potentially be as high as 43 feet and continue to climb for 3 to 7 days.


Flood sites expand in Western, Central and Eastern North Dakota.
EMERGENCY ANIMAL SHELTERS






MARCH, 2009
FM Humane Society & Adopt-A-Pet Run Emergency Flood Shelter For Animals
Fargo-Moorhead Humane Society, in partnership with Fargo-Moorhead Emergency Managers and Adopt-A-Pet, has set up a regional emergency animal shelter. Regional and national resources assist and the shelter is accepting animals in need due to the flood.
EMERGENCY ANIMAL SHELTER
Schollander Pavilion at Red River Valley Fairgrounds
1805 West Main Avenue / West Fargo, ND 58078
Emergency Animal Shelter: 701-281-1574
Fargo-Moorhead Humane Society: f-mhumanesociety.org
Adopt-A-Pet Of Fargo-Moorhead: adoptapetfm.org
DONATE MONEY OR SUPPLIES
SUPPLIES AND VOLUNTEERS NEEDED
CURRENT NEEDS:
- cat and dog food / kitten and puppy food
- cat litter, non-scoopable
- litter scoops
- bleach
- toys
- bedding (old towels, blankets)
- newspapers
- garbage bags, poop bags
- treats
- bottled water
- food/treats for volunteers
Volunteers are needed at the shelter. CALL BEFORE ARRIVING to make sure help is still needed at that time: 701-281-1574

MARCH, 2009
Kinship Circle Directory To Groups Responding
WAG-N-TRAIN
website: www.wagntrain.net
1662 5th Avenue NE / Grand Forks, ND
701-746-9331, mail@wagntrain.net
Wag-N-Train is prepared to offer temp shelter for animals, free of charge only to people forced from homes.
4 LUV OF DOG
CENTRAL DAKOTA HUMANE SOCIETY
PET CONNECTION HUMANE SOCIETY
DOGGIE DEPOT
website: www.fmdoggydepot.com
3224 8th Street South / Moorhead, MN 56560
218-236-DOGS, info@fmdoggydepot.com
Wag-N-Train is prepared to offer temporary emergency shelter for pets in need of refuge. This is free of charge, only to people forced to evacuate homes.
MUTT HUTT
1214 Main Avenue / Moorhead, MN 56560
218-236-9935
Animals are not accepted at Red Cross Shelter in Moorhead, MN. Temporary shelter may be available at Doggy Depot and Mutt Hut. Space is limited. Residents should make accommodations with family or friends outside flood zone.
NATIONAL DISASTER ANIMAL RESPONSE GROUPS
UNITED ANIMAL NATIONS / EARS
website: www.uan.org
PO Box 188890 / Sacremento, CA 95818
916-429-2457, info@uan.org
EARS volunteers are in Fargo, North Dakota, where rising floodwaters and freezing temperatures jeopardize countless animals. Deployed from 6 surrounding states, volunteers work at a temporary shelter with over 80 animals evacuated by families. As the Red River continues rising to catastrophic levels, we are bracing for as many as 1,000 animals in the next few days.
INTERNATIONAL FUND FOR ANIMAL WELFARE (IFAW)
website: www.ifaw.org
IFAW International Headquarters
290 Summer Street / Yarmouth Port, MA 02675 USA
508-744-2000, 800-932-4329, info@ifaw.org
IFAW anticipates as many as 5,000 animals will need aid. Distressed animals are in Fargo but shelters are far to the west. Frigid temps and logistical challenges make it difficult to give immediate care. Nearly 150 residents have been rescued. Floods are due to a cold winter that left an uncommonly large snowpack. Warm weather and heavy rains melted snow, but frozen ground could not absorb water…
PETSMART CHARITIES SENDS EMERGENCY RELIEF
As floodwaters rise and evacuations continue, PetSmart Charities dispatches an Emergency Relief Waggin- trailer stocked with 16 tons of food and supplies, as well as a back-up trailer with essential care items for pets and their rescuers.
HUMANE SOCIETY OF MISSOURI
3/27/09: Humane Society of Missouri Disaster Response Team has been deployed to North Dakota to rescue animals affected by severe flooding. The four team members are experienced in water/disaster rescue and animal sheltering. The team will take two trucks pulling travel and equipment trailers with water and rope rescue equipment, plus a boat and animal transport van.
NOAH'S WISH
Mobilization to Bismarck, ND is underway, to open a shelter for Fargo flood-impacted animals. Human evacuations begin today as residents of Fargo, population 92,000, begin the trek to shelters. Noah's Wish Bismarck shelter expects to house 1,000+ animals. Volunteers: contact convergent@milesend.org with availability.
BOTTOM LEFT PHOTO: Michael Stensgard uses a family boat to get back to their home from the Red River, March 25, 2009, near Fargo. Photo from Associated Press at The Star Tribune, Richard Tsong-Taatarii.