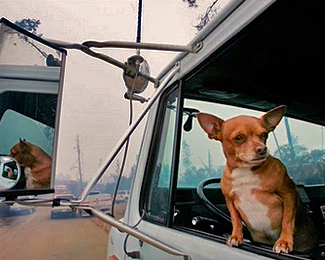 SANTA CRUZ, CALIFORNIA FIRE: Scooter looks out a water truck window as wildfire smoke fills the sky in Santa Cruz Mountains west of Gilroy, Calif., 5/24/08. The summit fire has burned over 3,000 acres in Santa Cruz Mountains. AP Photo / Marcio Jose Sanchez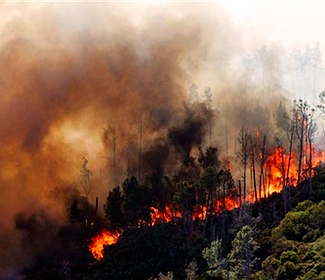 Santa Cruz Fire: A wildfire burns through 3,000 acres in Santa Cruz Mountains, California, 5/22/08. Wind-whipped flames threaten homes and prompt evacuations. AP Photo / Paul Sakuma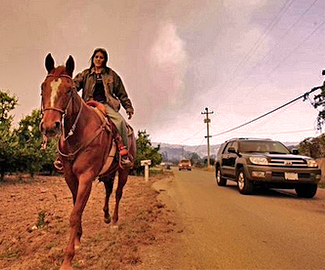 Santa Cruz Fire: Patrice Fagundes evacuates with her horse Roxie, along with car evacuees, from a fast moving wildfire in Corralitos, California. AP Photo / Paul Sakuma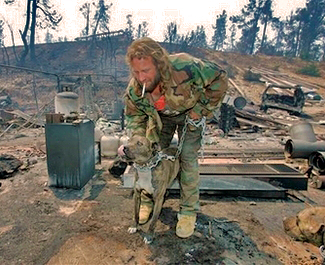 Chris 'Catman' Puett comforts his dog Tony after a wildfire burned up the property where Puett works as a caretaker in Santa Cruz Mountains west of Gilroy, California. AP Photo / Marcio Jose Sanchez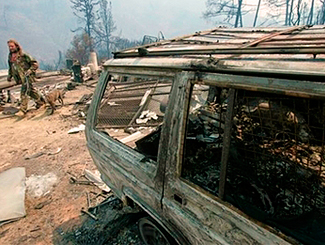 Puett had a shelter for abused animals on the property and lost 17 cats and four dogs to the Summit fire. AP Photo / Marcio Jose Sanchez

Santa Cruz fire, emergency aid for California animals



IN THIS DISASTER WATCH:

MAY, 2008
Help Animals Of Santa Cruz Fires
A wildfire burns through 3,000 acres in Santa Cruz Mountains, California. Wind-whipped flames threaten homes and prompt evacuations. Local animal groups save dogs, cats, rabbits, ducks, chickens, birds, horses…and even fish displaced by the fire. As the inferno grows, more animals are expected.

WATSONVILLE SHELTER ANIMALS / SUPPLY NEEDS
ceramic bowls
bottled water
Purina Rabbit Chow / fresh vegetables for rabbits, small animals
litter boxes, cat litter
woodstove pellets, for rabbit litter
straw for bedding
Safeway gift cards / gas gift cards for rescue transports
used towels, blankets and sheets
cat and dog toys and beds
chicken and livestock feed
zip ties
snacks and drinks for staff and volunteers
SEND SUPPLIES TO:
DROP OFF: Watsonville Animal Shelter
580 Airport Blvd / Watsonville, CA 95076
MAIL: Friends of the Watsonville Animal Shelter
P.O. Box 1930 / Watsonville, CA 95077
831-475-2432, admin@fowas.org
DONATE ONLINE: www.fowas.org/donations.htm
PEOPLE SEARCHING FOR LOST ANIMALS
Watsonville Animal Shelter
580 Airport Blvd / Watsonville, CA 95076
Hours: Mon - Sat, 10am to 5:30pm
Scotts Valley Shelter
27 Janis Way / Scotts Valley, CA 95066-3506
Hours: Tues - Sat, 10am to 5:30pm
Animal Services, Both Shelters: 831-454-7303
For animal evacuation, call 831-454-7303 or bring to Watsonville fairgrounds.
FRIENDS OF WATSONVILLE ANIMAL SHELTER
5/24/08, ANIMAL SERVICES SEARCHING FOR, AIDING FIRE-DISPLACED ANIMALS — Timothy Howard and his wife went to Watsonville Animal Shelter to see if their two cats turned up there. Howard, who has yet to find out if his home in Santa Cruz Mountains escaped flames, left the shelter disappointed. "Our two cats just took off. We don't know where they are." The Howards' situation isn't unique. Santa Cruz County Animal Services, joined by San Francisco Bay Area animal control agencies, search for missing animals door to door in the mandatory evacuated zone. Dogs, cats, chickens, goats, geese and goldfish are among animals found. In addition, Animal Services has received more than 50 dogs and cats surrendered by evacuees. Over 200 horses are housed at the Santa Cruz County Fairgrounds. Animal Services is in need of "donations of any kind…"
SANTA CRUZ COUNTY ANIMAL SERVICES / SUPPLY NEEDS
used towels, blankets and sheets
ceramic and stainless steel bowls
zip ties / xpens
bottled water
water-tight aquariums for turtles, fish, reptiles
horse halters
cat and dog toys and beds
cat litter boxes, non-clumping litter
canned wet food for dogs or cats
wood stove pellets for rabbit litter
fresh vegetables for rabbits / Purina Rabbit Chow
straw for bedding / grass, hay and shavings
chicken and livestock feed
snacks and drinks for volunteers
Safeway gift cards / gas cards for animal transport
small animal carriers / small animal cages
SEND SUPPLIES TO:
Scotts Valley Shelter / 27 Janis Way / Scotts Valley, CA 95066
Watsonville Shelter / 580 Airport Blvd / Watsonville, CA 95076
Both Locations: 831-454-7303
DONATE ONLINE: www.fowas.org/donations.htm
FRIENDS OF SANTA CRUZ COUNTY ANIMALS

MAY, 2008
Lost And Afraid In Santa Cruz Fire
SANTA CRUZ ANIMAL SERVICES, scanimalservices.us/rescue3.htm
| | | |
| --- | --- | --- |
| | | COOPER - ID#A115763. I am a neutered male, brown and white Pit Bull Terrier mix. My age is unknown. I have been at the shelter since May 25, 2008. Santa Cruz County Animal Services, Scotts Valley: 831-454-7303. Ask for information about animal ID number A115763. |
| | | |
| --- | --- | --- |
| | | SWEETIE - ID#A119187. I am a spayed female, gray and white Domestic Shorthair. My age is unknown. I have been at the shelter since May 23, 2008. Santa Cruz County Animal Services, Watsonville: 831-454-7303. Ask for information about animal ID number A119187. |
| | | |
| --- | --- | --- |
| | | LUCY - ID#A070339. I am a spayed female, tan and white Pug mix. The shelter thinks I am about 10 years old. I've been at the shelter since May 23, 2008. Santa Cruz County Animal Services, Watsonville: 831-454-7303. Ask for information about animal ID number A070339. |