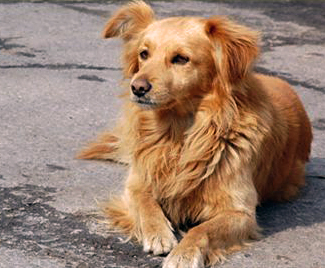 MYANMAR CYCLONE & FLOODS: Int'l animal groups are negotiating with Myanmar's (formerly Burma) rigid regime to gain access to stranded animals. Photo from Cherrymerry, Dreamstime.com / As seen on Best Friends Network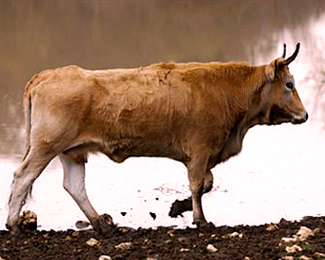 Myanmar Cyclone & Floods: There is little food and essentially no clean water for people or animals, according to WSPA's Myanmar-resident staff on the ground. Photo from WSPA International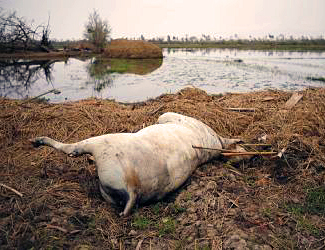 Myanmar Cyclone & Floods: Based on UN and Myanmar government figures, WSPA estimates that 48 million animals may have been wiped out by the cyclone — a figure equal to the country's entire human population. Photo from WSPA International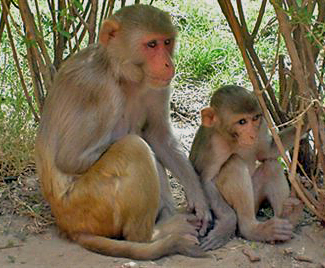 Myanmar Cyclone & Floods: Yangon Zoo, a 68-acre home to over 150 species, is in disarray from the cyclone. Animals are loose and starving due to wiped out food supplies. Photo from Wikipedia / Rhesus Macaques
CHINA EARTHQUAKE: A 7.9 earthquake decimated parts of China, with 50,000 people dead. Animal victims are dually at risk from disaster effects and government culls. Photo from "Update on Recent Disasters in East Asia," Best Friends Network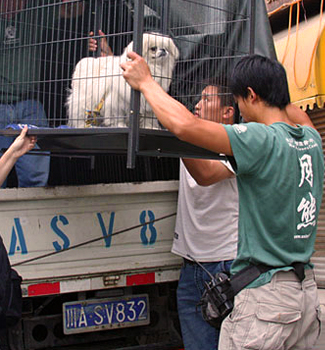 China Earthquake: Since Animals Asia set up a receiving station at a Dujiangyiang vet clinic, survivors in Sichuan's devestated region line up to surrender animals for safekeeping until they are back on their feet. Photo from Animals Asia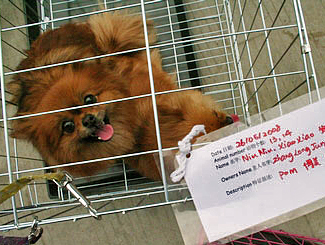 China Earthquake: Niu Niu and fellow Pomeranian Fei Fei arrive at a collection station in Dujiangyiang, where their heartbroken guardian temporarily surrenders her dogs to Animals Asia for sheltering in Chengdu. Niu Niu had vanished for 9 days after the quake hit. Her person, Miss Xiao Ru Lan, eventually found her cowering in their damaged apartment. Photo from Animals Asia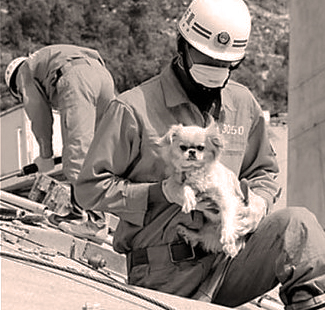 Animal aid for Myanmar cyclone, China quake, Chile volcano



IN THIS DISASTER WATCH:

MAY, 2008
Myanmar Cyclone: Animal News & Updates
SOURCE: www.network.bestfriends.org

5/15/08 — International animal groups are negotiating with Myanmar's (formerly Burma) rigid regime to gain access to animals stranded by mass floods from a cyclone: WSPA, World Society For Protection Of Animals; HSI, Humane Society International; IFAW, International Fund For Animal Welfare. Wildlife Friends of Thailand and Best Friends are ready to help in Myanmar if/when visas can be obtained to enter the country.

There is little food and essentially no clean water for people or animals. Much of the Irrawaddy River Delta is still under water. Among animals in need are millions of cows and buffalo. Similar to the Andaman Islands tsunami, when huge volumes of salt water washed over land, the salt destroys the ground. The rice paddies are ruined, as well as any grass or hay food sources.

5/26/08, WSPA IN MYANMAR / VETS GAIN ACCESS TO ANIMALS IN NEED — A disaster assessment and response DART team arrives in Myanmar following a WSPA delivery of 31 tons of animal feed. Based on UN and Myanmar government figures, WSPA estimates that some 48 million animals may have been wiped out by the cyclone — a figure equivalent to the entire human population of the country. WSPA will work to distribute food, prevent spread of disease and alleviate suffering among surviving animals.

5/24/08, MYANMAR ANIMALS IN ZOO NEED HELP — Yangon Zoo, a 68-acre home to over 150 species, is in disarray from the cyclone. Trees are toppled and strong winds caused animals to escape from enclosures. Animals are loose and starving due to wiped out food supplies. A resident of Yangon sent this description: "Yangon is a very old city and has been called the Garden City with many mature trees lining the streets and roads. In Yangon Zoo alone, it was estimated that about 300 trees fell. Animals in the zoo are also affected by the limited food supply."

Around 700 animals occupy 58 acres, including 60 mammal species, 70 bird species, and 20 reptile species. There are many deer, monkeys, and large cats. Among the reptiles are turtles and snakes. There are herons, egrets, storks, geese and ducks. Raptors include fish eagles and Brahmany kites; there are parrots, including rose-ringed parakeets, cockatoos and macaws. Asian Animal Protection Network, The Zoo Pages

MAY, 2008
China: Animals Suffer From Quake, Government Culls
SOURCE: network.bestfriends.org, Animals Asia Blog
A 7.9 earthquake struck in the Sichuan Province on 5/12/08, with 50,000 people dead. Animal victims are dually at risk from disaster effects and government culls… Wolong National Nature Reserve reports all 86 pandas are safe. Animals Asia Foundation sanctuary for bears rescued from bile farms, in the city of Chengdu (not far from the epicenter of the earthquake) sustained significant damage — but all bears and staff are unharmed. Animals Asia Founder Jill Robinson, with a vet team, are in Dujiangyiang to help animals.
ANIMALS ASIA ON GROUND FOR ANIMAL SURVIVORS
5/27/08 — Since Animals Asia set up a receiving station and hotline at a Dujiangyiang vet clinic, survivors in Sichuan's devestated region line up to surrender animals for safekeeping until they are back on their feet… Neighbors are not always so tolerant of dogs. But dog culling is not the answer. In Dujiangyiang we offer a help and hope for people so clearly fearful for the lives of their pets…
Niu Niu (Little Girl) and fellow Pomeranian Fei Fei (Fat Fat) arrive at a collection station in Dujiangyiang, where their heartbroken guardian temporarily surrenders her dogs to Animals Asia for sheltering in Chengdu. Niu Niu had vanished for 9 days after the quake hit. Her person, Miss Xiao Ru Lan, eventually found her cowering in their damaged apartment.
DONATE TO ANIMALS ASIA CHINA EARTHQUAKE AID
From animalsasia.org click Donate To Earthquake Relief (on left)


ANIMALS ASIA EARTHQUAKE RELIEF
The earthquake that devastated parts of Sichuan in the spring of 2008 left many people unable to care for their much loved dogs and cats. Together with local shelters, we care for animals until their guardians are ready to reclaim them. The earthquake also badly damaged four buildings at our Moon Bear Rescue Centre in Chengdu. These will need to be rebuilt at great cost. Please give generously so we can repair earthquake damages.
Photo: Animals Asia

KILL ORDER
5/22/08, From animalsasia.org/blog — Animals Asia rescues animals, as Chinese officials threaten to cull them in hard-hit areas like Qingchuan. The Army may send snipers into two districts to shoot dogs. Animals Asia and local animal welfare groups issue a joint letter to county authorities that implores them to spare dogs. We offer rabies and vaccinations as options to killing.

5/26/08 — Driving in to Dujiangyiang, we pass so many people leaving destroyed homes. Christie, Rainbow, Heather, Wendy, Hong Chuan, Suki, Howard, Rocky and I arrive at a tented area, connect with two local
vets, members and volunteers from the Chongqing Small Animal Protection Association. First we speak to officialsl, who tell us no dogs are here. We wonder how they can be sure until we see a government notice that says any dog found in the camp will be killed. We had already printed out a notice saying we would collect all dogs and cats and provide them with safe, happy foster homes until they are ready to be returned.

Rainbow quietly posts our flyer beside the government notice. Officials promise to call us if they did find animals… Within moments, a woman calls about a Pekingese she picked up on the street. She has fallen in love with Pan Pan, but cannot take him as her apartment is destroyed. We quickly accept, vaccinate and crate Pan Pan, promising his new person the dog is in good hands until she is ready to reclaim him. By day's end, we have 49 dogs, 2 cats and 1 kitten rolling into Chengdu. We will return to Dujiangyiang as it seems our notice is working. We have a steady stream of calls alerting us to animals who need pick-up…

CHINA: ANIMAL VICTIMS GATHER ATTENTION
5/21/08, From China Daily — For days after the May 12 quake, Western media wondered what had come of the giant pandas held in nature reserves in the region. Xinhua recently reported two endangered bears still missing and five zookeepers dead at the Wolong Nature Reserve, located near the quake epicenter. In other quake-flattened areas, more than 100 trained sniffer dogs from government and private organizations are also straining to help soldiers and rescuers seek out buried survivors.

Amid ongoing rescue and relief efforts for Sichuan quake sufferers, the picture of a soldier saving a panting Pomeranian from the rubble has cast the spotlight on another side of the national disaster — the plight of animal victims… Many worry that pets have suffered from the deadly quake as well. Increasing disposable income levels and changing demographics contributed to rising pet ownership in China between 1999 and 2004, figures from global marketing researcher Euromonitor International showed. Young adults and the elderly showed piqued interest in raising pets. Total pet population in the country also increased in 2006, latest figures have showed…

MAY, 2008
Chile Volcano: Help Animal Victims
SOURCE: network.bestfriends.org
When the Chaiten Volcano, quiet for thousands of years, began to spew ash into the air, thousands of people were evacuated within a 30-mile radius. They were not allowed to bring animals with them. Domestic animals, farmed and wild animals are severely impacted by ash that continues to fall. The ash layer impacts breathing and movement. It coats water sources and vegetation, making it difficult for birds and other animals to survive.
CHILEAN ANIMAL COALITION RESCUE EFFORT
CEFU (Coalition for the Ethical Control of Urban Animals) is an umbrella group for the animal rescue effort. Abergando un Amigo (House a Friend), within CEFU, plays a key role. Reype (rescate y rotectionrescate y proteccion animal, Coyhaique, XI Region, Chile) took 1,000 kilos of animal food and medical supplies from Coyhaique to Futaleu. University of Santo Thomas veterinarians are also helping.
SUPPLY NEEDS FOR ANIMALS IN CHILE
cat and dog food
pots and containers for water
Amoxicillin, Bitencil, anti-inflammatory (ketoprofen), Bromexina, Polivitaminicos, Thiopental
SUPPORT CHILEAN ANIMAL RELIEF

BOTTOM LEFT PHOTO: China Earthquake, "A rescue worker pulls out a pet dog from a collapsed residential building in Beichuan county, Sichuan province." Xinhua China Daily