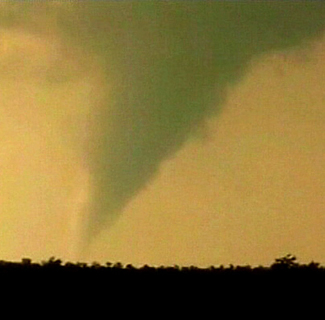 MISSOURI, OKLAHOMA, GEORGIA TORNADOES: Tornadoes strike midwest and southeast U.S. states over Mother's Day holiday, leaving at least 23 dead. Joplin, Missouri reports many animals dead, with survivors first emerging from rubble three to four days after the storm…
MISSOURI, OKLAHOMA, GEORGIA TORNADOES: Buffy lies on the floor of the wreckage of her family's home near Racine, Missouri. Photo from Mark Schiefelbein / Associated Press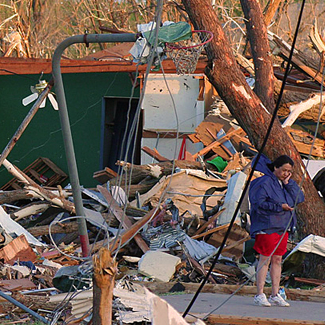 An unidentified woman amid damage from a tornado that ripped through Picher, Oklahoma 5/10/08. The tornado flattened the town before it struck 15 miles away near Seneca, Missouri and killed at least three people there. AP Photo / Sheilah Miller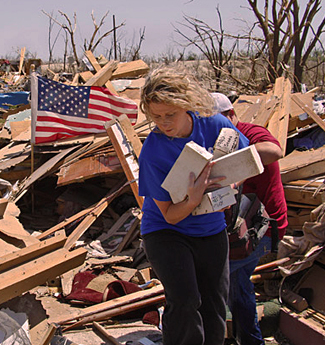 Mother's Day tornadoes strike Missouri, Oklahoma, Georgia



IN THIS DISASTER WATCH:

MAY, 2008
Tornadoes Strike MO, OK, GA Over Mother's Day
SOURCE: Storms kill 23 across 3 U.S. states, www.cbc.ca
Storms kill in Midwest and Southeast, www.cnn.com
MAY 10-11, STORMS HIT MISSOURI, OKLAHOMA, GEORGIA
Tornadoes strike midwest and southeast states over Mother's Day holiday, leaving at least 23 dead. Joplin, Missouri reports many animals dead, with survivors first emerging from rubble three to four days after the storm.
MISSOURI TORNADOES
At least 15 people die in southwestern Missouri tornadoes. In Seneca and Racine, 10 of the dead are killed when a twister hits ground in a rural area about 8 miles north of Seneca, continuing east, says Keith Stammer, director of Jasper County Emergency Management. Susie Stonner, a Missouri Emergency Management spokeswoman, says it is unclear how many homes are damaged or destroyed. Newton County officials have initial estimates of 50 homes damaged or destroyed in this community…
OKLAHOMA TORNADOES
National Weather Service estimates at least 8 tornadoes spawned in Oklahoma along six storm tracks, killing 7 people. Picher, Oklahoma, a town of 800, is among the worst hit with 7 dead and 150 more injured from a tornado on 5/10/08 that shatters a 20-block area. Gov. Brad Henry orders National Guard troops to help with recovery efforts. Homes are blown off foundations, people wandering streets in a daze…
GEORGIA TORNADOES
By 5/11/08, Georgia Power tallies about 72,000 residents without electricity across the state, mostly concentrated in metro Atlanta and Macon areas. In Dublin, Georgia storms rumble across a wide region 120 miles southeast of Atlanta (Laurens County), killing at least 2 people. The small town of Kite is destroyed by the storm, says Caroline Pope, a Johnson County Sheriff's Department spokesperson. Nearly 1,000 people live here…

MAY, 2008
Missouri: Scared Animals Emerge From Wreckage
JOPLIN HUMANE SOCIETY AIDS ANIMAL TORNADO VICTIMS — Joplin Humane Society is the nearest local facility for Seneca, Missouri tornado victims. Shelter staff in Joplin are conducting rescue work. Many animals have been found dead. Surviving animals are just now emerging from hiding spots in the wreckage. Storms are expected to strike this area again on 5/13/08. HUMANE SOCIETY OF MISSOURI (HSOM) has deployed a 6-person team and trailer to aid animal victims. HSOM and FEMA are coordinating funding for shelter efforts in stricken areas.
JOPLIN HUMANE SUPPLY NEEDS
flea & tick products (animals are tick infested from downed brush)
cat litter
monetary donations for veterinary care fund
SEND SUPPLIES OR MONETARY DONATIONS TO:
BOARDING FOR ANIMALS DISPLACED BY TORNADOES
Joplin Humane Society can board animals and provide supplies for those who've found animals but have no pet supplies.


Golden Paw Pet Resort can board animals if Joplin's facility is full.
2301 N Main St / Joplin, MO 64801 / 417-623-0842

♥ GIVE ONLINE

♥ GIVE BY MAIL
Kinship Circle
Animal Disaster Aid Fund
7380 Kingsbury Blvd.
Saint Louis, MO 63130 USA



BOTTOM LEFT PHOTO: Kerry Gibbs helps salvage valuables from her friend's home in Picher, Oklahoma. AP Photo / Sue Ogrocki