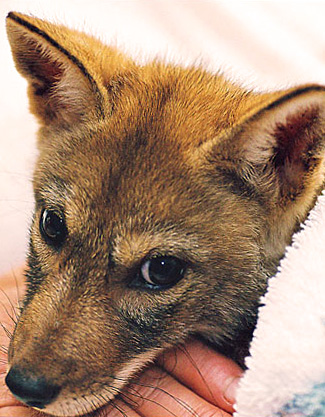 INDIANA FLOODS: Hotei was a 7-week old orphan when admitted to Indiana Coyote Rescue Center (ICRC). His mom and 4 siblings were killed by speeding cars. A man found Hotei digging a den beneath his dead mom. The man's mother cared for Hotei until ICRC retrieved him. Survivors like Hotei now wallow in a muddy a mess as ICRC recovers from Indiana floods. The group is in dire need of 8 tons of gravel. Photo: Indiana Coyote Rescue Center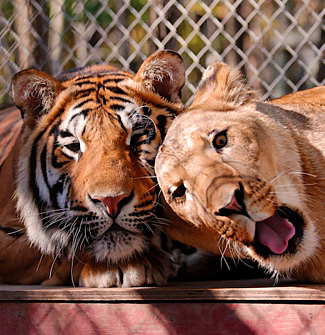 Surplus rains swamp parts of in water and mud. Exotic Feline Rescue Center needs tons more gravel to get animals safely out the muck. At $200 per gravel load, wildlife rescuers ask for public aid. Photo: Exotic Feline Rescue Center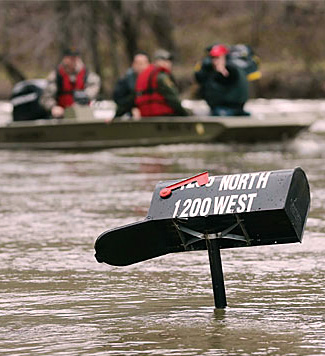 Indiana Floods — Wildlife groups reach out for aid



IN THIS DISASTER WATCH:

JANUARY, 2008
Indiana Floods: Incident Report



NORTH-CENTRAL INDIANA COUNTIES UNDER STATE OF EMERGENCY DECLARATION


Jasper County (Remington) / White County / Carroll County / Benton County

3 DEAD AND HUNDREDS OF HOMES DAMAGED
1/9/08: Heavy rain and melting snow push Indiana rivers and streams over banks, killing at least 3 people, including 2 children in a SUV on a flooded road near Rochester. As the stalled Chevy Tatoe floats into deeper water, driver Megihann Leininger saves 3 children but can't reach Shay, 5, and Ashley, 2.


Rising waters force hundreds to evacuate and turn roads into deadly flash floods in north-central Indiana. Jasper, White, Carroll and Benton counties declare states of emergency.


Jasper County: Karen Wilson, Jasper County Emergency Management director, reports up to 150 people evacuated in Remington and 30 homes affected by waist-high water in some areas. From 50 to 60 people seek refuge at First Christian Church, many from a mobile home park on edge of the city.


White County: Rescuers evacuate hundreds of people in Monticello, Blue Water Beach and Diamond Point about 80 miles northwest of Indianapolis, says county emergency management director Gordon Cochran. Weather service reports near-record flooding at Norway and Oakdale dams north of Monticello.


Just outside Delphi, waters below Oakdale dam rise over car tops on both sides of Tippecanoe River. "We rescued people off home rooftops," Matt Tholen, a DNR conservation officer, says. "This is the most water I've ever seen."


Flood warnings are in effect along Wabash and Tippecanoe rivers. American Red Cross has shelters in Lafayette and Delphi. Smaller towns along flood path also have [human] evacuee centers. SOURCE: Northern Indiana flooding kills 3, including 2 kids trapped in SUV. By Ken Kusmer, Associated Press. Remington, IN

JANUARY, 2008
Indiana Coyote Rescue Appeals For Flood Aid
Indiana Coyote Rescue Center (ICRC) has asked Kinship Circle to rally public support for rebuilding. Statewide floods caused rescue pens to sink in thick mud. "We are in dire need of 8 tons of gravel," says ICRC president Cecilia Lambert. "Cost for gravel is about $600." ICRC is home to coyotes like Hotei, orphaned at 7-weeks after his mom and 4 siblings were killed by speeding cars. A man found Hotei digging a den beneath his dead mom. The man's mother cared for Hotei until ICRC retrieved him. Survivors like Hotei now wallow in a muddy a mess as ICRC recovers from floods.
DONATE TO INDIANA COYOTE RESCUE FLOOD RELIEF

JANUARY, 2008
Help Exotic Feline Rescue Out Of Slimy Mud
Exotic Feline Rescue Center (EFRC) needs tons more gravel to get animals and enclsoures safely out of the muck — after excess rains leave central Indiana swamped with water and mud, lots of mud. At $200 per truckload, EFRC asks the public to donate to flood recovery. "The cats are in deep mud," says Joe Taft. "We need help…just had 10 truckloads of gravel delivered but need about 20 more. Big cats have complex care needs."
DONATE TO EXOTIC FELINE RESCUE FLOOD RELIEF
BOTTOM LEFT PHOTO: Officers continue evacuations on Tippecanoe River. USA Today