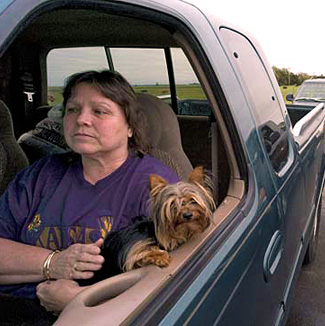 KANSAS TORNADO: Teri McCollum, wife of Greensburg Mayor Lonnie McCollum, holds her Yorkshire terrier, Rocky, while waiting in line with other Greensburg residents on U.S. 54 to re-enter town. Monday was the first day residents were allowed into Greensburg to retrieve valuables. Photo by Mike Hutmacher, The Wichita Eagle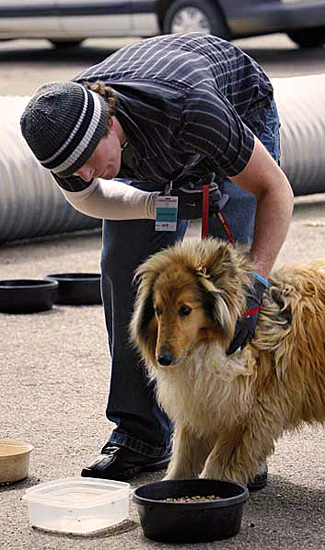 Volunteer Jared Estes coaxes a rescued collie to eat at the makeshift animal shelter in Greensburg. Photo by Mike Hutmacher, The Wichita Eagle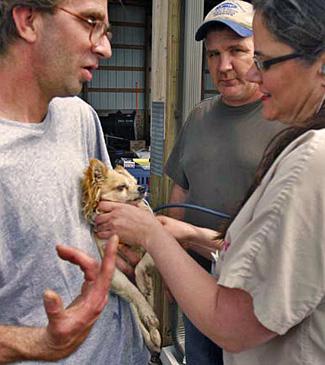 Mark Slief holds his mother's dog, Bruiser, while Dodge City veterinarian Deanna Post checks for injuries and brother Gary Slief looks on. Photo by Mike Hutmacher, The Wichita Eagle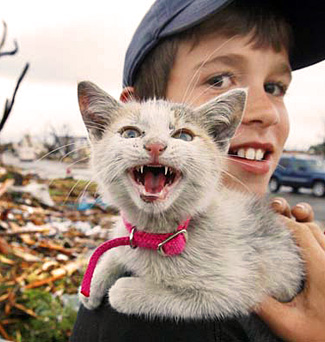 Eleven-year-old Tyler McIntosh found a new friend while collecting things in his destroyed home in Greensburg, KS. AP, Fernando Salazar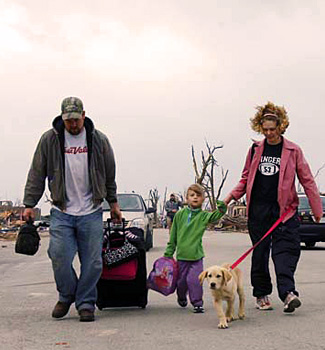 Animal refugees of Kansas tornado



IN THIS DISASTER WATCH:

JUNE 1, 2007
Kansas Tornado: EARS Needs More Volunteers On The Ground Now
SOURCE: United Animal Nations, info@uan.org
6/1/07, From UAN/EARS, info@uan.org — Tornadoes decimated Greensburg, Kansas on 5/4/07, uprooting people and animals. Pratt County Humane Society, which kindly took in over 100 displaced dogs and cats, is overloaded. At the request of Kansas Animal Health Department, UAN has deployed Emergency Animal Rescue Service (EARS) volunteers to care for roughly 150 animals, many of whom are injured or ill. All of them, according to EARS NW Regional Director Kurt Cruickshank, are "starved for attention," due to long separation from families. We expect to trap even more left-behind animals in Greensburg — cats and dogs reportedly wounded and wandering streets for weeks.
MORE EARS TRAINED VOLUNTEERS NEEDED
From Monday, 6/11/07 to Friday, 6/15/07, to do:
Animal feeding and attention
Paperwork, animal record documentation and other administration
Cage cleaning, maintenance and shelter repair
Donated supply sorting and distribution
UNITED ANIMAL NATIONS / EARS
PO Box 188890 / Sacremento, CA 95818
916-429-2457, info@uan.org, www.uan.org

JUNE 1, 2007
Tornado Overload At Pratt County Humane Society, Funding Needed
SOURCE: Pratt County Humane Society
Pratt Humane Society has coordinated care for more than 160 animals rescued in Greensburg after the tornado. Animals were originally housed in Kansas Department of Transportation, but have been moved back to the Humane Society — but cats are housed a veterinary clinic until a cat house is created. Pratt staff are erecting a prefab building that will be piped with water and electricity. Only 18 dogs remain, and 70 cats. Most animals have been reunited with their people. All are held for 60 days before moving to 60-dat foster homes in an attempt to reunite them with families. At this juncture, our primary need is funding for dog pens, dog houses, etc.
DONATE TO PRATT COUNTY HUMANE SOCIETY
BY MAIL: Pratt County Humane Society
1402 W. 1st Street / Pratt, KS 67214-3300
ONLINE: Go to Pratt County Humane Society page and click on Network For Good logo

JUNE 1, 2007
Kansas Tornado Leaves Animals Displaced, Confused



Silence follows a fatal tornado in Greensburg, KS. Only the screech of trucks and ambulances break through, as first responders search for wounded and dead. By early next morning, animal rescuers share the streets — searching for eyes in the tangled debris…

5/10/07, Dodge City Daily Globe — It was in the silence of that night, 45 miles from Greensburg in Dodge City, that Glenna Walker, Dodge City Animal Shelter Manager received a call asking for support. "I got to Greensburg at probably 3:30am with only one other animal rescuer and three plastic crates," said Walker.

It wasn't long before volunteers from as far as Wichita poured onto the scene, setting up a makeshift pen behind Kansas Department of Transportation, one of few buildings still standing. Rescuers searched streets, watching and waiting for animals to to crawl from beneath the rubble. "Cats are the hardest to catch," said Dodge City volunteer Ed Carmichael.

Pratt County Humane Society took the reins for animal intake and information charts. By midmorning, veterinarians had setup tables for onsite treatment. More severely injured animals were taken to Pratt and Dodge City for intensive care. "It's just been ongoing," said Toni Myers, cofounder with husband Pete of Ford County Humane Society. "There was a lot of livestock with no feed. One horse had to be put down because he was too injured."

When predictions of even more storms reached the town, volunteers sent animals to shelters in Pratt and Dodge City. They eventually returned to Greensburg to reunite with their people more easily… Plans for animals have changed from day to day as new information come in. Many people are surrendering their pets. Unsure of where they'll be in another week, a pet along can prove more of a hindrance than anything.

"That's a very sad situation," said Myers, "but if anybody's thinking about adopting, please think about these pets first. They're displaced, confused, shocked. They need somebody to take care of them."


KINSHIP CIRCLE DISASTER ANIMAL RESPONSE TEAM NEEDS YOUR COMPASSION AND SKILLS!
REGISTER TO VOLUNTEER FOR ANIMAL AID IN DISASTERS. WE SEEK:
Independently trained volunteers with experience in disaster rescue, animal handling, sheltering, animal first aid, veterinary, photography and documentation, leadership skills.
Flexibililty to travel to disaster zones for 1-2 weeks.
Team players who follow FEMA Incident Command System and Kinship Circle protocol.
Self-sustainability in rugged post-disaster settings.



DONATE TO KINSHIP CIRCLE ANIMAL DISASTER AID FUND

♥ GIVE ONLINE

♥ GIVE BY MAIL
Kinship Circle
Animal Disaster Aid Fund
7380 Kingsbury Blvd.
Saint Louis, MO 63130 USA



BOTTOM LEFT PHOTO: Mike Sutton, daughter Aryca, wife Jessica and their dog Mia evacuate down South Main. G. Marc Benavidez, Wichita Eagle