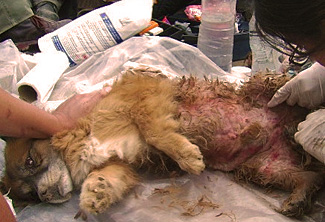 Peru Earthquake: An 8.0 earthquake slams the central coast of Peru 8/15/07, killing at least 510 people and flattening buildings, roads and 34,000 homes. Peruvian rescuers report animals dying from starvation. Most, abandoned when caregivers fled or died, are wounded and helpless on streets. Photo, Asociacion Peruana de Proteccion a los Animales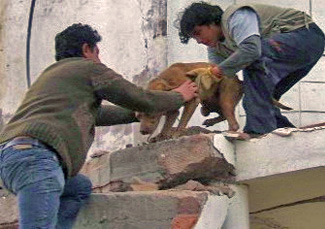 Peru Earthquake: Peruvian Asociation For Animal Protection reports animals "injured and lying helpless on the streets. They are not being helped since they're not considered priority. We are doing as much as possible, along with veterinarians and volunteers." Photo, Asociacion Peruana de Proteccion a los Animales, ASPPA
Peru Earthquake: A dog passes next to a submerged pick-up, in an area flooded by waves triggered by an earthquake in Paracas, a popular tourist spot just 10 kms south of Pisco. A sign painted on a wall welcomes visitors to the "paradise" of Paracas. Photo from AFP/Jaime Razuri.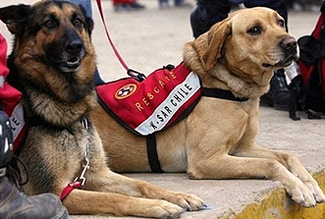 Peru Earthquake: Chilean sniffer dogs rest in Pisco, 8/20/07. The Red Cross more than tripled its aid appeal for survivors of Peru's earthquake, as the UN deployed emergency teams to coordinate international relief. Photo from AFP/Martin Bernetti.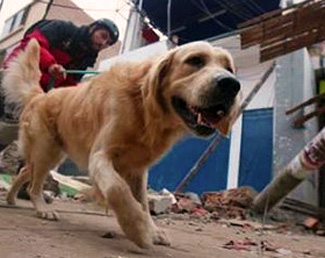 Peru Earthquake: Spanish rescue worker Pablo Martinez and his dog Max search for bodies after the earthquake in Pisco. Reuters/Mariana Bazo.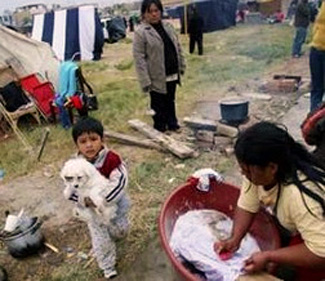 Peru Earthquake: A woman does her laundry at a camp for people displaced in the earthquake. Photo from Reuters/Mariana Bazo.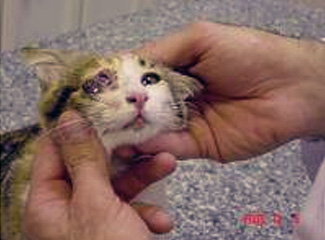 WAR IN LEBANON: "We our best to fundraise in Lebanon, despite its instability from ongoing war in the North. People care less and less about animals" Photo/comments from Beirut For The Ethical Treatment Of Animals (BETA).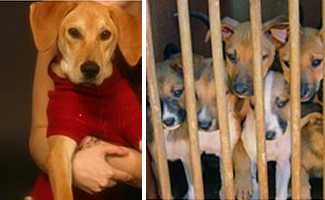 War In Lebanon: As many flee from war-torn Lebanon, they leave companion animals behind. Photo/comments from Beirut For The Ethical Treatment Of Animals (BETA).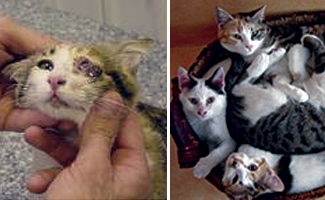 Hurricane Dean • Peru Earthquake • Left Behind In Lebanon War



IN THIS DISASTER WATCH:

AUGUST 20, 2007
Hurricane Dean Updates & Headlines
8/20/07, HURRICANE DEAN, capron@pets911.org — Today Hurricane Dean was headed for Yucatan Peninsula with sustained winds of 150 mph and gusts to 175 mph. Dean will undoubtedly reach Cat 5 status before landfall. Dean already left 8 dead in Jamaica and demolished at least 150 homes. Floodwaters are everywhere. We've been unable to reach the two Jamaican animal shelters. We hope to get through tomorrow. Dean dumps 10 to 20 inches of rain wherever it goes, so we can expect reports of stranded horses and cows. The storm's current track, however, may let Louisiana, Mississippi and Florida heave a collective sigh of relief. Rescue groups check: www.pets911.org/emergency/groups.html
SOURCE: Capt. Ron Fach, capron@pets911.org
Humane Law Enforcement-Florida / Pet Owners Alliance Inc.
Disaster Response Teams and Computerized Lost/Found Records
www.pets911.org, 1-800-U.S.Stray
8/21/07, HURRICANE DEAN, NOAA Report — Dean emerges into the Bay of Campeche. A hurricane warning remains in effect along the Gulf Coast of Mexico from south of Progreso westward to Tampico. Preparations in the western portion of the hurricane warning area should be rushed to completion. A tropical storm warning remains in effect from north of Tampico to La Pesca.
9/4/07, BREAK FROM HURRICANE DEAN GIVES LOUISIANA CHANCE TO PREPARE FOR NEXT ONE, tundraleap@msn.com — Dean gave us a break and an opportunity to prepare. Louisiana's Pet Evacuation Bill, passed in the wake of Hurricane Katrina's unprecedented level of animal abandonment and death, is only as good as we make it. LSART (Louisiana State Animal Response Team) needs volunteers. A Baton Rouge training session and Jefferson Parish on-site evacuation exercise are scheduled.
LSART PET EVACUATION VOLUNTEER MEETING/TRAINING
PLACE: Classroom 1212C at LSU School of Veterinary Medicine, Skip Bertman Drive (S. Stadium Drive)
TIME: 8/26/07, 2:00pm
PURPOSE: Train volunteers to register animals at Parish Pick-Up Points before loaded onto trucks bound for shelters.
Volunteers check in at police desk in the main entrance. Registration for this LSART meeting is not mandatory.
ADDITIONAL TRAINING: 8/24/07 — On-site animal evacuation exercise at a Parish Pick-up Points in Jefferson Parish. This is optimal training. Volunteers role-play evacuees with animals.


CONTACT PAM LEAVY TO RSVP & GET MORE DETAILS:
lsartvolunteer@gmail.com or tundraleap@msn.com
CHECK LSART WEBSITE: www.lsart.org
SOURCE: Pam Leavy, LSART Volunteer Coordinator, tundraleap@msn.com, Louisiana State Animal Response Team

AUGUST, 2007
Peru: Aid Is Critical For Animals Deserted In Mass 8.0 Earthquake
An 8.0 magnitude earthquake slams the central coast of Peru 8/15/07, killing more than 500 people and flattening buildings, roads and 34,000 homes. Peruvian rescue groups report animals dying from starvation. Most, abandoned when caregivers fled or died, are wounded and helpless on the streets.
PERUVIAN ASSOCIATION FOR ANIMAL PROTECTION
Contact: (51-1) 435-9283
email: asppa@hotmail.com
Lida Cardenas, founding ASPPA member, speaks limited English: lida.cardenas@bcrp.gob.pe
website: www.asppa-peru.org/
SUPPLY & DONATION NEEDS FOR ASPPA
dry cat/dog food
canned cat/dog food
water
any type of farmed animal food
cash to rent 4x4 vehicles and buy vet med supplies
DONATIONS CAN BE MADE TO:
Pet Store "Patas y Colas"
La Encalada 837 Avenue / Surco, Lima
CASH / LOCAL BANK WIRE:
Banco de Credito
Cuenta Corriente ASSPA 193-1592586-0-25
Account number: ASSPA 193-1592586-0-25
BANK WIRE FROM ABROAD:
Codigo de Cuenta Interbancario
00219300159258602514

AUGUST, 2007
Animals Left In Lebanon's War Zone
BETA Team, listmaster@betabeirut.com
SUPPORT BETA IN LEBANON: http://animals.beirut.com
FOR CAT OR DOG ADOPTION, CONTACT: animals@beirut.com
ANIMALS: UNSEEN COLLATERAL DAMAGE — At the onset of conflict in Lebanon, citizens and foreigners fled. Canadian, British and American evacuation protocols banned companion animals. In the chaos, evacuees released animals into the streets or confined them in buildings. BETA believes thousands of companion animals were discarded… For BETA's small volunteer staff, constant uprisings afford little respite from bloodshed. On June 4, car bombs and hand grenades discharged next to BETA's cat facility in the Ashrafieh neighborhood. In this volatile setting, people "go nuts and shoot animals right and left or poison them," Hesayne says. "We see puppies whose heads were banged against sidewalks or tied in electrical wire. If a dog barks, they just shoot the dog…" READ THIS PHOTO / FACT SHEET FROM KINSHIP CIRCLE
| | | |
| --- | --- | --- |
| | | NICK was abandoned next to the cat shelter. BETA members discovered the battered cat, who needed surgery to recover. He is now doing much better, has been neutered and loves human company. We believe his guardians couldn't handle him and preferred to just dump him. |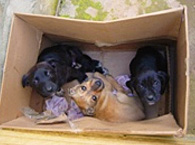 A CARTON BOX FULL OF PUPS was found at the shelter door one morning. Inside, three little puppies squirmed in search of air. BETA believes overwhelmed guardians simply discarded them.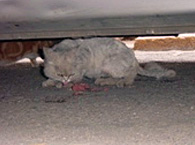 PERCY was abandoned underneath BETA's cat shelter. Fortunately, rescuers uncovered the frightened Persian cat before he was harmed. He has been neutered and needs a safe home. At least his guardians shaved his long fur before dumping him.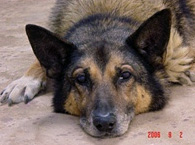 BLACKY was surrendered at BETA's shelter because he grew too old and suffered from a leg injury and eye problems. His former guardians "traded him" for a new puppy. Blacky passed away under our care. Though we tried our best to give him constant love, he was too depressed to go on.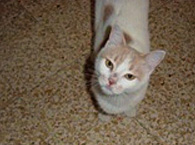 TIA showed up at our shelter door in a red garbage bin taped shut with just three slits to breathe. She was stuck in the cruel contraption until a BETA member made her daily shelter visit. Tia is now spayed and in the company of other cats waiting for a secure home.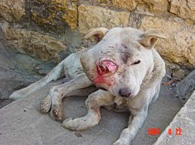 MAX was left behind when his person fled Lebanon. For days the dog walked to his former guardian's workplace, waited, then walked home. BETA found him with a huge eye tumor. Max could not lift his head. At this late stage no procedure could end his suffering. Max was euthanized.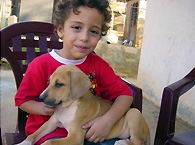 Despite these heartbreaking stories, BETA will never give up. We hope to increase awareness of animal cruelty and responsible guardianship. We've begun elementary school presentations and want to educate people at all age levels.