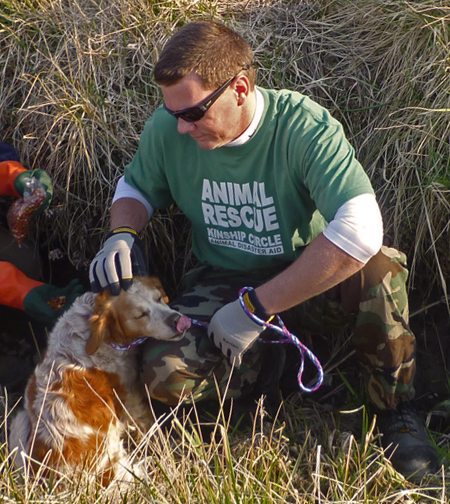 Ron Presley, Kinship Circle DART Field Response Manager, is in Japan for animal victims of a mass earthquake, tsunami and raidation crisis. Here, he leads a Kinship Circle-JEARS team (including Charles Harmison of Last Chance For Animals) to rescue this forlorn cocker spaniel, Susie, concealed in roadside weeds in deserted Minami-Soma. (c) Kinship Circle, Japan Earthquake 2011
IN HIS OWN WORDS: Why I Rescue Animal Disaster Victims
My name is Ron Presley and I've been a full-time firefighter/EMT since 3/18/02. I decided to become a firefighter after watching two planes crash into the Twin Towers. Our department runs about 12,000 calls each year from six stations.
I became involved in animal disaster rescue by accident. While watching the coverage of Katrina on TV, I saw CNN's Anderson Cooper attempt to feed a stranded dog. The water got too deep and he gave up the effort. I couldn't live with that, and loaded up my truck and headed for New Orleans alone.
My experience was life changing (I was divorced within a few months) and compelled me to be an animal rescuer not only in normal times, but even more so in disasters. During my life, and especially as a firefighter, I've acquired many skills. It would be a horrible waste to not apply those skills to doing good in the world. Rescuing animals helps those who can't help themselves and are in danger, many times because of the cruelty or ignorance of the human race.
Ron Presely, Field Response Manager
Kinship Circle Disaster Animal Response Team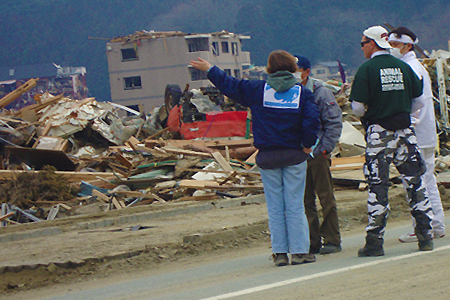 On animal aid missions with Kinship Circle in Japan, Ron (in camo pants) says the devastation in Iwate Prefecture defies description. Endless unrecognizable debris. No one survived within 4-10 miles of the coast, if present when the tsunami crashed ashore. (c) Kinship Circle, Japan Earthquake 2011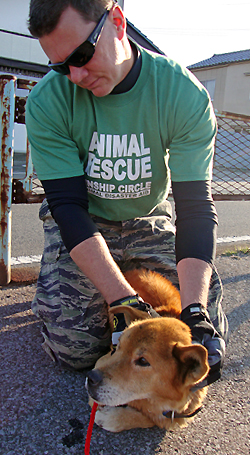 FOOTNOTES FROM RON:
I've cared for dogs all my life. I can control aggressive dogs and am not afraid to wade into a dogfight to break it up…
I can force or climb my way into almost any structure. In my career as a firefighter, I help teach forcible entry. I can drive anything from fire engines to backhoes…
I have great compassion for animals and will go to extreme lengths in rescue situations.
I am fully prepared and geared up when I go into the field for animals.
Between Soma and Kashima cities in Fukushima Prefecture, this skeletal and injured dog limps alongside a road. She is so traumatized, Kinship Circle's Ron Presley must gently grasp her nape for control while carrying her to a crate. (c) Kinship Circle, Japan Earthquake 2011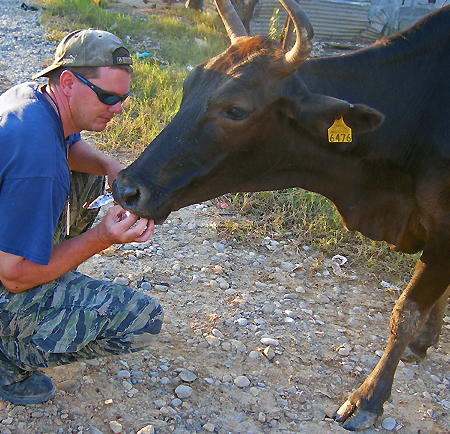 Photo: Ron Presley comforts a disoriented bull during a disaster.
BACK TO TOP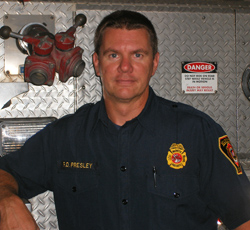 DISASTER RESPONSE PROFILE
PROFESSIONAL

Full-time firefighter and emergency medical technician (EMT) with Marietta Fire Department, in the Atlanta, Georgia area.



Volunteer for animal rescue and disaster aid groups since 1998.




TRAINING & CERTIFICATION

FEMA IS-00340 Hazardous Materials Prevention
Basic Life Support
Hazardous Materials Response
Fire Inspection Principles & Practice



FEMA IS-100 Introduction to Incident Command System




FEMA IS-700 National Incident Management System And Introduction




FEMA IS00022 Citizen's Guide for Disaster Preparedness




FEMA IS00200 Basic Incident Command System for Federal Disaster Workers




FEMA IS00700 National Incident Management System (NIMS) An Introduction




FEMA IS00800 National Response Plan (NRP) An Introduction




NPQ EMT-I Emergency Medical Technician




NPQ Georgia Firefighter Certification




State of Georgia Firefighter 2




American Heart Association Bi-Annual CPR/AED Certification




Advanced Swiftwater Rescue




NPQ Hazardous Materials Operations and Technician




Fire Instructor 1



Structural Fire Instructor
Structural Fire Control
Pressurized Container Fire Control



Crash Victim Extrication (Georgia Fire Academy 2003-present)




Advanced Crash Victim Extrication




Rope Rescue Operations and Technician




Confined Space Rescuer




Interior Search and Rescue




Combustible Building Construction




Relief Driver 1 and 2 (Marietta Fire Department 2002-present)




ANIMAL DISASTER AID EXPERIENCE

2011-2012 Thailand Flood: Deployed with Kinship Circle as Incident Commander on two missions, to conduct boat rescue in mid to deep floodwaters across the northern rim of Bangkok, Thailand. Also led team, with on-site training in aggressive animal handling, at an emergency shelter in the Muang District of Samut Prakan in Bangkok.


2011 Japan Earthquake, Tsunami, Radiation Crisis: Deployed with Kinship Circle as Incident Commander on assessment team and later Japan teams. Navigation and search-rescue in disaster hit parts of Fukushima, Iwate and Miyagi Prefectures. Built relationships with foreign NGOs and coordinators. Animal handling and transport. Strategic planning and field operations, shelter-in-place (food/water distribution)… Interacted with local officials and evacuation centers, including food delivery to animals left in homes or living outdoors at evac sites.


2010 Chile Earthquake, Tsunami: Deployed with Kinship Circle as Team Safety Officer to coastal communities north and south of Concepcion in the Bio Bio region for animal rescue, handling, vet care assistance and field first aid, emergency clinics. Constructed a wheel device that enabled a crippled dog to move again…


2007 Tabasco, Mexico Flood: Deployed with HSUS, HSI and Best Friends. Safety officer on field team helping with all animal rescue/handling aspects.


2005 Hurricane Katrina: Three self-deployed trips to New Orleans. Coordinated teams for search-rescue and set up food stations. Forced entry on hundreds of structures…