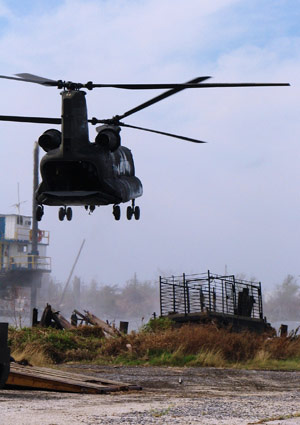 Saving Cows From Levees And Barges

by SSG David Strobel

"Be ready to see something you've never seen before." Kenneth Ortolano, a volunteer with Plaquemines Parish Emergency Operations office, pointed out the windshield of a Michigan Army National Guard CH-47 Chinook helicopter. Below and coming up quick, the crew saw what remained of Venice, Louisiana. After Hurricane Katrina, it wasn't much.

"Look at all the boats on the backside of the levee. That was a marina with condos. See where the white truck is? That's the end of the road. The barge is over there."

The Chinook crew and New Mexico National Guard volunteers had already dropped off two dozen bales of hay to 100 [cows]. The [cows], stranded on a levee for more than three weeks, were the survivors, less than half of the original herd. The rest had perished in the hurricane or starved to death after the storm.

"They've been getting fed, getting their oats," said Ortolano. "But high tide, the tidal surge, puts 'em in danger, with this storm coming." He looked out at the gathering clouds. Hurricane Rita was on the way. And unless the [cows] moved, they would probably die soon.

Ortolano's plan was for the Chinook to recover a beached [cows] barge, customized to haul about half a dozen [cows] and towed by a small boat. "We gotta bring the barge to where the cows are, Port Sulphur," he said. "Otherwise, we gonna lose the [cows]."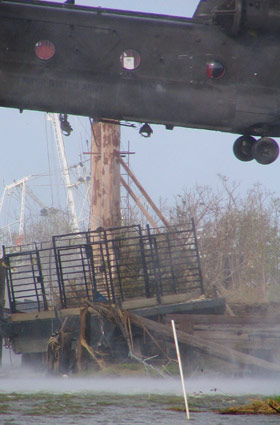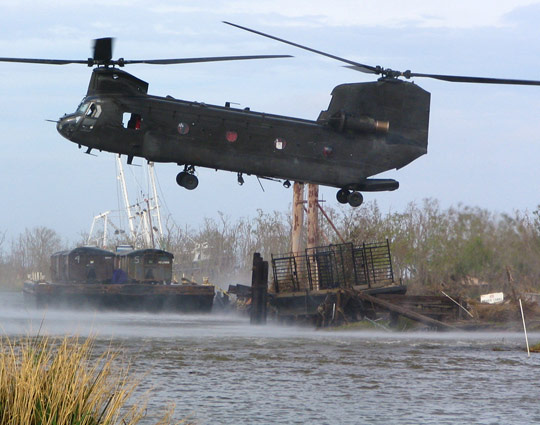 The Chinook landed a few hundred yards from the barge. Crew and volunteers cautiously made their way through mud-slicked roads and debris. The barge rested crookedly on a pier, several feet over polluted bay water. Soldiers and airmen fastenied steel cables onto hard points and clearing trash blown onto the barge by the 175 mph winds of Katrina.

The air mission commander, CPT Todd Fitzpatrick, examined the barge and the situation. He asked, "what do you think, should we go for it?" CW4 Matthew Zelenak, the pilot in command, slowly nodded. "The only way I can do this is line up like this," he said, pointing to the south. To either side stood dangerous obstacles; twin metal columns of a boat ramp to the west, a wooden light pole to the east. The helicopter just might fit between them and allow flight engineer SFC Steward Wenino to snag the D ring on the cables and carry off the 10,000 lb barge. CPT Fitzpatrick looked worried. "We'll have a hard left crosswind." The chief warrant officer nodded again. "If we get unstable," he told Wenino, "we'll chop it."

As the volunteers reboarded the CH-47, Ortolano asked the aircrew for a moment of their time. "You might think this is corny, but I hope we can bow our heads in prayer for a moment." No one objected.
The giant helicopter lifted off, circled once and set up between the obstacles, the downwash from the twin rotors kicking up dust, spray and loose trash left by the floodwaters. SFC Wenino reached for the cables with his pole and hook, but he couldn't reach it. The Chinook couldn't drop low enough to snag the cable, coming within ten feet of the dangerous obstacles. After ten minutes of trying, the crew abandoned the effort, flying back to Naval Air Station New Orleans in Belle Chasse.
Ortolano wouldn't give up. On the return flight, he worked out a way to reach the barge, by using a 30-foot cable. A volunteer would fasten the cable to the D ring and the crew would lift the barge to a clear area, re-rig without the cable and fly the barge to the stranded [cows]. The crew agreed to refuel and try again. But the approaching storm wouldn't allow another attempt. Shortly after returning to base, all military aircraft in the area were ordered to fly to safety, away from hurricane Rita's destructive reach. Ortolano shook his head sadly. "Them [cows] survived the last storm. All we can do is pray they survive this one."
---
A cow wandered across the baseball field behind Belle Chasse High School. But this cow wasn't lost or abandoned. She was watched over by SRA Desiree Wright of the New Mexico Air National Guard. "She needs a scrub, but that'll stress her out," said SRA Wright. "Dirty and happy is better than clean and stressed." SRA Wright knows farm animals, and that's why she volunteered for this duty. "I grew up on a farm in Belen, so I've been around 'em long enough to know. This cow is extremely stressed out. And you can see she has a cut on her side." Earlier that day, the state veterinarian was at Belle Chasse High School and SRA Wright asked him to take a moment to examine the animal.
"He looked at her and said she'd be fine, just let her heal on her own. She's eating, drinking, and has plenty of grass and shade."
"We named her Homerun since were keeping her on the baseball diamond," said MAJ Thomas Gonzales, the executive officer for Task Force New Mexico. When MAJ Gonzales heard of a cow that needed a temporary home, he said she could stay and become the unit's mascot.
Local professional wrangler Stephen Menard had rescued the cow. "I ran across that cow down by Empire bridge, where everything was a disaster," said Menard. "She was out loose and I roped her on foot."
Captain Rick Maloney, with the Middlesex Sheriffs Office, watched the rescue. "He asked us for a rope. We got one out of a destroyed hardware store." A native of Boston, Massachusetts, Maloney said he has never seen an example of roping with his own eyes. "Minard did a great job. One shot and he got it. But I think he's done this sort of thing before."
Homerun isn't back with her [guardian] yet, but she is one step closer. Lori Wilson, director of Rescue Ranch, a non-profit Belle Chasse organization that takes in at-risk children and animals, picked up the cow Friday night, along with local cattleman Gary Hess. "I go to the parish meetings. That's how I heard about this cow needing a place to stay." Hess has 180 acres and can keep up to 150 [cows].
Wilson said she would try to return the cow to her owner as soon as possible. "In the mean time, she'll be safe."
---
"Food Industry" Animals In Disaster Zones
In any disaster zone, from New Orleans to Chile or Bangkok, Kinship Circle Disaster Animal Response Teams find other domesticated animals, not just cats, dogs, bunnies, turtles or those "categorized as pets." Thousands of cows were stranded inside a Fukushima lethal radiation zone after Japan's earthquake/tsunami shattered a nuclear reactor there in 2011. These gentle giants were left neck-tied in stalls, unable to even try to find food or water. Many had died with their heads burrowed in empty water troughs.

Still, whenever a cow, chicken, turkey, pig or goat is the animal disaster victim, things get political very quickly. These animals are considered "inventory," thus terms such as "head of cattle" are used to depict them as product units in profit-drive agribusiness, rather than individual live beings. Some organizations, such as Farm Sanctuary, will not rescue farmed animals if required to return them to food/factory farms.

Kinship Circle's policy is to untie, unleash, etc any animal confined in a clearly deserted disaster area with absolutely no chance for survival if left confined. There is often limited space at emergency shelters to bring back every companion animal, so rescue is triage-based, with focus on the injured, nursing moms, babies, or others so traumatized they won't survive via shelter-in-place (food/water distributed in the field). With farmed animals, there is rarely any disaster shelter to take them, but our same policy to untie, open stalls, unlock cages…and feed in place applies. When hundreds of pigs floated in deep Iowa floodwaters, some still in gestation crates from a destroyed factory farm, we called Farm Sanctuary. Though many had already died, pigs seemed to show up everywhere – on front porches, empty churches, running through the woods. So Iowa Agriculture officials agreed to let Farm Sanctuary take pigs not yet retrieved by their "owner" back to the group's refuge in Watkins Glen, NY.