From Katrina's Ruins, A Chain Of Salvation
by Brenda Shoss, 6/20/06
It's a lazy day in late August. My then 4-year-old son Elijah, a cartoon junkie, is glued to CNN Headline News. Huh?
"Mommy," he explains, "I want to see if the people get out of their broken houses."
This is how I learned about Katrina, the Category 5 hurricane that cast people and animals adrift in a sea of loss and despair. Almost one year later, I am still involved in the animal disaster relief that forever changed my perception of people and animals.
In early September Kinship Circle, my nonprofit animal advocacy organization, united with Animal Rescue Foundation (ARF), in Mobile, Alabama, under the banner
Grassroots Effort for Animals of the Storm
. ARF's Julia Fischer and I mobilized volunteers and supplies to some 80 shelters and animal relief missions across Louisiana, Mississippi, Alabama and Texas.
Though parts of Mobile itself were underwater, Julia established our drop/distribution site for supplies. By mid-October, we dispensed truckloads of hay, cages and live traps, 20,000+ pounds of animal food, 1,000 pounds of kitty litter, 500 crates, $5,000 worth of vaccines, $10,000 in veterinary supplies, 10 pallets of water, and more than 5,000 bowls, leashes, collars, and toys.
Still, for thousands of displaced animals, rescue often relied upon a volunteer network in the right place at the right time. This
saved Spike
, an 11-year-old Yorkshire Terrier left behind in Brenda Johnson's flooded New Orleans East apartment.
My pleas to find Spike, on Brenda's behalf, reached a makeshift triage site at the Jefferson Feed Store in New Orleans. From there, someone named Jennifer contacted Nathalie, who communicated with ground crews from her home in New Jersey. Finally, two vet techs with Florida's Collier County Animal League happened to be with police and firemen when they got Spike's description. Under official escort, they broke into Brenda's swamped home with a huge "Hello!" for the little Yorkie.
A 15-pound dog prone to seizures survived heat, floods, starvation and dehydration for more than two weeks. This chain of hope repeated itself many times over the next critical months.
When
Katrina hit Plaquemine Parish
, south of New Orleans, homes, farms, and trees toppled over highways and beaches. Two protective levees crumbled. Oil tanks exploded, spilling millions of gallons of black crude. Still, life persevered. Hundreds of dogs and cats swarmed Guardsmen for food and water. Bewildered horses were submerged in water and cows floated in watery fields.
I contacted the New Mexico National Guard to gain access into no-go Plaquemines and found a kindred spirit in Major Kimberly Lalley. Soon rescue teams led by Chris and Sarah Stevens and Terri Kelley of Indiana cleared security checkpoints with permission from Colonel Dick Almeter. We were the first out-state rescue effort in Plaquemines and worked under oversight of the parish veterinarian.
---
Toll On Horses, Cows
During Hurricanes Katrina and Rita, swift floodwaters swept over farms and ranches, stranding cows atop levees and crowded on to small dry spots. Some cows were even found in trees. When water receded, saltwater soaked pastures left grazing animals without food. Damaged hay piled up across fields. Animals needed fresh hay and grain to stay alive. Some were rescued, but thousands died.

Compiled by Capt. Ron, PETS 911 ~ In terms of actual numbers, the best I got are from the Association and farmers. Approximately:
5000 cows died in one day.
1000 horses died in one day.
4000-6000 cows died from poison fields, starvation, and flood issues.
2000+ more horses [up to year's end] died for the same reasons.
---
The missing component in the animal disaster plan was a fluid strategy between animal protection groups. In addition, organized aid from the White House, the Defense Department, the Department of Homeland Security, and the states of Louisiana and Mississippi was nonexistent.
Many animals were left to the mercy of soldiers, independent rescuers, and coordinators, like myself, who became human clearinghouses of information.
On Oct 1, 2005 Humane Society of the U.S.
(HSUS) left the Lamar Dixon
Expo Center, the state designated shelter in Gonzales, Louisiana.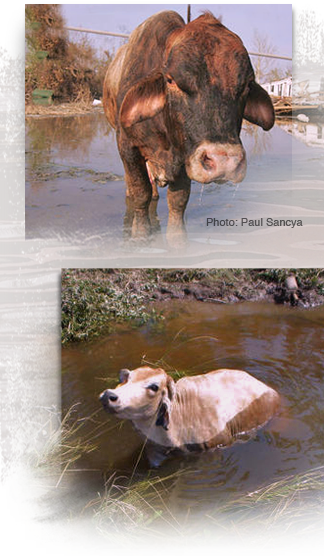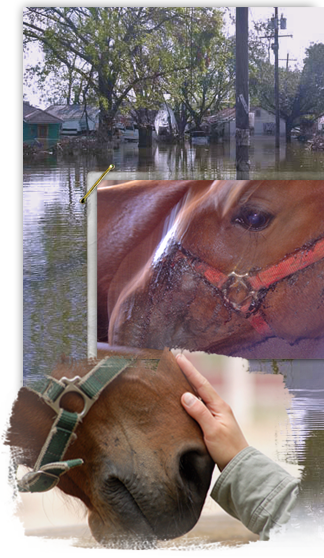 Around this time, I met
Jane Garrison
, who had run rescue operations and a food/water program out of Lamar Dixon since shortly after Katrina struck. Garrison and fellow HSUS volunteers Pia Salk and David Meyer possessed a list of evacuee requests to search for their lost animals. They were determined to scout out thousands of addresses, even as HSUS packed to go home.
On a weekly FEMA-sponsored conference call between rescue groups in Louisiana and Mississippi, we hashed out ideas for what became
Animal Rescue New Orleans (ARNO)
, under co-directors Garrison, Salk and Meyer.
From October to February 2006, ARNO recruited volunteers to trap, rescue, transport, and service 2,800 food/water stations over 650 sq. miles in Orleans, St. Bernard and Plaquemines Parishes.
I served as ARNO's National Volunteer Co-Coordinator (with Kate Danaher of San Francisco), processing some 600-800 volunteer inquiries a day. As Food/Water Assignments Director, I maintained a master feeding schedule, dispatching volunteers to nearly 50 mapped sections in New Orleans and surrounding communities. Kim Johnson, our maps and data expert, and Judie Mancuso managed vast spreadsheets to record addresses of sighted animals.
Animals who didn't succumb to wind or water were left to starve in toxic cities. A city minus its residents no longer accumulated edible garbage. Even puddles were scarce in post-Katrina drought. Cadi Schiffer, ARNO's Ground Food/Water Director, sustained animals until they could be rescued and transported to Best Friends shelter in Tylertown, MS. Space was always an issue.
ARNO field notes are testimony to each animal's will to live…
The animals of Katrina became all of our animals. Unforgivable images are etched into our nation's conscience: A white dog is ripped from a boy's arms as he boards a bus. A bewildered yellow Lab watches his family vanish in a helicopter. An elderly woman cannot receive medical care unless she deserts her cats. A man swims and walks for miles with his dog, only to learn he must desert his loyal friend.
When Judy and Santo Migliore evacuated on a barge, an official threatened to handcuff Judy if she did not leave GiGi, a 10-pound toy poodle. Judy clung to her 6-year-old dog, but authorities
forced her to leave GiGi
with a St. Bernard Parish Deputy in Violet, LA. On October 7, after the homeless Migliore family had checked countless leads about GiGi, an email and photo arrived: "I am so sorry if this is GiGi," Dana, a rescue volunteer, wrote.
In the photo, a tangle of white fur rested atop a puddle of feces and blood. Patches of sunlight framed the dead dog and a discarded cigarette butt lay by her head. GiGi had finally been found.
To promote a legal safety net for animals in the next disaster, I joined forces with Shannon Moore, a Metairie resident who worked tirelessly to save stranded animals. We asked Louisiana legislators to support Senator Fontenot's
Pet Evacuation Bill (SB-607)
and I consulted with the Senator's office to craft a letter campaign to lawmakers. With help from Capt. Ron Fach, founder of Pet Owners Alliance and Florida's model Animal Disaster Response Teams, Shannon and I streamlined press materials, alerts and flyers into a non-stop push to pass this bill. On April 17 Shannon orchestrated a
People And Pets March
to Louisiana's state capitol in Baton Rouge.
In mid-June Louisiana's Pet Evacuation Bill passed the legislative process. As I write, it awaits Governor Blanco's signature to become law. Tragically,
Shannon Moore
is no longer alive to celebrate her achievements for animals.
As I reflect upon a year of hurricanes, with Shannon's memory everpresent in my thoughts, I recall that an animal's salvation became the miracle of strangers connecting over phone lines, Internet, rivers and road.
In a sense, all animals are part of a hurricane somewhere, a storm with soundless screams. A furious wind carries their cries: Clubbed. Dismembered. Gassed. Electrocuted. Poisoned. Skinned. Shackled. Shot. And Forgotten.
Hurricane Katrina reminded me:
Caring passionately about innocent animals doesn't diminish human suffering. It simply makes us human.