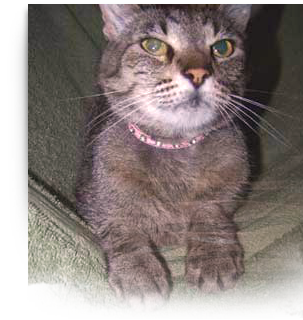 ARNO Tail Of Hope
A 13-year old St. Bernard Parish tabby survived for two years by eating from a food/water station. The cat's guardians were located out of town and couldn't believe their cat was alive. The man had waited on his roof with his cat and dog, refusing rescue until someone took them all. But the cat escaped on dry land while the man awaited his next evacuation transport. The cat was found in the same place, still waiting. They've been reunited!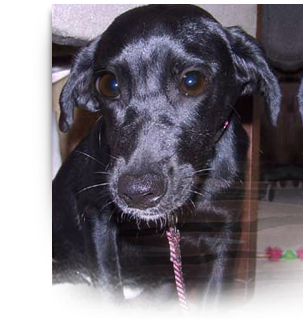 ARNO Happy Ending
Arabella, injured and starving when rescued, is now a happy healthy girl. Labs4Rescue in Connecticut has accepted her for adoption into a loving home.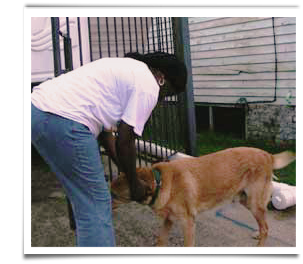 Sidney Is Back With Mom
Sidney is reunited with his Bywater mom. An ARNO volunteer found Sidney, lost in early 2007 when frightened by a lightening storm. Sidney had a large neck tumor, since removed. He was heartworm negative, so we knew he had a wonderful caregiver somewhere. We found his grateful mom via his microchip. Unemployed since Katrina, she'd just returned to work at Charity Hospital. She knew about the tumor, but had no money for veterinary care. For two years, she's lived in a FEMA trailer outside her ruined home. Most of her time is spent gutting and cleaning her home on her own. Sidney's mom is one of dozens we've helped who can't afford animal care.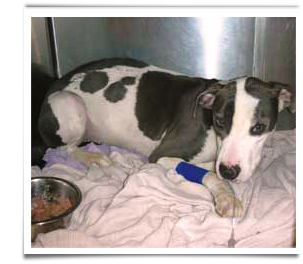 Her Amazing Recovery
This Plaquemines Parish girl was very sick and had to be housed in the intensive care unit at one of ARNO's vets. We owe so much to our vets who work with us, not only charging rescue prices, but also giving us credit that lets us to continue. Please help us with donations for our medical bills.
---
Disaster Training
American Humane Animal Emergency Services Volunteer Training
Held Saturday and Sunday, 8-9 September
Tuition: $25 for
LSART
members
$85 for American Humane members
$100 non-members
Register:
training@AmericanHumane.org
"Louisiana AES Training" in subject line.
Participants are anyone interested in the welfare of animals in a disaster:
Emergency Medical Services personnel
Firefighters
Search and rescue personnel
Animal shelter staff
Animal control officers
Veterinarians & vet technicians
Animal handlers/trainers
Individuals responding to a disaster
8/28/07
Laurel Ley
~ The two-day training focuses on coordination of animal shelters and emergency response within existing national disaster response systems, interagency cooperation, animal first aid, personal safety, and media relations. Participants will also learn the basics of how to manage large and small animals. The course includes a mock shelter exercise. Questions should be directed to
American Humane
or
LSART
.
---
Katrina Resources
*Kinship Circle does not use the language of slavery for nonhuman animals. Owner, owned, it… are replaced with guardian, him/her, caregiven… or other words that don't define animals as things/property.
ARNO: Two Years And Still Helping Animals
8/29/07
Animal Rescue New Orleans
, Charlotte Bass ~ In New Orleans the second anniversary of Hurricane Katrina comes with a visit from our President, along with senators, mayors and memorial services for 1,800 officially tallied victims. On Monday, August 29, 2005 the storm struck. But it's true devastation emerged on Tuesday, August 30. Floods spanned over 650 sq. miles. After three weeks of pumping out water, the area became a sludge-filled wasteland. Is there any precedent to measure recovery speed from a disaster of this magnitude?
We have so many to thank for their aid. You, the volunteers, have kept us resilient. We need you now more than ever! We're all very tired, but we continue with strength from each animal reunited or in a loving home. Recognition is also due humane organizations and rescue groups nationwide that help ARNO place animals. There is not enough space to thank local volunteers, those who have become the
ARNO A-Team
. They have sacrificed free time to clean cages, give meds, read fecals…and the list goes on.
Our hats are off to out-of-town volunteers who still come, thank God. We need them and depend on their fire to light the way. Special gratitude goes to Stealth and KART volunteers who continue to help find original caregivers who cannot believe their animals are alive. You have never seen an event more heartwarming than the reunion of an animal with his/her caregiver. It is adrenalin for the soul!
The Victims Continue
Post-Katrina, many people have found ARNO and need our help — those indigent since the storm who require medical aid for their animals, or even just everyday care like de-worming, heartworm and flea preventative. We assist everyone with a goal to protect these animals from surrender to a shelter. For many Katrina survivors, their pets are the sole beacon of light in a life of disappointment, frustration and despair.
Animals Are Still On The Streets
They eat at ARNO food/water stations, though stations have been consolidated as we engage more residents to feed and trap. Thousands still need us. We track dogs on our list to eventually trap them. The moment an empty kennel opens, our trappers save someone we've fed and followed. ARNO trains locals to humanely trap. In exchange for their labor, we spay/neuter, inoculate, and treat animals for them at no cost. Ferals are sterilized, treated and released. Kittens are rehabilitated (if feral), and placed in homes. Friendly adults (2+ years) are identified on a search list for their caretakers. Younger adults are prepped for new homes. Precious babies, all of them.
Don't Forget About ARNO
In July, ARNO broke the 3,200 mark of animals (from 3/06 - 7/06) at our shelter: spay/neutered and treated for heartworm, parasites, upper respiratory diseases, urinary tract infections… Care brings each animal to healthy status so he or she can find a new home. Last month alone, we incurred $50,000+ in veterinary bills. Still, ARNO remains committed to these animals. Can you commit to help us? No donation is too small.
Laura Bergerol, a Stealth and ARNO volunteer, made this video for Katrina's second anniversary. It depicts ARNO volunteers, at work after Katrina and now, as well as wonderful reunion shots. The video shows ongoing Gulf coast animal aid, and also commemorates volunteers who gave so much of their lives to help our animals. ARNO photos from Laura Bergerol, Nancy Cleveland, Pam Leavy, Lise McComiskey.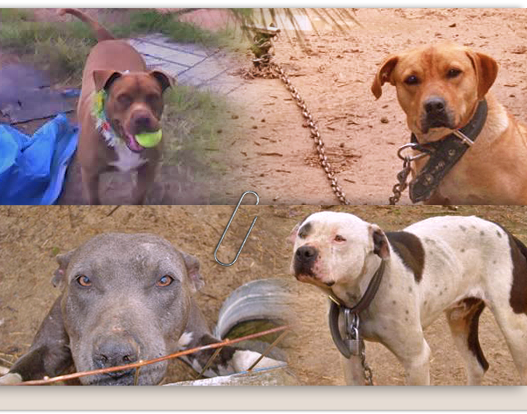 Coys Charged With 12 Counts Animal Cruelty
8/29/07,
Kat5 Animal Rescue
~ The place where Katrina dog Lyle was re-rescued from has been shut down after charges were filed for 12 counts of animal cruelty. The dogs, held as evidence, will all be killed by this Friday if a place has not been found for them. The holding facility will let groups pay for boarding after Friday until they can get them.
A Hodgenville couple previously convicted of violating county and state animal-related laws, and already facing more charges, now face yet another round of accusations. William S. Coy, 43, and Sandra Coy, 50, both of the 1100 block of Peppers Road, each face 12 charges of second-degree cruelty to animals, a class-A misdemeanor, after Sheriff Bobby Shoffner and Deputy Matt Darst investigated their property on Aug. 23.
The Sheriff's office received a call last week from a neighbor of the Coys, reporting a "very bad odor" coming from a property next door to their residence, according to a statement released by the office. The two law enforcement officials walked to the edge of the neighbor's property and saw the corpse of a pit bull inside a kennel, "very bloated and still on [
his/her
] chain." The statement said a freshly dug grave with another dead dog buried in it was also found on the property. Shoffner and Evans brought water to 10 dogs, according to the statement, on a day when temperatures topped out in excess of 100 degrees.
Darst filed animal cruelty charges the next day and got a court order to remove all other dogs from the property, as well as arrest warrants for William and Sandra Coy. The dogs were taken to a shelter in Taylor County. William Coy was not located and arrested until Aug. 25. Sandra Coy had not been apprehended as of press time. In all, 37 pit bulls, one German Sheppard and eight pit bull puppies were removed from the property. The Sheriff's Department believes at least one of the pit bulls was thought to have been a dog the Coys were reportedly taking care of for a Hurricane Katrina family…
Photos: campkatrina.net/BioPages
How You Can Help
Shelters that can take these dogs, contact KAT 5.
To help transport, ontact KAT 5: kat5animalrescue@yahoo.com, 972-898-3300
Watch: The Katrina Promise
8/29/07
Muttshack
,
Amanda St. John
~ Watch and forward
The Katrina Promise
.
Support MuttShack Animal Rescue
Natural Disaster Animal Response
Donate Online
15981 Yarnell Street, Suite 188
Sylmar, CA 91342
730 Orleans Avenue, 2nd Floor
New Orleans, LA 90116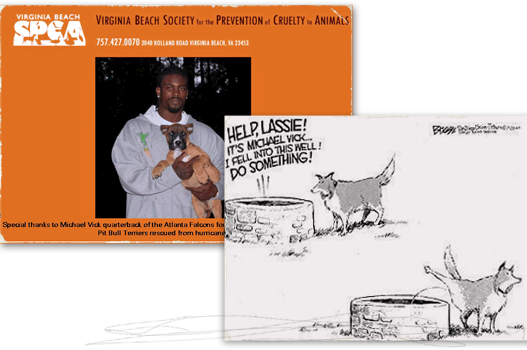 Michael Vick Did Not Adopt Katrina Pit Bulls
Claim:
Virginia Beach SPCA ad thanks quarterback Michael Vick for rescuing pit bulls.
Status:
False
Example:
I received this attachment via email regarding the Virginia Beach Society for the Prevention of Cruelty to Animals thanking Michael Vick for taking in 14 pit bull terriers displaced by Hurricane Katrina. With recent revelations about his involvement in dogfighting, I am wondering if this is legitimate or just a sick joke?
Origins:
Michael Vick, quarterback of the NFL's Atlanta Falcons, has been the subject of extensive news coverage (and public opprobrium) since indicted in July 2007 on charges related to his alleged participation in a dogfighting ring that executed underperforming pit bulls by hanging, electrocution, drowning, shooting and other brutal means. Fallout has so far included orders to stay away from the Atlanta Falcons training camp, suspension of Vick's endorsement deal with shoe manufacturer Nike, and termination of Vick-related merchandise sales (jerseys, trading cards).
Widely publicized tragic events are often followed by a cycle of tasteless jokes (also known as "sick humor") that use those events as fodder for humor. The image displayed above is an example of that phenomenon, a purported advertisement from the Virginia Beach Society for the Prevention of Cruelty to Animals (SPCA) thanking Michael Vick for his assistance in finding homes for pit bulls displaced by Hurricane Katrina in 2005.
The image itself is just a crude digital mock-up, and Virginia Beach SPCA confirms that it did not engage in dealings with Michael Vick to help place animals rescued in the aftermath of Hurricane Katrina: The Virginia Beach SPCA does not know nor has VBSPCA ever done any business with Mr. Vick. While we did go to the Gulf Coast after hurricane Katrina, camp on the ground, work in the heat and bring homeless animals back to our shelter, none of more than 100 animals we went to Mr. Vick.
Source:
www.snopes.com/photos/advertisements/michaelvick.asp
Urban Legends Reference Pages, by Barbara and David P. Mikkelson