Mandy Models ARNO Tee
Mandy models her cool ARNO tee – ordered a size bigger to accommodate ample fluff. Mandy is a tough little survivor, rescued from a puppy mill with two bones missing in her back legs due to trauma in her overcrowded mill cage. She is one of Kinship Circle director Brenda Shoss' adored fur kids.
Get your own tees to support Katrina animal aid, at
Animal Rescue New Orleans website
ARNO T-Shirts, Caps, Mugs, Bags, Mousepads:
Cafe Press Store
All proceeds benefit ARNO.
---
Louisiana Animal Strategies Conference
Humane Society of Louisiana, with Animal Rescue New Orleans, Coalition of Louisiana Animal Advocates, and Pet Aid hold the first annual statewide conference on animal strategies. The event features speakers from state enforcement agencies, plus leaders in pet adoptions and spay/neuter.
Saturday 1/20/07 ~ 9:00am to 4:00pm
Denham Springs City Hall
941 Government Street
Denham Springs, LA


To Register Send $15 To:
Humane Society of Louisiana
P.O. Box 740321 / New Orleans, LA 70174
Check memo: Statewide Conference
Includes vegetarian lunch + snacks


Reserve Display Table: stopcruelty11@gmail.com
Three main areas addressed:
1. Response to animal cruelty complaints.
2. Making spay/neuter the norm.
3. Accelerating adoption rates.
Speakers: LA Livestock Brand Commission, LA State Police, Dept of Social Services, Pet Justice Project, Livingston Parish Sheriff's Dept, Spay/Louisiana. National authority on pet adoptions: Mike Arms, Helen Woodward Animal Care Center, San Diego.
---
New Year's Dane Tile, By Dog-Artist Mozart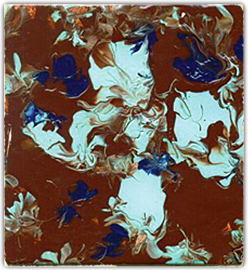 Charity Auction For Great Dane Rescue,
Susan Meyer
~ This beautiful paw-painting is the latest from the Paw Blossoms series by Great Dane Mozart. A puppy miller sold Mozart at an Amish dog auction. Soon after, the buyer dumped him. Harlequin Haven came to Mozart's rescue. Mozart paints with his paws to get word out that puppy mills are cruel. Open your heart and bid generously! 100% of your bid helps dogs in need!