Small Bites
News named Small Bites as a reminder to donate small-bite food (or cat food).
Heartworm Neg Katrina Dogs!
Paula Kislak, DVM and David Meyer ~ Katrina dogs who tested heartworm negative must be retested now. Over an incubation of 6-9 months, when a dog is infected with deadly heartworm disease, the dog tests negative. Thus dogs infected last summer would have tested negative when transported from Gulf areas, and even when placed. But they may, in fact, harbor heartworms. Contact your vet. This disease is fatal and potentially contagious.
Any dog who previously tested heartworm negative must be retested now.
Any dog who tested heartworm positive should have started treatment by now.
Any dog done with heartworm treatment must be retested 4-6 months later.
Love For All, Medium Or Small
TortoiseAid International Inc
, Director Annie Lancaster ~ Last Katrina Reptile headed home! Good news. Tigger, a large Australian Coastal Carpet Python, is finally en route to his very excited Dad in New Orleans. With the exception of one Ball Python whose [guardian] is deceased, and one lizard held by a TortoiseAid board member (in case the [guardian] finds suitable housing), all reptiles and amphibians brought back from Louisiana are reunited with families! Much hard work went into tracking down people.
LA Pet Evac Bill Progresses
5/22/06 Shannon Moore,
Supporters of Save Our Pets
~ Louisiana's Pet Evacuation Bill SB607 passes out of Senate Finance to be heard in the full Senate. Should reach Senate Floor this week. Thank you for support, emails, calls. The Bill still faces the full Senate, the House Committee and then the full House, and finally to the Governor.
SB607 Amendment, LA Pet Evacuation Bill
SCASB607 NUGENTL 3072, Page 1 of 1
Amendments proposed by Senate Finance Committee to SB-607 by Sen. Fontenot.
On page 8, between lines 22 and 23, insert:
"Section 2. Provisions of this Act shall become effective if and only if funds for
purposes in this Act appropriated from State Emergency Response Fund."
Pg 8, line 23, "Section 2." to "Section 3."
Speaking Of Small Bites…
Laura Dedelow
~ A reminder, when donating food for Katrina animals: Send small-bite food, or simply cat food, since all size animals can handle cat-sized kibble but little ones have trouble with big bites. I also noted that in ALDI, a discount grocer in the Midwest and NOLA, 20 to 30-pound bags of food run about $6 to $8. This is even cheaper than Wal-Mart.
Thank you for putting the word out, Laura
.
LA Senate: No Cockfights
Bill Now Goes To Louisiana House ~ Senator Lentini's anti-cockfighting bill passes in the Senate unamended. The vote: 30 yeas, 4 nays, 5 absent. The bill now proceeds to the House for consideration.
Pinckney A. Wood
Nat'l Pet Evacuation Bill Passes House
5/22/06
CNN News
, Congress considers pets' place in disaster plans. House approves legislation, similar measure in Senate. Washington AP ~ A television shot of a little boy losing his dog during Katrina rescue operations was the catalyst for the House to pass legislation that requires pets to be considered in emergency-preparedness plans. "The dog was taken away from this little boy, and to watch his face was a singularly revealing and tragic experience," said Rep. Tom Lantos, a California Democrat and sponsor of the Pet Evacuation and Transportation Standards Act. "This legislation was born at that moment."
The bill, which passed 349-24, requires state/local preparedness offices to include pet [guardians], household pets and service animals in evacuation plans. Offices that fail to do so disqualify from Federal Emergency Management Agency funding. Republican Rep. Christopher Shays of CT, with Lantos a co-chairman of Congressional Friends of Animals Caucus, said an estimated 600,000 animals died or were left without shelter following Hurricane Katrina. Lack of pet rescue plans also put many [animal guardians] in danger. "When asked to choose between abandoning pets or their personal safety, many chose to risk their lives," he said.
Humane Society of the U.S. cited a recent Zogby International poll that found 49% of adults would refuse to evacuate if they couldn't bring pets. Sens. Ted Stevens, an Alaska Republican, and Frank Lautenberg, a New Jersey Democrat, introduced similar Senate legislation that gives FEMA authority to grant funds to state/local agencies for animal-preparedness projects.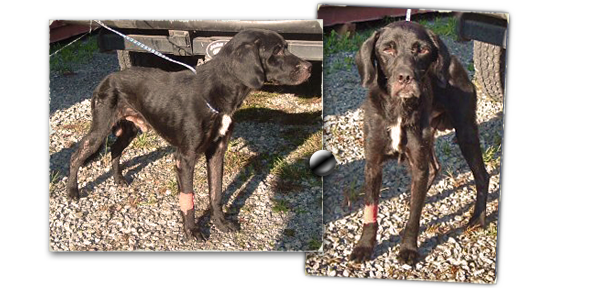 Katrina Broke My Heart, By Larry
Painting By Katrina Dog-Artist Larry, Charity Auction For Rescue,
Susan Meyer
~
Katrina Broke My Heart
was painted by dog-artist
Larry, rescued from post-Katrina New Orleans
. Larry paints with his paws as he pauses to reflect on his ordeal. This original piece in blues, pinks, and greens is reminiscent of French impressionist painter Claude Monet. Colors swirl like water over devastated New Orleans. Yet vibrant hues convey hope, a promise of renewal for fragmented lives. Since rescued by Harlequin Haven, Larry reflects on his frightening experience and hopes to find a safe forever home. Larry's painting comes framed and matted. All proceeds go to care for Larry and the other dogs at Harlequin Haven.
About Larry
Breed: Lab/Cocker Mix, Black And White Markings
Gender: Male
Age: 3 Years
Description:
Larry is a homeless Katrina dog housed at HHGDR. We were unable to find his family so Larry is available for adoption. When Larry arrived he was very ill from dehydration and starvation. But now he is happy and healthy. I am a very good boy. I love to play and get groomed. I especially like car rides. I am very good with children, cats, and other dogs. I have a lot of energy now that I feel better, so get set to play!
Contact:
Harlequin Haven Great Dane Rescue
11567 Street, Rt. 774 / Bethel, Ohio 45106
937-379-2231,
info@hhdane.org
---
Big Fix Impact In Mississippi
5/22/06 Traveling Clinic Treats 165 Pets At Weeklong Stop In Hernando, By Wayne Risher ~ The way DeSoto County Animal Shelter officials figure it, the Big Fix Rig's weeklong stop in Hernando was a huge success. The traveling spay and neuter clinic fixed 165 cats and distributed vouchers for low-cost spay/neuter to another 200 [animal guardians] last week.
Humane groups say a single, unfixed female can lead to thousands of kittens. Spay/neuter breaks the reproductive cycle. That's important to the shelter these days, considering the facility is at full capacity for cats and kittens. Assistant director Monica Mock said they stopped accepting cats when numbers hit 110, including about 80 kittens. The Big Fix Rig made its second Mississippi stop in Hernando as part of a tour that ends in Picayune. It then moves into hurricane-damaged Louisiana parishes.
Humane Alliance, an Asheville, NC based advocate of pet population control, built the 53-foot-long trailer with corporate help. Humane groups, including Mississippi Spay and Neuter, joined forces to bring it to Mississippi. Save One Pet contacted county officials about hosting the Big Fix Rig, which can sterilize 120 cats daily. The rig, booked solid by Tuesday, neuters cats for $5 and spays for $10. Callers settled for vouchers to get cats or dogs fixed by local veterinarians at a discount. Mock said many have multiple pets, so 200 vouchers could mean several hundred animals. "Everybody asks, 'When are they coming back'" Mock said. "I've heard a lot of people say 'I would have had them fixed a long time ago if it was affordable.'"
---
Veterinary Relief Fund
Dale Churchill of Dogphoto.com ~
Veterinary Relief Fund (VRF)
was formed by the husband/wife vets who own Veterinary Referral Clinic. They handle tough surgery cases that small local local vets can't. Less than a mile from the causeway, Katrina floodwaters stopped three blocks short of their door. They lost the building's roof and front wall, but were able to stay in operation.
They knew every vet in New Orleans. I accompanied them on a search to find out who hadn't been washed away. Each found veterinarian was asked: "What do you need to get back in operation?" Then their checkbook came out, to buy generators, food…whatever. I met one vet who rummaged through the ruins of his practice to find some dry clothes. In two hours, he'd accumulated 125 surrendered cats from clients who didn't know where they'd sleep next. Boy, was he ever glad to see us show up with 1,000 pounds of kitty litter! This VRF husband/wife team told their own 50 employees they'd spend their three-month "cash cushion" on local vets. "Here's your paycheck for the next 30 days," they said. "We don't know if there will be more, so if you need to take this money and move on, God bless you."
Everyone
gave the check back and said "Lets get to work."
They've since replaced medical books, x-ray machines and the like, and created a fund that other vets use to pay bills. Any vet who cares for a disaster victim can send them the bill and they pay it. Animals get care and vets get a (reduced) paycheck they can apply to practice needs such as payroll, reconstruction, etc., just as if bills had been paid by clients.
Donate To Veterinary Relief Fund
Photos:
---
Terrebonne Gas Chamber Shelter
Terrebonne Parish Animal Shelter
131 Plant Road / P. O. Box 2768
Houma, LA 70363
985-873-6709,
vrobinson@tpcg.org
Deanna Theis
~ Please save animals at another gas-chamber kill shelter an hour outside New Orleans. Terrebonne Parish has no TNR feral cat programs, thus any feral trapped is an automatic death sentence. Some days, it's not uncommon to gas 20-30 cats in one day. They euthanize on Wednesdays and Fridays. With puppy and kitten season, this shelter has limited space. I've been there. It's horrible, but the staff tries to do the best with what they have. To
see animals
, call or come to the Animal Shelter at 131 Plant Rd. in Houma, Louisiana (behind Eckerds off of Grand Caillou Rd). Open Monday-Friday from 8-4pm, 985-873-6709.
---
Feline Frenzy In Action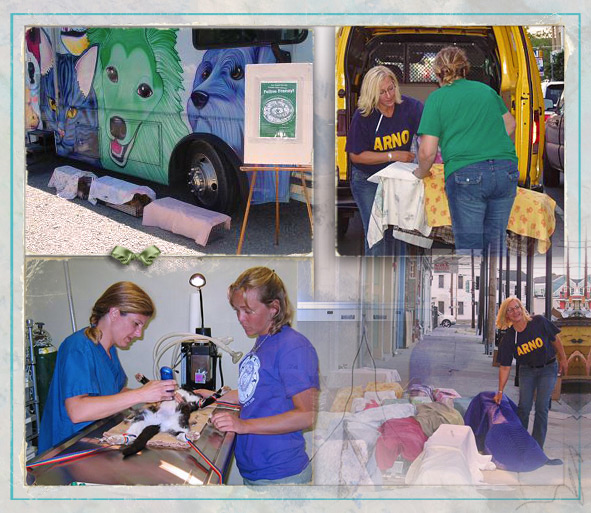 Photos above, clockwise from left:
1) Mobile vet clinic used for part of Feline Frenzy.
2) ARNO's Robin Beaulieu assists. ARNO coordinated Feline Frenzy with Alley Cat Allies.
3) Picking up neutered cats from Southern Animal Foundation on Magazine Street.
4) Inside LA-SPCA mobile clinic during Feline Frenzy. Kitties were also flea treated.
Alley Cat Allies
, Bonney Brown 435-644-8583 ~ Feline Frenzy takes place over 3 weeks in 6 clinics across the city (Ark Animal Hospital, LA-SPCA Mobile Clinic, Southern Animal Foundation, St. Tammany Humane Society, West Metairie Plaza Veterinary Clinic, and Animal Health Center). We're using SAF's Snip Van this week in communities just north of Lake Ponchartrain (Bogalusa and vicinity). All outdoor cats are fixed free of charge by Alley Cat Allies. Now in our third and last week of clinics, we have exceeded the 700 cat mark and are on track to hit the 1,000 cat goal. We're not counting cats ACA neutered before launch of this event on May 8. Thanks so much to everyone of you who has helped to make this event such a success.