Hanson Saga:
Trail Of Animals, Fugitives And Lies
The Tammy And William Hanson cruelty case spans 9 years. It's believed the last court case related to Hurricane Katrina animals. Updated May 2014
Photo Collections:
MHPets
and
Baxter County Sheriff's Office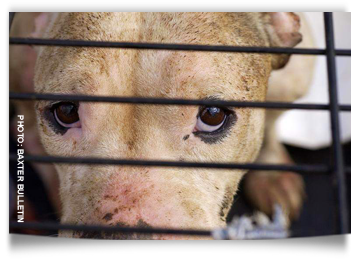 Tammy's Timeline Begins
■ 10/21/05:
Hanson case begins when Sheriff's Investigators conduct helicopter reconnaissance
over a Baxter County dog compound/puppy mill. From the air they see approx. 100 dogs roaming freely, plus numerous dogs in small cages. Larger pens are filled with many dogs. Trash is scattered everywhere, a small pool is filled with stagnant water. Tied dogs are seen lying on the ground, motionless. Sheriff's Office had received information that Tammy Hanson had picked up about 50 pit bulls from New Orleans, rescued after Hurricane Katrina. Based on helicopter visuals, Sheriff's Office obtains a search warrant. A local veterinarian and Humane Society of North Central Arkansas personnel assist in search. Officers are met by Tammy Hanson, who calls the facility "EDNAH," for Every Dog Needs A Home. They find many caged pit bulls standing in their own feces and exposed to weather extremes. Over 400 dogs are cramped in unsanitary pens full of feces. Tammy Hanson and husband, William Hanson, are arrested. They are released on bond shortly thereafter.
■ 10/22/05:
Officers find a dead pit bull in his cage, plus three dead dogs in plastic trash bags. All animals at the compound are seized. Humane Society of North Central Arkansas and Humane Society Of U.S. are in charge of seized animals for an initial three weeks. Ultimately, Tammy and William Hanson are each charged with 28 misdemeanor counts of Cruelty to Animals (Arkansas is one of few states left with no felony animal cruelty law).
■ 12/2005:
Tammy Hanson is also charged with three Property Theft counts for stealing animals and three Tampering with Physical Evidence counts, all misdemeanors. At their Baxter County trial, each Hanson is convicted of 20 misdemeanor Cruelty to Animals counts. Tammy Hanson is convicted of two Property Theft counts.
■ 5/14/14:
Federal suit against BCSO
. Animal abuser sues for "failed" medical care, privacy rights.
■ 1/14/06:
Trial set for Hansons
■ 2006: Laura Gonzo ~
Any Katrina rescuer no doubt recalls hundreds of suffering dogs, many Katrina/Rita rescues, found in an Arkansas police raid of the Hanson's "sanctuary." The Hansons are on the run. Animal people: Be aware and contact Sheriff John Montgomery if you suspect you've seen them.
Warning, Look For These People! Photo Above: Tammy & William Hanson
Pet Hoarders, Tammy Hanson, 38, and her husband, William Hanson, 41, owners of Every Dog Needs A Home (EDNAH) in Gamaliel, Arkansas did not show for their court appearance and seem to be on the run. Tammy and William Hanson, convicted in January 2006 on 20 counts of cruelty to animals in Baxter County District Court, failed to show up in court for the sentencing phase. Tammy Hanson also was to be arraigned on three theft of property charges and three tampering with evidence charges, all misdemeanors.They could be in your community planning another EDNAH. Please help bring these abusers to justice. In the past they've operated out of other states, including Missouri. We need to stop them!
If you see them contact:
John Montgomery,
Baxter County Sheriff
904 Hwy 62 S.W. / Mountain Home, AR 72653
870-425-6222 or 870-425-7551,
bcso@centurytel.net
■ 2/22/06:
Hansons in court sentencing set for Thursday
■ 2/23/06:
On sentencing day, Tammy and William Hanson are absent. A no-bond arrest warrant is issued. Seized animals go to Humane Societies.
Arrest warrants issued after couple are no-show for animal cruelty sentencing
■ 2/24/06:
Groups push for animal cruelty as felony
, after Hansons convicted on 20 animal cruelty counts. Arkansas is one of 9 states without felony-level cruelty penalties.
■ 2006-2009:
The Hansons remain fugitives, as leads and tips are investigated.
■ 7/15/09:
A citizen tip to a Sutton, VT farm house leads Vermont officials to Tammy Hanson, living under alias. She's arrested on the Baxter County warrant, plus a Lawrence, MO felony warrant for stealing animals, then moved to a Vermont detention hall where she refuses to waive extradition to Arkansas. She is extradited via Governor's Warrant
■ 7/23/09:
Hurricane Katrina Hoarder Found in Vermont
. Justice delayed but not denied.
■ 9/25/09:
Tammy Hanson is returned to Arkansas by Baxter County Sheriff's Deputy Julie Tilley and booked into Baxter County Detention Center.
■ 10/2/09:
Tipster helped police catch pet hoarders
■ 10/25/09:
William Hanson is later found and jailed near Kansas City, MO. He is extradited to Arkansas under Governor's Warrant and moved to Baxter County Detention Center.
■ 11/4/09:
Hansons are sentenced in Baxter County District Court for 2006 convictions. Tammy gets one year in Baxter County Detention Center. William receives a lesser term. Significant fines, court costs and restitution are mandated. Tammy Hanson appeals her conviction, but sentencing order is not stayed and she remains in custody.
■ 3/8/10:
While incarcerated, Tammy Hanson files suit in U.S. District Court, Western District of Arkansas Harrison Division, for alleged civil rights violations. She names Baxter County, Sheriff John Montgomery, and at least 15 Sheriff's Office employees as defendants. Her lawsuit seeks $300,000 in damages and a trial by jury. Alleged violations:
~ Failure to Provide Vital Medical Treatment
~ Deprivation of Life's Necessities, Disparate Treatment
~ Failure to Permit Exercise of Religious Freedom
~ Failure to Properly Train and Supervise Employees
■ 7/9/10:
Tammy Hanson is released from jail with credit for time served plus credit for working at jail. Her appeal of criminal charges is dropped.
■ 9/26/11:
After filing extensive pleadings and motions, eight listed defendants are dismissed from her lawsuit by order of U.S. District Court Judge.
■ 2/29/12:
Dog Hoarder Sues County For Small Jail Cell
.
Exquisite irony, lost on Tammy.
■ 5/13/14:
Tammy Hanson sues BCSO in federal court
for failed medical care, privacy rights.
■ 5/13-15/14:
Testimony begins with defendants Baxter County, Sheriff Montgomery, and the former Jail Administrator. Hanson calls more witnesses, many inmates at Arkansas Dept. of Corrections, until she rests her case. Defendants present their case, then each side's closing statements. After several hours deliberation, the jury unanimously finds in favor of defendants. Tammy Hanson's civil rights were not violated and she is awarded nothing.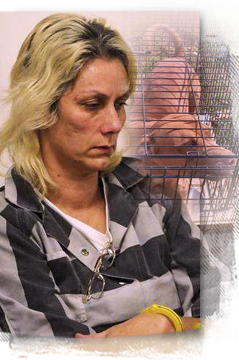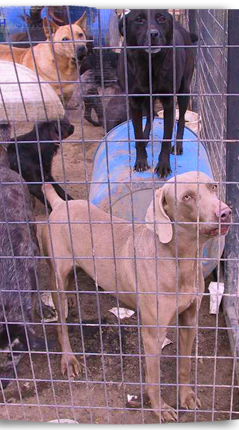 ■ 5/16/14:
Arkansas Hanson case concludes
. After nearly a decade of arrests, trials, out-state extradition, appeals… the Hanson Hoarding Saga ends. A jury for U.S. District Court, Western District of Arkansas Harrison Division, finds Tammy Hanson's civil rights were not violated. Hanson said she'll appeal, but the case appears over.
■ 5/18/14: Hanson Lawsuit: Convicted animal abuser loses on all accounts. By Josh Dooley:
Tammy Hanson left the J. Smith Henley Federal Building with her mother and sister, but with no extra money and 4 verdicts against her. Hanson's lawsuit, claiming civil violations for denied medical care and privacy from male inmates, named Baxter County, Sheriff John Montgomery, former jail supervisor Randy Weaver and jail staff. It sought $300,000 in compensatory and (unspecified) punitive damages. From Sep 2009, Hanson was jailed in Baxter County for 9 months of a 1-year sentence for her 2006 conviction on 20 misdemeanor animal abuse charges in the Every Dog Needs A Home (EDNAH) case.
Chief U.S. Magistrate Judge P.K. Holmes III gave jury instructions before final arguments from both sides. Then Hanson stood before jurors for her closing words. "I told you at the beginning of this case that this is about how they broke the rules," Hanson said, pointing a finger at the defense table. "They're not allowed to break the rules. We still have the constitution."
She said fellow female inmates asked her to sue the county, as they looked to Hanson as a champion. "It was a burden," she said, emotionally charged. Hanson didn't mention, as she had earlier in her own testimony, how many "fellow inmates" wanted to beat her up. One issue every witness agreed upon was Hanson's poor relationship with inmates.
"I wasn't getting my meds, showers, fresh air. I was a woman with urological issues. I needed toilet paper," Hanson told the jury. "They kept me in that box, and they let the men see me, every day."
During closing arguments, Hanson did not mention some 500 dogs on her Gamaliel property whom she deprived of the very things – food, sunlight, sanitary conditions – that jailers allegedly denied her while jailed. "They'll do it until someone tells them they can't," Hanson said. "You can send a message to them that they can't do this to people."
Defense attorney Jason Owens then gave the jury a different message. "This case for the plaintiff (Hanson) was about harassment and vindictiveness. She threatened to sue before she even got to jail." Owens reminded jurors that part of their job was to choose whom to believe and how much of what a witness said was truthful. In Hanson's case, he said, they shouldn't believe anything. "Obviously, we're very pleased. This case has been drawn on for a long time," Montgomery said. "We've been dealing with Miss Hanson since October of 2005. We're happy that after careful consideration, the jury came back and vindicated Baxter County and all the employees of the Baxter County Sheriff's Office."

Montgomery feels Friday's verdict should bring closure for Baxter County. "Of course, she has the right to appeal," he said. "But as far as we're concerned, the saga of Tammy Hanson and the largest animal cruelty case in U.S. history is finally behind us," Owens said.

The jury deliberated for almost four hours before finding in favor of the defense. Hanson asked the judge about filing an appeal. Hanson remains on probation and owes $14,565 in fines and restitution from her animal abuse conviction, sheriff's records state. Husband William Hanson, also convicted of animal cruelty, owes $12,880 in fines and restitution.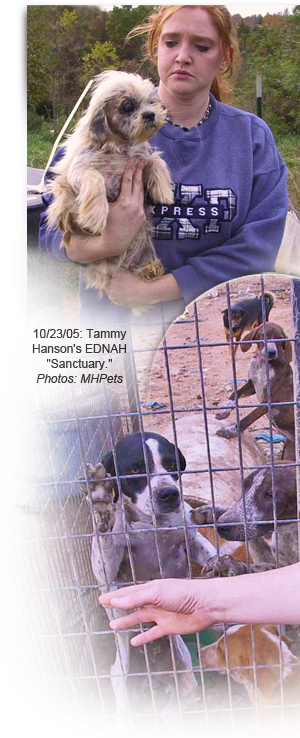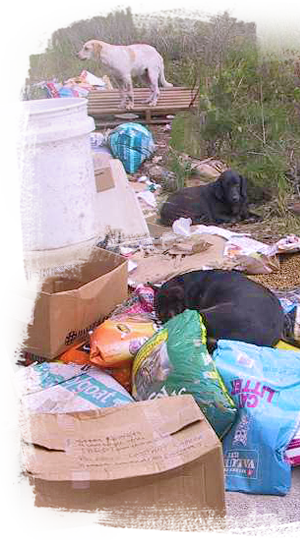 ■ 9/7/07: Sunny's Story (video above). Sunny survived the Hanson hoarding operation, found after hurricanes. Still afraid of people, Sunny learns how to live.