Volunteer: ARNO Food/Water Program
Animal Rescue New Orleans
271 Plauche Street
New Orleans, LA 70123
504-571-1900
ARNO's food/water network replenishes animal feeding station in Orleans, St. Bernard and Plaquemines. Feeders sustain animals stranded since Katrina (or born to Katrina parents) and document their movement to facilitate trapping, rescue, TNR, reunions. With 4,000+ feeding stations in devastated areas, ARNO urgently needs feeders. We supply food, water, pans, maps and addresses. If you have a car and a camera, you're set to volunteer.
Orientations/Assignments
When:
Every Saturday, 7:00am to 3:00pm
Where:
Plauche St. Warehouse
271 Plauche Street
Harahan, LA 70123
To schedule orientation on another day, contact:
arnovolunteer@yahoo.com
Volunteer
email:
arnovolunteer@yahoo.com
form:
ARNO Volunteer Form
Feed: Food/water stations, field data.
Animal Care: Walk, feed, clean…
Foster: Animals awaiting adoption.
Data: Field data, phone, recruit…
Trap: Humane capture of homeless, injured, newborn, pregnant animals.
Foster/Adopt From ARNO
View Animals:
Petfinder
/
Adopt-A-Pet
email:
adoptfromarno@yahoo.com
form:
Application/Information
ARNO has an ongoing need for foster homes to give animals a safe and loving environment until transport, reunion and adoption arrangements can be made. At the moment, we urgently need puppy fosters. Can you open your heart for these desperate animals for about 30-60 days?
Donate To ARNO
Give By Mail: 1219 Coliseum Street / New Olreans, LA 70130
Gift Cards: petsmart.com or petco.com
iGive: Shop, with 26% for ARNO!
---
Find Katrina Dog Thrown From Boat
Laddie, 8-year-old Collie
Contact:
Laurie Johansson,
laughingdolphin@lycos.com
Kinship Circle did not receive a photo of Laddie with this alert.
4/3/06,
Central PA Animal Alliance
~ Laddie's [guardian] stayed behind with him during Katrina. When the house flooded they both got into a rescue boat,
and the boat operator threw Laddie off
.
The [guardian], 54 yrs old, hurt her back boarding the boat, but she awaited a spot close enough to swim and jumped out to go after him. She has been searching ever since. She contacted me because I have a rescue collie from New Orleans. We exchanged photos and this dog is not Laddie.
Laddie is 8-years old and she's had him since just 8 weeks. She lost her husband a year before Katrina. Laddie was her only friend. She's had a stroke since then, but got back to her house to salvage a photo to help in her search. If anyone has any other suggestions, I would so appreciate them.
---
Spay/Neuter Vouchers
Spay/Louisiana
Julie Becker,
julie@spaylouisiana.org
Box 11149, Jefferson LA 70181
Our spay/neuter vouchers aid cats and dogs in qualifying households of St. Bernard, Plaquemines, Orleans and Jefferson. For a limited time, all residents of Plaquemines and St. Bernard Parish qualify. Hurricane-impacted and low-income residents of Orleans and Jefferson Parish are eligible too. Feral/free-roam cat caretakers within the four-parish area may use vouchers as part of colony management and TNR. Spay/LA is pleased to work with Louisiana Veterinary Association in a project funded by ASPCA.
---
Missing: Chow, Doxie
4/2/06, Susan Meyer ~
A 9th Ward evacuee named Louise needs aid locating her Chow and Dachshund, both left in New Orleans when Katrina hit. A rescuer went to her home today. There is no sign of the dogs. The roof is gone and the attic stairs are gone. The dogs had many ways to vacate. Louise is hopeful now that they are in a shelter and can be found.
Leads, Clues, Help Search? Contact:
Louise, 504-952-7612 (no email)
2038 Andry Street / New Orleans, LA 70117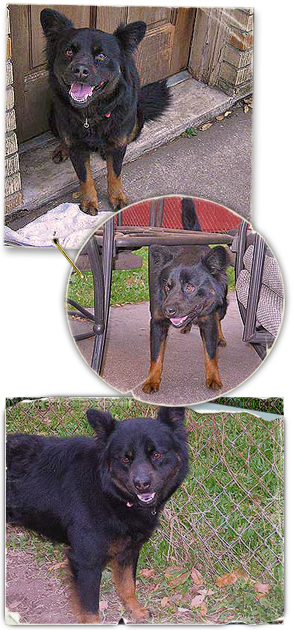 A Home For Buddy?
Contact: Bonnie Baber
bbaber4@cox.net
, 504-723-6540
I'm circulating photos of a beautiful, friendly dog named Buddy. I recently rescued him from death at Jefferson Parish Animal Shelter in Louisiana. I work with the daughter of his former [guardians]. They don't want their dog around their toddler, so they left him at the shelter. When I found out about this, I told them to retrieve Buddy and I would try to find him a home. When they returned to get him, he was already slated for euthanasia because he did not pass their "stress test." Since he's been with me, he's neutered, current on shots, groomed, heartworm tested (negative) and on HW prevention.
I can't keep Buddy because I have two big dogs and cats in a small home. I work 50-hour weeks and travel frequently. Please share this message and let everyone know he is a great companion pet for an elderly person or family. I cannot recommend him for small children, since I don't know, but he'd be great for older children or teenagers. He loves to run and play ball and gets along great with other dogs, so he would do fine in a multi-dog household. He looks like a shepherd-chow mix to me but I am not sure. I appreciate you passing this along!
---
Small Bites
News named Small Bites as reminder to donate small-bite food (or cat food) for Katrina animals.
Boasso On Board, SB-607
Sen. Walter Boasso will co-author Louisiana Pet Evacuation Bill SB-607. Thank him:
boassow@legis.state.la.us
, 1-866-926-2776
Capitol: 225-342-2040 / District: 504-270-9258
100 Intermodal Drive / Chalmette, LA 70043
Hero Of The Year Contest
Animal Planet
, 3/15 - 8/27/06 ~ Write an original
Animal Planet Hero of the Year
Nomination Statement, 250 words or less, for yourself or someone you know. Nominees must know they are nominated prior to submission in the contest.
If I Leave, They Leave
Hurricane Rescue Shirts
Kinship Circle's Brenda Shoss, with original-ARNO, came up with the slogan "If I Leave, They Leave" in an ARNO meeting. However, Katrina rescuers have tied many similar phrases to the tragedy of animals left behind.