Rabbit Rescue Needed
Contacts ■ Staging Areas
Shaun Palmisano
985-783-5010, 985-785-9136
St. Charles Animal Shelter
13830 River Road
Luling, LA 70070
Director Lee Ann Matherne, 504-559-4779
Volunteer Information
One of our volunteers called, while at this shelter. This is legitimate, as of 9/21/05. At least seven or more rabbits need rescue from a qualified rabbit group. Contact Shaun Palmisano right away if you can help.
---
Help In Hattiesburg
Contacts ■ Staging Areas
Sarah-Jayne Brown,
oceanpromotion@msn.com
Hattiesburg Emergency Shelter
The Forest Multicultural Center
952 Forest Boulevard
Hattiesburg, Mississippi
Directions
I-10 to I49 just before Hattiesburg, see Forest Multicultural Center.
Volunteer Information
Volunteers may show up at the center. Say you are with the Gaultier Group with Carol Childs. Powers that be may say they have moved. Just ask where they are. Carol Childs is with National Humane Society. Just six or seven dog-walking volunteers are on hand for some 1000 dogs at Hattiesburg Multicultural Ctr. Urgently needed: People to walk dogs, water and feed. 112 cots for volunteers.
---
Aid In Waveland
Volunteer Information
Help is needed at the HSUS rescue unit in Waveland, MS. Bring any documentation, i.e., your organization's nonprofit papers, DART or other animal disaster training, veterinarian/tech or animal control credentials, etc.
Directions
Take Route 90 to Route 603.
Follow Route 603 into Waveland.
Continue through several stop lights.
Left at blue tarp, Animal Shelter sign.
Follow road until it ends. Turn left.
Follow signs to Animal Shelter.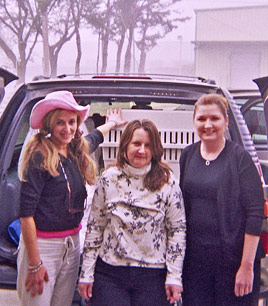 Plaquemines Rescue
Contacts ■ Staging Areas
Task Force Leaders: Cris Stevens and Terri Kelley, 219-608-4112, 219-326-8887
Sarah Stevens
, 219-608-1735
For Volunteers To Obtain Security Authorization Papers:
Sharon Gorski
877-727-9343, 586-727-9815
Lansas Kennels, Mandeville: Kendra Williams, 985-246-9388
Mandeville Staging Area
Ship supplies: c/o Kendra Williams
23015 Kilgore Street
Mandeville, LA 70471
Volunteer Information
We've been helping Pontchartrain Humane Society, plus animals from Pearlington, Mississippi, and Plaquemines Parish and New Orleans in Louisiana. Kinship Circle helped us gain National Guard clearance into
Plaquemines for search-rescue
. We were one of the first out-state groups in the parish.
Volunteers convene at Lansas Kennels in Mandeville, LA to scout and aid other storm areas. Currently, we send units into Plaquemines, where there has been no organized rescue.
Incoming Volunteers:
Wear a dark blue t-shirt to appear as a unified rescue unit. Organizers wear red caps.


Bring well-treaded, high boots. Up to 4 inches of oil covers ground in Plaquemines areas where Katrina caused an oil spill.


If you arrive at Mandeville kennels and rescuers are not there, they are in the field. You may help with Katrina dogs there or volunteer elsewhere and check back.
Plaquemines Animal Rescue Update
We had gained authorization from the New Mexico National Guard for rescue units to enter Plaquemines Parish. Volunteer rescue units work under the auspices of Dr. Habert, the parish veterinarian originally established at Belle Chase Animal Shelter. Dr. Habert has since moved to a Senior Center to accommodate more animals.
The Plan ~
Three teams of 4-5 rescuers enter Plaquemines daily. A separate team of baiters joins them. No animals are allowed to leave Plaquemines. All are treated. Dr. Habert's crew wants to reunite them with guardians.
The Temp Problem ~
When Hurricane Rita evacuations were ordered on 9/20, the Plaquemines Parish president denied rescuers entry despite our relationship with the parish vet. Still, rescuers managed a night mission. We are working on this transition. Please check in, especially if en route to Lamar-Dixon. Mandeville is an hour from Gonzales.
Supply Needs As Of 9/21/05
Needs fluctuate. Check with Cris/Terri (219-608-4112) or Sarah (219-608-1735).
Plastic Totes (large Rubbermaid types)
Transporters, Transport Trailers And Trucks
Trucks, SUVs
Catch Poles, Cat/Dog Traps
Water, Ice, Gatorade
Cots, Air Mattresses, Bulk Towels
Diesel, Unleaded Fuel