Abbeville, New Iberia
Contacts ■ Staging Areas
St. Martin Humane Society
Marie Bossard
337-879-6600, 337-277-9538
Abbeville Shelter
Cecil McCrory Bldg
Abbeville, LA 70510
Port Rd, by Clyde Prejean DMV.
Fly into Lafayette, LA airport.
Rent car to drive to nearby Abbeville.
No gas shortages. May show up, or call.
Acadiana Fairgrounds
Hwy 3212 / New Iberia, LA
US 90 to New Iberia, Hwy 3212
Follow signs to Acadiana Fairgrounds
Iberia Humane Society
Marilynn DeBuse White
, 213-220-0468
Under direction of Dr. Eric White, DVM
1314 Troy Road / New Iberia, LA
337-365-1923
IberiaHu@IberiaHumane.com
Lafayette Animal Aid
Patty Meehan, 337-344-2829
Volunteer Information
Abbeville Shelter:
Need volunteers
now
for large animals (horses, cows) in Rita storm areas. Help needed for companion animals brought to temporary Abbeville Shelter. Animals also held at Sugarena in Iberia for 30 days. Then animals go to local shelters, foster.
Surgarena Acadiana Fairground:
No volunteer needs at present time. Dogs, cats, geese, goats, cows, horses here. Up for adoption after 30 days.
No-kill shelter west of New Orleans with Katrina/Rita rescues.
Surge in surrenders from evacuees unable to care for animals.
Need foster/adopt next six months.
Compiling national list of animal shelters willing to transport animals for adoption. Iberia Humane must follow LA quarantine regulations.
Foster/Adopt
Contact Melissa or Marlene at 337-365-1923. Iberia Humane is fostering many animals. Volunteers needed!
Supply Needs As Of 9/30/05
If you or someone you know can transfer hay/grain to Abbeville or Sugarena Shelters, go directly to addresses at top.
Cats/Dogs:
Marilynn White, 337-380-2481
Large Animals:
Joelle Rupert, 337-277-4239
Hay!
Feed For Cows, Horses!
Range Pellets, Fencing
Airline Approved Plastic Crates
Water Troughs
Dog/Cat Toys, Collars
Shampoo, Flea Treatment (no Hartz!)
Food For Dogs/Puppies, Cats/Kittens
Treats, Bowls
Litter
Cleaning Supplies
Cages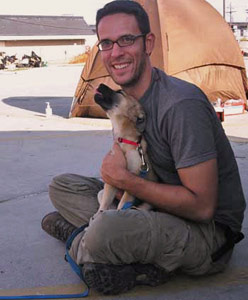 Lake Charles Rescue
Contacts ■ Staging Areas
Calcasieu Parish Shelter
Director David Marcantel, 337-437-3846
5500A Swift Plant Road
Lake Charles, LA 70615
Shelter: 337-439-8879
Directions To Shelter From I-10: Take Lake Charles exit 36. Turn right at ramp bottom, go over overpass, through first light, then right on first street. Go to end of road, shelter on left.
Volunteer Information
Animals housed at the Calcasieu Parish Animal Services, including animals from the Lamar Dixon Expo Center in Gonzales, were evacuated to Caddo Parish Animal Control in Shreveport due to Hurricane Rita. Staff and animals are now returning to Lake Charles.
We seek people with experience in search-rescue, animal control/humane officer field, veterinarians, vet techs, feral cat/aggressive animal handlers, dog trainers, groomers, emergency response training. We also need shelter workers to clean cages, dispense food/water and provide TLC, along with people qualified to manage paperwork, electronic records and data. If you are self-contained (have RV or ready to camp) that is ideal.
---
Haven For Horses
Contacts ■ Staging Areas
Hopeful Haven Equine Rescue
Debra Barlow, 318-286-3116
315 Pecan Drive / Shreveport, LA 71106
Volunteer Information
We have room (arenas and foster homes) for evacuees with horses. Those with an RV or living space in their horse trailer may stay with horses. Please refer evacuees with horses.
---
Alley Cat Allies
Contacts ■ Staging Areas
Alley Cat Allies
Volunteers, Email
First
: Jessica Frohman
alleycat@alleycat.org
, 240-482-1988
Include full name, email, day phone, specialized skills/training, dates available.
If You Can Transport Or Foster, Contact:
Pilara Felgate
, Regional Coordinator
773-244-4049, 240-482-1980
Alley Cat Allies Camp
Bogalusa, Louisiana
Camp established 1 hour north of New Orleans. Electricity available, but arrive self-sufficient prepared to camp out.
Volunteer Information
Need for volunteers through end of year. With citizens returning to NOLA area, Alley Cat Allies plans to help rebuild the caregiver network, remove feral cats from shelters, provide food/water to known colonies, identify other stressed colonies and assess future spay/neuter and caregiver support services.
From Kinship Circle:
Alley Cat Allies tells us they want volunteers
now
. Sign up directly to get ACA credentials and go!
Alley Cat Allies Seeks:
Caregivers For Animals At Base Camp
Vets/Vet Techs
Computer/Data Entry, Intake
Animal Handlers/Trappers
Handy Men/Women
Photographers
Cage Assemblers And Cleaners
Supply Inventory And Errand Run Helpers
People With Rescue, Disaster Training
Transporters (trucks, SUVs preferable)
Foster Homes, Barn Homes For Feral Cats